Billitteri, Thomas J.
Most widely held works by Thomas J Billitteri
The Gault case : legal rights for young people
by
Thomas J Billitteri
( Book )
1 edition published in
2000
in
English
and held by 256 WorldCat member libraries worldwide
Examines the 1967 Supreme Court Case in which the court ruled that juvenile courts cannot deprive children of certain rights guaranteed by the Constitution
Alternative medicine
by
Thomas J Billitteri
( Book )
1 edition published in
2001
in
English
and held by 252 WorldCat member libraries worldwide
Provides an overview of a fast-growing method of health care that use herbs, acupuncture, hypnosis and special diets
Parental rights
by
Thomas J Billitteri
( )
2 editions published in
1996
in
English
and held by 49 WorldCat member libraries worldwide
Conservative lawmakers and the Religious Right say liberal bureaucrats, courts and legislators have usurped parents' authority over their children. They have mounted an aggressive campaign to win new parental rights guarantees in state constitutions and federal law. On Nov. 5, Coloradans will vote on a constitutional amendment giving parents the "inalienable" right "to direct and control the upbringing, education, values and discipline of their children." Sponsors in 27 other states are pushing similar amendments, and parental rights legislation has been introduced in Congress. A broad coalition of opponents argues that parental rights laws are dangerous and unnecessary. Such laws would not only put children at new risk for abuse, they say, but also throw schools into gridlock and lead to costly lawsuits
Teacher education
by
Thomas J Billitteri
( )
1 edition published in
1997
in
English
and held by 43 WorldCat member libraries worldwide
An influential report last year presented a blistering indictment of public education in America, especially the quality of teacher training. The National Commission on Teaching & America's Future said bold steps are needed to professionalize the nation's 2.7 million public school educators. Supporters of that view, including lawmakers, education experts and national teachers' unions, are pushing initiatives ranging from toughening licensing standards to eliminating poorly performing teachers. Advocates hail the new emphasis on teaching as unique in the long history of attempted education reforms. But some skeptics say that reforming teaching without making more fundamental changes in the nation's public schools won't accomplish nearly enough. Others question where the funding would come from
Mental health policy
by
Thomas J Billitteri
( )
1 edition published in
1997
in
English
and held by 43 WorldCat member libraries worldwide
When lawmakers passed the 1990 Americans with Disabilities Act (ADA), one of their goals was protecting workers with psychiatric impairments from job discrimination. But many employers have been confused by the law, or hostile to it. This spring, to clarify the ADA, guidelines detailing employers' rights and responsibilities under the ADA were issued by the Equal Employment Opportunity Commission. Mental health advocates praise the rules, but business groups say they invite frivolous and costly lawsuits. The debate is part of a larger controversy over mental health policy that includes insurance "parity" for mental illness. Advocates say parity offers civil-rights protection for the mentally ill. Critics charge it intrudes on free enterprise
Curbing CEO pay
by
Thomas J Billitteri
( )
1 edition published in
2007
in
English
and held by 36 WorldCat member libraries worldwide
This spring's shareholder proxy season promises to trigger fireworks among shareholders. Scores of public companies are under scrutiny from shareholders and politicians for rewarding their chief executive officers with huge pay and severance packages, sometimes despite spectacular management failures. Home Depot's Robert L. Nardelli, for example, received a $210 million severance package in January, while Capital One Financial's Richard D. Fairbank took home $280 million in compensation in 2005. Meanwhile, an investigation is proceeding into the possible manipulation of executive stock options at up to 200 companies. New federal rules requiring companies to disclose once-hidden details of their compensation took effect this year, setting the stage for bitter controversy over corporate pay. A coalition of shareholders is petitioning some 50 corporations for the right to advise their boards on the companies' executive compensation, and the new Democrat-controlled Congress has made moves aimed at curbing pay
Middle-class squeeze
by
Thomas J Billitteri
( )
2 editions published in
2009
in
English
and held by 24 WorldCat member libraries worldwide
Millions of families who once enjoyed the American dream of home ownership and upward financial mobility are sliding down the economic ladder -- some into poverty. Many have been forced to seek government help for the first time. The plunging fortunes of working families are pushing the U.S. economy deeper into recession as plummeting demand for goods and services creates a downward economic spiral. A consumption binge and growing consumer debt beginning in the 1990s contributed to the middle-class squeeze, but the bigger culprits were exploding prices for necessities such as housing, medical care and college tuition, cuts in employer-funded benefits and, some say, government policies that favored the wealthy. President Barack Obama has promised major aid for the middle class, and some economists are calling for new programs -- most notably national health coverage -- to assist working Americans
Financial bailout
by
Thomas J Billitteri
( )
3 editions published in
2008
in
English
and held by 24 WorldCat member libraries worldwide
Bowing to doomsday warnings that the U.S. and global financial systems could collapse, Congress passed a $700 billion rescue bill early this month. Part of a sweeping $1 trillion government plan to calm the stock market and unfreeze credit -- the unprecedented rescue came amid mounting fears of a deep recession and the collapse of such major financial institutions as Lehman Brothers and Washington Mutual. The government's efforts included the federal takeover of mortgage giants Fannie Mae and Freddie Mac, which together hold or guarantee $5.4 trillion in mortgage loans -- 45 percent of the national total. The quasi-governmental firms were dragged down by investments in subprime mortgages and other "toxic" financial instruments. Meanwhile, even as the Bush administration and congressional leaders were calling the bailout plan vital, fundamental questions were being raised, including: Is the bailout big enough? And did risky lending by Fannie and Freddie and poor regulatory oversight fuel the crisis?
Human rights in China
by
Thomas J Billitteri
( )
2 editions published in
2008
in
English
and held by 23 WorldCat member libraries worldwide
When the curtain rises on the Summer Olympics next month in Beijing, China will eagerly showcase its hypersonic economic growth and its embrace of what it calls the "rule of law." But 19 years after its bloody suppression of protesters in Tiananmen Square, China will also be displaying its human-rights record for all to judge. Human-rights advocates say the sheen of Chinese progress and prosperity hides repression and brutality by the Chinese Communist Party, including the violent repression of pro-independence protesters in Tibet, forced abortions stemming from China's one-child policy and the trampling of basic freedoms of speech, religion and assembly. Chinese government officials say their nation of 1.3 billion people has made huge strides on the legal and human-rights fronts and that the West has no business interfering in China's internal affairs
Cyberbullying
by
Thomas J Billitteri
( )
2 editions published in
2008
in
English
and held by 22 WorldCat member libraries worldwide
Child advocates say a growing epidemic of "cyberbullying" -- the use of computers, cell phones, social-networking sites and other technology to threaten or humiliate others -- is putting young people at risk, sometimes with deadly consequences. The Centers for Disease Control and Prevention has labeled "electronic aggression" an "emerging public-health problem." Court precedents on school discipline and students' First Amendment rights provide limited guidance to educators grappling with the emerging world of cyber communication, especially transmissions originating off school grounds. Nonetheless, many states and school districts are taking strong steps aimed at curbing cyber abuse. In Congress, bills to provide new funding for online-safety programs have been introduced, but conflicts have arisen over how federal money for such efforts should be spent
more
fewer
Audience Level
0

1
Kids
General
Special
Audience level: 0.17 (from 0.06 for The Gault ... to 0.35 for Government ...)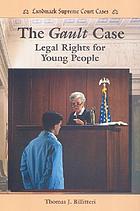 Languages
Covers