Roberts, Geoffrey 1952-
Most widely held works by Geoffrey Roberts
The Soviet Union in world politics : coexistence, revolution, and Cold War, 1945-1991
by
Geoffrey Roberts
( )
14 editions published between
1998
and 2005 in
English
and held by 1,850 WorldCat member libraries worldwide
The Soviet Union played a decisive role in defining the shape and pattern of world politics for nearly fifty years following the end of the Second World War. The Soviet Union in World Politics provides an outline of Soviet foreign policy and international relations from 1945, through the cold war to the break up of the USSR. Geoffrey Roberts considers the global and internal impact of Soviet policies and includes discussion of the origins and development of the cold war; the German question, the Korean War and the Sino-Soviet split; the role of ideology; how the cold war with the USSR ended; and problems of evidence and the new availability of archives. With a useful guide to further reading and a chronology of events, The Soviet Union in World Politics debates key issues of Soviet global and national politics and assesses the impact and legacy of this superpower on the world stage
Stalin's wars : from World War to Cold War, 1939-1953
by
Geoffrey Roberts
( Book )
26 editions published between
2006
and 2011 in
English
and held by 1,271 WorldCat member libraries worldwide
"This breakthrough book provides a detailed reconstruction of Stalin's leadership from the outbreak of the Second World War in 1939 to his death in 1953. Making use of a wealth of new material from Russian archives, Geoffrey Roberts challenges a long list of standard perceptions of Stalin: his qualities as a leader; his relationships with his own generals and with other great world leaders; his foreign policy; and his role in instigating the cold war."--Jacket
Stalin's general : the life of Georgy Zhukov
by
Geoffrey Roberts
( Book )
29 editions published between
2012
and 2016 in 4 languages and held by 730 WorldCat member libraries worldwide
"Widely regarded as the most accomplished general of World War II, the Soviet military legend Marshal Georgy Zhukov at last gets the full-scale biographical treatment he has long deserved. A man of indomitable will and fierce determination, Georgy Zhukov was the Soviet Union's indispensable commander through every one of the critical turning points of World War II. It was Zhukov who saved Leningrad from capture by the Wehrmacht in September 1941, Zhukov who led the defense of Moscow in October 1941, Zhukov who spearheaded the Red Army's march on Berlin and formally accepted Germany's unconditional surrender in the spring of 1945. Drawing on the latest research from recently opened Soviet archives, including the uncensored versions of Zhukov's own memoirs, Geoffrey Roberts offers a vivid portrait of a man whose tactical brilliance was matched only by the cold-blooded ruthlessness with which he pursued his battlefield objectives. After the war, Zhukov was a key player on the geopolitical scene. As Khrushchev's defense minister, he was one of the architects of Soviet military strategy during the Cold War. While lauded in the West as a folk hero--he was the only Soviet general ever to appear on the cover of Time magazine--Zhukov repeatedly ran afoul of the Communist political authorities. Wrongfully accused of disloyalty, he was twice banished and erased from his country's official history--left out of books and paintings depicting Soviet World War II victories. Piercing the hyperbole of the Zhukov personality cult, Roberts debunks many of the myths that have sprung up around Zhukov's life and career to deliver fresh insights into the marshal's relationships with Stalin, Khrushchev, and Eisenhower. A remarkably intimate portrait of a man whose life was lived behind an Iron Curtain of official secrecy, Stalin's General is an authoritative biography that restores Zhukov to his rightful place in the twentieth-century military pantheon."--Jacket
The Soviet Union and the origins of the Second World War : Russo-German relations and the road to war, 1933-1941
by
Geoffrey Roberts
( Book )
14 editions published in
1995
in
English
and held by 488 WorldCat member libraries worldwide
Historians have heatedly debated the Soviet role in the origins of the Second World War for more than 50 years. At the centre of these controversies stands the question of Soviet relations with Nazi Germany and the Stalin-Hitler pact of 1939. Drawing on a wealth of new material from the Soviet Archives, this detailed and original study analyses Moscow's response to the rise of Hitler, explains the origins of the Nazi-Soviet pact, and charts the road to Operation Barbarossa and the disaster of the surprise German attack on the USSR in June 1941
The Somme 1916 : the first of July
by
Ed Skelding
( )
1 edition published in
2016
in
English
and held by 379 WorldCat member libraries worldwide
"Complete with 150 prints, both in colour and black and white taken over a twenty year period reflecting the authors many filming trips to the Somme, the book shows the battlefield as it was almost 100 years ago and is accompanied by a shot of the exact same spot as it stands today"
The history and narrative reader
( Book )
13 editions published between
2001
and 2010 in
English
and held by 360 WorldCat member libraries worldwide
Are historians story-tellers? Is it possible to tell true stories about the past? These are just two of the questions raised in this comprehensive collection of texts about philosophy, theory and methodology of writing history
Victory at Stalingrad : the battle that changed history
by
Geoffrey Roberts
( Book )
14 editions published between
2002
and 2016 in
English
and held by 330 WorldCat member libraries worldwide
Victory at Stalingrad tells the gripping strategic and military story of that battle. The hard-won Soviet victory prevented Hitler from waging the Second World War for another ten years and set the Germans on the road to defeat. The Soviet victory also prevented the Nazis from completing the Final Solution, the wholesale destruction of European Jewry, which began with Hitler's ""War of Annihilation"" against the Soviets on the Eastern Front. Geoffrey Roberts places the conflict in the context of the clash between two mighty powers:their world views and their leaders. He presents a g
Ireland and the Second World War : politics, society and remembrance
( Book )
6 editions published between
1999
and 2000 in
English
and held by 269 WorldCat member libraries worldwide
This volume of essays on the social, political and military history of Ireland during the second World War explores the Irish contribution to the Allied cause, in articular the role and experience of Irish men and women who served in the British armed forces during the war. The history of Northern Ireland during the war is covered, as are aspects of the post-war historiography of Irish involvement in the Allied struggle. -- Publisher description
Molotov : Stalin's cold warrior
by
Geoffrey Roberts
( Book )
11 editions published between
2011
and 2012 in
English
and held by 249 WorldCat member libraries worldwide
The orthodox view of Vyacheslav Molotov is that he was no more than Stalin's faithful servant, a dogmatic communist, and a conservative hard-liner of little or no imagination. Molotov was, indeed, Stalin's right-hand man; from the 1920s to the early 1950s the two men presided over a brutal, authoritarian communist system that resulted in the deaths of millions of people. But there was far more to their partnership. In this engaging biography, Geoffrey Roberts proposes a radical reappraisal of Molotov's life and career. He argues that although Molotov, as Soviet foreign minister since 1939, was certainly Stalin's cold warrior, he personally preferred detente and peaceful coexistence with the West. The differences and tensions between Molotov and Stalin came to a head in 1949, when Molotov's wife was arrested and imprisoned because of her involvement with the Soviet Jewish Anti-Fascist Committee. Molotov was removed as foreign minister but was reappointed to the post after the dictator's death in 1953. In 1957 Molotov was ousted from the leadership following his attempted coup against Nikita Khrushchev, Stalin's successor as the leader of the Soviet Communist Party. After Stalin's death, Molotov revived his efforts to curtail the Cold War and campaigned for the establishment of a pan-European system of collective security that would halt the polarization of the continent into competing military-political blocs. While Molotov's attempt to negotiate an end of the Cold War were stymied by Soviet and Western hard-liners, his campaign for European collective security paved the way to detente in the 1960s and 1970s and the abolition of the Cold War in the 1980s and 1990s
more
fewer
Audience Level
0

1
Kids
General
Special
Audience level: 0.34 (from 0.07 for The Soviet ... to 0.93 for Les guerre ...)
Related Identities
Associated Subjects
Armed Forces
Battlefields
Belgium
Cold War (1945-1989)
Command of troops
Communism
Diplomatic history
Diplomatic relations
Eastern Front (World War (1939-1945))
France
France, Northern
Generals
Germany
Historiography
History
History--Philosophy
Influence (Literary, artistic, etc.)
International relations
Ireland
Marshals
Military campaigns
Military participation--Irish
Molotov, Vyacheslav Mikhaylovich,
Narration (Rhetoric)
Neutrality
Politics and government
Russia
Russia (Federation)
Russia (Federation)--Volgograd
Somme, 1st Battle of the (France : 1916)
Soviet Union
Stalin, Joseph,
Stalingrad, Battle of (Volgograd, Russia : 1942-1943)
Statesmen
War--Causes
Western Front (World War (1914-1918))
World politics
World War (1914-1918)
World War (1939-1945)
Zhukov, Georgiĭ Konstantinovich,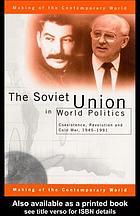 Covers
Alternative Names
Geoffrey Roberts Brits historicus

Geoffrey Roberts historiador británico

Geoffrey Roberts historien britannique

Geoffrey Roberts istoric britanic

Roberts, Dzjeffri, 1952-

Roberts, Geoffrey Charles.

Roberts, Geoffrey Charles 1952-

Roberts, Geoffrey K.

ジェフリー・ロバーツ (歴史学者)

ロバーツ, ジェフリー

Languages