Qaida (Organization)
Most widely held works about Qaida (Organization)
more
fewer
Most widely held works by Qaida (Organization)
Black Ops : the incredible true stories of the world's most dramatic undercover operations
( Visual )
1 edition published in
2014
in
English
and held by 6 WorldCat member libraries worldwide
"Some are world-famous, such as the US Navy SEALS and the British SAS. Others lurk in the shadows, like India's Black Cats and Russia's Alfa group. But what unites them is that they're the toughest, most determined, and most highly-trained soldiers on the planet. This lavishly illustrated book forms the perfect partner to the thrilling and chilling six-DVD series Black Ops, which charts some of the most iconic, complex, and controversial Special Forces missions ever executed."--Container
Road to 9/11
( Visual )
1 edition published in
2006
in
English
and held by 2 WorldCat member libraries worldwide
" ... this dramatic documentary chronicles the deep historical roots of Al-Qáida, examining the years of political oppression, economic stagnation, religious fanaticism, and violence that gave rise to the attacks of September 11. 2002. It features rare footage, and insightful commentary by leading scholars and journalists including Bernard Lewis, Fareed Zakaria, Thomas Friedman, Irshad Manji, Azar Nafisis, Kanan Makiya, Fawaz Gerges, and David Fromkin."
The convert
( Visual )
1 edition published in
2006
in
English
and held by 2 WorldCat member libraries worldwide
"Jack Thomas has become the first person in Australia to be convicted under Australia's new terrorist funding laws. The father-of-three was found guilty by a Melbourne jury of intentionally receiving funds from Al Qaeda. Now he awaits his sentence. Thomas tells his story to Four Corners. He reveals how he received Al Qaeda money and what he says was expected of him. He talks about how he was sounded out about committing acts of terror, but refused. I don't believe in killing innocent people," he says. "People who know me know that. I can't make people believe; as far as I'm concerned words don't mean anything. It's just your actions that count. Believe it or not."--Container
Black Ops : the incredible true stories of the world's most dramatic undercover operations
( Visual )
1 edition published in
2014
in
English
and held by 1 WorldCat member library worldwide
"Some are world-famous, such as the US Navy SEALS and the British SAS. Others lurk in the shadows, like India's Black Cats and Russia's Alfa group. But what unites them is that they're the toughest, most determined, and most highly-trained soldiers on the planet. This lavishly illustrated book forms the perfect partner to the thrilling and chilling six-DVD series Black Ops, which charts some of the most iconic, complex, and controversial Special Forces missions ever executed." --Container
Al-Qaeda statements index
( )
in
English
and held by 1 WorldCat member library worldwide
"Its mandate is to identify, make accessible (with some limitations), and preserve full length statements from Al Qaeda in digital form in English translation. ... include[s] statements from the Al Qaeda leadership dating back to 1994"--Margaret Schaus, Haverford Librarian
Joining al-Qaeda : jihadist recruitment in Europe
by
Peter R Neumann
( Book )
1 edition published in
2008
in
English
and held by 1 WorldCat member library worldwide
In Britain alone, several thousand young Muslims are thought to be part of violent extremist networks. How did they become involved? What are the mechanisms and dynamics through which European Muslims join al-Qaeda and groups inspired by al-Qaeda? This paper explains the processes whereby European Muslims are recruited into the Islamist militant movement. It reveals that although overt recruitment has been driven underground, prisons and other "places of vulnerability" are increasingly important alternatives. It explores the recruitment roles of radical imams, gateway organisations and activists, and highlights the kinds of message that facilitate the recruitment process. It also shows how the Internet has come to play an increasingly significant role. Neumann argues that there is little evidence of systematic, top-down jihadist recruitment in Europe. Rather, the activist leaders of cells increasingly drive the process. The paper explores possible options for European governments wishing to disrupt violent extremist networks, recognising that it will also be necessary to address some of the underlying risk factors that fuel jihadist recruitment. Ultimately, the major challenge for European states lies in constructing more inclusive societies in which the narratives of exclusion and grievance will not resonate to the benefit of recruiters to the extremist cause
Landscapes of the Jihad : militancy, morality, modernity
by
Faisal Devji
( Book )
1 edition published in
2007
in
Spanish
and held by 1 WorldCat member library worldwide
"Landscapes of the Jihad explores the features that Al Qaeda and other strands of militant Islam share in common with global movements such as environmentalists and anti-globalisation protesters. These include a decentralised organisation and an emphasis on ethical rather than properly political action. Devji brings these and other characteristics of Al Qaeda together in an analysis of the jihad that locates it squarely within the transformation of political thought after the Cold War." "The jihad emerges from the breakdown of traditional as well as modern forms of authority in the Muslim world. It is neither dogmatic in an old fashioned way nor ideological in the modern sense, and concerned neither with correct doctrinal practice in the present nor with some revolutionary utopia of the future. Instead it is fragmented, dispersed and highly individualistic."--Jacket
Bin Laden's plan of terror
by Deborah Davies
( Visual )
1 edition published in
2001
in
English
and held by 0 WorldCat member libraries worldwide
A look into the clandestine world of the al-Qaida network. The film examines how far al-Qaida stretches, explores its alleged plans to assassinate Tony Blair, blow up major American facilities, and assesses the likelihood of an attack on Britain
more
fewer
Audience Level
0

1
Kids
General
Special
Audience level: 0.14 (from 0.04 for Al-Qaeda : ... to 1.00 for Bin Laden' ...)
Related Identities
Associated Subjects
Afghanistan
Afghan War (2001-)
Armed Forces--Commando troops
Assassination
Bin Laden, Osama,
Carmellini, Tommy--(Fictitious character)
Conspiracies
Dillon, Sean (Fictitious character)
Diplomatic relations
Fugitives from justice
Grafton, Jake--(Fictitious character)
Harvath, Scot (Fictitious character)
Ideology
Intelligence officers
Intelligence service
Intelligence service--Evaluation
Iraq
Iraq War (2003-2011)
Jihad
Kidnapping
Last years of a person's life
Leadership
Lebanon
Muhammad Omar,--Mullah,
National security
Nuclear terrorism
Nuclear weapons
Owen, Mark,
Pakistan
Pakistan--Abbottābād
Presidents--Assassination attempts
Press coverage
Qaida (Organization)
Saudi Arabia
September 11 Terrorist Attacks (2001)
Smucker, Philip
Special forces (Military science)
Special operations (Military science)
Terrorism
Terrorism--Government policy
Terrorism--Prevention
Terrorism--Religious aspects--Islam
Terrorists
Undercover operations
United States
United States.--Navy
United States.--Navy.--SEALs
War on Terrorism (2001-2009)
Zarqāwī, Abū Muṣʻab,
Ẓawāhirī, Ayman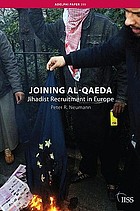 Alternative Names
al-Kaʻida

Al'-Kaida (organizace)

Al-Kaida (Organización)

Alʹ-Kaida (Organization)

<<al->>Ka'idah (Organization)

Al-Kájda (organizace)

Al-Q

Al-Qā'idah

Al-Qaacida

Al-Qaeda

al-Qaeda global militant Islamist organization

Al-Qaeda kesatuan pasukan elit islamyang berjuang untuk menegakkan ajaran islam.

Al-Qaeda (Organisation)

Al Qaeda (Organització)

Al Qaeda (organizace)

Al Qaeda organización paramilitar, yihadista

Al Qaeda (Organization)

Al-Qaedah (Organization)

Äl-Qağidä

al- Qāʿida

al-Qaida movimento paramilitare terroristico

al-Qaïda (Organisation)

Al-Qaïda organisation terroriste internationale

Al-Qaida (Organització)

Al-Qaida (organizace)

Al-Qaida (Organización)

Al-Qaida (Organization)

al- Qāʿidah

Al-Qāʿidaẗ

Al-Qoida

Al-Quaida

Al Quaida (Organisation)

Al-Quaida (Organization)

Al-Queda

Al-Queda (Organisation)

Al Queda (organizace)

Al Queda (Organización)

Al Queda (Organization)

Al Quida

Alcaeda

Arukaida

El Kaida

El Kaide

El-Qaeda

El Qaide

Elqaʻîde (Organization)

Group for the preservation of the holy sites

International Islamic front for jihad against Jews and crusaders

Islamic army for the preservation of holy places

Islamic army for the preservation of holy sites

Islamic Army for the Preservation of the Holy Places

Islamic Salvation Foundation

Kae'da

Kaida (Organisation)

Kaida (organizace)

Kaida (Organización)

Kaida (Organization)

Organización Al Qaeda

Qa`idah (organizace)

Qaeda

Qaeda (Organisation)

Qaeda (organizace)

Qaeda (Organización)

Qaeda (Organization)

Qaida

Qaida (Organisation)

Qaida (organizace)

Qaida (Organización)

Qaida (Organization)

Qaʻidah

Qaidah (Organización)

Qāʻidah (Organization)

Qāʿidaẗ

Quaida

Quaida (Organisation)

Quaida (organizace)

Quaida (Organización)

Quaida (Organization)

Quida

R̄ekxirawî Elqaʻîde

Əl-Qaidə

Αλ Κάιντα

Ал-Каеда

Ал-Каида

Ал-КъагIида

Аль-Каида исламская военная организация

Аль-Каіда

Әл-Қағида

Ալ-Կաիդա

אל-קאעידה

אל קיידא

ארגון אל קאעדה

ארגון אל קאעידה

القاعدة

القاعده

القاعدہ

تنظيم القاعدة

حركة القاعدة

قاعدة (تنظيم)

قاعدة (منظمة)

‏قاعدة (مؤسسة)

منظمة القاعدة

ئەلقاعیدە

अल कायदा

আল-কায়িদা

ਅਲ ਕਾਇਦਾ

அல் காயிதா

అల్ ఖైదా

ಅಲ್ ಕೈದಾ

അൽ ഖാഇദ

අල්-කයිඩා

อัลกออิดะฮ์

အယ်လ်ကေးဒါး

ალ-კაიდა

알카에다

アルカイダ

アルカーイダ 世界的なイスラム主義武装組織

卡伊达组织

阿爾蓋達組織

阿蓋達

基地

"基地"组织

"基地"组织 伊斯兰教军事组织

基地组织 伊斯蘭教聖戰組織

蓋達組織

Languages
Covers