Eisgruber, Christopher L.
Most widely held works by Christopher L Eisgruber
Religious freedom and the constitution
by
Christopher L Eisgruber
( )
24 editions published between
2007
and 2010 in
English
and held by 2,291 WorldCat member libraries worldwide
Argues that the separation of church and state that is often used to surpress religious expression in the United States is contrary to the founding fathers' intent, and explains that the guiding principles of Equal Liberty offer greater religious freedoms
Constitutional self-government
by
Christopher L Eisgruber
( )
24 editions published between
2001
and 2021 in
English
and held by 2,016 WorldCat member libraries worldwide
"In Constitutional Self-Government, Christopher Eisgruber focuses directly on the Constitution's seemingly undemocratic features. Whereas other scholars have tried to reconcile these features with majority rule, or simply acknowledged them as necessary limits on democracy, Eisgruber argues that constitutionalism is best regarded not as a constraint upon self-government, but as a crucial ingredient in a complex, non-majoritarian form of democracy."--Jacket
The next justice : repairing the Supreme Court appointments process
by
Christopher L Eisgruber
( )
23 editions published between
2007
and 2010 in
English
and held by 1,908 WorldCat member libraries worldwide
"The Supreme Court appointments process is broken, and the timing couldn't be worse - for liberals or conservatives. The Court is just one more solid conservative justice away from an ideological sea change - a hard-right turn on an array of issues that affect every American, from abortion to environmental protection. But neither those who look at this prospect with pleasure nor those who view it with horror will be able to make informed judgments about the next nominee to the Court - unless the appointments process is fixed now. In The Next Justice, Christopher Eisgruber proposes a way to do just that
Global justice and the bulwarks of localism : human rights in context
by
Christopher L Eisgruber
( Book )
10 editions published in
2005
in
English
and held by 183 WorldCat member libraries worldwide
"In this volume, internationally noted scholars collaborate to address issues about human rights and local culture from philosophical, legal, anthropological and sociological perspectives. Their essays focus on topics including self-determination, religion, truth & reconciliation commissions, and sexual mores."
Constitutional politics : essays on constitution making, maintenance, and change
by
Sotirios A Barber
( )
2 editions published in
2022
in
English
and held by 11 WorldCat member libraries worldwide
What does it mean to have a constitution? Scholars and students associated with Walter Murphy at Princeton University have long asked this question in their exploration of constitutional politics and judicial behavior. These scholars, concerned with the making, maintenance, and deliberate change of the Constitution, have made unique and significant contributions to our understanding of American constitutional law by going against the norm of court-centered and litigation-minded research. Beginning in the late 1970s, this new wave of academics explored questions ranging from the nature of creating the U.S. Constitution to the philosophy behind amending it. In this collection, Sotirios A. Barber and Robert P. George bring together fourteen essays by members of this Princeton group--some of the most distinguished scholars in the field. These works consider the meaning of having a constitution, the implications of particular choices in the design of constitutions, and the meaning of judicial supremacy in the interpretation of the Constitution. The overarching ambition of this collection is to awaken a constitutionalist consciousness in its readers--to view themselves as potential makers and changers of constitutions, as opposed to mere subjects of existing arrangements. In addition to the editors, the contributors are Walter F. Murphy, John E. Finn, Christopher L. Eisgruber, James E. Fleming, Jeffrey K. Tulis, Suzette Hemberger, Stephen Macedo, Sanford Levinson, H. N. Hirsch, Wayne D. Moore, Keith E. Whittington, and Mark E. Brandon
Moral and Political Education : NOMOS XLIII
( )
1 edition published in
2001
in
English
and held by 9 WorldCat member libraries worldwide
What are the proper aims of education in a liberal democracy? Given the deep disagreement about moral and religious values in modern societies, what is the proper balance between public and private claimants to educational authority? Should parents be given greater control over their children's formal education? Are today's public schools promoting a culture of rootless individualism? Do we increasingly resort to prisons and punishment instead of schooling and moral education to control young people? And what, finally, should be the fate of the great project of racially integrated schooling: a project that energized a vast expenditure of hopes and resources in the latter half of the 20th century in America? Should we recommit ourselves to the ideal of integration, or should we embrace other, perhaps better, ways to help the disadvantaged and promote social integration? Should we go further, and affirm that predominantly black educational institutions have intrinsic benefits, such as preserving black culture and providing role models for black youngsters? As education reform takes center stage these questions are at the heart of what it means to be an American and participate in a democratic society. The essayists in this volume bring philosophical, political, and legal reflection to bear on the practical questions of how education should be changed to meet the needs of the twenty-first century. In so doing they display a determination to illuminate the educational choices that lie before all modern democracies. Contributors: Anita L. Allen, Lawrence Blum, Harry Brighouse, Randall Curren, Peter de Marneffe, James G. Dwyer, Christopher Eisgruber, William A. Galston, Amy Gutmann, Michael W. McConnell, Rob Reich, Nancy L. Rosenblum, Yael Tamir, John Tomasi, and Andrew Valls
September 11 in history : a watershed moment?
( )
1 edition published in
2003
in
English
and held by 8 WorldCat member libraries worldwide
Hours after the collapse of the Twin Towers, the idea that the September 11 attacks had "changed everything" permeated American popular and political discussion. In the period since then, the events of September 11 have been used to justify profound changes in U.S. public policy and foreign relations. Bringing together leading scholars of history, law, literature, and Islam, September 11 in History asks whether the attacks and their aftermath truly marked a transition in U.S. and world history or whether they are best understood in the context of pre-existing historical trajectories.From a variety of perspectives, the contributors to this collection scrutinize claims about September 11, in terms of both their historical validity and their consequences. Essays range from an analysis of terms like "ground zero," "homeland," and "the axis of evil" to an argument that the U.S. naval base at Guantánamo Bay has become a site for acting out a repressed imperial history. Examining the effect of the attacks on Islamic self-identity, one contributor argues that Osama bin Laden enacted an interpretation of Islam on September 11 and asserts that progressive Muslims must respond to it. Other essays focus on the deployment of Orientalist tropes in categorizations of those who "look Middle Eastern," the blurring of domestic and international law evident in a number of legal developments including the use of military tribunals to prosecute suspected terrorists, and the justifications for and consequences of American unilateralism. This collection ultimately reveals that everything did not change on September 11, 2001, but that some foundations of democratic legitimacy have been significantly eroded by claims that it did.ContributorsKhaled Abou el FadlMary L. DudziakChristopher L. EisgruberLaurence R. HelferSherman A. JacksonAmy B. KaplanElaine Tyler MayLawrence G. SagerRuti G. TeitelLeti VolppMarilyn B. Young
Speak freely : why universities must defend free speech
by
Keith E Whittington
( Book )
1 edition published in
2018
in
English
and held by 2 WorldCat member libraries worldwide
"Free speech is under attack at colleges and universities today, with critics on and off campus challenging the value of open inquiry and freewheeling intellectual debate. Too often speakers are shouted down, professors are threatened, and classes are disrupted. In Speak Freely, Keith Whittington argues that universities must protect and encourage free speech because vigorous free speech is the lifeblood of the university. Without free speech, a university cannot fulfill its most basic, fundamental, and essential purposes, including fostering freedom of thought, ideological diversity, and tolerance. Examining such hot-button issues as trigger warnings, safe spaces, hate speech, disruptive protests, speaker disinvitations, the use of social media by faculty, and academic politics, Speak Freely describes the dangers of empowering campus censors to limit speech and enforce orthodoxy. It explains why free speech and civil discourse are at the heart of the university's mission of creating and nurturing an open and diverse community dedicated to learning. It shows why universities must make space for voices from both the left and right. And it points out how better understanding why the university lives or dies by free speech can help guide everyone--including students, faculty, administrators, and alumni--when faced with difficult challenges such as unpopular, hateful, or dangerous speech. Timely and vitally important, Speak Freely demonstrates why universities can succeed only by fostering more free speech, more free thought--and a greater tolerance for both."--Provided by publisher
This America : the case for the nation
by
Jill Lepore
( Book )
1 edition published in
2020
in
English
and held by 1 WorldCat member library worldwide
Lepore offers a brief history of American nationalism, making the case for the nation, and for the enduring importance of the United States and of American civic ideals, by arguing against nationalism, and for liberalism. She believes that much of American history has been a battle between two forms of nationalism, liberal and illiberal, from the Civil War to the nation's latest struggles over immigration. -- adapted from jacket and author's note on page [11]
more
fewer
Audience Level
0

1
General
Special
Audience level: 0.00 (from 0.00 for Religious ... to 0.00 for Religious ...)
Related Identities
Associated Subjects
Academic freedom
Church and state
Constitution (United States)
Constitutional history
Constitutional law
Democracy
Education, Higher--Moral and ethical aspects
Education, Higher--Philosophy
Freedom of religion
Freedom of speech
Historiography
History, Modern
Human rights
Internationalism
Judges--Selection and appointment
Judicial review
Law
Law--Study and teaching
Legislative power
Liberalism
Madison, James,
Marbury, William,
Nationalism
Nation-state
Political questions and judicial power
Political science
Political sociology
Politics and government
Religious Freedom Restoration Act of 1993 (United States)
Representative government and representation
Self-determination, National
Separation of powers
Stevens, John Paul,
United States
United States.--Supreme Court
Universities and colleges
Universities and colleges--Law and legislation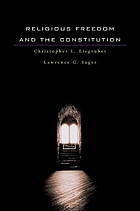 Covers
Alternative Names
Christopher L. Eisgruber Amerika nira ŋun baŋsim ziligi alikaale tali puuni ka o nyɛ doo

Christopher L. Eisgruber Amerikaans advocaat

Eisgruber, Christopher

كريستوفر ال. ايسجروبير

کریستوفر ال. ایزگرابر

クリストファー・L・アイスグルーバー

克里斯多夫·艾斯古柏

克里斯托弗·埃斯格鲁伯

Languages