Spencer, Robert 1962-
Most widely held works about Robert Spencer
Most widely held works by Robert Spencer
Islam unveiled : disturbing questions about the world's fastest growing faith
by
Robert Spencer
( Book )
20 editions published between
2002
and 2003 in
English
and
Undetermined
and held by 2,113 WorldCat member libraries worldwide
Robert Spencer explores what Islam actually teaches and the potentially ominous implications of these teachings for the future of both the Muslim world and the West. Going beyond the shallow distinction between a "true" peaceful Islam and an Islam "hijacked" by terrorist groups, Spencer probes the Quran, Islamic traditions, and other sacred documents as well as the history and present-day situation of the Muslim realm, to find out why the world's fastest growing faith tends to arouse extremism. A student of the religion for the last twenty years, he brings a critical sensibility to this brave, searching work which grapples with the question that most preoccupies us today: can Islam create successful secularized societies that will coexist peacefully with the West's multicultural mosaic?
The politically incorrect guide to Islam (and the Crusades)
by
Robert Spencer
( Book )
16 editions published between
2005
and 2014 in 3 languages and held by 949 WorldCat member libraries worldwide
Presents a critical analysis of the differences between Christianity and Islam and maintains that Islam contains a political agenda which endorses violence and aggression against non-Muslims
The truth about Muhammad : founder of the world's most intolerant religion
by
Robert Spencer
( Book )
10 editions published between
2006
and 2007 in
English
and held by 940 WorldCat member libraries worldwide
Traces the founder of Islam's rise to political and military power, focusing on controversial aspects of the prophet's beliefs and actions without adhering to political correctness
Did Muhammad exist? : an inquiry into Islam's obscure origins
by
Robert Spencer
( )
15 editions published between
2012
and 2014 in
English
and held by 696 WorldCat member libraries worldwide
Virtually everyone, Muslim and non-Muslim alike, takes for granted that the prophet of Islam lived and led in seventh-century Arabia. But this widely accepted story begins to crumble on close examination, as Robert Spencer shows here. He meticulously examines historical records, archaeological findings, and pioneering new scholarship to reconstruct what we can know about Muhammad, the Qur'an, and the early days of Islam. The evidence he presents challenges the most fundamental assumptions about Islam's origins.--From publisher description
Onward Muslim soldiers : how jihad still threatens America and the West
by
Robert Spencer
( Book )
10 editions published between
2002
and 2014 in
English
and held by 562 WorldCat member libraries worldwide
Introduction: Jihad Today -- PART ONE: JIHAD NOW Chapter One: Are We Already Fighting A Jihad? How radical Muslims use jihad as a modern-day rallying cry -- Chapter Two: Europe: Jihad in the Making? -- Chapter Three: The Jihad Way of War -- PART TWO: JIHAD THEN: EXPLODING THE MYTHS OF "TOLERANT ISLAM" Chapter Four: Jihad in the Qur'an: Is war the will of Allah? -- Chapter Five: Muhammad in the Field: The wars of the Prophet -- Chapter Six: In the Prophet's Footsteps: Jihad and dhimmitude in early and modern Islam -- Chapter Seven: The Modern Myth of Islamic Tolerance: The fact of modern Islamic intolerance -- Chapter Eight: Jihad in Eclipse and Resurgent -- Chapter Nine: Terrorism: Jihad abused? -- Chapter Ten: Everybody Must Get Stoned: The strange alliance between radical Islam and the post-1960s Left -- Chapter Eleven: How to Fight the War We're In
The myth of Islamic tolerance : how Islamic law treats non-Muslims
( Book )
9 editions published between
2004
and 2008 in
English
and held by 537 WorldCat member libraries worldwide
"This collection of essays by some of the world's leading authorities on Islamic social history focuses on the pervasive legal and cultural oppression of non-Muslims in Islamic societies. The authors of these in-depth but accessible articles explode the widely diffused myth, promulgated by Muslim advocacy groups, of a largely tolerant, pluralistic Islam. In fact, the contributors lay bare the tyrannical legal superstructure that has treated non-Muslims in Muslim societies as oppressed and humiliated tributaries, and they show the devastating effects of these discriminatory attitudes and practices in both past and contemporary global conflicts." "This hard-hitting and absorbing assessment of Islamic teachings and practices regarding non-Muslim minorities uncovers a significant human rights scandal that rarely receives any mention either in academic circles or in the mainstream press."--Jacket
Stealth jihad : how radical Islam is subverting America without guns or bombs
by
Robert Spencer
( Book )
8 editions published in
2008
in
English
and held by 515 WorldCat member libraries worldwide
Exposes a plot by Islamic jihadists to overtake America from within through less terrorism and more stealth jihad, ultimately aiming to establish Islamic law worldwide, and explains what steps must be taken to preserve American culture
Religion of peace? : why Christianity is and Islam isn't
by
Robert Spencer
( Book )
11 editions published in
2007
in
English
and held by 418 WorldCat member libraries worldwide
Argues that Christianity is more peaceful, moral, reasonable, and tolerant of other religions than Islam and that the western world must regain an appreciation of its Christian roots in order to stand firm against the threat of Islamic jihadists
The complete infidel's guide to the Koran
by
Robert Spencer
( Book )
8 editions published in
2009
in
English
and held by 349 WorldCat member libraries worldwide
Suggests that the Koran teaches intolerance, the subjugation of women, violence against people of other religions, and that is is a threat to American values
The post-American Presidency : the Obama administration's war on America
by
Pamela Geller
( Book )
2 editions published in
2010
in
English
and held by 333 WorldCat member libraries worldwide
Popular conservative blogger Pamela Geller and bestselling author Robert Spencer sound a wake-up call for Americans to stop the Obama administration from limiting our hard-won freedoms, silencing our democratic voices, and irreparably harming America for generations to come. Since taking the oath of office in January 2009, President Barack Obama has cheered our enemies and demoralized our allies. He envisions himself as more than just a president of the United States, but as a shaper of the new world order. He is "remaking" America by destroying the free-market system and nationalizing major segments of our economy, demonizing dissent and restricting freedom of speech, turning against our longtime friends, and above all, subjecting us to the determinations of foreign authorities. In this urgent battle cry, Geller and Spencer team up to rally Americans to protect the sovereignty of a country under siege by the highest levels of its own government.--From publisher description
more
fewer
Audience Level
0

1
Kids
General
Special
Audience level: 0.24 (from 0.02 for Q & A with ... to 0.39 for Islam unve ...)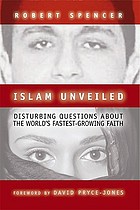 Covers
Alternative Names
Robert Bruce Spencer

Robert Spencer Amerikaans auteur

Robert Spencer écrivain américain

Robert Spencer (scriitor)

Robert Spencer US-amerikanischer Schriftsteller

Spencer Robert Bruce

Spencer, Robert R.

Роберт Спенсер

רוברט ספנסר

رابرت اسپنسر

روبرت سبنسر

இராபர்ட் ஸ்பென்சர்

스펜서, 로버트 1962-

羅伯特·斯賓塞

Languages