Levering, Matthew 1971-
Most widely held works by Matthew Levering
Vatican II : renewal within tradition
by
Matthew Levering
( )
13 editions published in
2008
in
English
and
Undetermined
and held by 1,724 WorldCat member libraries worldwide
"In [book title], an international team of theologians offers a different reading of the documents from Vatican II. The Council was indeed putting forth a vision for the future of the Church, but that vision was grounded in two millennia of tradition. Taken together, these essays demonstrate that Vatican II's documents are a development from an established antecedent in the Roman Catholic Church."--Back cover
Ressourcement Thomism : sacred doctrine, the Sacraments, and the moral life : essays in honor of Romanus Cessario, O.P.
by
Reinhard Hütter
( )
14 editions published between
2010
and 2011 in
English
and held by 1,680 WorldCat member libraries worldwide
The essays in this volume explore three areas in which St. Thomas Aquinas's voice has never fallen silent: sacred doctrine, the relationship of sacraments and metaphysics, and the central role of virtue in moral theology. The essays highlight the importance of Aquinas in contemporary theology and exemplify how to draw upon the resources of the saint for contemporary purposes of appropriation and practice, rather than for strictly historical purposes. Throughout, one sees the importance of Aquinas for theology today
Jewish-Christian dialogue and the life of wisdom : engagements with the theology of David Novak
by
Matthew Levering
( )
12 editions published between
2010
and 2011 in
English
and held by 1,391 WorldCat member libraries worldwide
This book inquires as to whether theological dialogue between Christians and Jews is possible, not only in itself but also as regards the emergence of communities of Messianic Judaism. In light of David Novak's insights, Matthew Levering proposes that Christian theological responses to supersessionism need to preserve both the Church's development of doctrine and Rabbinic Judaism's ability to define its own boundaries. The book undertakes constructive philosophical theology in dialogue with Novak. Exploring the interrelated doctrines of divine providence/theonomy, the image of God, and natural law, Levering places Novak's work in conversation especially with Thomas Aquinas, whose approach fosters a rich dialogue with Novak's broadly Maimonidean perspective. It focuses upon the relationship of human beings to the Creator, with attention to the philosophical entailments of Jewish and Christian covenantal commitments, aiming to spell out what true freedom involves. It concludes by asking whether Christians and Jews would do better to bracket our covenantal commitments in pursuing such wisdom. Drawing upon Novak's work, the author argues that in the face of suffering and death, God's covenantal election makes possible hope, lacking which the quest for wisdom runs aground. --From publisher's description
Aquinas the Augustinian
by
Michael Dauphinais
( )
12 editions published between
2007
and 2015 in
English
and held by 1,177 WorldCat member libraries worldwide
Jesus and the demise of death : resurrection, afterlife, and the fate of the Christian
by
Matthew Levering
( )
10 editions published in
2012
in
English
and held by 1,149 WorldCat member libraries worldwide
"What happens after death to Jesus and to those who follow him? This book offers a constructive theology that seeks to answer that very question, carefully considering both Jesus' descent into hell and eventual resurrection as integral parts of a robust vision of the Christian bodily resurrection. Taking on the claims of N T Wright and Richard B Hays, Matthew Levering draws strongly upon the work of Thomas Aquinas to propose a radical reconstruction of Christian eschatological theology -- one that takes seriously the profound ways in which Christianity and its beatific vision have been enriched by Platonic thought and emphasises the role of the Church community in the passage from life to death. In so doing, Levering underscores the hope in eternal life for Jesus' followers and gives readers firm and fruitful soil upon which to base conversations about the Christian's future."--Back cover
Reading Romans with St. Thomas Aquinas
by
Matthew Levering
( )
9 editions published in
2012
in
English
and held by 853 WorldCat member libraries worldwide
"St. Thomas Aquinas produced his Commentary on the Romans near the end of his life while working on the Summa theologiae and commenting on Aristotle. The doctrinal richness of Paul's Letter to the Romans was well known to the church fathers, including Origen and Augustine, on whom Aquinas drew for his commentary. With this rich collection of essays by leading scholars, both Catholic and Protestant, Aquinas's commentary will become a major resource for ecumenical biblical and theological discussion. Authored by theologians, historians, and biblical scholars, Reading Romans with St. Thomas Aquinas contributes to a historical reconstruction of Aquinas's exegesis and theology by addressing such topics as: the Holy Spirit, the Church, the faith of Abraham, worship, preaching, justification, sin and grace, predestination, Paul's apostolic vocation, the Jewish people, human sexuality, the relationship of flesh and spirit in the human person, the literal sense of Scripture, Paul's use of the Old Testament, and the relationship of Aquinas's commentary on Romans to his Summa theologiae. This volume fits within the contemporary reappropriation of St. Thomas Aquinas, which emphasizes his use of Scripture and the teachings of the church fathers without neglecting his philosophical insight."--Publisher's description
Biblical natural law : a theocentric and teleological approach
by
Matthew Levering
( )
21 editions published between
2008
and 2012 in
English
and held by 845 WorldCat member libraries worldwide
"Natural law theory is controversial today because it presumes that there is a stable 'human nature' that is subject to a 'law.' How do we know that 'human nature' is stable and not ever-evolving? How can we expect 'law' not to constrict human freedom and potential? Furthermore if there is a 'law, ' there must be a lawgiver. Matthew Levering argues that natural law theory makes sense only within a broader worldview, and that the Bible sketches both such a persuasive worldview and an account of natural law that offers an exciting portrait of the moral life. Biblical Nature Law provides both an introduction to natural law theory and a compelling challenge to re-think current scholarship on the topic."--Jacket
An introduction to Vatican II as an ongoing theological event
by
Matthew Levering
( )
6 editions published in
2017
in
English
and held by 795 WorldCat member libraries worldwide
Contemporary scholars often refer to "the event of Vatican II," but what kind of an event was it? In this first book of the new CUA Press series Sacra Doctrina, Matthew Levering leads his readers to see the Council as a "theological event" -- a period of confirming and continuing God's self-revelation in Christ into a new historical era for the Church. This is an introduction to Vatican II with a detailed summary of each of its four central documents -- the dogmatic constitutions -- followed by explanations of how to interpret them. In contrast to other introductions, which pay little attention to the theological soil in which the documents of Vatican II germinated, Levering offers a reading of each conciliar Constitution in light of a key theological author from the era: René Latourelle, SJ for Dei Verbum (persons and propositions); Louis Bouyer, CO for Sacrosanctum Concilium (active participation); Yves Congar, OP for Lumen Gentium (true and false reform); and Henri de Lubac, SJ for Gaudium et Spes (nature and grace). This theological event is "ongoing," Levering demonstrates, by tracing in each chapter the theological debates that have stretched from the close of the council till the present, and the difficulties the Church continues to encounter in encouraging an ever deeper participation in Jesus Christ on the part of all believers. In this light, the book's final chapter compares the historicist (Massimo Faggioli) and Christological (Robert Imbelli) interpretations of Vatican II, arguing that historicism can undermine the Council's fundamental desire for a reform and renewal rooted in Christ. The conclusion addresses the concerns about secularization and loss of faith raised after the Council by Henri de Lubac, Joseph Ratzinger, and Yves Congar, arguing that contemporary Vatican II scholarship needs to take these concerns more seriously. -- Provided by publisher
more
fewer
Audience Level
0

1
Kids
General
Special
Audience level: 0.18 (from 0.03 for Ressourcem ... to 0.51 for Sacrifice ...)
Related Identities
Associated Subjects
Assumption of the Blessed Virgin Mary
Augustine,--of Hippo, Saint,
Bible
Bible.--Epistles of Paul
Bible.--Ezra
Bible.--John
Bible.--Nehemiah
Bible.--Romans
Catholic Church
Charity
Christianity
Christianity and law
Church renewal--Catholic Church
Councils and synods
Covenant theology
Eschatology
Hermeneutics
In Epistolam ad Romanos expositio (Thomas, Aquinas, Saint)
Interfaith relations
Isaac--(Biblical patriarch)
Judaism
Law (Theology)--Biblical teaching
Lord's Supper--Sacrifice
Love--Religious aspects--Catholic Church
Mary,--Blessed Virgin, Saint
Natural law
Natural law--Biblical teaching
Novak, David
Novak, David,
Philosophical theology
Religion
Sacrifice of Isaac
Simard, Marie Ange
Sin--Christianity
Summa theologica (Thomas, Aquinas, Saint)
Super Evangelium S. Joannis lectura (Thomas, Aquinas, Saint)
Theology
Theology, Doctrinal
Theology, Doctrinal--Middle Ages
Thomas,--Aquinas, Saint,
Thomas@ (Diedericks-Hugo, Carina)
Trinity
Trinity--History of doctrines
Vatican Council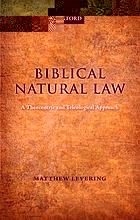 Covers
Alternative Names
Levering Matthew Webb

Levering Matthew Webb 1971-....

Matthew Levering American theologian

Matthew Levering Amerikaans universitair docent (1971-)

Matthew Levering teólogo estadounidense

Webb Levering, Matthew 1971-

Languages