Cropp, Fritz
Most widely held works by Fritz Cropp
Journalism across cultures
by
Fritz Cropp
( Book )
6 editions published in
2003
in
English
and held by 295 WorldCat member libraries worldwide
"Even the most fair-minded journalists can find it difficult to get past cultural stereotypes. The ability to see through stereotypes with fair and accurate reporting is becoming imperative in today's shrinking global community. Journalism Across Cultures will help journalists and future journalists better serve their audiences by increasing their understanding of the diverse communities they cover. This text is aimed both at working media professionals and students in international or cross-cultural journalism courses. It provides a comprehensive overview of journalism issues across lines of race, culture, gender, age, and ideology." "Assembled by a diverse panel of experts, this primary text provides a synopsis of research into the coverage of minorities. It offers a report on an innovative approach to improved coverage of minorities through journalist and researcher collaboration. Authors also examine the news coverage of women, using this coverage as an example to describe the varying academic theories by which news content about any subject can be studied."--Jacket
Der Arzt
by
Fritz Cropp
( Book )
2 editions published in
1938
in
German
and held by 28 WorldCat member libraries worldwide
Der Arzt: 1. Der arzt
( Book )
1 edition published in
1938
in
German
and held by 6 WorldCat member libraries worldwide
Perceptions of Japanese advertising : a Q-methodological study of advertising practitioners in Japan
by
Fritz Cropp
( Book )
4 editions published in
1996
in
English
and held by 5 WorldCat member libraries worldwide
Previously, studies of advertising in Japan have been conducted using content analysis, with little attention to attitudes about advertising and advertising strategy. This study examines perceptions of changes in Japanese advertising among advertising professionals in Japan, probing advertising issues that have not previously been scientifically explored. A review of the existing literature about advertising in Japan and interviews with professionals at advertising agencies in Japan yielded four primary dimensions that appear to be affecting advertising in Japan. These dimensions are, the "soft sell" or comparatively more emotional appeal of Japanese advertisements, which contrasts with more attribute-oriented or "hard sell" Western advertising; advertising strategy issues, which focus primarily on the intent of advertising in Japan; economic issues, which address changes in the Japanese distribution system and other economic issues that directly affect advertising; and cultural factors that affect advertising in Japan, which include differences in customs, mores, and language. Q-methodology was used to isolate different types of advertising professionals in Japan. Thirty-four advertising executives were asked to sort forty statements regarding advertising strategy in Japan and the United States. Each of the statements involved one of the four factors that appear to be shaping advertising in Japan. Three distinct types of advertising professionals emerged. The Establishment Type, comprised exclusively of Japanese advertising executives, contends that the advertising climate in Japan is similar to that in the West. He sees minor changes in advertising in Japan, but not dramatic changes precipitated by difficult economic times. The Emigrant Type, comprised exclusively of advertising professionals from the United States, Great Britain and Australia, sees advertising as an extension of the competitive marketplace but believes that cultural factors preclude major change in the advertising climate in Japan. The Change Agent Type, which includes both Japanese and Western professionals, foresees dramatic change in advertising in Japan, precipitated by difficult economic times and fierce competition. Conclusions and implications of these findings are discussed
Youth to youth : changing Palestinian-American images and stereotypes through online social networks
by Saleem Alhabash
( )
1 edition published in
2008
in
English
and held by 2 WorldCat member libraries worldwide
Throughout the past few years, the perceived images and stereotypes of Palestinians and Americans have worsened as a result of a variety of political dynamics and policies related to both the United States and the Middle East. Mass media, corresponding to these changes, adopted certain frames, which has contributed to the cultivation of these images and stereotypes. As the world is witnessing a technological revolution in the field of communication, that is reshaping our communities, sociopolitical and economic process, this study aimed at investigating the influence of online social networking on the way American and Palestinian youth perceived each other. Furthermore, the study also investigated the influence of online social networking on young people's level of interaction, psychosocial well-being and social capital, within the framework of controlled online social networking among youth from two different national groups. The study utilized an online field experiment design to examine how online social networking can influence images, stereotypes, level of interaction, psychosocial wellbeing and social capital of Palestinian and American youth. The results indicated that as a result of the online interaction, participants' perceived images and stereotypes were positively influenced, as well as positive relationships were developed amongst them. In addition, online social networking also positively influenced the participants' psychosocial well-being and social capital. The results were discussed within the framework of the role online social networking and the Internet can play in bridging the gap between cultures and mobilizing grassroots efforts in people-to-people public diplomacy. Future research is highly needed in this area, through which slightly altered methodologies can be used to further the knowledge about online social networking in an international perspective
Der Arzt,...
by
F Cropp
( Book )
1 edition published in
1938
in
German
and held by 2 WorldCat member libraries worldwide
Identities on the line : youth, internet use, and citizenship in Kyrgyzstan
by Hans Ibold
( )
1 edition published in
2008
in
English
and held by 1 WorldCat member library worldwide
This dissertation examines the interaction between identity and Internet use in the everyday lives of urban youth in Kyrgyzstan. Using a "quick ethnography" (interview, observation, survey), the study investigates the ways in which young people develop and express "cultural identity" in their rapidly globalizing and expanding digital media environment. For urban youth in Kyrgyzstan, the Internet is widely available and free of government or special interest intrusion, unlike most of the traditional media. Through the identity lens, the study also explores the ways in which networked media like Internet might constitute or facilitate alternative sites of citizenship in authoritarian-leaning, post-Soviet, post-revolution Kyrgyzstan. The country's evolving digital media, along with its relatively nascent, volatile democracy, provide an important non-Western context for the study of how young people relate to Internet media and of potential implications for citizenship. The study adds knowledge from the Central Asian context to recent theoretical work on "cultural citizenship," which posits alternative, global citizenship practices. Implications for global journalism studies and for media development are discussed
more
fewer
Audience Level
0

1
Kids
General
Special
Audience level: 0.52 (from 0.44 for Journalism ... to 0.96 for Der Arzt,. ...)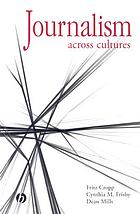 Covers
Alternative Names
Cropp.

Cropp, Frederick William

Cropp, Fritz Karl Wilhelm 1887-1984

Fritz Cropp deutscher Arzt und NS-Beamter

Fritz Cropp ditsche Bolitiker

Fritz Cropp Duits politicus (1887-1984)

Fritz Cropp Duitse politikus

Fritz Cropp düütsch Politiker

Fritz Cropp personnalité politique allemande

Fritz Cropp polític alemany

Fritz Cropp político alemán

Fritz Cropp políticu alemán (1887–1984)

Fritz Cropp tysk politikar

Fritz Cropp tysk politiker

Languages