Nance, Malcolm W.
Most widely held works by Malcolm W Nance
The plot to destroy democracy : how Putin and his spies are undermining America and dismantling the West
by
Malcolm W Nance
( Book )
15 editions published between
2018
and 2019 in
English
and held by 1,115 WorldCat member libraries worldwide
"In the greatest intelligence operation in the history of the world, Donald Trump was made President of the United States with the assistance of a foreign power. For the first time, The Plot to Destroy Democracy reveals the dramatic story of how blackmail, espionage, assassination, and psychological warfare were used by Vladimir Putin and his spy agencies to steal the 2016 U.S. election-and attempted to bring about the fall of NATO, the European Union, and western democracy. It will show how Russia and its fifth column allies tried to flip the cornerstones of democracy in order to re-engineer the world political order that has kept most of the world free since 1945. Career U.S. Intelligence officer Malcolm Nance will examine how Russia has used cyber warfare, political propaganda, and manipulation of our perception of reality--and will do so again--to weaponize American news, traditional media, social media, and the workings of the internet to attack and break apart democratic institutions from within, and what we can expect to come should we fail to stop their next attack. Nance has utilized top secret Russian-sourced political and hybrid warfare strategy documents to demonstrate the master plan to undermine American institutions that has been in effect from the Cold War to the present day. Based on original research and countless interviews with espionage experts, Nance examines how Putin's recent hacking accomplished a crucial first step for destabilizing the West for Russia, and why Putin is just the man to do it. Nance exposes how Russia has supported the campaigns of right-wing extremists throughout both the U.S. and Europe to leverage an axis of autocracy, and how Putin's agencies have worked since 2010 to bring fringe candidate Donald Trump into elections. Revelatory, insightful, and shocking, The Plot To Destroy Democracy puts a professional spy lens on Putin's plot and unravels it play-by-play. In the end, he provides a better understanding of why Putin's efforts are a serious threat to our national security and global alliances--in much more than one election--and a blistering indictment of Putin's puppet, President Donald J. Trump."--Publisher's description
The plot to hack America : how Putin's cyberspies and WikiLeaks tried to steal the 2016 election
by
Malcolm W Nance
( Book )
15 editions published between
2016
and 2017 in
English
and held by 714 WorldCat member libraries worldwide
In April 2016, computer technicians at the Democratic National Committee discovered that someone had accessed the organization's computer servers. The FBI found that more than twenty-five state election offices had their voter registration systems probed or attacked by the same hackers. The hack was tracked to Russian spy agencies and the stolen information channeled to Julian Assange, the founder of WikiLeaks. The goal of the attack: to elect Donald Trump as president of the United States
Terrorist recognition handbook : a practitioner's manual for predicting and identifying terrorist activities
by
Malcolm W Nance
( )
34 editions published between
2003
and 2017 in
English
and held by 682 WorldCat member libraries worldwide
Written by a 20-year veteran of the U.S. intelligence community, this second edition reflects the latest geopolitical factors affecting global terrorist incidents and regional insurgencies. A new section includes an analysis of transformations within Al Qaeda, coverage of the modern insurgency, and new global and regional terrorist groups. Completely updated, the section on terrorist tactics reveals the latest trends and attack methods and includes a new chapter on previously unseen suicide bombings. This book is an invaluable training tool on how to identify an attack; how to mitigate damage from successful attacks; and how to recognize the various stages of developing terrorist plots
Defeating ISIS : who they are, how they fight, what they believe
by
Malcolm W Nance
( Book )
11 editions published between
2016
and 2017 in
English
and held by 581 WorldCat member libraries worldwide
Offers an examination of the ISIS terrorist organization, looking at the group's origin, ideology, propaganda, organization, and tactics, and offers steps for defeating it
The plot to betray America : how team Trump embraced our enemies, compromised our security, and how we can fix it
by
Malcolm W Nance
( Book )
5 editions published between
2019
and 2020 in
English
and held by 557 WorldCat member libraries worldwide
"When former FBI Director Robert Mueller III was assigned to the Special Counsel investigation looking into the possibility of Russian interference in the 2016 US election, many Americans felt relieved. But when the report was delivered in April 2019, it was clear that the case was far from closed--and pinning Trump down on conspiracy charges was going to be a lot more difficult than it had first seemed. In [this book], Malcolm Nance, ... bestselling author and renowned intelligence expert, reveals exactly how Trump and his inner circle conspired, coordinated, communicated, and eventually strategized to commit the greatest act of treachery in the history of the United States: compromising the presidential oath of office in exchange for power and personal enrichment. Seduced by the promises of riches dangled in front of them by Vladimir Putin, the Trump administration eagerly decided to reap the rewards of the plan to put a Kremlin-friendly crony in the Oval Office. And instead of interfering, the Republican Party's faithful William Barr, Paul Manafort, Michael Cohen, Steve Bannon, Rudy Giuliani, Mitch McConnell, Roger Stone, George Papadopoulos, and Jeff Sessions among others did everything they could to facilitate Trump's damage to national security to fill his own pockets. Through in-depth research and interviews with intelligence experts and insiders, Nance charts Trump's deep financial ties to Russia through his family's investments, including those of Donald Trump Jr., Ivanka Trump, and Jared Kushner, and the corrupt behavior of his other double-crossing pro-Moscow associates. Only by untangling the spider web of personal and financial relationships linking the White House to the Kremlin can we start to free ourselves from the constricting clutches of our foreign adversaries and work to rebuild our fractured nation. In this geopolitical page-turner, The Plot to Betray America ultimately sketches the tracks and blueprint of the Trump administration's conspiracy against our country-and how we can still fight to defend democracy, protect our national security, and save the Constitution."--Dust jacket
An end to Al Qaeda : destroying Bin Laden's jihad and restoring America's honor
by
Malcolm W Nance
( Book )
3 editions published between
2010
and 2013 in
English
and held by 508 WorldCat member libraries worldwide
Bin Laden has built a large following by perverting Islam to justify the mass murder of innocent people. By fighting him with bullets and bombs we have bolstered Bin Laden's recruiting efforts abroad, undermined civil liberties and economic security at home and tarnished America's reputation internationally. The author retools the "War on Terror" to assert that the U.S. could eliminate Al Qaeda in less than 24 months without a single violent military action, while recreating America's reputation as a force for good around the world. Nance's plan includes: dominating the information battlespace by exposing Al Qaeda to the rest of the international Moslem community as the global death cult that they are; waging a war against the fear Al Qaeda has stoked; drastically reducing the number of heavy military operations that cause the death of civilians in the process; and relying more heavily on counterintelligence to root out the terrorist group.--From publisher description
Breaking hate : confronting the new culture of extremism
by
Christian Picciolini
( Book )
2 editions published in
2020
in
English
and held by 277 WorldCat member libraries worldwide
"At fourteen, Christian Picciolini was recruited by a now notorious skinhead leader and encouraged to fight with the movement to "protect the white race from extinction." Soon, he had become an expert in racist ideology, a neo-Nazi terror who roamed the neighborhood, quick to throw fists. By the time he left the movement years later and was able to see clearly for the first time, Picciolini found that his life was in shambles and the nation around him was coming apart. Told with startling intimacy and compassion, Breaking Hate is the inside story of how extremists have taken the reins of our political discourse and a guide to how everyday Americans can win it back. The forces pushing to polarize and radicalize us are many--from fake news to coded language to Russian trolls to a White House that often aims to inflame rather than to heal. Increasingly, the information with which we construct our world views is segregated by social media stars and advertisers with murky motives to validate our worst impulses. As Picciolini demonstrates, our modern world systematically normalizes extremism in such a way that we grow blind to it, only recognizing it in the wake of tragedy. Drawing on profiles of extremists that he works to free from violent ideology and on his own painful history leading and then escaping from an infamous neo-Nazi group, Breaking Hate explains why terrorism and violence have come to characterize our daily lives and why that doesn't need to be the case"--
The terrorists of Iraq : inside the strategy and tactics of the Iraq insurgency 2003-2014
by
Malcolm W Nance
( )
13 editions published between
2007
and 2015 in
English
and held by 252 WorldCat member libraries worldwide
"This highly decorated and highly visible author is revising his first edition of The Terrorists of Iraq in the wake of the most recent turmoil effecting the country. His new edition contains valuable insight to many of the terrorist groups in the region including ISIS, which is being talked about on nearly every news outlet today. The book will continue to draw on the historical analyses, examinations of organizations/weapons/strategy & tactics, and policy recommendations included in the first edition- but, will add valuable insight learned from the most recent crisis and the changes that have occurred in the last 6 years since its publication."--
Hacking ISIS : how to destroy the cyber jihad
by
Malcolm W Nance
( Book )
10 editions published between
2017
and 2018 in
English
and held by 234 WorldCat member libraries worldwide
Hacking ISIS will explain and illustrate in graphic detail how ISIS produces religious cultism, recruits vulnerable young people of all religions and nationalities and disseminates their brutal social media to the world. More, the book will map out the cyberspace level tactics on how ISIS spreads its terrifying content, how it distributes tens of thousands of pieces of propaganda daily and is winning the battle in Cyberspace and how to stop it in its tracks. Hacking ISIS is uniquely positioned to give an insider's view into how this group spreads its ideology and brainwashes tens of thousands of followers to join the cult that is the Islamic State and how average computer users can engage in the removal of ISIS from the internet --
more
fewer
Audience Level
0

1
Kids
General
Special
Audience level: 0.31 (from 0.19 for The plot t ... to 0.62 for Breaking h ...)
Associated Subjects
Armed Forces
Armed Forces--Operational readiness
Assange, Julian
Clinton, Hillary Rodham
Cyberterrorism
Deterrence (Strategy)
Diplomatic relations
Elections--Corrupt practices
Espionage, Russian
Europe
Government, Resistance to
Hacktivism
Hate--Social aspects
Insurgency
Internet in espionage
Internet--Political aspects
Iraq
IS (Organization)
Jihad
Middle East
Military policy
Military relations
North Atlantic Treaty Organization
Political corruption
Political science
Politics and government
Postwar reconstruction
Presidents--Election
Putin, Vladimir Vladimirovich,
Qaida (Organization)
Race relations
Radicalism
Russia (Federation)
Security, International
Strategic aspects of individual places
Terrorism
Terrorism--Prevention
Terrorism--Prevention--Government policy
Terrorism--Psychological aspects
Terrorism--Religious aspects--Islam
Terrorists
Terrorists--Psychology
Terrorists--Recruiting
Trump, Donald,
United States
United States.--Army, Europe
United States.--European Command
Violence
White supremacy movements
WikiLeaks (Organization)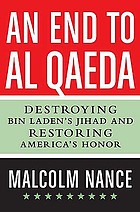 Covers
Alternative Names
Malcolm Nance

Malcolm Nance American intelligence officer, Terrorism expert, and former US Navy SERE instructor

Malcolm Wrightson Nance

Malcolm Wrightson Nance US Intelligence officer, Terrorism expert, former US Navy SERE instructor

Nance, M.

Nance, M. W.

Nance, Malcolm.

Nance, Malcolm Wrightson

Nance, Malcolm Wrightson, 1961-

낸스, 말콤 W. 1961-

マルカム・ナンス

Languages