Calichman, Richard
Most widely held works by Richard Calichman
What is modernity? : writings of Takeuchi Yoshimi
by
Yoshimi Takeuchi
( )
16 editions published between
2004
and 2005 in
English
and held by 1,830 WorldCat member libraries worldwide
Yoshimi questioned the very nature of thought, arguing that thinking is less a subjective act than an opening to alterity. His works were central in drawing Japanese attention to the problems inherent in Western colonialism & to the cultural importance of Asia
Contemporary Japanese thought
by
Richard Calichman
( )
12 editions published between
2005
and 2012 in
English
and held by 1,660 WorldCat member libraries worldwide
The writings in this collection reflect some of the most innovative and influential work by Japanese intellectuals and cover a range of disciplines addressing the political, historical and cultural issues that have dominated Japanese intellectual life
The frontier within : essays by Abe Kōbō.
by
Kōbō Abe
( )
4 editions published between
2013
and 2016 in
English
and held by 949 WorldCat member libraries worldwide
"Abe Kobo tackled contemporary social issues and literary theory with the depth and facility of a visionary thinker."--Jacket cover
Beyond nation : time, writing, and community in the work of Abe Kōbō
by
Richard Calichman
( )
7 editions published between
2016
and 2017 in
English
and held by 683 WorldCat member libraries worldwide
In the works of Abe Kobo (1924-93), characters are alienated from themselves and one another. Through a series of close readings, Richard Calichman reveals Abe's message that time and writing destabilize identity but forming communities (and nations) won't recapture a persons sense of wholeness, despite government declarations to the contrary. Calichman argues that Abe's attack on the concept of national affiliation has been neglected through his inscription as a writer of Japanese literature. At the same time, the institution of Japan Studies works to tighten the bond between nation-state and individual subject. Beyond Nation thus analyzes the elements of Orientalism, culturalism, and racism that often underlie the appeal to collective Japanese identity
The politics of culture : around the work of Naoki Sakai
by
Richard Calichman
( )
8 editions published in
2010
in
English
and held by 503 WorldCat member libraries worldwide
Takes the groundbreaking work of Naoki Sakai as its starting point and broadens the scope of Cultural Studies to bridge across philosophy and critical theory. This title problematizes the putative divide between 'Asian' and 'Western' research objects and methodologies, and the link between culture and the nation
Beasts head for home : a novel
by
Kobo Abé
( Book )
6 editions published in
2017
in
English
and held by 488 WorldCat member libraries worldwide
"Set in Manchuria in the aftermath of the Asian Pacific War. The central character is Kuki Kyūzō, whose settler parents relocated from Japan to the Manchurian puppet-state as the Japanese empire expanded. Kyūzō's father, a factory technician, dies shortly after he is born. In the course of Japan's defeat and the Soviet Union's occupation of Manchuria, Kyūzō's mother is seriously wounded, forcing him to remain behind with her rather than evacuate with the other Japanese citizens. Her subsequent death leaves Kyūzō alone in the abandoned Japanese settlement, and he is employed as a houseboy by Alexandrov, an officer in the Soviet army. Approximately two years after the end of hostilities, Kyūzō decides to return to Japan. Providing money, a train ticket, and official travel documents, Alexandrov bids Kyūzō farewell. On the train Kyūzō meets Kō, who appears to be a fellow Japanese, much to Kyūzō's relief. The train is attacked, but Kyūzō and Kō manage to escape, fleeing by foot across the harsh Manchurian plains. Kyūzō gradually comes to realize that Kō is in possession of stolen heroin and is being pursued by the Chinese Communists, who are battling the Nationalist forces for control of the mainland. Finally arriving at a city, Kyūzō is betrayed by Kō, who beats him and steals his identity papers and travel documents. Utterly destitute, Kyūzō makes his way to a Japanese repatriation center. The difficulty is that Kyūzō lacks any documents to prove that he is Japanese. Exposure to the elements has left him deeply sunburned, which further casts doubt on his Japanese identity. He wanders the city and meets another Japanese named Okura, who takes an unusual interest in Kyūzō's relationship with Kō"--
Overcoming modernity : cultural identity in wartime Japan
( Book )
7 editions published in
2008
in
English
and held by 300 WorldCat member libraries worldwide
In the summer of 1942, Japan's leading cultural authorities gathered in Tokyo to discuss the massive cultural, technological, and intellectual changes that had transformed Japan since the Meiji period. This text presents a translation of the symposium proceedings
Takeuchi Yoshimi : displacing the west
by
Richard Fox Calichman
( Book )
8 editions published between
2001
and 2004 in
English
and held by 123 WorldCat member libraries worldwide
This dissertation focuses on the writings of the postwar Japanese thinker and sinologist Takeuchi Yoshimi (1910--1977). It presents itself less as an intellectual biography than a series of explorative readings of his work. These readings attempt to trace out the various problematics with which Takeuchi was engaged throughout his career, with particular emphasis given to the notions of modernity, subjectivity and alterity. In all cases, an effort was made to do justice to the difficult notion of "resistance," for which Takeuchi is perhaps most well-known. We have argued that what Takeuchi refers to as "Oriental resistance" against the West is in fact reflective of a more comprehensive notion of resistance, one that may be understood along the lines of the ultimate impossibility of conceptual knowledge. This impossibility is for Takeuchi essentially linked to a privileging of historical singularity over subjective identity, and with this a shift in emphasis from activity to passivity. We have sought throughout the work to draw out the complexity of Takeuchi's thought, and in this way bring forth not only the important possibilities that inhere within it but as well what we consider to be at times its insufficiencies, or limits
The frontier within essays
by
Kobo Abé
( Book )
2 editions published in
2013
in
English
and held by 6 WorldCat member libraries worldwide
Abe Kobo (1924-1993) was one of Japan's greatest postwar writers, recognized widely for his science fiction and plays of the absurd. He also wrote keen theoretical criticism for which he is lesser known, merging literary, historical, and philosophical perspectives. From the nature of creativity to the evolution of the human species, Abe tackled contemporary social issues and literary theory with the depth and facility of a visionary thinker
Body affects in the storehouse: Parrying modernity Uno Koji style
by Young-ah Chung
( Book )
1 edition published in
2011
in
English
and held by 2 WorldCat member libraries worldwide
This dissertation addresses intricate intersections among the affective body, global modernity, and literary history in Japanese literature in the early twentieth century, that is, the imperial eras of late Meiji (1868--1912) and Taisho (1912--1926). Uno Koji (1891--1961) and his best-known novella Kura no naka (1919) afford the gravitation that draws together such disparate topics as hysteria, melancholia, ownership and debt, collecting, and biography into mutually generative constellations. As Uno's ambivalent position within canonical literary history forms a fertile relation with the stylistic experimentalism of the text, the pair presents felicitous events across the epistemological boundary between life and writing, and bodily and literary style. Geared towards properly expanding the horizon of inquiry, this study emphatically pursues the reverberations between Uno and Kura no naka and such varied contemporaries as Akutagawa Ryunosuke, Walter Benjamin, Charlie Chaplin, Natsume Soseki, and Virginia Woolf; and thereby illuminates the ineluctably global milieu that was modernity in the early twentieth century. The discussion closely engages with theoretical writings, drawing most extensively on psychoanalytic approaches in order to account for some of the most intractable questions that have tested the disciplinary limits of modern Japanese literature. Chapter 1 explores hysteria as a fresh conceptual passage for feminist criticism, a provocation to the current preoccupation with ideological investigation which uniformly effaces the body as a differential event. Chapter 2 is a metonymic experiment deriving theoretical prompts from the larger discussion on hysteria in order to vitalize the increasingly expiring notion of shishosetsu in light of postcolonial melancholia. While Chapter 3 magnifies an intimate scene of the two visual subjects transpiring on the precipice of hysteria, Chapter 4 traces the kinetic body within particular narrative-spatial coordinates. Both chapters impel towards the question of the relation to the other, and the world, by way of the narrative. Finally, Chapter 5 attempts to reimagine bio-graphy --differentiated from biography--as a form of literary history new precisely for its being a writing of the body. Overall, the human and objectal figures arising from the study are a call of love attuned by several related mimetic modalities: distance to the intimate other, remembering the mother, and becoming the (m)other
more
fewer
Audience Level
0

1
Kids
General
Special
Audience level: 0.14 (from 0.05 for What is mo ... to 0.93 for The fronti ...)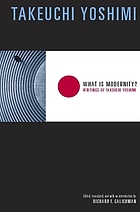 Covers
Alternative Names
Calichman, Richard

Calichman, Richard F.

Calichman, Richard F. 1965-

Languages