Ajahn Brahm 1951-
Most widely held works about Ajahn Brahm
more
fewer
Most widely held works by Ajahn Brahm
Mindfulness, bliss, and beyond : a meditator's handbook
by
Ajahn Brahm
( Book )
11 editions published between
2006
and 2014 in 3 languages and held by 284 WorldCat member libraries worldwide
Brahm explains difficult concepts clearly and easily, so that beginners understand them, while those who already meditate gain new insight. Full of surprises, delightfully goofy humor, and entertaining stories that inspire, instruct, and illuminate, "The Meditator's Handbook" encourages novices and gives a shot in the arm to more experienced practitioners
Kindfulness
by
Ajahn Brahm
( Book )
7 editions published between
2016
and 2017 in
English
and
Czech
and held by 266 WorldCat member libraries worldwide
"Mindfulness is not enough ... When we add kindness to mindfulness we get 'kindfulness, ' a new approach to meditation. Kindfulness is the cause of relaxation. It brings ease to the body, to the mind, and to the world. Kindfulness allows healing to happen. So don't just be mindful, be kindful! With his trademark knack for telling engaging stories paired with step-by-step anyone-can-do-it instructions, Brahm brings alive and makes accessible powerful tools transformation. This slim, beautifully designed volume is a Quick Start guide for living a life of joy and compassion."--
Don't worry, be grumpy : Inspiring stories for making the most of each moment
by
Ajahn Brahm
( Book )
6 editions published in
2014
in
English
and held by 210 WorldCat member libraries worldwide
In 108 brief stories with titles like "The Bad Elephant, " "Girlfriend Power, " and "The Happiness License, " Ajahn Brahm offers up more timeless wisdom that will speak to people from all walks of life. Drawing from his own experiences, stories shared by his students, and old chestnuts that he delivers with a fresh twist, Ajahn Brahm shows he knows his way around the humorous parable, delighting even as he surprises us with unexpected depth and inspiration
Opening the door of your heart : and other Buddhist tales of happiness
by
Ajahn Brahm
( Book )
39 editions published between
2004
and 2015 in 6 languages and held by 155 WorldCat member libraries worldwide
"These modern tales of hope, forgiveness, freedom from fear and overcoming pain cleverly relate the timeless wisdom of the Buddha's teachings and the path to true happiness in a warm and accessible way. Ajahn Brahm was born and raised in the West and in his more than thirty years as a Buddhist monk he has gathered many poignant, funny and profound stories. He has tremendous ability to filter these stories through the Buddha's teaching so that they can have meaning for all sorts of readers ... 'More than statistics and theories, we really trust anecdotes and narratives. Our brains and beings are wired to learn deeply and easily via stories, and this splendid collection of 108 Buddhist-based tales proves the point with lasting, gentle, pervasive teachings ...In the dozen compelling and practical sections on topics like perfection, love, commitment, fear, pain, anger, forgiveness, happiness, freedom and humility, he weaves a long, rich tapestry of understanding using short threads of stories only a couple of pages long. Many tales lead one to the other, but each also stands alone. Resurrecting several 'chestnuts' as well as crafting new stories, Brahm avoids the pitfall of esoteric, inscrutable renderings sometimes found in Buddhist writing. Instead, without compromising integrity, he favours modern cadences and references (e.g., iPods and the World Wildlife Fund) to make the stories sail along ...this is a wonderful collection that can be enjoyed by a broad audience.--Publishers Weekly."
The art of disappearing : the Buddha's path to lasting joy
by
Ajahn Brahm
( Book )
11 editions published between
2011
and 2018 in 3 languages and held by 134 WorldCat member libraries worldwide
Whether mere bumps in the road or genuine crises, we live in a world of unwanted events that no willpower can prevent. This book helps us learn to abandon the headwind of false expectations and follow instead the Buddha's path of understanding. Releasing our attachment to past and future, to self and other, we can directly experience the natural state of serenity underlying all our thoughts and discover the bliss of the present moment. In that space, we learn what it is to disappear. Ajahn Brahm, an unparalleled guide to the bliss of meditation, makes the journey as fun as it is rewarding
Falling is flying : the Dharma of facing adversity
by
Ajahn Brahm
( Book )
4 editions published in
2019
in
English
and held by 89 WorldCat member libraries worldwide
"Meet your companions for this rocky part of the path: Ajahn Brahm and Chan Master Guojun--one a teacher in the Theravada Buddhist tradition, the other in the Chinese Zen tradition. These two beloved meditation masters share personal stories and anecdotes from their own experiences of dealing with life's pitfalls. You'll learn from their honest, generous teachings how you can live fully--even flourish--even when the road ahead looks steep and lonely."--Amazon.com
Bear awareness : questions and answers on taming your wild mind
by
Ajahn Brahm
( )
4 editions published in
2017
in
English
and held by 75 WorldCat member libraries worldwide
In Bear Awareness English monk Ajahn Brahm answers actual questions from his meditation students-- questions you may have had as well. While most mindfulness meditation teachers praise the benefits of bare awareness, he teaches bear awareness. He helps us make friends with the scary things that come up on the cushion, and he knows how to lift the mood with a well-placed stuffed teddy-- or a well-timed pun
Opening the door of your heart : and other Buddhist tales of happiness
by
Ajahn Brahm
( Recording )
16 editions published between
2004
and 2014 in
English
and
Undetermined
and held by 61 WorldCat member libraries worldwide
During his wanderings and work over the last 30 years as a Buddhist monk, Ajahn Brahm has gathered many poignant, funny and profound stories. While traditional Buddhist philosophy is at the heart of this collection, these thoughtful stories are written like playful parables, which are used to launch into a deeper exploration of subjects such as mindfulness, suffering, forgiveness, hope, wisdom and unconditional love. Told with wit and good humour, they reveal moments of compassion in the lives of ordinary people and the timeless wisdom of the Buddha's teachings
Der Elefant, der das Glück vergaß : buddhistische Geschichten, um Freude in jedem Moment zu finden
by
Ajahn Brahm
( Book )
9 editions published in
2015
in
German
and
Undetermined
and held by 39 WorldCat member libraries worldwide
Liebe, Weisheit, Erkenntnis - ein Geschenk, das Herz und Seele berührt. Geschichten, die alltagspraktisches Lebenswissen bieten, ohne jemals belehrend zu wirken. Ein Buch, das lauthals zum Lachen bringt und auch zu Tränen rührt - für alle Menschen, die auf der Suche nach einem glücklichen Leben sind
Jeder Lotos hat ein schönes Herz Eine praktische Anleitung zur Meditation
by
Ajahn Brahm
( Book )
4 editions published between
2012
and 2016 in
German
and held by 12 WorldCat member libraries worldwide
Der Weg zu Gelassenheit und innerer Stärke Von Termin zu Termin hetzend, stressgeplagt und ständig unter Druck findet der moderne Mensch nur noch schwer zu Erholung und innerer Ruhe. Kann Meditation hier eine Hilfe sein? Ja, man muss nur richtig meditieren , sagt Ajahn Brahm, einer der ungewöhnlichsten und angesehensten buddhistischen Lehrer unserer Zeit. Meditation kann unseren Alltag wandeln, bereichern und lässt ihn leichter werden. Zunächst schildert der Autor klar und deutlich, wie die anfänglichen Hindernisse und Stolpersteine überwunden werden können: das unaufhörliche Gedankenkarussell, die Ungeduld, die Ablenkung durch äussere Einflüsse und die Müdigkeit. In der Vertiefung der Praxis geht es um tiefe Gedankenstille, das Gewahrsein des Augenblicks, das Loslassen aller Mühen und Sorgen. Dieses Buch lehrt eine Form der Meditation, die uns stärker werden, innere Stille finden und Kraft schöpfen lässt, um die Hürden des Alltags zu überwinden und in das spirituelle Leben einzutreten
more
fewer
Audience Level
0

1
Kids
General
Special
Audience level: 0.49 (from 0.32 for Ai đỏ̂ đo ... to 0.95 for Die Kuh, d ...)
Related Identities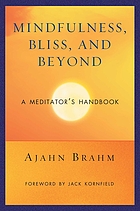 Covers
Alternative Names
Adzan Brahmavamso 1951-

Adžanas Bramas

Ajahn Brahm.

Ajahn Brahm buddhistischer Mönch

Ajahn Brahmavamso 1951-

Ajahn Brahmavamso 1951- Mahathera

Ajahn Brahmavamso Brits auteur

Ajahn Brahmavamso Mahathera 1951-....

Ajahn Bramhavamso Mahathera.

Ajahnas Brahmas

Betts Peter

Betts Peter 1951-....

Brahm 1951- Adžán

Brahm, Adžán, 1951-

Brahm Ajahn

Brahm Ajahn 1951-....

Brahm Ajahn Jensen 1951-....

Brāms, Adžāns 1951-

Аджан Брам

Ађан Брам

අජාන් බ්‍රහ්මවංසෝ හිමි

พระวิสุทธิสังวรเถร

아잔 브라흐마

아잔 브라흐마 1951-

아잔 브람 1951-

アジャン・ブラム

アーチャン・ブラーム

阿姜布拉姆

Languages