National Research Council (U.S.). Board on Science Education
Most widely held works by National Research Council (U.S.).
Taking science to school : learning and teaching science in grades K-8
by
National Research Council (U.S.)
( Book )
3 editions published in
2007
in
English
and held by 803 WorldCat member libraries worldwide
Drawing on a vast array of work from neuroscience to classroom observation, Taking Science to School provides a comprehensive picture of what we know about teaching and learning science from kindergarten through eighth grade. By looking at a broad range of questions, this book provides a basic foundation for guiding science teaching and supporting students in their learning. Taking Science to School answers such question as: When do children begin to learn about science? Are there critical stages in a child's development of such scientific concepts as mass or animate objects? What role does nonschool learning play in children's knowledge of science? How can science education capitalize on children's natural curiosity? What are the best tasks for books, lectures, and hands-on learning? How can teachers be taught to teach science? The book also provides a detailed examination of how we know what we know about children's learning of science-about the role of research and evidence. This book will be an essential resource for everyone involved in K-8 science education-teachers, principals, boards of education, teacher education providers and accreditors, education researchers, federal education agencies, and state and federal policy makers. It will also be a useful guide for parents and others interested in how children learn
Ready, set, science! : putting research to work in K-8 science classrooms
by
Sarah Michaels
( Book )
7 editions published in
2008
in
English
and held by 389 WorldCat member libraries worldwide
What types of instructional experiences help K-8 students learn science with understanding? Created by the National Academies Press, this Web site is an online version of a book published in 2007 entitled, Ready, set, science! The book explores what science educators teachers, teacher leaders, science specialists, professional development staff, curriculum designers, school administrators need to know to create and support such experiences
Surrounded by science : learning science in informal environments
by
Marilyn Fenichel
( Book )
10 editions published in
2010
in
English
and held by 242 WorldCat member libraries worldwide
"Practitioners in informal science settings--museums, after-school programs, science and technology centers, media enterprises, libraries, aquariums, zoos, and botanical gardens--are interested in finding out what learning looks like, how to measure it, and what they can do to ensure that people of all ages, from different backgrounds and cultures, have a positive learning experience. Surrounded by Science: Learning Science in Informal Environments, is designed to make that task easier. Based on the National Research Council study, Learning Science in Informal Environments: People, Places, and Pursuits, this book is a tool that provides case studies, illustrative examples, and probing questions for practitioners. In short, this book makes valuable research accessible to those working in informal science: educators, museum professionals, university faculty, youth leaders, media specialists, publishers, broadcast journalists, and many others."--Publisher's description
Education for life and work : developing transferable knowledge and skills in the 21st century
by
National Research Council (U.S.)
( Book )
3 editions published in
2012
in
English
and held by 207 WorldCat member libraries worldwide
"Americans have long recognized that investments in public education contribute to the common good, enhancing national prosperity and supporting stable families, neighborhoods, and communities. Education is even more critical today, in the face of economic, environmental, and social challenges. Today's children can meet future challenges if their schooling and informal learning activities prepare them for adult roles as citizens, employees, managers, parents, volunteers, and entrepreneurs. To achieve their full potential as adults, young people need to develop a range of skills and knowledge that facilitate mastery and application of English, mathematics, and other school subjects. At the same time, business and political leaders are increasingly asking schools to develop skills such as problem solving, critical thinking, communication, collaboration, and self-management - often referred to as "21st century skills." Education for Life and Work: Developing Transferable Knowledge and Skills in the 21st Century describes this important set of key skills that increase deeper learning, college and career readiness, student-centered learning, and higher order thinking. These labels include both cognitive and non-cognitive skills- such as critical thinking, problem solving, collaboration, effective communication, motivation, persistence, and learning to learn. 21st century skills also include creativity, innovation, and ethics that are important to later success and may be developed in formal or informal learning environments. This report also describes how these skills relate to each other and to more traditional academic skills and content in the key disciplines of reading, mathematics, and science. Education for Life and Work: Developing Transferable Knowledge and Skills in the 21st Century summarizes the findings of the research that investigates the importance of such skills to success in education, work, and other areas of adult responsibility and that demonstrates the importance of developing these skills in K-16 education. In this report, features related to learning these skills are identified, which include teacher professional development, curriculum, assessment, after-school and out-of-school programs, and informal learning centers such as exhibits and museums."--Publisher's description
Successful STEM education : a workshop summary
by
Alexandra S Beatty
( Book )
2 editions published in
2011
in
English
and held by 163 WorldCat member libraries worldwide
"What students learn about the science disciplines, technology, engineering, and mathematics during their K-12 schooling shapes their intellectual development, opportunities for future study and work, and choices of career, as well as their capacity to make informed decisions about political and civic issues and about their own lives. Most people share the vision that a highly capable STEM workforce and a population that understands and supports the scientific enterprise are key to the future place of the United States in global economics and politics and to the well-being of the nation. Indeed, the solutions to some of the most daunting problems facing the nation will require not only the expertise of top STEM professionals but also the wisdom and understanding of its citizens. Although much is known about why schools may not succeed, it is far less clear what makes STEM education effective. Successful STEM education: a workshop summary discusses the importance of STEM education. The report describes the primary types of K-12 schools and programs that can support successful education in the STEM disciplines and examines data and research that demonstrate the effectiveness of these school types. It also summarizes research that helps to identify both the elements that make such programs effective and what is needed to implement these elements."--Publisher's description
Monitoring progress toward successful K-12 STEM education : a nation advancing?
by
National Research Council (U.S.)
( Book )
2 editions published in
2013
in
English
and held by 135 WorldCat member libraries worldwide
Following a 2011 report by the National Research Council (NRC) on successful K-12 education in science, technology, engineering, and mathematics (STEM), Congress asked the National Science Foundation to identify methods for tracking progress toward the report's recommendations. In response, the NRC convened the Committee on an Evaluation Framework for Successful K-12 STEM Education to take on this assignment. The committee developed 14 indicators linked to the 2011 report's recommendations. By providing a focused set of key indicators related to students' access to quality learning, educator's capacity, and policy and funding initiatives in STEM, the committee addresses the need for research and data that can be used to monitor progress in K-12 STEM education and make informed decisions about improving it
Guide to implementing the next generation science standards
by
National Research Council (U.S.)
( Book )
2 editions published between
2014
and 2015 in
English
and held by 112 WorldCat member libraries worldwide
"A Framework for K-12 Science Education and Next Generation Science Standards (NGSS) describe a new vision for science learning and teaching that is catalyzing improvements in science classrooms across the United States. Achieving this new vision will require time, resources, and ongoing commitment from state, district, and school leaders, as well as classroom teachers. Successful implementation of the NGSS will ensure that all K-12 students have high-quality opportunities to learn science. Guide to Implementing the Next Generation Science Standards provides guidance to district and school leaders and teachers charged with developing a plan and implementing the NGSS as they change their curriculum, instruction, professional learning, policies, and assessment to align with the new standards. For each of these elements, this report lays out recommendations for action around key issues and cautions about potential pitfalls. Coordinating changes in these aspects of the education system is challenging. As a foundation for that process, Guide to Implementing the Next Generation Science Standards identifies some overarching principles that should guide the planning and implementation process. The new standards present a vision of science and engineering learning designed to bring these subjects alive for all students, emphasizing the satisfaction of pursuing compelling questions and the joy of discovery and invention. Achieving this vision in all science classrooms will be a major undertaking and will require changes to many aspects of science education. Guide to Implementing the Next Generation Science Standards will be a valuable resource for states, districts, and schools charged with planning and implementing changes, to help them achieve the goal of teaching science for the 21st century."--
Successful K-12 STEM education : identifying effective approaches in science, technology, engineering, and mathematics
by
National Research Council (U.S.)
( Book )
2 editions published in
2011
in
English
and held by 109 WorldCat member libraries worldwide
Examines the landscape of K-12 science, technology, engineering, and mathematics (STEM) education by considering different school models, highlighting research on effective STEM education practices, and identifying some conditions that promote and limit school-and student-level success in STEM. Science, technology, engineering and mathematics are fundamental aspects of everyone's lives as members of society, consumers, parents, and workers. Providing all students with access to high-quality education in STEM is important to their future and that of the U.S. This report tackles the question of what schools can do to meet this goal. Focusing on the science and mathematics parts of STEM, it also identifies effective STEM schools and practices
Reaching students : what research says about effective instruction in undergraduate science and engineering
by
Nancy Kober
( Book )
2 editions published in
2015
in
English
and held by 108 WorldCat member libraries worldwide
"The undergraduate years are a turning point in producing scientifically literate citizens and future scientists and engineers. Evidence from research about how students learn science and engineering shows that teaching strategies that motivate and engage students will improve their learning. So how do students best learn science and engineering? Are there ways of thinking that hinder or help their learning process? Which teaching strategies are most effective in developing their knowledge and skills? And how can practitioners apply these strategies to their own courses or suggest new approaches within their departments or institutions? Reaching Students strives to answer these questions. Reaching Students presents the best thinking to date on teaching and learning undergraduate science and engineering. Focusing on the disciplines of astronomy, biology, chemistry, engineering, geosciences, and physics, this book is an introduction to strategies to try in your classroom or institution. Concrete examples and case studies illustrate how experienced instructors and leaders have applied evidence-based approaches to address student needs, encouraged the use of effective techniques within a department or an institution, and addressed the challenges that arose along the way. The research-based strategies in Reaching Students can be adopted or adapted by instructors and leaders in all types of public or private higher education institutions. They are designed to work in introductory and upper-level courses, small and large classes, lectures and labs, and courses for majors and non-majors. And these approaches are feasible for practitioners of all experience levels who are open to incorporating ideas from research and reflecting on their teaching practices. This book is an essential resource for enriching instruction and better educating students."--
Exploring the intersection of science education and 21st century skills : a workshop summary
by
Margaret L Hilton
( Book )
9 editions published between
2009
and 2010 in
English
and held by 105 WorldCat member libraries worldwide
"An emerging body of research suggests that a set of broad '21st century skills'--such as adaptability, complex communication skills, and the ability to solve non-routine problems--are valuable across a wide range of jobs in the national economy. However, the role of K-12 education in helping students learn these skills is a subject of current debate. Some business and education groups have advocated infusing 21st century skills into the school curriculum, and several states have launched such efforts. Other observers argue that focusing on skills detracts attention from learning of important content knowledge. To explore these issues, the National Research Council conducted a workshop, summarized in this volume, on science education as a context for development of 21st century skills. Science is seen as a promising context because it is not only a body of accepted knowledge, but also involves processes that lead to this knowledge. Engaging students in scientific processes--including talk and argument, modeling and representation, and learning from investigations--builds science proficiency. At the same time, this engagement may develop 21st century skills. Exploring the Intersection of Science Education and 21st Century Skills addresses key questions about the overlap between 21st century skills and scientific content and knowledge; explores promising models or approaches for teaching these abilities; and reviews the evidence about the transferability of these skills to real workplace applications."--Publisher's description
more
fewer
Audience Level
0

1
Kids
General
Special
Audience level: 0.14 (from 0.03 for Successful ... to 0.35 for Identifyin ...)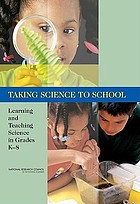 Alternative Names
National Academies of Sciences, Engineering, and Medicine (U.S.). Board on Science Education
National Research Council (U.S.). Board on Science Education

National Research Council (U.S.). Center for Education. Board on Science Education

Languages
Covers