Preston, Andrew 1973-
Most widely held works by Andrew Preston
Nixon in the world : American foreign relations, 1969-1977
by
Andrew Preston
( )
14 editions published between
2008
and 2009 in
English
and held by 1,552 WorldCat member libraries worldwide
In the 1970s, the United States faced challenges on a number of fronts. By nearly every measure, American power was no longer unrivalled. The task of managing America's relative decline fell to President Richard Nixon, Henry Kissinger, and Gerald Ford. From 1969 to 1977, Nixon, Kissinger, and Ford reoriented U.S. foreign policy from its traditional poles of liberal interventionism and conservative isolationism into a policy of active but conservative engagement. In Nixon in the World, seventeen leading historians of the Cold War and U.S. foreign policy show how they did it, where they succeeded, and where they took their new strategy too far. Drawing on newly declassified materials, they provide authoritative and compelling analyses of issues such as Vietnam, detente, arms control, and the U.S.-China rapprochement, creating the first comprehensive volume on American foreign policy in this pivotal era
Sword of the spirit, shield of faith : religion in American war and diplomacy
by
Andrew Preston
( Book )
21 editions published between
2012
and 2014 in
English
and held by 1,194 WorldCat member libraries worldwide
"A richly detailed story of how religion has influenced American foreign relations, told through the stories of the men and women--from presidents to preachers--who have plotted the country's course in the world. Ever since John Winthrop argued that the Puritans' new home would be "a city upon a hill," Americans' role in the world has been shaped by their belief that God has something special in mind for them. But this is a story that historians have mostly ignored. Now, in the first authoritative work on the subject, Andrew Preston explores the major strains of religious fervor--liberal and conservative, pacifist and militant, internationalist and isolationist--that framed American thinking on international issues from the earliest colonial wars to the twenty-first century, and he arrives at some startling conclusions"--Publisher description
The war council : McGeorge Bundy, the NSC, and Vietnam
by
Andrew Preston
( )
13 editions published between
2006
and 2010 in
English
and held by 1,081 WorldCat member libraries worldwide
"Was the Vietnam War unavoidable? Historians have long assumed that ideological views and the momentum of events made American intervention inevitable. By examining the role of McGeorge Bundy and the National Security Council, Andrew Preston demonstrates that policymakers escalated the conflict in Vietnam in the face of internal opposition, external pressures, and a continually failing strategy." "In challenging the prevailing view of Bundy as a loyal but quietly doubting warrior, Preston also revises our understanding of what it meant - and means - to be a hawk or a dove. The War Council is a story with two inseparable themes: the acquisition and consolidation of power; and how that power is exercised."--Jacket
America in the world : a history in documents from the War with Spain to the War on Terror
by
Jeffrey A Engel
( Book )
9 editions published in
2014
in
English
and held by 557 WorldCat member libraries worldwide
How should America wield its enormous power beyond its borders? Should it adhere to grand principles or act on narrow self-interest? Should it partner with other nations or avoid entangling alliances? Americans have been grappling with questions like these throughout the nation's history, and especially since the emergence of the United States as a major world power in the late nineteenth century. America in the World illuminates this history by capturing the diverse voices and viewpoints of some of the most colorful and eloquent people who participated in these momentous debates. Spanning the era from the Gilded Age to the Obama years, this unique reader collects more than two hundred documents ..."
Faithful republic : religion and politics in modern America
by
Andrew Preston
( )
10 editions published in
2015
in
English
and held by 503 WorldCat member libraries worldwide
Faithful Republic is a collection of original essays that explores the relationship between religion and politics in the United States since the early twentieth century. Rather than focusing on the traditional question of the separation between church and state, this volume touches on many aspects of American political history
Outside In : the Transnational Circuitry of US History
by
Andrew Preston
( Book )
11 editions published between
2016
and 2017 in
English
and
Undetermined
and held by 263 WorldCat member libraries worldwide
"Outside In presents the newest scholarship that narrates and explains the history of the United States as part of a networked transnational past. This work tells the stories of Americans who inhabited the border-crossing circuitry of people, ideas, and institutions that have made the modern world a worldly place. Forsaking manifestos of transnational history and surveys of existing scholarship for fresh research, careful attention to concrete situations and transactions, and original interpretation, the vigorous, accomplished historians whose work is collected here show how the transnational history of the United States is actually being written. Ranging from high statecraft to political ferment from below, from the history of religion to the discourse of women's rights, from the political left to the political right, from conservative businessmen to African diaspora radicals, this set of original essays narrates U.S. history in new ways, emphasizing the period from 1870 to the present. These essays disrupt and complicate the very idea of simple inward and outward flows of influence, showing how Americans lived within transnational circuits featuring impacts and influences running in multiple directions. Outside In also transcends the divide between work focusing on the international system of nation-states and transnational history that treats non-state actors exclusively. The essays assembled here show how to write transnational history that takes the nation-state seriously, explaining that governments and non-state actors were never sealed off from one another in the modern world. These essays point the way toward a more concrete and fully internationalized vision of modern American history"--Provided by publisher
American foreign relations : a very short introduction
by
Andrew Preston
( Book )
2 editions published in
2019
in
English
and held by 3 WorldCat member libraries worldwide
"For better or worse, be it militarily, diplomatically, politically, economically, or culturally, Americans have had a profound role in shaping the wider world beyond them. Unsurprisingly, most non-Americans have passionate views about the nature of U.S. foreign policy. America has been a savior to some, a curse to others-and both have good reason to feel that way. And yet, such views are often also based on a caricature of American actions and intentions. For their part, Americans themselves have strong opinions about their role in the world and how it has evolved over time. Yet these views are shrouded as much in myth as they are grounded in fact. American Foreign Relations, then, suffers from being a subject of immense worldwide importance but almost complete misunderstanding; it provokes strong emotions and much debate in newspapers daily, but is accompanied by little comprehension. This Very Short Introduction aims to offer analysis of key events, episodes, crises, and individuals in the making of American foreign relations. It will discuss events such as the Revolutionary War, the Louisiana Purchase, the War of 1812, manifest destiny, the Mexican War, the Civil War, industrialization, the beginnings of globalization, the Spanish-American War, imperialism, the annexation of the Philippines, informal imperialism and the Open Door policy, World War I, isolationism, World War II, the Cold War from its origins to its end (including the Korean and Vietnam Wars), the Iraq Wars, 9/11, and Afghanistan. Such topics will be situated within an analytical narrative that follows chronology generally, but not strictly or comprehensively."--Provided by publisher
Sword of the spirit, shield of faith : religion in American war and diplomacy
by
Andrew Preston
( Recording )
2 editions published between
2012
and 2014 in
English
and held by 2 WorldCat member libraries worldwide
A richly detailed account of how religion has influenced American foreign relations, told through the stories of the men and women - from presidents to preachers - who have plotted the countrys course in the world. Winner of the 2013 Charles Taylor Prize for Literary Non-Fiction. 2012
more
fewer
Audience Level
0

1
Kids
General
Special
Audience level: 0.23 (from 0.07 for Nixon in t ... to 0.96 for Faith and ...)
Related Identities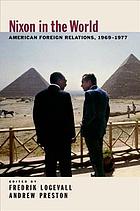 Covers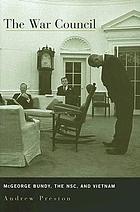 Alternative Names
Malcolm Preston, Andrew 1973-

Preston, Andrew 1973-...

Preston, Andrew Malcolm 1973-

Languages