Reiley, David H.
Overview
| | |
| --- | --- |
| Works: | 22 works in 88 publications in 3 languages and 865 library holdings |
| Genres: | Academic theses |
| Roles: | Author |
| Classifications: | HB144, 519.3 |
Most widely held works by David H Reiley
Games of strategy
by
Avinash K Dixit
( Book )
27 editions published between
1999
and 2016 in
English
and
French
and held by 449 WorldCat member libraries worldwide
Games of Strategy remains the most accessible principles-level text for courses in game theory, addressing a remarkably broad range of concepts in a narrative that is both clear and compelling. Using resonant real-world examples, the authors simplify difficult theoretic ideas, helping students see the value of strategic thinking in a variety of situations
Public versus secret reserve prices in eBay auctions : results from a Pokémon field experiment
by
Rama Katkar
( )
13 editions published in
2001
in
English
and held by 104 WorldCat member libraries worldwide
Sellers in eBay auctions have the opportunity to choose both a public minimum bid amount and a secret reserve price. We ask, empirically, whether the seller is made better or worse off by setting a secret reserve above a low minimum bid, versus the option of making the reserve public by using it as the minimum bid level. In a field experiment, we auction 50 matched pairs of Pokemon cards on eBay, half with secret reserves and half with equivalently high public minimum bids. We find that secret reserve prices make us worse off as sellers, by reducing the probability of the auction resulting in a sale, deterring serious bidders from entering the auction, and lowering the expected transaction price of the auction. We also present evidence that some sellers choose to use secret reserve prices for reasons other than increasing their expected auction prices
"The war for the fare" : how driver compensation affects bus system performance
by
Ryan M Johnson
( )
7 editions published in
2005
in
English
and held by 74 WorldCat member libraries worldwide
Two systems of bus driver compensation exist in Santiago, Chile. Most drivers are paid per passenger transported, while a second system compensates other drivers with a fixed wage. Compared with fixed-wage drivers, per-passenger drivers have incentives to engage in "La Guerra por el Boleto" ("The War for the Fare"), in which drivers change their driving patterns to compete for passengers. This paper takes advantage of a natural experiment provided by the coexistence of these two compensation schemes on similar routes in the same city. Using data on intervals between bus arrivals, we find that the fixed-wage contract leads to more bunching of buses, and hence longer average passenger wait times. The per-passenger drivers are assisted by a group of independent information intermediaries called "sapos" who earn their living by standing at bus stops, recording arrival times, and selling the information to subsequent drivers who drive past. We find that a typical bus passenger in Santiago waits roughly 10% longer for a bus on a fixed-wage route relative to an incentive-contract route. However, the incentives also lead drivers to drive noticeably more aggressively, causing approximately 67% more accidents per kilometer driven. Our results have implications for the design of incentives in public transportation systems
Online auctions
by
Axel Ockenfels
( )
10 editions published in
2006
in
English
and held by 74 WorldCat member libraries worldwide
The economic literature on online auctions is rapidly growing because of the enormous amount of freely available field data. Moreover, numerous innovations in auction-design features on platforms such as eBay have created excellent research opportunities. In this article, we survey the theoretical, empirical, and experimental research on bidder strategies (including the timing of bids and winner's-curse effects) and seller strategies (including reserve-price policies and the use of buy-now options) in online auctions, as well as some of the literature dealing with online-auction design (including stopping rules and multi-object pricing rules)
What happens in the field stays in the field : exploring whether professionals play minimax in laboratory experiments
by
Steven D Levitt
( )
6 editions published between
2009
and 2010 in
English
and held by 60 WorldCat member libraries worldwide
The minimax argument represents game theory in its most elegant form: simple but with stark predictions. Although some of these predictions have been met with reasonable success in the field, experimental data have generally not provided results close to the theoretical predictions. In a striking study, Palacios-Huerta and Volij (2007) present evidence that potentially resolves this puzzle: both amateur and professional soccer players play nearly exact minimax strategies in laboratory experiments. In this paper, we establish important bounds on these results by examining the behavior of four distinct subject pools: college students, bridge professionals, world-class poker players, who have vast experience with high-stakes randomization in card games, and American professional soccer players. In contrast to Palacios-Huerta and Volij's results, we find little evidence that real-world experience transfers to the lab in these games--indeed, similar to previous experimental results, all four subject pools provide choices that are generally not close to minimax predictions. We use two additional pieces of evidence to explore why professionals do not perform well in the lab: (1) complementary experimental treatments that pit professionals against preprogrammed computers, and (2) post-experiment questionnaires. The most likely explanation is that these professionals are unable to transfer their skills at randomization from the familiar context of the field to the unfamiliar context of the lab
Measuring the effects of advertising the digital frontier
by Randall Lewis
( )
5 editions published in
2013
in
English
and held by 59 WorldCat member libraries worldwide
Online advertising offers unprecedented opportunities for measurement. A host of new metrics, clicks being the leading example, have become widespread in advertising science. New data and experimentation platforms open the door for firms and researchers to measure true causal effects of advertising on a variety of consumer behaviors, such as purchases. We dissect the new metrics and methods currently used by industry researchers, attacking the question, "How hard is it to reliably measure advertising effectiveness?" We outline the questions that we think can be answered by current data and methods, those that we believe will be in play within five years, and those that we believe could not be answered with arbitrarily large and detailed data. We pay close attention to the advances in computational advertising that are not only increasing the impact of advertising, but also usefully shifting the focus from "who to hit" to "what do I get."
The roles of marketing, product quality and price competition in the growth and composition of the U.S. anti-ulcer drug industry
by
Ernst R Berndt
( )
3 editions published in
1994
in
English
and held by 21 WorldCat member libraries worldwide
The introduction of Tagamet in the United States in 1977 represented both a revolution in ulcer therapy and the beginning of an important new industry. Today there are four prescription H2- antagonist drugs: Tagamet, Zantac, Pepcid and Axid, and they comprise a multi-billion dollar market for the treatment of ulcers and other gastric acid conditions. In this paper, we examine the determinants of sales in this market, using a carefully constructed data set made possible by IMS America. We concentrate particularly on the marketing of these drugs to physicians through detailing and medical journal advertising, and we make an innovative attempt to distinguish between 'industry-expanding' and 'rivalrous' marketing efforts. We find that the impact of total marketing on the expansion of overall industry sales declines as the number of products on the market increases. In addition, we find that the stock of industry-expanding marketing depreciates at a near-zero rate, while the stock of marketing oriented towards rivalrous market share competition depreciates at a 40% annual rate. We also find that the products' sales are affected significantly by price, quality attributes (such as number of FDA- approved indications and number of adverse drug interactions), and order of entry into the market
Ce lue bo yi
by
Avinash K Dixit
( Book )
1 edition published in
2012
in
Chinese
and held by 5 WorldCat member libraries worldwide
Ben shu yun yong biao zhun de bo yi lun fang fa, Tong guo dui ri chang sheng huo zhong de zhi hui, Jing ji huo dong zhong de jing zheng yu he zuo, Zheng zhi huo dong zhong de ji qiao, Jun shi huo dong ji zhan zheng zhong de ce lüe deng de yan yi, Bi jiao xi tong dan you hen jian dan di jie shao le bo yi lun you guan ji chu zhi shi
more
fewer
Audience Level
0

1
Kids
General
Special
Audience level: 0.65 (from 0.38 for Vickrey au ... to 0.99 for Vickrey au ...)
Related Identities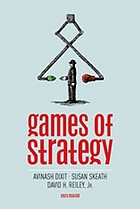 Covers
Alternative Names
David Reiley economist (Google, Inc.)

David Reiley Wirtschaftswissenschaftler/in (Google, Inc.)

Lucking-Reiley, D. H.

Lucking-Reiley, David

Lucking-Reiley, David, 1969-

Lucking-Reiley, David H. L.

Reiley, D. H.@

Reiley, David

Reiley, David H., 1969-

Reiley, David H., Jr.

Reiley, David H. L.

Reiley, David H. Lucking-

Reiley, David Lucking-

Reiley, David Lucking-, 1969-

Languages