Pariser, Eli
Most widely held works about Eli Pariser
Most widely held works by Eli Pariser
The filter bubble : what the Internet is hiding from you
by
Eli Pariser
( Book )
36 editions published between
2001
and 2013 in
English
and
Chinese
and held by 1,906 WorldCat member libraries worldwide
In December 2009, Google began customizing its search results for all users, and we entered a new era of personalization. With little notice or fanfare, our online experience is changing as the web sites we visit are increasingly tailoring themselves to us. In this engaging and visionary book, MoveOn.org board president Eli Pariser lays bare the personalization that is already taking place on every major web site, from Facebook to AOL to ABC News. As Pariser reveals, this new trend is nothing short of an invisible revolution in how we consume information, one that will shape how we learn, what we know, and even how our democracy works. The race to collect as much personal data about us as possible, and to tailor our online experience accordingly, is now the defining battle for today's internet giants like Google, Facebook, Apple, and Microsoft. Behind the scenes, a burgeoning industry of data companies is tracking our personal information--from our political leanings to the hiking boots we just browsed on Zappos--to sell to advertisers. As a result, we will increasingly each live in our own unique information universe--what Pariser calls "the filter bubble." We will receive mainly news that is pleasant and familiar and confirms our beliefs--and since these filters are invisible, we won't know what is being hidden from us. Out past interests will determine what we are exposed to in the future, leaving less room for the unexpected encounters that spark creativity, innovation, and the democratic exchange of ideas. Drawing on interviews with both cyberskeptics and cyberoptimists, from the cofounder of OkCupid, an algorithmically driven dating web site, to one of the chief visionaries of the U.S. information warfare, The Filter Bubble tells the story of how the internet, a medium built around the open flow of ideas, is closing in on itself under the pressure of commerce and "monetization." It peeks behind the curtain at the server farms, algorithms, and geeky entrepreneurs that have given us this new reality and investigates the consequences of corporate power in the digital age. The Filter Bubble reveals how personalization could undermine the internet's original purpose as an open platform for the spread of ideas and leave us all in an isolated, echoing world. But it is not too late to change course. Pariser lays out a new vision for the web, one that embraces the benefits of technology without turning a blind eye to its negative consequences and will ensure that the internet lives up to its transformative promise
Terms and conditions may apply
by
Cullen Hoback
( Visual )
7 editions published between
2013
and 2017 in
English
and held by 533 WorldCat member libraries worldwide
Terms and Conditions and Privacy Policies are connected to every website. This film explores the intent hidden within these unread and ignored agreements, and reveals what corporations and governments are legally taking from people and the outrageous consequences that result from clicking "I accept."
The filter bubble : how the new personalized web is changing what we read and how we think
by
Eli Pariser
( Book )
8 editions published between
2011
and 2014 in
English
and held by 334 WorldCat member libraries worldwide
"With little notice or fanfare, out online experience is changing dramatically as the web sites we visit are increasingly tailoring themselves to us. The race to collect as much personal data as possible is now the defining battle for today's Internet giants like Google, Facebook, Apple, and Microsoft. As a result, we will all increasingly each live in our own unique information universe, what MoveOn.org board president Eli Pariser calls the 'filter bubble.' In this groundbreaking account, Pariser lays bare the personalization that is invisibly taking place on every major web site and reveals how it will limit what we are exposed to in the future , leaving less room for creativity, innovation, and the democratic exchange of ideas"--Backcover
TEDTalks : Eli Pariser - Beware Online "Filter Bubbles"
( Visual )
1 edition published in
2011
in
English
and held by 213 WorldCat member libraries worldwide
As Web companies strive to tailor their services (including news and search results) to our personal tastes, there's a dangerous unintended consequence: we get trapped in a "filter bubble" and don't get exposed to information that could challenge or broaden our worldview. Eli Pariser argues powerfully that this will ultimately prove to be bad for us and bad for democracy
The filter bubble : [what the Internet is hiding from you]
by
Eli Pariser
( Recording )
12 editions published between
2011
and 2012 in
English
and held by 159 WorldCat member libraries worldwide
The hidden rise of personalization on the Internet is controlling--and limiting--the information we consume. In 2009, Google began customizing its search results. Instead of giving you the most broadly popular result, Google now tries to predict what you are most likely to click on. According to MoveOn.org board president Eli Pariser, this change is symptomatic of the most significant shift to take place on the Web in recent years--the rise of personalization. Though the phenomenon has gone largely undetected until now, personalized filters are sweeping the Web, creating individual universes of information for each of us. Data companies track your personal information to sell to advertisers, from your political leanings to the hiking boots you just browsed on Zappos. In a personalized world, we will increasingly be typed and fed only news that is pleasant, familiar, and confirms our beliefs--and because these filters are invisible, we won't know what is being hidden from us. Our past interests will determine what we are exposed to in the future, leaving less room for the unexpected encounters that spark creativity, innovation, and the democratic exchange of ideas.--From publisher description
Filter Bubble : wie wir im Internet entmündigt werden
by
Eli Pariser
( Book )
6 editions published between
2012
and 2017 in
German
and
Undetermined
and held by 121 WorldCat member libraries worldwide
Sachbuch über die wachsenden Risiken personalisierter, für die User unerkannter äInformationsbetreuungä im Interesse von Marketing, Werbung, ideologischer Manipulation und letztlich konformistischer Bestätigung
Il filtro : quello che internet ci nasconde
by
Eli Pariser
( Book )
3 editions published in
2012
in
Italian
and held by 18 WorldCat member libraries worldwide
Ti svegli una mattina e ti trovi in un mondo in cui tutti la pensano come te. Tutti hanno le tue stesse idee politiche, le tue convinzioni religiose, i tuoi gusti culinari. Nessuna discussione con chi la pensa diversamente. Benvenuto nell'era della personalizzazione. Nel 2009 Google ha cominciato ad alterare i risultati delle ricerche a seconda delle abitudini dei suoi utenti. La corsa a raccogliere la maggior quantità possibile di dati personali su cui customizzare la nostra esperienza online è diventata una guerra che i giganti di internet - Google, Facebook, Apple e Microsoft - stanno combattendo senza tregua. Dietro le quinte una schiera sempre più folta di società di raccolta dati sta mappando le nostre informazioni personali, dalle preferenze politiche al paio di scarpe che abbiamo adocchiato online, per venderle agli inserzionisti. Il risultato: ognuno vive la propria vita in un mondo fatto a misura di marketing che finisce per diventare costrittivo, ciò che Eli Pariser chiama la "bolla dei filtri". Un'isola di sole notizie gradevoli, attinenti ai nostri interessi e conformi alle nostre convinzioni, che lascia sempre meno spazio a punti di vista diversi e a incontri inaspettati, limita la scoperta di fonti di creatività e innovazione e restringe il libero scambio delle idee. Un'invisibile e inquietante rivoluzione che distorce il nostro modo di apprendere, conoscere e informarci fino a stravolgere la formazione dell'opinione pubblica e il funzionamento della democrazia. Fra cyberscettici e cyberottimisti, Il Filtro ci spiega come internet, sotto la pressione delle esigenze di monetizzazione dei colossi web, si sta avvitando su di sé. Sbircia nei segreti di server farm, algoritmi, imprenditori fanatici e analisti della guerra dell'informazione; indaga le conseguenze dello strapotere delle corporation nell'era digitale; indica nuove strade che permettano alla Rete di mantenere le sue pomesse libertarie di cambiamento
more
fewer
Audience Level
0

1
Kids
General
Special
Audience level: 0.28 (from 0.18 for The filter ... to 1.00 for Filter Bub ...)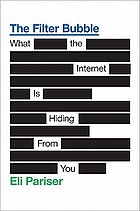 Alternative Names
Eli Pariser Amerikaans schrijver

Eli Pariser US-amerikanischer Journalist und Schriftsteller

Эли Парайзер

אלי פאריסר

ایلای پاریسر نویسنده آمریکایی

일라이 파리저(Eli Pariser)

프레이저, 엘리

パリサー, イーライ

Languages
Covers