Kaufman, Scott 1969-
Most widely held works by Scott Kaufman
The presidency of James Earl Carter, Jr.
by
Burton Ira Kaufman
( Book )
5 editions published in
2006
in
English
and held by 569 WorldCat member libraries worldwide
"Burton Kaufman's book on the Carter years was hailed as the best account of his administration. This new edition probes more deeply into Jimmy Carter's approach to the presidency and the issues that he faced, placing his tenure in that office more squarely in the context of the fundamental changes taking place in America while he served. It features more information on his foreign and environmental policies and expanded coverage of his personal background - both his upbringing and naval career - along with insights into his wife's activist role." "Drawing on Carter's previously unavailable Handwriting File, as well as on new oral histories and Carter's own books, Burton and Scott Kaufman show the ways in which Carter had the opportunity - but failed - to be a successful transitional president for the Democrats. They argue that by the fall of 1978 he had become a more effective leader than during the first part of his presidency but could not undo his earlier mistakes and continued to make serious errors of political judgment."--Jacket
Plans unraveled : the foreign policy of the Carter administration
by
Scott Kaufman
( Book )
7 editions published in
2008
in
English
and held by 345 WorldCat member libraries worldwide
"While previous monographs have focused on specific foreign policy issues, Scott Kaufman breaks away from the mold and offers this up-to-date, comprehensive look at former President Carter's aggregate foreign policy record. Although many Americans regard Jimmy Carter as the nation's greatest ex-president, Kaufman argues that the diplomatic performance of the thirty-ninth president was mediocre, primarily because of Carter's own doing."--Jacket
Rosalynn Carter : equal partner in the White House
by
Scott Kaufman
( Book )
7 editions published in
2007
in
English
and held by 337 WorldCat member libraries worldwide
A portrait of an ambitious, brilliant, and hardworking woman. It details the many roles Rosalynn played in support of President Jimmy Carter and also documents the ambivalence of the American public to some of her activities."
Confronting Communism : U.S. and British policies toward China
by
Scott Kaufman
( Book )
7 editions published in
2001
in
English
and held by 334 WorldCat member libraries worldwide
It ends in 1972, the year of President Richard Nixon's historic visit to the People's Republic, and also the year that Kaufman sees as bringing an end to the Anglo-American differences over China."--Jacket
Project Plowshare : the peaceful use of nuclear explosives in Cold War America
by
Scott Kaufman
( Book )
14 editions published between
2011
and 2016 in
English
and held by 236 WorldCat member libraries worldwide
Inspired by President Dwight D. Eisenhower's "Atoms for Peace" speech, scientists at the Atomic Energy Commission and the University of California's Radiation Laboratory began in 1957 a program they called Plowshare. Joined by like-minded government officials, scientists, and business leaders, champions of "peaceful nuclear explosions" maintained that they could create new elements and isotopes for general use, build storage facilities for water or fuel, mine ores, increase oil and natural gas production, generate heat for power production, and construct roads, harbors, and canals. By harnessing the power of the atom for nonmilitary purposes, Plowshare backers expected to protect American security, defend U.S. legitimacy and prestige, and ensure access to energy resources.Scott Kaufman's extensive research in nearly two dozen archives in three nations shows how science, politics, and environmentalism converged to shape the lasting conflict over the use of nuclear technology. Indeed, despite technological and strategic promise, Plowshare's early champions soon found themselves facing a vocal and powerful coalition of federal and state officials, scientists, industrialists, environmentalists, and average citizens. Skeptical politicians, domestic and international pressure to stop nuclear testing, and a lack of government funding severely restricted the program. By the mid-1970s, Plowshare was, in the words of one government official, "dead as a doornail." However, the thought of using the atom for peaceful purposes remains alive
The Pig War : the United States, Britain, and the balance of power in the Pacific Northwest, 1846-72
by
Scott Kaufman
( Book )
7 editions published between
2003
and 2004 in
English
and held by 202 WorldCat member libraries worldwide
Scott Kaufman carefully examines, and places into both an American and an international context, the origins and the resolution of this tense stand-off over contested colonial territory. His story not only reveals a tense dispute between a burgeoning imperial power and a waning empire but also highlights the changing Reconstruction-era U.S. national ideology, foreign diplomacy, and control over foreign markets."--Jacket
Francis Marion : Swamp Fox of South Carolina
by
Scott Kaufman
( Book )
1 edition published in
2007
in
English
and held by 140 WorldCat member libraries worldwide
"A biography of the Colonial leader who achieved notable successes leading guerrilla forces against the British in South Carolina during the American Revolution"--Provided by publisher
Historical dictionary of the Carter era
by
Diane Kaufman
( Book )
4 editions published in
2013
in
English
and held by 109 WorldCat member libraries worldwide
"The Historical Dictionary of the Carter Era covers the history of the Carter presidency through a chronology, an introductory essay, appendixes, an extensive bibliography. The dictionary section has several hundred cross-referenced entries on important personalities, including the president, his advisors, his family, his opponents, and his critics, as well as members of Congress, military leaders, and international leaders. This book is a vital reference tool for any researcher interested in the presidency of Jimmy Carter."--Provided by publisher
A companion to Gerald R. Ford and Jimmy Carter
by
Scott Kaufman
( Book )
14 editions published between
2013
and 2016 in
English
and held by 50 WorldCat member libraries worldwide
With 30 historiographical essays by established and rising scholars, this Companion is a comprehensive picture of the presidencies and legacies of Gerald Ford and Jimmy Carter.-Examines important national and international events during the 1970s, as well as presidential initiatives, crises, and legislation -Discusses the biography of each man before entering the White House, his legacy and work after leaving office, and the lives of Betty Ford, Rosalynn Carter, and their families.-Covers key themes and issues, including Watergate and the pardon of Richard Nixon, the Vietnam War, neoconservatism and the rise of the New Right, and the Iran hostage crisis.-Incorporates presidential, diplomatic, military, economic, social, and cultural history -Uses the most recent research and newly released documents from the two Presidential Libraries and the State Department
more
fewer
Audience Level
0

1
Kids
General
Special
Audience level: 0.29 (from 0.05 for Confrontin ... to 1.00 for The United ...)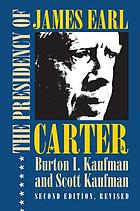 Alternative Names
Kaufman, Scott

Kaufman, Victor S. 1969-

Kaufman, Victor S. (Victor Scott), 1969-

Languages
Covers