Schwartzberg, Melissa 1975-
Most widely held works by Melissa Schwartzberg
Democracy and legal change
by
Melissa Schwartzberg
( )
16 editions published between
2007
and 2009 in
English
and held by 845 WorldCat member libraries worldwide
Drawing on historical evidence, classical political thought, and contemporary constitutional and democratic theory, 'Democracy and Legal Change' reexamines the relationship between democracy and the rule of law from an often surprising set of vantage points
Counting the many : the origins and limits of supermajority rule
by
Melissa Schwartzberg
( Book )
11 editions published between
2013
and 2014 in
English
and held by 295 WorldCat member libraries worldwide
"Supermajority rules govern many features of our lives in common: from the selection of textbooks for our children's schools to residential covenants, from the policy choices of state and federal legislatures to constitutional amendments. It is usually assumed that these rules are not only normatively unproblematic but necessary to achieve the goals of institutional stability, consensus, and minority protections. In this book, Melissa Schwartzberg challenges the logic underlying the use of supermajority rule as an alternative to majority decision making. She traces the hidden history of supermajority decision making, which originally emerged as an alternative to unanimous rule, and highlights the tensions in the contemporary use of supermajority rules as an alternative to majority rule. Although supermajority rules ostensibly aim to reduce the purported risks associated with majority decision making, they do so at the cost of introducing new liabilities associated with the biased judgments they generate and secure."--Publisher's description
Wealth
by
American Society for Political and Legal Philosophy
( Book )
10 editions published between
2017
and 2018 in
English
and held by 290 WorldCat member libraries worldwide
An in-depth political, legal, and philosophical study into the implications of wealth inequality in modern societies. Wealth, and specifically its distribution, has been a topic of great debate in recent years. Calls for justice against corporations implicated in the 2008 financial crash; populist rallying against "the one percent"; distrust of the influence of wealthy donors on elections and policy--all of these issues have their roots in a larger discussion of how wealth operates in American economic and political life
Privatization
by
Melissa Schwartzberg
( Book )
6 editions published between
2018
and 2019 in
English
and held by 185 WorldCat member libraries worldwide
"The 21st century has seen a proliferation of privatization across industries in the United States, from security and the military to public transportation and infrastructure. In shifting control from the state to private actors, do we weaken or strengthen structures of governance? Do state-owned enterprises promise to be more equal and fair than their privately-owned rivals? What role can accountability measures play in mediating the effects of privatization; and what role does coercion play in the state governance and control? In this latest installment from the NOMOS series, an interdisciplinary group of distinguished scholars in political science, law, and philosophy examine the moral and political consequences of transferring state-provided or state-owned goods and services to the private sector. The essays consider how we should evaluate the decision to privatize, both with respect to the quality of outcomes that might be produced, and in terms of the effects of privatization on the core values underlying democratic decision-making. Privatization also affects the structure of governance in a variety of important ways, and these essays evaluate the consequences of privatization on the state. Privatization sheds new light on these highly salient questions of contemporary political life and institutional design."
Law, legal change, and entrenchment
by
Melissa Schwartzberg
( )
4 editions published in
2002
in
English
and held by 9 WorldCat member libraries worldwide
While despots constantly change their rules, it is thought, democrats revere stable law. Yet we observe an attachment to modifiable law from the time of antiquity, and amendment clauses have become a constitutional sine qua non. In contrast, we also see the use of unamendable, or "entrenched," laws--and in ancient Athens, even entrenched decrees. Given these apparent contradictions, the project addresses two questions. One, why would legislators permit their laws to be changed? Two, since legislators generally choose to incorporate flexibility, why might they wish to entrench particular provisions?
Political legitimacy
( Book )
1 edition published in
2019
in
English
and held by 2 WorldCat member libraries worldwide
A Discussion of Josiah Ober's The Rise and Fall of Classical Greece
( )
1 edition published in
2016
in
English
and held by 1 WorldCat member library worldwide
Abstract : Ancient Greece has long exercised a powerful hold on the imagination of modern political science. But until fairly recently, this influence has largely been philosophical, related to the origins of many theoretical concepts—including the concept of politics itself—in the ancient world. In The Rise and Fall of Classical Greece, Josiah Ober offers a synoptic and ambitious social theoretical account of the ancient Greek world, the sources of its power, the causes of its decline, and the lessons that can be drawn from this story for contemporary social and political science. We have thus invited a range of political scientists to comment on Ober's account of classical Greece and its relevance to contemporary political inquiry
Rousseau on fundamental law
by
Melissa Schwartzberg
( )
1 edition published in
2003
in
English
and held by 1 WorldCat member library worldwide
Rousseau on Fundamental Law
by
Melissa Schwartzberg
( )
1 edition published in
2005
in
English
and held by 1 WorldCat member library worldwide
0Privatization
( Book )
1 edition published in
2019
in
English
and held by 0 WorldCat member libraries worldwide
more
fewer
Audience Level
0

1
Kids
General
Special
Audience level: 0.38 (from 0.22 for Democracy ... to 1.00 for 0Privatiza ...)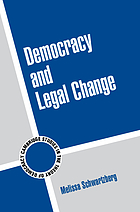 Covers
Languages