Peterson Institute for International Economics
Most widely held works by Peterson Institute for International Economics
China's rise : challenges and opportunities
by
C. Fred Bergsten
( )
8 editions published between
2008
and 2011 in
English
and
Chinese
and held by 2,096 WorldCat member libraries worldwide
"China's Rise: Challenges and Opportunities is the latest book from a multi-year project launched by two of the world's preeminent public policy research institutions, the Peterson Institute for International Economics and the Center for Strategic and International Studies. It examines the critical facts and dynamics underpinning China's rise and suggests policy responses that will maximize the opportunities for China's constructive integration into the international community." "This new book seeks to take the analysis several important steps further, connecting China's development directly to US and global interests and offering a series of possible policy responses."--Jacket
The long-term international economic position of the United States
( )
5 editions published in
2009
in
English
and held by 1,613 WorldCat member libraries worldwide
Contains four articles that examine the long-term prospects for the economic position of the United States in the international community, focusing on the possible evolution of the account deficit and prospects of receiving foreign financing for the debt
Reengaging Egypt : options for US-Egypt economic relations
by
Barbara Kotschwar
( )
7 editions published in
2010
in
English
and held by 1,459 WorldCat member libraries worldwide
The success of the United States' Middle East strategy depends importantly on the future course of US-Egypt economic relations. Deepening bilateral commercial and investment ties can pay both commercial and political dividends as the Obama administration refocuses US strategy in the Middle East. While the United States and Egypt have long been close partners, revitalizing US-Egypt economic relations will spur innovation and productivity gains, open new development opportunities in Egypt through expanded trade and investment, and create important precedents for future regional initiatives. In this study, the authors first assess the two countries' current commercial relationship and then provide concrete suggestions for enhancing and expanding specific areas of the US-Egypt economic relationship, such as market access, services, trade facilitation and development cooperation. Ultimately, the study sets out several promising avenues for strengthening economic ties
C. Fred Bergsten and the world economy
( )
6 editions published in
2006
in
English
and held by 1,420 WorldCat member libraries worldwide
This engaging and informative book covers the range of issues on which C. Fred Bergsten and the Peterson Institute have distinguished themselves over the last 25 years, including trade liberalization, exchange rate regimes, international financial architecture, debt, economic sanctions, and the impact of technology and globalization. Most of the Institute's senior research staff have contributed chapters, which are both retrospective and prescriptive
The Arab economies in a changing world
by
Marcus Noland
( )
3 editions published in
2011
in
English
and held by 1,404 WorldCat member libraries worldwide
"Compared to other regions of the world, the Middle East was once unique in its combination of authoritarianism and stultifying stability: No longer. Beginning in Tunisia, a wave of political upheaval has rolled across the region, reaching Egypt, Bahrain, Libya, and other countries caught between rising expectations and their antediluvian political systems, abetted by pan-Arab news channels and social networking media. This book examines the economics of the Middle East, with the aim of identifying changes to economic policy that could address at least the economic component of the challenges facing this part of the globe. The authors analyze the interaction of trade, productivity growth, and the political difficulties that may ensue as these countries move towards greater openness. Relevant comparisons are drawn from the experience of the transition economies and India on potentially successful policies and those likely to exacerbate existing problems. This new second edition contains a new introduction from Mohamed A. El-Erian and a new postscript"--Provided by publisher
Fueling up : the economic implications of America's oil and gas boom
by
Trevor Houser
( )
3 editions published in
2014
in
English
and held by 619 WorldCat member libraries worldwide
"New drilling techniques for oil and natural gas are propelling an energy production renaissance in the United States. As the US economy struggles to emerge from the Great Recession, many see the boom as a possible source of economic salvation that could reduce unemployment and revitalize American manufacturing. Until now, however, there has been little objective analysis of the energy boom's economic consequences. In this major study, Trevor Houser and Shashank Mohan fill that gap. They assess the impact of the recent and projected increase in domestic energy production on US GDP, employment growth, manufacturing competitiveness, household expenditures, and international trade balance. Alongside its economic impact, the American energy revolution is raising new environmental and trade policy questions. What are the consequences for the environment and global warming of increased domestic oil and gas production? Should companies be allowed to export the energy they produce or will doing so undermine American manufacturing competitiveness? House and Mohan provide independent research and analysis that will help policymakers navigate these issues." -- Back cover
Foreign direct investment and development : launching a second generation of policy research : avoiding the mistakes of the first, reevaluating policies for developed and developing countries
by
Theodore H Moran
( Book )
5 editions published in
2011
in
English
and held by 320 WorldCat member libraries worldwide
This volume is the culmination of Institute investigations of the relationship between foreign direct investment (FDI) and development. Today, more than one-third of world trade takes place in the form of intrafirm transactions--that is, trade among the various parts of the same corporate network spread across borders--and the bulk of technology is transferred within the confines of integrated international production systems. This means that FDI and the operations of multinational corporations have become central to the world economy at large. Nowhere is this more important than for developing countries. But as the author argues, FDI is not a single phenomenon. FDI has such different impacts in the extractive sector, infrastructure, manufacturing and assembly, and services- and presents such distinctive policy challenges-- that each broad category of FDI must be treated on its own terms. Indeed, past studies that have aggregated all FDI flows together to try to find some unique relationship to host-country growth or welfare have led to unreliable substantive findings and, sometimes, mistaken policy conclusions. The author examines each of the principle forms of FDI, extracts the best from previous analysis, and offers new findings and perspectives about how these benefits from FDI in each sector can be enhanced and potential damages limited or eliminated. -- Back Cover
Challenges of globalization : imbalances and growth
by
Anders Åslund
( Book )
2 editions published in
2008
in
English
and held by 302 WorldCat member libraries worldwide
With high growth rates in Asia, most notably in China, India, and Southeast and Central Asia, Eurasia's economic centre of gravity is rapidly shifting to the East. At the same time, most of Europe faces serious barriers to growth in the long term. This volume examines the causes and consequences of this major shift in economic power
The euro at ten : the next global currency?
by
Jean Pisani-Ferry
( Book )
1 edition published in
2009
in
English
and held by 263 WorldCat member libraries worldwide
Over the first ten years of its existence, the euro has proved to be more than a powerful symbol of collective identity. It has provided price stability to previously inflation-prone countries; it has offered a shelter against currency crises; and it has by and large been conducive to budgetary discipline. The eurozone has attracted five new members in addition to the initial eleven, and many countries in Europe wish to adopt it. The euro has also been successful internationally. Even though research presented in this volume confirms that it has not rivaled the dollar's world currency status, it has certainly become a strong regional currency in Europe and the Mediterranean region. Some countries in the region have de facto adopted it, several peg to it, and many have become at least partially euroized. However, the euro's impressive first decade is likely to be followed by a much more difficult period. The present financial crisis is posing at least two important challenges: real economic adjustment within the euro area and maintenance of fiscal and financial stability without a central government authority capable of taking appropriate financial and fiscal decisions in difficult times. The papers and remarks in this volume demonstrate that the euro has proved to be attractive as a fair weather currency for countries and investors well beyond its borders. But it remains to be seen whether it is equipped to also succeed as a stormy weather currency
Toward a US-Indonesia free trade agreement
by
Gary Clyde Hufbauer
( Book )
5 editions published in
2007
in
English
and held by 187 WorldCat member libraries worldwide
"Indonesia is the largest Muslim country in the world. Would a free trade agreement (FTA) with the country be both economically and politically beneficial to the United States? What kind of benefits could Indonesia expect? This book presents a case for improved trade relations between Indonesia and the United States and recommends advancing talks toward a US-Indonesia FTA. The authors present a detailed study of the stakes involved in the proposed negotiation and estimate the FTA's potential for trade creation, trade diversion, and welfare under different scenarios."--Jacket
more
fewer
Audience Level
0

1
Kids
General
Special
Audience level: 0.10 (from 0.02 for Reengaging ... to 0.80 for Working pa ...)
Related Identities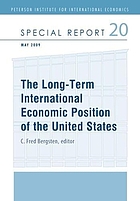 Covers
Alternative Names
Institute for International Economics (U.S.)
Bidesen guo ji jing ji yan jiu suo

Institut mezhdunarodnoĭ ėkonomiki Pitera Pitersona

Instituto Peterson

Istituto per l'Economia Internazionale Peterson

Peter G. Peterson Institute for International Economics.

Peterson Institute for International Economics

The Peter G. Peterson Institute for International Economics (Washington, DC)

Институт мировой экономики Петерсона

Інститут міжнародної економіки Петерсона

ピーターソン研究所

彼得森国际经济研究所

Languages