Heine, Steven J.
Most widely held works by Steven J Heine
DNA is not destiny : the remarkable, completely misunderstood relationship between you and your genes
by
Steven J Heine
( Book )
11 editions published between
2017
and 2018 in
English
and held by 764 WorldCat member libraries worldwide
"Do you fear what might be lurking in your DNA? Well, now you can find out, and you most likely will. Scientists expect one billion people to have their genomes sequenced by 2025, and as the price drops it may even become a standard medical procedure. Yet cultural psychologist Steven J. Heine argues that the first thing we'll do upon receiving our DNA test results is to misinterpret them completely. We've become accustomed to breathless media coverage about newly discovered "cancer" or "IQ" or "infidelity" genes, each one promising a deeper understanding of what makes us tick. But as Heine shows, most of these claims are oversimplified and overhyped misinterpretations of how our DNA really works. With few exceptions, it is a complex combination of experience, environment, and genetics that determines who we are, how we behave, and what diseases will afflict us in the future. So why do we continue to buy into the belief that our genes control our destiny? Heine argues that we are psychologically ill equipped to deal with DNA results, repeatedly falling into predictable biases--switch-thinking, essentialism, fatalism, negativity dominance, and more--that mold our thinking about the information we receive. Heine shares his research--and his own genome-sequencing results--not only to set the record straight regarding what your genes actually reveal about your health, intelligence, ethnic identity, and family, but also to help you counteract these insidious cognitive traps. His fresh, surprising conclusions about the promise, and limits, of genetic engineering and DNA testing upend conventional thinking and reveal a simple, profound truth: your genes create life--but they do not control it."--Jacket
Cultural psychology
by
Steven J Heine
( Book )
21 editions published between
2008
and 2017 in
English
and held by 389 WorldCat member libraries worldwide
An introduction to cultural psychology -- Culture and human nature -- Cultural evolution -- Methods for studying culture and psychology -- Development and socialization -- Self and personality -- Motivation -- Cognition and perception -- Interpersonal attraction, close relationships, and groups -- Living in multicultural worlds -- Physical health -- Mental health -- Morality, religion, and justice -- Emotions -- Glossary G-1 -- References R-1 -- Credits C-1 -- Name index N-1 -- Subject index S-1
Evolution, culture, and the human mind
by
Mark Schaller
( )
3 editions published between
2009
and 2016 in
English
and held by 23 WorldCat member libraries worldwide
An enormous amount of scientific research compels two fundamental conclusions about the human mind: The mind is the product of evolution; and the mind is shaped by culture. These two perspectives on the human mind are not incompatible, but, until recently, their compatibility has resisted rigorous scholarly inquiry. Evolutionary psychology documents many ways in which genetic adaptations govern the operations of the human mind. But evolutionary inquiries only occasionally grapple seriously with questions about human culture and cross-cultural differences. By contrast, cultural psychology docum
Cultural psychology
( Book )
2 editions published between
2008
and 2012 in
English
and held by 6 WorldCat member libraries worldwide
Cultural psychology
by
Steven J Heine
( Recording )
3 editions published between
2007
and 2012 in
English
and held by 3 WorldCat member libraries worldwide
[In this book, the author] offers [a] contemporary, broad-based global treatment of this ... field. [He] builds his text around many of psychology's most enduring questions about our identities, motivations, emotions, and relationships. The text incorporates examples from around the world and from everyday life to make the material relevant to a wide range of students. Research methods are emphasized throughout in order to demonstrate how cultural psychologists study the close-knit relationship between culture and the ways we think and behave. Three unique chapters bring an interdisciplinary dimension to the text, examining cultural evolution, mental health, and morality from the perspective of cultural psychology.-Back cover
The weirdest people in the world?
by
Joseph Patrick Henrich
( )
1 edition published in
2010
in
English
and held by 3 WorldCat member libraries worldwide
Behavioral scientists routinely publish broad claims about human psychology and behavior in the world's top journals based on samples drawn entirely from Western, Educated, Industrialized, Rich and Democratic (WEIRD) societies. Researchers - often implicitly - assume that either there is little variation across human populations, or that these "standard subjects" are as representative of the species as any other population. Are these assumptions justified? Here, our review of the comparative database from across the behavioral sciences suggests both that there is substantial variability in experimental results across populations and that WEIRD subjects are particularly unusual compared with the rest of the species-frequent outliers. The domains reviewed include visual perception, fairness, cooperation, spatial reasoning, categorization and inferential induction, moral reasoning, reasoning styles, selfconcepts and related motivations, and the heritability of IQ. The findings suggest that members of WEIRD societies, including young children, are among the least representative populations one could find for generalizing about humans. Many of these findings involve domains that are associated with fundamental aspects of psychology, motivation, and behavior-hence, there are no obvious a priori grounds for claiming that a particular behavioral phenomenon is universal based on sampling from a single subpopulation. Overall, these empirical patterns suggests that we need to be less cavalier in addressing questions of human nature on the basis of data drawn from this particularly thin, and rather unusual, slice of humanity. We close by proposing ways to structurally re-organize the behavioral sciences to best tackle these challenges. -- external validity ; population variability ; experiments ; cross-cultural research ; culture ; human universals ; generalizability ; evolutionary psychology ; cultural psychology ; behavioral economics
more
fewer
Audience Level
0

1
Kids
General
Special
Audience level: 0.35 (from 0.22 for DNA is not ... to 0.95 for The weirde ...)
Related Identities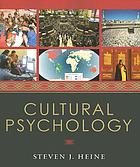 Covers
Alternative Names
Heine, Steven

Heine, Steven 1966-

하이네. 스티븐 1966-

하이네, 스티븐 J. 1966-

Languages