Evans, Jean M.
Most widely held works by Jean M Evans
Beyond Babylon : art, trade, and diplomacy in the second millennium B.C.
( Book )
7 editions published in
2008
in
English
and held by 541 WorldCat member libraries worldwide
This important volume describes the extraordinary art created in the second millennium B.C. for royal palaces, temples, and tombs from Mesopotamia, Syria, and Anatolia to Cyprus, Egypt, and the Aegean. Objects of the highest artistry reflect the development of a sophisticated trade network throughout the eastern Mediterranean region and the resulting fusion of Near Eastern, Aegean, and Egyptian cultural styles.The impact of these far-flung connections is documented in the precious materials sent to royal and temple treasuries and, most dramatically, in objects discovered on merchant shipwrecks off the shores of southern Anatolia. The history of the period and the artistic creativity fostered by interaction among the powers of the ancient Near East, both great and small, are discussed by an international group of scholars in essays and entries on the more than 350 objects included in the exhibition, continuing the fascinating story begun in the landmark catalogue Art of the First Cities (2003)
The lives of Sumerian sculpture : an archaeology of the early dynastic temple
by
Jean M Evans
( Book )
12 editions published in
2012
in
English
and held by 216 WorldCat member libraries worldwide
"This book examines the sculptures created during the Early Dynastic period (2900-2350 BC) of Sumer, a region corresponding to present-day southern Iraq. Featured almost exclusively in temple complexes, some 550 Early Dynastic stone statues of human figures carved in an abstract style have survived. Chronicling the intellectual history of ancient Near Eastern art history and archaeology at the intersection of sculpture and aesthetics, this book argues that the early modern reception of Sumer still influences ideas about these sculptures. Engaging also with the archaeology of the Early Dynastic temple, the book ultimately considers what a stone statue of a human figure has signified, both in modern times and in antiquity"
From ancient to modern : archaeology and aesthetics
by
New York University
( Book )
2 editions published in
2015
in
English
and held by 126 WorldCat member libraries worldwide
"As archaeologists unearth the past, they seek meaning or purpose for the objects they uncover by looking at the objects themselves and their archaeological context. Art historians, on the other hand, primarily focus on aesthetics, asking why a particular object stimulates our senses, and what that tells us about ourselves. From Ancient to Modern offers a lens for understanding ancient objects through the perspectives and processes of both archaeology and aesthetics, and, in so doing, illuminates the multiple layers of meaning that a single object can take on--sometimes simultaneously--over the course of its existence. This beautifully illustrated volume is the accompanying catalog for the exhibition at New York University's Institute for the Study of the Ancient World and focuses on fifty objects from three iconic sites in the ancient Near East: Ur, Diyala, and Kish. The excavation, unique characteristics, and transformative journey of each object--from archaeological artifact to aesthetic item--are examined. Select contemporary artworks are also considered in the investigation of how ancient objects acquire meaning in the present day."--Publisher's website
Evolutionary theory and visual culture. The Darwin effect
( Book )
1 edition published in
2014
in
English
and held by 3 WorldCat member libraries worldwide
Charles Darwin's theory of evolution bore a decisive influence on aesthetic thought that was nothing if not diverse. From biological models to European paintings, Darwinian theory offered art historians and artists a rich, evocative lens through which to view the world anew. This volume explores the effect of Darwinian theory on visual culture through analysis of popular graphics, scientific illustration, natural history diorama, as well as the more traditional art historical material such as painting and sculpture. It extends the discussion to examine the lasting impact the theory of evolution has had on the development of art history as an academic discipline
Redefining the sculpture of early dynastic Mesopotamia
by
Jean M Evans
( )
2 editions published in
2005
in
English
and held by 3 WorldCat member libraries worldwide
On the basis of archaeological context and stylistic analysis, this dissertation is a redefinition of Early Dynastic sculpture styles. It is therefore also an assessment of the Early Dynastic periodization in reference to ED I and II. Through a reassessment of Diyala contexts, it is proposed that dedicatory traditions began in ED I and that among the earliest sculpture, it is possible to define distinct styles particular to certain temples. Rather than one abstract style, the earliest dedicatory sculpture therefore displays veins of abstraction and realism utilized to varying degrees. During ED III, large corpuses of Early Dynastic sculpture appear at Ashur, in northern Mesopotamia; at Mari and Tell Chuera, in Syria; and at Nippur, in southern Mesopotamia. The sculpture of the northern sites is carved in a distinct style particular to each site. In contrast, the sculpture of the Diyala and southern Mesopotamia adheres closely to traditions first established in ED I. Therefore, rather than portray the varying styles of dedicatory sculpture as a single, coherent sequence spanning the Early Dynastic period, this dissertation instead highlights distinct differences. Just as no single sculpture style can be considered contemporary for all of Mesopotamia, no single sculpture style can be considered exclusive of any one ED subdivision
more
fewer
Audience Level
0

1
Kids
General
Special
Audience level: 0.51 (from 0.23 for Cognitive ... to 0.97 for Beyond Bab ...)
Related Identities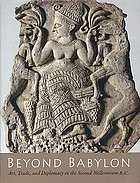 Languages
Covers