Ma, Yun 1964-
Most widely held works about Yun Ma
more
fewer
Most widely held works by Yun Ma
Jack Ma, circa 1999 : selling Alibaba from his apartment
( Visual )
1 edition published in
2014
in
Chinese
and held by 199 WorldCat member libraries worldwide
Sept. 8 (Bloomberg) -- In this clip from 1999, Jack Ma delivers a speech to 17 friends in his apartment to introduce Alibaba and lay out his plan to compete with U.S. internet titans. For more, check out "Crocodile in the Yangtze: The Alibaba Story," premiering on Bloomberg Television Monday Sept. 8 at 9pm EDT
Never give up : Jack Ma in his own words
by
Yun Ma
( Book )
3 editions published in
2016
in
English
and held by 62 WorldCat member libraries worldwide
"Ever since the Alibaba Group went public on September 19, 2014-with an initial public offering of a record-breaking $25 billion-Jack Ma, the founder and charismatic "spiritual leader" of the e-commerce behemoth, has been making headlines around the world. In 2014, the company's online transactions totaled $248 billion-more than those of Amazon and eBay combined. The first Chinese entrepreneur to appear on the cover of Forbes, Ma is the now the second-richest man in China, with a net worth that is estimated to be north of $29 billion. Despite Ma's massive influence in China and in the global tech world, his inspirational rags-to-riches story is relatively unknown to the general American public. Never Give Up: Jack Ma In His Own Words is a comprehensive guide to the inner workings of arguably the most prominent figure in the global tech world in the past 20 years-comprised entirely of Ma's own thought-provoking and candid quotes. When Ma decided to start his first Internet company in 1999, few Chinese people knew what the Internet was. Ma, a former English teacher, knew nothing about coding, and his $20,000 in startup funds were not made up of investments from venture capitalists but loans from his family. He channeled his startup experience into Alibaba, a group of websites that allows businesses and people to connect in order to buy and sell products (similar to eBay and Amazon) while also collecting advertising revenue (similar to Google). By some measures, Alibaba is now the largest e-commerce site in the world. In this book, more than 200 quotes on business values, innovation, entrepreneurship, competition, management, teamwork, life, and more provide an intimate and direct look into the mind of this modern business icon and philanthropist. Many of these quotes are translated directly from the Chinese press and interviews. For readers who do not read Chinese and have no other access to these materials, this book provides invaluable insight into the mind of one of the world's most successful business magnates"--
Never give up : Jack Ma in his own words
by
Yun Ma
( )
4 editions published in
2016
in
English
and held by 51 WorldCat member libraries worldwide
Ever since the Alibaba Group went public on September 19, 2014--with an initial public offering of a record-breaking $25 billion--Jack Ma, the founder and charismatic "spiritual leader" of the e-commerce behemoth, has been making headlines around the world. In 2014, the company's online transactions totaled $248 billion--more than those of Amazon and eBay combined. The first Chinese entrepreneur to appear on the cover of Forbes, Ma is the now the second-richest man in China, with a net worth that is estimated to be more than $29 billion.Despite Ma's massive influence in China and in the global tech world, his inspirational rags-to-riches story is relatively unknown to the general American public. Never Give Up: Jack Ma in His Own Words is a comprehensive guide to the inner workings of arguably the most prominent figure in the global tech world in the past twenty years--comprised entirely of Ma's own thought-provoking and candid quotes.When Ma decided to start his first Internet company in 1999, few Chinese people knew what the Internet was. Ma, a former English teacher, knew nothing about coding, and his $20,000 in startup funds were not made up of investments from venture capitalists but loans from his family. He channeled his startup experience into Alibaba, a group of websites that allows businesses and people to connect in order to buy and sell products, similar to eBay and Amazon, while also collecting advertising revenue, similar to Google. By some measures, Alibaba is now the largest e-commerce site in the world.In this book, more than 200 quotes on business values, innovation, entrepreneurship, competition, management, teamwork, life, and more provide an intimate and direct look into the mind of this modern business icon and philanthropist. Many of these quotes are translated directly from the Chinese press and interviews. For those who do not read Chinese and have no other access to these materials, this book provides invaluable insight into the mind of one of the world's most successful business magnates
Zhong gong dang shi jiang yi
by
Yun Ma
( Book )
6 editions published between
1932
and 1982 in
Chinese
and held by 36 WorldCat member libraries worldwide
Smart business : what Alibaba's success reveals about the future of strategy
by
Ming Zeng
( )
5 editions published in
2019
in
German
and held by 34 WorldCat member libraries worldwide
Worin besteht das Geheimnis hinter dem märchenhaften Aufstieg des chinesischen Vorzeigeunternehmens Alibaba? Ist es Jack Ma, sein schillernder Gründer, oder etwa ein besonderer Algorithmus? Ming Zeng verrät uns: Es ist die Strategie des Smart Business, das auf maschinellem Lernen, Algorithmen und künstlicher Intelligenz beruht. Ming Zeng legt dar, wie Alibaba neue Technologien dazu verwendet, das Entscheidungsverhalten zu verbessern und konkrete Handlungsschritte daraus abzuleiten. Er präsentiert ein neues Set von Tools, das Unternehmen zur Entwicklung und Umsetzung einer smarten Strategie verhilft. Das Geheimnis von Alibaba könnte bald auch ihr Erfolgsgarant werden!
Jack Ma in his own words
by
Yun Ma
( Book )
4 editions published in
2019
in
English
and held by 19 WorldCat member libraries worldwide
"Ever since the Alibaba Group went public on September 19, 2014-with an initial public offering of a record-breaking $25 billion-Jack Ma, the founder and charismatic "spiritual leader" of the e-commerce behemoth, has been making headlines around the world. In 2014, the company's online transactions totaled $248 billion-more than those of Amazon and eBay combined. The first Chinese entrepreneur to appear on the cover of Forbes, Ma is the now the second-richest man in China, with a net worth that is estimated to be north of $29 billion. Despite Ma's massive influence in China and in the global tech world, his inspirational rags-to-riches story is relatively unknown to the general American public. Never Give Up: Jack Ma In His Own Words is a comprehensive guide to the inner workings of arguably the most prominent figure in the global tech world in the past 20 years-comprised entirely of Ma's own thought-provoking and candid quotes. When Ma decided to start his first Internet company in 1999, few Chinese people knew what the Internet was. Ma, a former English teacher, knew nothing about coding, and his $20,000 in startup funds were not made up of investments from venture capitalists but loans from his family. He channeled his startup experience into Alibaba, a group of websites that allows businesses and people to connect in order to buy and sell products (similar to eBay and Amazon) while also collecting advertising revenue (similar to Google). By some measures, Alibaba is now the largest e-commerce site in the world. In this book, more than 200 quotes on business values, innovation, entrepreneurship, competition, management, teamwork, life, and more provide an intimate and direct look into the mind of this modern business icon and philanthropist. Many of these quotes are translated directly from the Chinese press and interviews. For readers who do not read Chinese and have no other access to these materials, this book provides invaluable insight into the mind of one of the world's most successful business magnates"-- Provided by publisher. "A collection of direct quotes from Jack Ma on topics related to business, entrepreneurship, his company, Alibaba and life"-- Provided by publisher
Wo de cheng gong bu shi ou ran : Ma Yun gei nian qing ren de chuang ye ke = About by "chance" : some words to the young by Yun Ma
by
Xuefeng Ren
( )
2 editions published in
2010
in
Chinese
and held by 14 WorldCat member libraries worldwide
Ben shu jiang li lun yu shi jian xiang jie he, yi ma yun de jing dian yu lu dian ti, jie he ta ben ren yi ji shang ye shi shang de jing dian an li, zhen dui chuang ye zhong de guan jian wen ti, ru chuang ye jing shen, chuang ye zhun bei, xiang mu xuan ze, cheng chang zhan lue, ying xiao fang shi, zi jin yun zuo deng, gei qing nian chuang ye zhe shang liao 19 tang guan yu chuang ye de ke cheng
Le fan tian
( Visual )
2 editions published in
2012
in
Chinese
and held by 11 WorldCat member libraries worldwide
CEO lai xin
by
Yun Ma
( Book )
2 editions published in
2011
in
Chinese
and held by 7 WorldCat member libraries worldwide
Ben shu shou lu le bao kuo ma yun, Zhou hong yi, Feng lun deng zai nei de shu shi wei zhu ming CEO de"lai xin". Zhei xie"lai xin"shi<zhong guo qi ye jia> za zhi"CEO lai xin"lan mu zai jin san nian duo shi jian li shou ji zheng li de, Ta men de yan jiang huo zhe nei bu jiang hua. Ben shu jing xuan le qi zhong zui ju dai biao xing de wen zhang, Cong"ren sheng li zhi", "jing ying guan li", "chan ye wei lai"san fang mian tu xian le shang ye jing ying de jing ying si xiang yu ren sheng zhi hui
Du dong hu lian wang +
by
Yun Ma
( Book )
2 editions published in
2015
in
Chinese
and held by 7 WorldCat member libraries worldwide
Ben shu ji he liao guo nei yi liu de qi ye jia, xue zhe, cong qi zi shen chang qi cong shi de xing ye, yan jiu chu fa, jie he shi jian jing yan he li lun yan jiu, miao hui chu qing xi er quan mian de jing ji fa zhan qu shi . yi ben shu dou dong " hu lian wang +"
more
fewer
Audience Level
0

1
Kids
General
Special
Audience level: 0.38 (from 0.24 for How Jack M ... to 0.97 for An adaptiv ...)
Related Identities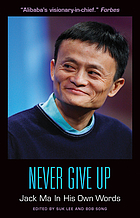 Covers
Alternative Names
Cek Ma

Džeks Ma

Džeks Ma uzņēmējs no Ķīnas

j, ma

Jack Ma Chinees ondernemer

Jack Ma Chinese businessman

Jack Ma chinesischer Unternehmer

Jack Ma Chủ tịch Tập đoàn Alibaba

Jack Ma Çinli iş adamı

Jack Ma empresário chinês

Jack Ma Empresario chino

Jack Ma fear gnó Síneach

Jack Ma Hiina ärimees

Jack Ma homme d'affaires chinois, fondateur d'Alibaba Group

Jack Ma imprenditore cinese

Jack Ma kínai üzletember

Jack Ma kinesisk affärsman, grundare av Alibaba Group

Jack Ma Kinesisk næringslivsleder

Jack Ma Pebisnis asal Tiongkok

Jek Ma sohibkori chinī

jun, ma

Jun, Ma 1964-

Ma, Chün 1964-

Má hûn

ma, j

Ma J. 1964-

Ma, Jack

Ma, Jack 1964-

ma, jun

Ma, Jün, 1964-

Ma-yon 1964-

Ma, Yun

Ma, Yun, 1964-

Ma Yun Chinese internet entrepreneur

Ma, Žek 1964-

Ma, Zhjek 1964-

Τζακ Μα Κινέζος επιχειρηματίας

Джак Ма

Джек Ма китайский предприниматель

Жек Ма

Ма Ю. 1964-

Ма Юнь 1964-

Ма Јун

Ҷек Ма соҳибкори чинӣ

Մա Իւն

Մա Յուն

ג'ק מא מיליארדר ואיש עסקים סיני

جاك ما رجل أعمال صيني

جاک ما

جيڪ ما

جک ما

جیک ما

مايۈن

जैक मा

जॅक मा श्रीमंत व्यक्ती व गुंतवणूकदार

ज्याक मा

জ্যাক মা চৈনিক ব্যবসায়ী

ਜੈਕ ਮਾ

ஜாக் மா

జాక్ మా వ్యాపారవేత్త

ജാക്ക് മാ

แจ็คหม่า

མ་ཡོན།

ဂျက်မား

ჯეკ მა

잭 마

ジャック・マー

马, 云 1964-

马云, 1964-

馬雲 中國企業家

马云 中国资本家

马骏 1964-

Languages