Chingos, Matthew M. 1983-
Overview
| | |
| --- | --- |
| Works: | 26 works in 66 publications in 1 language and 1,811 library holdings |
| Roles: | Author |
| Classifications: | LC208.8, 378.169120973 |
Most widely held works by Matthew M Chingos
Crossing the finish line : completing college at America's public universities
by
William G Bowen
( Book )
17 editions published between
2009
and 2011 in
English
and held by 1,299 WorldCat member libraries worldwide
"Long revered for their dedication to equal opportunity and affordability, public universities play a crucial role in building our country's human capital. And yet-a sobering fact-less than 60 percent of the students entering four-year colleges in America today are graduating. Why is this happening and what can be done? Crossing the Finish Line, the most important book on higher education to appear since The Shape of the River, provides the most detailed exploration ever of the crisis of college completion at America's public universities. This groundbreaking book sheds light on such serious issues as dropout rates linked to race, gender, and socioeconomic status. Probing graduation rates at twenty-one flagship public universities and four statewide systems of public higher education, the authors focus on the progress of students in the entering class of 1999-from entry to graduation, transfer, or withdrawal. They examine the effects of parental education, family income, race and gender, high school grades, test scores, financial aid, and characteristics of universities attended (especially their selectivity). The conclusions are compelling: minority students and students from poor families have markedly lower graduation rates-and take longer to earn degrees-even when other variables are taken into account. Noting the strong performance of transfer students and the effects of financial constraints on student retention, the authors call for improved transfer and financial aid policies, and suggest ways of improving the sorting processes that match students to institutions. An outstanding combination of evidence and analysis, Crossing the Finish Line should be read by everyone who cares about the nation's higher education system"--
Game of loans : the rhetoric and reality of student debt
by
Beth Akers
( Book )
7 editions published between
2016
and 2018 in
English
and held by 406 WorldCat member libraries worldwide
"Bringing needed clarity to an issue that concerns all of us, Beth Akers and Mathew Chingos cut through the sensationalism and misleading rhetoric to make the compelling case that college remains a good investment for most students. They show how, in fact, typical borrowers face affordable debt burdens, and argue that the truly serious cases of financial hardship portrayed in the media are less common than the popular narrative would have us believe. But there are more troubling problems with student loans that don't receive the same attention. They include high rates of avoidable defaults by students who take on loans but don't finish college - the riskiest segment of borrowers - and a dysfunctional market where competition among colleges drives tuition costs up instead of down. Persuasive and compelling, Game of Loans moves beyond the emotionally charged and politicized talk surrounding student debt, and offers a set of sensible policy proposals that can solve the real problems in student lending"--
Endogenous stratification in randomized experiments
by
Alberto Abadie
( )
5 editions published in
2013
in
English
and held by 58 WorldCat member libraries worldwide
Researchers and policy makers are often interested in estimating how treatments or policy interventions affect the outcomes of those most in need of help. This concern has motivated the increasingly common practice of disaggregating experimental data by groups constructed on the basis of an index of baseline characteristics that predicts the values that individual outcomes would take on in the absence of the treatment. This article shows that substantial biases may arise in practice if the index is estimated, as is often the case, by regressing the outcome variable on baseline characteristics for the full sample of experimental controls. We analyze the behavior of leave-one-out and repeated split sample estimators and show that in realistic scenarios they have substantially lower biases than the full sample estimator. We use data from the National JTPA Study and the Tennessee STAR experiment to demonstrate the performance of alternative estimators and the magnitude of their biases
Do more effective teachers earn more outside of the classroom?
by
Matthew M Chingos
( Book )
7 editions published in
2010
in
English
and held by 18 WorldCat member libraries worldwide
We examine earnings records for more than 90,000 classroom teachers employed by Florida public schools between the 2001-02 and 2006-07 school years, roughly 20,000 of whom left the classroom during that time. A majority of those leaving the classroom remained employed by public school districts. Among teachers in grades 4-8 leaving for other industries, a 1 standard deviation increase in estimated value-added to student math and reading achievement is associated with 6-9 percent higher earnings outside of teaching. The relationship between effectiveness and earnings is stronger in other industries than it is for the same groups of teachers while in the classroom, suggesting that current compensation systems do not fully account for the higher opportunity wages of effective teachers. Tables are appended. (Contains 5 figures, 8 tables and 32 footnotes.)
The Effects of School Vouchers on College Enrollment: ExperimentalEvidence from New York City
by
Matthew M Chingos
( Book )
2 editions published in
2012
in
English
and held by 4 WorldCat member libraries worldwide
In the first study, using a randomized experiment to measure the impact of school vouchers on college enrollment, Matthew Chingos and Paul Peterson, professor of government at Harvard University, examine the college-going behavior through 2011 of students who participated in a voucher experiment as elementary school students in the late 1990s. They find no overall impacts on college enrollment but do find large, statistically significant positive impacts on the college going of African-American students who participated in the study. Their estimates indicate that using a voucher to attend private school increased the overall college enrollment rate among African Americans by 24 percent. The original data for the analysis come from an experimental evaluation of the privately funded New York School Choice Scholarships Foundation Program, which in the spring of 1997 offered three-year scholarships worth up to a maximum of $1,400 annually to as many as 1,000 low-income families. Chingos and Peterson obtained student information that allowed them to identify over 99 percent of the students who participated in the original experiment so that their college enrollment status could be ascertained by means of the college enrollment database maintained by the National Student Clearinghouse for institutions of higher education that serve 96 percent of all students in the United States. In addition to finding impacts on overall college-going for African Americans, the authors report significant increases in full-time college attendance, enrollment in private four-year colleges, and enrollment in selective four-year colleges for this group of students. Observational and Quasi-Experimental Research are appended. (Contains 7 tables and 19 endnotes.)
Teacher Effectiveness, Mobility, and Attrition in Florida: A DescriptiveAnalysis. Working Paper 2008-12
by Martin West
( Book )
1 edition published in
2008
in
English
and held by 3 WorldCat member libraries worldwide
We use value-added models to calculate measures of effectiveness for new elementary school teachers in Florida between 2001-02 and 2005-06, then compare the attrition and mobility patterns of more and less effective teachers overall and across various types of schools. While we do not find evidence that schools are disproportionately losing their most effective early career teachers, our data nonetheless suggest that there is considerable room for schools to raise student achievement and close achievement gaps through targeted policies aimed at retaining only their most effective performers. A clear majority of the state's most effective teachers do not remain in their initial schools only four years into their career, and these same teachers are no less likely to leave the profession altogether than are the least effective. Schools with high performing students do a far better job than most of retaining their most effective teachers and dismissing the least effective. (Contains 12 figures, 2 tables and 13 footnotes.) [This working paper was prepared for "Performance Incentives: Their Growing Impact on American k-12 Education" in Nashville, Tennessee on February 29, 2008.]
The false promise of class-size reduction
by
Matthew M Chingos
( )
3 editions published in
2011
in
English
and held by 3 WorldCat member libraries worldwide
Class-size reduction, or csr, is enormously popular with parents, teachers, and the public in general. Many parents believe that their children will benefit from more individualized attention in a smaller class and many teachers find smaller classes easier to manage. The pupil-teacher ratio is an easy statistic for the public to monitor as a measure of educational quality, especially before test-score data became widely available in the last decade. Policymakers across the nation, including those in at least 24 states, have taken these ideas to heart and enacted csr initiatives at costs upward of billions of dollars. These policies, coupled with trends in local school districts, have produced a widespread reduction in the number of students per teacher over the past four decades. Parents, teachers, and policymakers have all embraced csr as a strategy to improve the quality of public education. There is surprisingly little high-quality research, however, on the effects of class size on student achievement in the United States. The credible evidence that does exist is not consistent, and there are many low-quality studies with results all over the map. The evidence on class size indicates that smaller classes can, in some circumstances, improve student achievement if implemented in a focused way. But csr policies generally take exactly the opposite approach by pursuing across-the-board reductions in class size at the state or federal level. These large-scale, untargeted policies are also extremely expensive and represent wasted opportunities to make smarter educational investments. The fact that across-the-board csr policies at the state or district level are not cost-effective does not mean that smaller classes should never be used, but rather that they should be reserved for use in special cases by individual schools. (Contains 1 figure and 38 endnotes.)
Choosing Blindly: Instructional Materials, Teacher Effectiveness, andthe Common Core
by
Matthew M Chingos
( Book )
1 edition published in
2012
in
English
and held by 3 WorldCat member libraries worldwide
Evidence shows that instructional materials have large effects on student learning. However, little research exists on the effectiveness of most instructional materials, and very little systematic information has been collected on which materials are being used in which schools. In this new report, Russ Whitehurst and Fellow Matthew Chingos argue that this problem can be efficiently and easily fixed by states, with support from the federal government, non-profit organizations, and private philanthropy. Here are highlights from their recommendations: (1) State education agencies should collect data from districts on the instructional materials in use in their schools. The collection of comprehensive and accurate data will require states to survey districts, and in some cases districts may need to survey their schools. In the near term, many states can quickly glean useful information by requesting purchasing reports from their districts' finance offices. Building on these initial efforts, states should look to initiate future efforts to survey teachers, albeit on a more limited basis; (2) The federal government's National Center for Education Statistics should aid states in this effort by developing data collection templates for them to use through its Common Education Data Standards (ceds), and providing guidance on how states can use and share data on instructional materials; (3) Organizations with an interest in education reform should support this effort. For example, the National Governors Association (nga) and Council of Chief State School Officers (ccsso) have put their reputations on the line by sponsoring the Common Core State Standards Initiative. Research based on current and past state standards indicates that this initiative is unlikely to have much of an effect on student achievement in and of itself; (4) The Data Quality Campaign (dqc) should use its influence in this area to encourage states to collect information on the use of instructional materials and support them in their efforts to gather these data. The dqc should also help states use the data once they have been collected; and (5) Philanthropic organizations such as the Bill and Melinda Gates Foundation and the Lumina Foundation for Education could have a major impact by providing the start-up funding needed to collect data on instructional materials and support the research that would put those data to use. (Contains 32 endnotes.)
Do school districts matter?
by
Grover J Whitehurst
( )
2 editions published in
2013
in
English
and held by 2 WorldCat member libraries worldwide
School districts occupy center stage in education reform in the U.S. They manage nearly all public funding and are frequently the locus of federal and state reform initiatives, E.G., instituting meaningful teacher evaluation systems. Financial compensation for district leaders is high, with many being paid more than the chief state school officers who oversee the entire systems in which they serve. Despite the centrality of school districts in all the ways described, one knows very little from existing research about how important they are to student achievement relative to other institutional components for delivering education services, including teachers and schools. Neither does one have information on the size of the differences in effectiveness among districts or whether there are districts that show exceptional patterns of performance across time, E.G., moving from low to high performing. The authors begin to fill these information gaps in the present report by analyzing 10 years of data involving all public school students and school districts in Florida and North Carolina. They find that school districts account for only a small portion (1% to 2%) of the total variation in student achievement relative to the contribution of schools, teachers, demographic characteristics of students, and remaining individual differences among students. There are also districts that have displayed exceptional patterns of performance in terms of student achievement over the last decade, including districts that beat their demographic odds every year, districts that consistently underperformed, districts that had nose-dive declines, and districts that experienced transformative growth. These findings provide an empirical justification for efforts to improve student achievement through district-level reforms and should be a tantalizing fruit for those who want to better understand why some districts are better than others and translate that knowledge into action. (Contains 6 figures and 7 endnotes.)
more
fewer
Audience Level
0

1
Kids
General
Special
Audience level: 0.26 (from 0.13 for Interactiv ... to 0.97 for Impact of ...)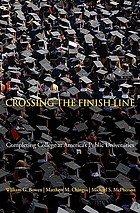 Covers
Alternative Names
Languages