Chartier, Gary
Most widely held works by Gary Chartier
Economic justice and natural law
by
Gary Chartier
( )
27 editions published between
2009
and 2015 in
English
and held by 1,483 WorldCat member libraries worldwide
"Gary Chartier elaborates an account of economic justice rooted in the natural law tradition, explaining how it is relevant to economic issues and developing natural law accounts of property, distribution, and work. He examines a range of case studies related to ownership, production, distribution, and consumption, using natural law theory as a basis for staking positions on a number of contested issues related to economic life and highlighting the potentially progressive and emancipatory dimension of natural law theory."--Back cover
Anarchy and legal order : law and politics for a stateless society
by
Gary Chartier
( )
29 editions published between
2012
and 2014 in
English
and held by 1,253 WorldCat member libraries worldwide
"This book develops and defends the idea of law without the state. Animated by a vision of peaceful, voluntary cooperation as a social ideal and building on a careful account of non-aggression, it features a clear explanation of why the state is illegitimate, dangerous, and unnecessary. It proposes an understanding of how law enforcement in a stateless society could be legitimate and what the optimal substance of law without the state might be, suggests ways in which a stateless legal order could foster the growth of a culture of freedom, and situates the project it elaborates in relation to leftist, anticapitalist, and socialist traditions"--Page 4 of cover
Public practice, private law : an essay on love, marriage, and the state
by
Gary Chartier
( )
14 editions published between
2016
and 2017 in
English
and held by 893 WorldCat member libraries worldwide
"Marriage is ordinarily a public practice, supported by as well as supportive of society. But it need not fall within the purview of the state. Public Practice, Private Law articulates a conception of marriage as a morally rich and important institution that ought to be subject to private rather than legislative or judicial ordering. It elaborates a robust understanding of marriage that captures what both different-sex and same-sex couples might see as valuable about their relationships. It explains why sexual ethics won't yield a normative model of marriage, and why the kind of marital love worth wanting can. It goes on to show how an understanding of marriage as rooted in demanding commitments can allow for divorce before arguing that the state should cease to sponsor marriages. It concludes by suggesting that both state and non-state institutions should acknowledge the marriages of same-sex couples"
Radicalizing Rawls : global justice and the foundations of international law
by
Gary Chartier
( Book )
18 editions published between
2014
and 2016 in
English
and held by 210 WorldCat member libraries worldwide
"This book articulates and defends a Rawlsian version of cosmopolitanism. Critiquing Rawls's own suggestion that states (or 'peoples') be treated as foundational to the global order, as well as alternative Rawlsian defenses of Rawls's approach, Radicalizing Rawls proposes a polycentric global legal regime, featuring a Law of Persons rather than Rawls's Law of Peoples. Gary Chartier argues provocatively for more extensive global human rights protections than those Rawls defends and maintains that global anarchy could prove to be an attractive version of John Tomasi's Rawlsian 'market democracy.'"--
Social class and state power : exploring an alternative radical tradition
by
David M Hart
( )
16 editions published between
2017
and 2019 in
English
and held by 198 WorldCat member libraries worldwide
This book explores the idea of social class in the liberal tradition. It collects classical and contemporary texts illustrating and examining the liberal origins of class analysis--often associated with Marxism but actually rooted in the work of liberal theorists. Liberal class analysis emphasizes the constitutive connection between state power and class position. Social Class and State Power documents the rich tradition of liberal class theory, its rediscovery in the twentieth century, and the possibilities it opens up for research in the new millenium
The logic of commitment
by
Gary Chartier
( )
12 editions published between
2017
and 2020 in
English
and
Undetermined
and held by 188 WorldCat member libraries worldwide
"This book develops and defends a conception of commitment and explores its limits. Gary Chartier shows how commitment serves to resolve conflicts between ordinary moral intuitions and the reality that the basic aspects of human well-being are incommensurable. He outlines a variety of overlapping and mutually reinforcing rationales for making commitments, explores the relationship between commitment and vocation and the relevance of commitment to love, and notes some reasons why it might make sense to disregard one's commitments. The Logic of Commitment will appeal to ethicists interested in the connection between commitment and personal well-being, and to anyone who wonders why and when it might make sense to make or keep commitments."--Provided by publisher
An ecological theory of free expression
by
Gary Chartier
( )
8 editions published between
2018
and 2019 in
English
and held by 184 WorldCat member libraries worldwide
"This book advances a comprehensive moral defense of freedom of expression--one with implications for law and policy, but also for the choices of individuals and non-governmental institutions. [The author] seeks to ground expressive freedom in mutually supportive concerns related to themes including property, autonomy, flourishing, and discovery, while seeking to tightly cabin the range of potential injuries that might trigger legal liability for expressive activity. [The author] argues suggestively for an understanding of expressive freedom as rooted and realized in a complex set of social ecosystems that merit protection on multiple grounds and applies it provocatively to a range of contemporary issues."--
Understanding friendship : on the moral, political, and spiritual meaning of love
by
Gary Chartier
( )
3 editions published between
1901
and 2022 in
English
and held by 162 WorldCat member libraries worldwide
Understanding Friendship illustrates friendship as an expression of Christian love that can enrich one's life and be socially, culturally, and politically significant. The book examines what friendship is, how its distinctive moral status can be supported by multiple approaches to Christian ethics, and its part in Christian spirituality
Flourishing lives : exploring natural law liberalism
by
Gary Chartier
( )
8 editions published in
2019
in
English
and held by 159 WorldCat member libraries worldwide
"This book elaborates, illuminates, and illustrates a confident and attractive account of social and political liberalism in light of a rich understanding of flourishing and fulfilment rooted in a version of natural law theory. Examining issues in ethics, law, and politics-including consumer responsibility, the assignment of grades by teachers, deception by lawyers, war and empire, and the use of victim-impact statements in parole decisions-Gary Chartier shows how natural law theory can effectively support pluralism, diversity, social equality, integrity, peace, and freedom"--
The Routledge handbook of anarchy and anarchist thought
by
Gary Chartier
( )
9 editions published between
2020
and 2021 in
English
and held by 122 WorldCat member libraries worldwide
This Handbook offers an authoritative, up-to-date introduction to the rich scholarly conversation about anarchy-about the possibility, dynamics, and appeal of social order without the state. Drawing on resources from philosophy, economics, law, history, politics, and religious studies, it is designed to deepen understanding of anarchy and the development of anarchist ideas at a time when those ideas have attracted increasing attention. The popular identification of anarchy with chaos makes sophisticated interpretations-which recognize anarchy as a kind of social order rather than an alternative to it-especially interesting. Strong, centralized governments have struggled to quell popular frustration even as doubts have continued to percolate about their legitimacy and long-term financial stability. Since the emergence of the modern state, concerns like these have driven scholars to wonder whether societies could flourish while abandoning monopolistic governance entirely. Standard treatments of political philosophy frequently assume the justifiability and desirability of states, focusing on such questions as, What is the best kind of state? and What laws and policies should states adopt?, without considering whether it is just or prudent for states to do anything at all. This Handbook encourages engagement with a provocative alternative that casts more conventional views in stark relief. Its 30 chapters, written specifically for this volume by an international team of leading scholars, are organized into four main parts: I. Concept and Significance. II. Figures and Traditions. III. Legitimacy and Order. IV. Anarchy and Critique. In addition, a comprehensive index makes the volume easy to navigate and an annotated bibliography points readers to the most promising avenues of future research
more
fewer
Audience Level
0

1
General
Special
Audience level: 0.00 (from 0.00 for Economic j ... to 0.00 for Economic j ...)
Related Identities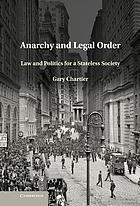 Covers
Alternative Names
Chartier, Gary.

Chartier, Gary William

Gary Chartier Amerikaans filosoof

Gary Chartier dlí-eolaí Meiriceánach

Gary Chartier filósofo merikano

غاري تشارتير فيلسوف من الولايات المتحدة الأمريكية

Languages