Textor, Cindi L.
Most widely held works by Cindi L Textor
The curious tale of Mandogi's ghost
by
Sekihan Kin
( )
7 editions published in
2010
in
English
and held by 926 WorldCat member libraries worldwide
A central work of postwar Japanese fiction, The Curious Tale of Mandogi's Ghost incorporates Korean folk tales, ghost stories, and myth into a phenomenal depiction of epic tragedy. Written by a zainichi, a permanent resident of Japan who is not of Japanese ancestry, the novel inventively imagines a long-supressed event in Japanese colonial history-the Cheju Uprising of 1948-and captures in style and substance the predicament of Koreans living under Japanese rule. Kim Sok-pom tells the story of Mandogi, a young priest living on the island of Cheju-do. Mandogi becom
Radical language, radical identity : Korean writers in Japanese spaces and the burden to "represent"
by
Cindi L Textor
( )
1 edition published in
2016
in
English
and held by 1 WorldCat member library worldwide
This dissertation examines literary texts by colonial Korean writers in the Japanese empire and the post-war "Zainichi" Korean minority in Japan. Whereas colonial Korean literature and Zainichi literature have typically been considered separately, I analyze them as part of a single trajectory, noting continuities in how Korean writers on both sides of the 1945 collapse of the empire struggle to avoid the dual traps of essentialism and assimilation. That is, in the face of pressures to assimilate into (post)imperial Japan, these writers grapple with the question of how to assert Korean particularity without reproducing stereotyped notions of Korean difference which were generated by the same imperial hierarchies. This overdetermined position—arising from the dual impulse to deconstruct essentialist difference and to avoid collapsing productive difference into a hegemonic mainstream—may be called the double bind of identity. The central focus of this project, then, is whether and how marginalized writers are able to overcome particular versions of this critical double bind through the medium of literary text. It further attempts to rethink the frameworks applied to these authors and texts, including modern Korean literature, modern Japanese literature, and even groupings like Zainichi literature that attempt to resist strictly national models, by shedding light on their participation in such overdeterminations. Looking closely at how writers work within and around the various constraints imposed on their writing, I argue that the hybrid language of these texts, located in the interstices and imbrications of Korean and Japanese spaces, is a potential site for radical representations of a particular "Korean" identity. The space of literary text offers a medium for representing identities less prone to falling into essentialist traps precisely because it is imaginary and undecidable. This radical language makes possible an escape from the double bind of identity faced by these writers: to simultaneously "represent" and transcend Korea. In this way, reading Korean writers in Japanese spaces not only offers a basis for critiquing ethno-national literary frameworks, but also has the potential to open up new possibilities for coping with difference, contributing to broader debates on intersectionality and identity politics. To that end, this dissertation takes up the particular intersectional circumstances of four Korean writers and their negotiations in hybrid literary texts: the queer language and subjectivities of Yi Kwangsu's Mujŏng, Ch'ae Mansik's ambiguously satirical repent for pro-Japanese collaboration, Kim Sŏkpŏm's invention of an imaginary Korea within the space of the Japanese language, and Kin Kakuei's attempt to "speak" through a narrator who stutters
Audience Level
0

1
Kids
General
Special
Audience level: 0.05 (from 0.05 for The curiou ... to 0.72 for Radical la ...)
Related Identities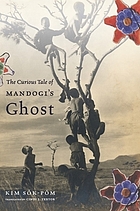 Covers
Languages