Price, Carter C.
Most widely held works by Carter C Price
The economic impact of Medicaid expansion on Pennsylvania
( )
5 editions published in
2013
in
English
and held by 583 WorldCat member libraries worldwide
The Affordable Care Act is a substantial reform of the U.S. health care insurance system. Using the RAND COMPARE model, researchers assessed the act⁰́₉s potential economic effects on Pennsylvania, factoring in an optional expansion of Medicaid, and found the state would enjoy significant net benefits. With or without the expansion of Medicaid, the act will increase insurance coverage to hundreds of thousands of Pennsylvanians, but the COMPARE model estimates that the expansion of Medicaid eligibility would cover an additional 350,000 people and bring more than $2 billion in federal spending into the state annually than if the state did not expand. Should the state expand Medicaid, the additional spending will add more than $3 billion a year to the state⁰́₉s GDP and support 35,000 jobs. But Medicaid expansion is not without cost for the state; the estimated cumulative effect on Pennsylvania⁰́₉s Medicaid spending will be $180 million higher with the expansion than without between 2014 and 2020. Substantial reductions in uncompensated care costs for hospitals are possible even without expansion, but savings to hospitals for uncompensated care funding are even larger with the Medicaid expansion, amounting to $550 million or more each year
U.S. Navy employment options for unmanned surface vehicles (USVs)
by
Scott Savitz
( )
5 editions published between
2007
and 2013 in
English
and held by 581 WorldCat member libraries worldwide
This report assesses in what ways and to what degree unmanned surface vehicles (USVs) are suitable for supporting U.S. Navy missions and functions. It briefly characterizes the current and emerging USV marketplaces to provide a baseline for near-term capabilities, describes USV concepts of employment to support diverse U.S. Navy missions and functions, and evaluates these concepts of employment to identify specific missions and functions for which they are highly suitable. USVs offer several particular strengths relative to other platforms, including the ability to interact both above and below the waterline, enabling them to serve as critical nodes for cross-domain networks. They also have potentially longer endurance, larger payloads, and higher power outputs than comparably sized unmanned air or undersea vehicles. Additionally, their greater risk tolerance compared with manned systems makes them desirable platforms for overcoming adversaries⁰́₉ anti-access and area-denial measures. These strengths make USVs particularly suitable for missions such as characterizing the physical environment, observation and collection regarding adversaries, mine warfare, military deception/information operations/electronic warfare, defense against small boats, testing and training, search and rescue, and the support of other unmanned vehicles. However, USVs need advanced autonomy and assured communications to complete complex missions, as well as any missions in complex environments. Autonomous seakeeping and maritime traffic avoidance are USV-specific capabilities that likely need to be developed with U.S. Navy involvement. Also, optional manning and payload modularity can enhance the desirability of USV programs
Delaying the employer mandate : small change in the short term, bigcost in the long run
by
Carter C Price
( )
3 editions published in
2013
in
English
and held by 511 WorldCat member libraries worldwide
In July 2013, the Obama administration announced a one-year delay in enforcement of the Affordable Care Act⁰́₉s (ACA) penalty on large employers that do not offer affordable health insurance coverage. To help policymakers understand the implications of this decision, RAND analysts employed the COMPARE microsimulation model to gauge the impact of the one-year delay of the so-called employer mandate. They found that the delay will not have a large impact on insurance coverage: Because relatively few firms and employees are affected, only 300,000 fewer people, or 0.2% of the population, will have access to insurance from their employer, and nearly all of these will get insurance from another source. However, a one-year delay in implementation of the mandate will result in $11 billion dollars less in federal inflows from employer penalties for that year. A full repeal of the employer mandate would cause revenue to fall by $149 billion over the next ten years (10% of the ACA⁰́₉s spending offsets), providing substantially less money to pay for other components of the law. The bottom line: the on-year delay in the employer mandate will have relatively few consequences, primarily resulting in a relatively small one-year drop in revenue; however, a complete elimination of the mandate would have a large cumulative net cost, potentially removing a nontrivial revenue source that in turn funds the coverage provisions in the ACA
The budgetary effects of Medicaid expansion on Pennsylvania : an expansion on previous work
by
Carter C Price
( )
4 editions published in
2013
in
English
and held by 510 WorldCat member libraries worldwide
The Affordable Care Act is a substantial reform of the U.S. health care insurance system. In the spring of 2013, the RAND Corporation conducted an analysis assessing the budget effects of the expansion of Medicaid on the Commonwealth of Pennsylvania. The analysis was in part based on a specific set of assumptions 1) regarding the application of Pennsylvania⁰́₉s tax code and 2) about expenditures and revenue sources that could have a material impact on the budgetary outcomes. This addendum examines the sensitivity of those findings to alternative assumptions about the state budgetary effects
The economic impact of the Affordable Care Act on Arkansas
by
Carter C Price
( )
3 editions published in
2013
in
English
and held by 509 WorldCat member libraries worldwide
The Affordable Care Act (ACA) will increase coverage through the expansion of Medicaid and the creation of a Health Insurance Exchange with subsidies. RAND researchers analyzed the ACA⁰́₉s economic impact on the state of Arkansas and found that by 2016, about 400,000 people will be newly insured, net federal payments to the state will amount to $430 million annually, and the total gross domestic product will see a net increase of $550 million
A two-step procedure to estimate participation and premiums in multistate health plans
by
Amado Cordova
( )
3 editions published in
2013
in
English
and held by 509 WorldCat member libraries worldwide
Multistate plans (MSPs) provide an attractive alternative among the health insurance plans established by the Affordable Care Act (ACA) because they will have to be offered in multiple states. In this study, the authors⁰́₉ first objective was to identify and characterize population groups that would likely be interested in enrolling in MSPs (Phase 1 of the study). The second objective was to develop a methodology to project participation and to estimate premiums for these plans (Phase 2). For this second phase, the authors developed a two-step procedure to estimate the demand for MSPs. In the first step, they used the COMPARE microsimulation model and its utility maximization algorithms to project enrollment, irrespective of whether exchange participants choose an MSP or another exchange plan. The second step consists of calculating MSP premiums by means of a tool written in the R language that separates MSP participants from enrollees in other exchange plans using criteria selectable by the user. In this report, the authors present results from Phase 1 and from the first step of Phase 2 and explain the methodology and challenges associated with the second step. National-level microsimulation results suggest that three target population groups expected to prefer MSPs are also more likely to join the exchanges than the general population by over two percentage points. States with a higher uninsurance rate and lower participation in the nongroup market under current law, such as Texas, are projected to have a larger percentage enrollment in the individual market exchanges after enactment of the ACA. Thus, these states may also have a higher percentage of MSP participants than other states. The main policy recommendation is for the Office of Personnel Management to make use of the findings of this report and to exercise the MSP premium calculator tool to aid in the implementation of the Multistate Plan Program
Management perspectives pertaining to root cause analyses of Nunn-McCurdy breaches : contractor motivations and anticipating breaches
by
Mark V Arena
( )
4 editions published in
2014
in
English
and held by 493 WorldCat member libraries worldwide
With an eye to making defense acquisition more effective and efficient, the authors explore defense contractor motivations in pursuing defense contracts and identify mechanisms that might more closely align those incentives with Department of Defense goals. They enumerate several motivations that drive contractors, most of which center on the financial aspects of running an enterprise. Then, they turn to the other side of the negotiating table and identify areas of influence or levers that the government can use to align the contracting process more closely with contractor motivations. They also analyze major defense acquisition programs to determine if it is possible to identify programs that might incur a future Nunn-McCurdy breach by reviewing a number of acquisition programs that have incurred breaches in the past and analyzing them for common characteristics. Their analytic framework enables oversight officials to identify programs with a greater risk of incurring a critical cost breach, which enables officials to focus more intently on a smaller set of programs and which provides hypotheses about what to look for in these programs
The Affordable Care Act and health insurance markets : simulating the effects of regulation
by
Christine Eibner
( )
2 editions published in
2013
in
English
and held by 98 WorldCat member libraries worldwide
The Affordable Care Act changes the rating regulations governing the nongroup and small group markets while simultaneously encouraging enrollment through a combination of subsidies, tax credits, and tax penalties. In this report, the authors estimate the effects of the Affordable Care Act on health insurance enrollment and premiums for ten states (Florida, Kansas, Louisiana, Minnesota, New Mexico, North Dakota, Ohio, Pennsylvania, South Carolina, and Texas) and for the nation overall, with a focus on outcomes in the nongroup and small group markets. The authors also consider the implications of two decisions confronting states: whether to expand their Medicaid programs to cover all adults with incomes below 138 percent of the federal poverty level and whether to merge or combine their small group and nongroup risk pools. The authors conclude that the Affordable Care Act will lead to an increase in insurance coverage and higher enrollment in the nongroup market. However, data limitations and uncertainties about insurer behavior make estimates uncertain, particularly when considering outcomes for the nongroup market. They find that the law has little effect on small group premiums and find large variation in the effects for nongroup premiums across states. The analysis suggests that comparisons of average premiums with and without the Affordable Care Act may overstate the potential for premium increases
Where might the U.S. Army budget go, and how might it get there?
( Book )
2 editions published in
2011
in
English
and held by 91 WorldCat member libraries worldwide
Since 1950, the U.S. Army's budget has waxed and waned on a roughly 20-year cycle. As the Army's role in Iraq and Afghanistan diminishes over the next decade, it will be entering the waning phase of this budget cycle. In this report, the authors examine historic trends in the Army's largest budget accounts (military personnel, operations and maintenance, and procurement) to provide a context for decisions relating to future spending and explore the recent public discourse on cuts in military spending. They also discuss the potential implications of these cuts
more
fewer
Audience Level
0

1
Kids
General
Special
Audience level: 0.33 (from 0.31 for Employer S ... to 0.70 for Oregon's o ...)
Related Identities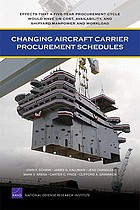 Covers
Languages