Price, Carter C.
Most widely held works by Carter C Price
Inequality and opportunity : the relationship between income inequality and intergenerational transmission of income
by
Francisco Pérez Arce
( Book )
3 editions published in
2016
in
English
and held by 85 WorldCat member libraries worldwide
"Rising income inequality has the potential to affect outcomes for children whose parents are at the lower end of the income scale by curtailing their opportunities. This report aims to understand the extent to which inequalities in opportunity and outcomes are related - and the mechanisms that drive that relationship - to help evaluate which policies have the most potential to level the playing field. This report reviews recent trends in inequality in outcomes (particularly, income inequality) and proxies for inequality of opportunity (measures of intergenerational transmission of income) and presents evidence on the extent to which they are correlated across countries and within countries across time. We discuss the evidence that shows that inequality in income and wealth has been increasing in the United States and most developed countries since the 1980s and that income inequality and inequality of opportunity are correlated across countries, but proxy measures for inequality of opportunity do not show the same consistently upward trend that was experienced by income inequality. The report then presents a framework to understand the mechanisms underlying the relationship between inequalities in income and opportunity. In light of this framework, we discuss the potential effects of policies on both income and inequality opportunity, and how these can be quantitatively assessed"--Información proporcionada por el editor comercial
Where might the U.S. Army budget go, and how might it get there?
( Book )
2 editions published in
2011
in
English
and held by 77 WorldCat member libraries worldwide
Since 1950, the U.S. Army's budget has waxed and waned on a roughly 20-year cycle. As the Army's role in Iraq and Afghanistan diminishes over the next decade, it will be entering the waning phase of this budget cycle. In this report, the authors examine historic trends in the Army's largest budget accounts (military personnel, operations and maintenance, and procurement) to provide a context for decisions relating to future spending and explore the recent public discourse on cuts in military spending. They also discuss the potential implications of these cuts
U.S. Navy employment options for unmanned surface vehicles (USVs)
by
Scott Savitz
( Book )
3 editions published between
2007
and 2013 in
English
and held by 71 WorldCat member libraries worldwide
This report assesses in what ways and to what degree unmanned surface vehicles (USVs) are suitable for supporting U.S. Navy missions and functions. It briefly characterizes the current and emerging USV marketplaces to provide a baseline for near-term capabilities, describes USV concepts of employment to support diverse U.S. Navy missions and functions, and evaluates these concepts of employment to identify specific missions and functions for which they are highly suitable. USVs offer several particular strengths relative to other platforms, including the ability to interact both above and below the waterline, enabling them to serve as critical nodes for cross-domain networks. They also have potentially longer endurance, larger payloads, and higher power outputs than comparably sized unmanned air or undersea vehicles. Additionally, their greater risk tolerance compared with manned systems makes them desirable platforms for overcoming adversaries⁰́₉ anti-access and area-denial measures. These strengths make USVs particularly suitable for missions such as characterizing the physical environment, observation and collection regarding adversaries, mine warfare, military deception/information operations/electronic warfare, defense against small boats, testing and training, search and rescue, and the support of other unmanned vehicles. However, USVs need advanced autonomy and assured communications to complete complex missions, as well as any missions in complex environments. Autonomous seakeeping and maritime traffic avoidance are USV-specific capabilities that likely need to be developed with U.S. Navy involvement. Also, optional manning and payload modularity can enhance the desirability of USV programs
The economic impact of Medicaid expansion on Pennsylvania
( Book )
3 editions published in
2013
in
English
and held by 69 WorldCat member libraries worldwide
The Affordable Care Act is a substantial reform of the U.S. health care insurance system. Using the RAND COMPARE model, researchers assessed the act's potential economic effects on Pennsylvania, factoring in an optional expansion of Medicaid, and found the state would enjoy significant net benefits. With or without the expansion of Medicaid, the act will increase insurance coverage to hundreds of thousands of Pennsylvanians, but the COMPARE model estimates that the expansion of Medicaid eligibility would cover an additional 350,000 people and bring more than $2 billion in federal spending into the state annually than if the state did not expand. Should the state expand Medicaid, the additional spending will add more than $3 billion a year to the state's GDP and support 35,000 jobs. But Medicaid expansion is not without cost for the state; the estimated cumulative effect on Pennsylvania's Medicaid spending will be $180 million higher with the expansion than without between 2014 and 2020. Substantial reductions in uncompensated care costs for hospitals are possible even without expansion, but savings to hospitals for uncompensated care funding are even larger with the Medicaid expansion, amounting to $550 million or more each year
The effect of the Affordable Care Act on enrollment and premiums, with and without the individual mandate
by
Christine Eibner
( Book )
1 edition published in
2012
in
English
and held by 4 WorldCat member libraries worldwide
This report describes the results of an analysis using RAND⁰́₉s COMPARE (Comprehensive Assessment of Reform Efforts) microsimulation model to predict the effects of a possible Supreme Court decision invalidating the individual mandate provision in the Patient Protection and Affordable Care Act of 2010 while keeping the other parts of the law intact. The authors predict the effects of such a decision on health insurance coverage overall and for subgroups based on income. They also estimate where people will obtain insurance in scenarios with and without the mandate and how the elimination of the individual mandate will affect insurance premiums. The analysis predicted that, if the individual mandate were to be eliminated: (1) 12.5 million people who would have otherwise signed up for coverage will be uninsured. (2) Premium prices in the non-group market will increase by 2.4 percent. (3) Total government spending will increase modestly, from $394 billion to $404 billion in 2016. (4) The amount of government spending per newly insured individual will more than double, from $3,659 to $7,468. The study estimates a smaller effect on premiums than comparable studies because the RAND team uses a method that accounts for the difference in the age composition of enrollees with and without the mandate
Grandfathering in the small group market under the Patient Protection and Affordable Care Act : effects on offer rates, premiums, and coverage
( Book )
1 edition published in
2009
in
English
and held by 3 WorldCat member libraries worldwide
The Patient Protection and Affordable Care Act (PPACA), signed into law by President Barack Obama on March 23, 2010, will introduce new health insurance options for many Americans. While PPACA will alter the health insurance options available to many people, one of the goals of the law is to enable Americans to keep the coverage they currently have if they choose to do so. In an effort to ensure that current coverage options do not change, PPACA exempts existing health insurance plans from certain regulations, a policy known as "grandfathering." Newly offered plans, including plans available through state health insurance exchanges, are not eligible for grandfathering. This paper uses the Comprehensive Assessment of Reform Efforts (COMPARE) microsimulation model to analyze the effects that grandfathering in the small group market will have on outcomes, including the percentage of small firms (with 100 or fewer workers) offering coverage, premium prices in the grandfathered market and in the exchanges, the total number of people enrolled in health insurance coverage, and the number of people enrolled in exchange-based health insurance plans. Results suggest that, while grandfathering may lead to slightly higher exchange premiums, grandfathering is also associated with higher employer-sponsored insurance enrollment and lower government spending. Therefore, grandfathering may be an effective policy if the goal is to maximize the number of people enrolled in employment-based coverage
The Affordable Care Act and health insurance markets : simulating the effects of regulation
by
Christine Eibner
( Book )
2 editions published in
2013
in
English
and held by 1 WorldCat member library worldwide
The Affordable Care Act changes the rating regulations governing the nongroup and small group markets while simultaneously encouraging enrollment through a combination of subsidies, tax credits, and tax penalties. In this report, the authors estimate the effects of the Affordable Care Act on health insurance enrollment and premiums for ten states (Florida, Kansas, Louisiana, Minnesota, New Mexico, North Dakota, Ohio, Pennsylvania, South Carolina, and Texas) and for the nation overall, with a focus on outcomes in the nongroup and small group markets. The authors also consider the implications of two decisions confronting states: whether to expand their Medicaid programs to cover all adults with incomes below 138 percent of the federal poverty level and whether to merge or combine their small group and nongroup risk pools. The authors conclude that the Affordable Care Act will lead to an increase in insurance coverage and higher enrollment in the nongroup market. However, data limitations and uncertainties about insurer behavior make estimates uncertain, particularly when considering outcomes for the nongroup market. They find that the law has little effect on small group premiums and find large variation in the effects for nongroup premiums across states. The analysis suggests that comparisons of average premiums with and without the Affordable Care Act may overstate the potential for premium increases
The budgetary effects of Medicaid expansion on Pennsylvania : an expansion on previous work
by
Carter C Price
( Book )
2 editions published in
2013
in
English
and held by 1 WorldCat member library worldwide
The Affordable Care Act is a substantial reform of the U.S. health care insurance system. In the spring of 2013, the RAND Corporation conducted an analysis assessing the budget effects of the expansion of Medicaid on the Commonwealth of Pennsylvania. The analysis was in part based on a specific set of assumptions 1) regarding the application of Pennsylvania⁰́₉s tax code and 2) about expenditures and revenue sources that could have a material impact on the budgetary outcomes. This addendum examines the sensitivity of those findings to alternative assumptions about the state budgetary effects
Changing aircraft carrier procurement schedules : effects that a five-year procurement cycle would have on cost, availability, and shipyard manpower and workload
( Book )
1 edition published in
2011
in
English
and held by 1 WorldCat member library worldwide
"Nuclear-powered aircraft carriers are the largest, most capable, and most survivable ships in the U.S. Navy. In the mid-1990s, there were 15 aircraft carriers in the Navy fleet; today, there are 11. The Secretary of Defense recently announced plans to shift the Navy aircraft carrier acquisition program to extend the cycle for acquiring a new aircraft carrier from approximately every four years to five years. In the long run, this could have the effect of reducing the number of aircraft carriers to ten. Shifting from the 30-year shipbuilding plan (SBP) to a five-year authorization cycle for acquiring aircraft carriers should have almost no impact on force structure and the industrial base in the next decade. Beyond the early 2020s, however, the five-year plan results in an increasingly smaller aircraft carrier force structure and a lower probability of meeting goals for the number of deployed aircraft carriers. The five-year plan will have an impact on the total acquisition costs of CVN 79 and CVN 80 due to the effects of inflation. The five-year plan could have a larger effect on any subsequent desire to increase the number of aircraft carriers in the fleet. Although the number of aircraft carriers can be rather quickly reduced through early retirements, a construction cycle of at least four years, coupled with seven or more years between authorization and delivery, means that it can take decades to add an aircraft carrier to the fleet. Policymakers might wish to consider this inability to rapidly expand the aircraft carrier force more than any of the factors considered here."--Page 4 of cover
more
fewer
Audience Level
0

1
Kids
General
Special
Audience level: 0.41 (from 0.31 for The budget ... to 0.81 for Effect of ...)
Related Identities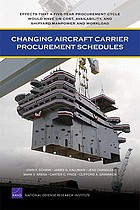 Languages
Covers