Bonnefon, Jean-François
Most widely held works by Jean-François Bonnefon
Reasoning unbound : thinking about morality, delusion and democracy
by
Jean-François Bonnefon
( )
14 editions published between
2017
and 2018 in
English
and held by 292 WorldCat member libraries worldwide
This book argues that the science of reasoning will prove most useful if focused on studying what human reasoning does best - understanding people. Bonnefon argues that humanity's unique reasoning abilities developed in order to handle the complexities of cooperative social life. Accordingly, human beings became exquisite students of the minds of other people to predict the kind of decisions they make, and assess their character. In particular, this volume explores the inferences humans make about the moral character of others, how they delude themselves about their own moral character, and the ways in which they can see through the delusions of others. In conclusion, the book considers how to leverage the power of human reasoning in order to sustain democratic life. This work will interest scholars and students working in fields including theory of mind, decision-making, moral cognition, critical thinking, experimental philosophy, and behavioural economics, as well as policy makers interested in how reasoning impacts our political understanding
The car that knew too much : can a machine be moral?
by
Jean-François Bonnefon
( Book )
6 editions published in
2021
in
English
and
Undetermined
and held by 222 WorldCat member libraries worldwide
"An engaging account of the moral decision making that will be required of driverless cars"--
Moral inferences
by
Jean-François Bonnefon
( )
13 editions published in
2017
in
English
and held by 173 WorldCat member libraries worldwide
Moral Inferences" draws on the expertise of world-leading researchers to provide a ground-breaking exploration of reasoning and morality. Historically, these two areas of research have largely been conducted in isolation, which has resulted in a lack of integration between the latest morality research and current theories in reasoning, despite the prominent role reasoning plays in morality. This volume will explore the relationship between the two, emphasising the importance of synthesising work from both morality and reasoning researchers in order to see the bigger picture. It will appeal to researchers from both fields, acting as a springboard for future research
The Moral Preferences of Investors: Experimental Evidence
by
Jean-François Bonnefon
( )
4 editions published in
2022
in
English
and
Undetermined
and held by 49 WorldCat member libraries worldwide
We characterize investors' moral preferences in a parsimonious experimental setting, where we auction stocks with various ethical features. We find strong evidence that investors seek to align their investments with their social values ("value alignment"), and find no evidence of behavior driven by the social impact of investment decisions ("impact-seeking preferences"). First, the willingness to pay for a stock is a linear function of corporate externalities, and is symmetric for positive or negative externalities. Second, whether charity transfers are contingent or independent on investors buying the auctioned stock does not affect their WTP. Our results are thus compatible with a utility model where non-pecuniary benefits of firms' externalities only accrue through stock ownership, not through the actual impact of investment decisions. Finally, non-pecuniary preferences are linear and additive: willingness to pay for social externalities is proportional to the expected sum of charity transfers made by firms (even if some of these donations are negative)
Willpower : rediscovering our greatest strength
by
Roy F Baumeister
( Book )
2 editions published between
2014
and 2017 in
French
and held by 32 WorldCat member libraries worldwide
Pourquoi est-il si difficile de réaliser des projets qui nous tiennent pourtant à coeur ? Souvent, la réponse est simple : la volonté requise nous fait défaut. Longtemps considérée comme une notion désuète, la force de la volonté est aujourd'hui un élément indispensable de l'explication du comportement. Roy F Baumeister et John Tierney nous mènent à la découverte de la nouvelle science du self-control et de ses implications pour la vie de tous les jours. Ils nous expliquent pourquoi la volonté peut être comparée à un muscle - qui a besoin d'énergie, qui peut se fatiguer et qui peut être renforcé par l'exercice. A travers nombre d'expériences psychologiques et récits biographiques, les auteurs identifient les pièges qui affaiblissent la volonté et suggèrent des stratégies pour les éviter. Ils montrent, par exemple, le lien entre le faible taux de glucose dans le sang et la fatigue décisionnelle, pourquoi le partage des informations sur l'utilisation de l'argent tempère la prodigalité, pourquoi l'ignorance de nos propres limites nous désarme face aux tentations néfastes ou comment une éducation qui cherche à promouvoir en priorité l'estime de soi des enfants risque de nuire à l'apprentissage de l'autonomie. En révélant peu à peu le fonctionnement des mécanismes psychologiques en jeu, Baumeister et Tierney montrent que l'autonomie peut s'acquérir
La psychologie cognitive
by
Michel Denis
( )
1 edition published in
2019
in
French
and held by 3 WorldCat member libraries worldwide
La psychologie a pour mission de rendre compte des grandes fonctions par lesquelles le système cognitif humain interagit avec son environnement et crée de celui-ci des représentations utilisables dans des conduites adaptées. En reconnaissant le caractère partageable du concept de cognition, la psychologie a joué un rôle essentiel dans la création du courant des sciences cognitives, qui implique toutes les disciplines intéressées par les processus de traitement de l'information et de gestion des connaissances. L'ouvrage passe en revue les fonctions cognitives sur lesquelles des collaborations privilégiées ont été développées avec les autres disciplines cognitives. Après un chapitre introductif analysant la place de la psychologie dans le concert des sciences cognitives, les domaines abordés par les auteurs des neuf chapitres suivants vont de la perception au raisonnement en passant par la sensorimotricité, la cognition spatiale, le traitement de la parole, la compréhension du langage, la mémoire et l'apprentissage, sans omettre le domaine important des émotions. Chaque chapitre présente un tableau des formes de collaboration interdisciplinaires qui se sont illustrées ou qui sont en émergence, principalement avec la linguistique, l'intelligence artificielle et les neurosciences
Machine behaviour
by
Iyad Rahwan
( )
2 editions published in
2019
in
English
and held by 3 WorldCat member libraries worldwide
La rationalité des mortels : les pensées de mort perturbent les processus analytiques
by
Bastien Trémolière
( Book )
2 editions published in
2013
in
French
and held by 2 WorldCat member libraries worldwide
The work presented in this thesis is concerned with the intimate relationship between human rationality and the consciousness of death. They jointly use two theories, that is, the terror management theory, and the dual-process theory of thinking. Terror management theory describes the mechanisms that are triggered when thoughts related to our own death are activated. Importantly, these mechanisms consume mental resources that the dual-process theory identifies as necessary for rational thought. Therefore, are we able to think rationally when thinking about our own death? In other words, can our analytical skills be efficiently used when thoughts of our own death are conscious? Are people with high cognitive abilities better equipped to think about death? What is the real impact of these thoughts on our reasoning, but also on our judgments and decisions? We seek to answer these questions in different areas of thought: logical inferences, strategic decisions, and moral judgment. Different experimental protocols are implemented in order to comprehensively explore the influence of thoughts of death while using these higher order cognitive functions. The results highlight grim, but fascinating effects on all our activities that require to mobilize cognitive resources. In general, participants who thought about their own death seem to no longer have access to their resources and therefore exhibit less elaborate behaviors, based on intuitions or heuristics, at the expense of normative rules of reasoning. These findings let appear a strange paradox in terms of evolution and adaptation because our analytical capacities finally seem to serve us to forget precisely what they made us discover
more
fewer
Audience Level
0

1
General
Special
Audience level: 0.00 (from 0.00 for Reasoning ... to 0.00 for Reasoning ...)
Related Identities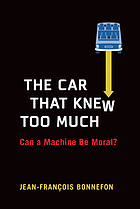 Covers
Alternative Names
Jean-François Bonnefon onderzoeker

Jean-François Bonnefon Psycholog a vysokoškolský pedagog, zaměřuje se na morální psychologii, behaviorální ekonomii a etické otázky spojené s autonomními vozidly. Publikuje v oboru působnosti.

Jean-François Bonnefon researcher ORCID ID = 0000-0002-4959-188X

Languages