Tian, Xiaofei 1971-
Most widely held works about Xiaofei Tian
Most widely held works by Xiaofei Tian
Tao Yuanming & manuscript culture : the record of a dusty table
by
Xiaofei Tian
( )
16 editions published between
2005
and 2014 in
English
and held by 1,229 WorldCat member libraries worldwide
"By comparing the four early biographies of the poet, Tian shows how these are in large measure constructed out of Tao Yuanming's self-image as projected in his poetry and prose. Drawing on work in European medieval literature, she demonstrates the fluidity of the Chinese medieval textual world and how its materials were historically reconfigured for later purposes."--Jacket
The world of a tiny insect : a memoir of the Taiping rebellion and its aftermath
by
Daye Zhang
( )
12 editions published between
2013
and 2014 in
English
and held by 1,228 WorldCat member libraries worldwide
""From the cry of a tiny insect, one can hear the sound of a vast world. "So begins Zhang Daye's preface to The World of a Tiny Insect, his haunting memoir of war and its aftermath. In 1861, when China's devastating Taiping rebellion began, Zhang was seven years old. The Taiping rebel army occupied Shaoxing, his hometown, and for the next two years, he hid from Taiping soldiers, local bandits, and imperial troops and witnessed gruesome scenes of violence and death. He lost friends and family and nearly died himself from starvation, illness, and encounters with soldiers on rampages. Written thirty years later, The World of a Tiny Insect gives voice to this history. A rare premodern Chinese literary work depicting a child's perspective, Zhang's sophisticated text captures the macabre images, paranoia, and emotional excess that defined his wartime experience and echoed throughout his adult life. The structure, content, and imagery of The World of a Tiny Insect reveals a carefully crafted, fragmented narrative that skips in time and probes the relationships between trauma and memory, revealing both history and its psychic impact. Xiaofei Tian's annotated translation includes an introduction that situates The World of a Tiny Insect in Chinese history and literature and explores the relevance of the book to the workings of traumatic memory. Zhang Daye (b. 1854) is known only as the author of The World of a Tiny Insect. Xiaofei Tian is professor of Chinese literature at Harvard University. Among her recent publications is Visionary Journeys: Travel Writings from Early Medieval and Nineteenth-Century China."The author and narrator recounts his terrible experiences and miraculous survivals with a child's curiosity and in a vivid, straightforward way. But he also embeds what happened to him in a larger historical, philosophical, moral, and aesthetic context. No comparable primary source available in English does anything like this for the Taiping Rebellion."--Judith Zeitlin, University of Chicago"--
Visionary journeys : travel writings from early medieval and nineteenth-century China
by
Xiaofei Tian
( Book )
10 editions published between
2011
and 2012 in
English
and held by 338 WorldCat member libraries worldwide
This work explores the parallel and yet profoundly different ways of seeign the outside world and engaging with the foreign at two important moments of dislocation in Chinese history, namely, the early medieval period commonly known as the Northern and Southern Dynasties, and the 19th century
Beacon fire and shooting star : the literary culture of the Liang (502-557)
by
Xiaofei Tian
( Book )
6 editions published in
2007
in
English
and held by 313 WorldCat member libraries worldwide
"The Liang dynasty is both one of the most brilliant and creative periods in Chinese history and one of the most underestimated and misunderstood." "This book is devoted to contextualizing the literary culture of this era - not only the literary works themselves but also the physical process of literary production such as the copying and transmitting of texts; activities such as book collecting, anthologizing, cataloging, and various forms of literary scholarship; and the intricate interaction of religion, particularly Buddhism, and literature. Its aim is to explore the impact of social and political structure on the literary world. It is, in short, a social and cultural history of Liang literature that addresses a set of interrelated cultural and literary-historical issues, re-evaluates and challenges established claims about this period, and explores the reasons for its subsequent neglect and denigration."--Jacket
The Oxford handbook of classical Chinese literature (1000 BCE-900 CE)
( Book )
12 editions published in
2017
in
English
and held by 291 WorldCat member libraries worldwide
"This volume introduces readers to classical Chinese literature from its beginnings (ca. 10th century BCE) to the tenth century CE. It asks basic questions such as: How did reading and writing practices change over these two millennia? How did concepts of literature evolve? What were the factors that shaped literary production and textual transmission? How do traditional bibliographic categories, modern conceptions of genre, and literary theories shape our understanding of classical Chinese literature? What are the recurrent and evolving concerns of writings within the period under purview? What are the dimensions of human experience they address? Why is classical Chinese literature important for our understanding of pre-modern East Asia? How does the transmission of this literature in Japan, Korea, and Vietnam define cultural boundaries? And what, in turn, can we learn from the Chinese-style literatures of Japan, Korea, and Vietnam, about Chinese literature? In addressing these questions, the Oxford Handbook of Classical Chinese Literature departs from standard literary histories and sourcebooks. It does not simply categorize literary works according to periods, authors, or texts. Its goal is to offer a new conceptual framework for thinking about classical Chinese literature by defining a four-part structure. The first section discusses the basics of literacy and includes topics such as writing systems, manuscript culture, education, and loss and preservation in textual transmission. It is followed by a second section devoted to conceptions of genre, textual organization, and literary signification throughout Chinese history. A third section surveys literary tropes and themes. The final section takes us beyond China to the surrounding cultures that adopted Chinese culture and produced Chinese style writing adapted to their own historical circumstances. The volume is sustained by a dual foci: the recuperation of historical perspectives for the period it surveys and the attempt to draw connections between past and present, demonstrating how the viewpoints and information in this volume yield insights into modern China and east Asia."--Publisher's description
The poetry of Ruan Ji and Xi Kang
by
Ji Ruan
( )
5 editions published in
2017
in
English
and
Chinese
and held by 189 WorldCat member libraries worldwide
The poetry of Ruan Ji has been previously translated several times, with one fully scholarly translation of both the poetry and the Fu (poetic expositions). The present translation not only provides a facing page critical Chinese text, it addresses two problems that have been ignored or not adequately treated in earlier works. First, it traces the history of the current text. The rather serious problems with this text will be, if not soluble, at least visible. Second, translations have been shaped by the anachronistic assumption that Ruan Ji was loyal to the declining Wei dynasty, when actual power had been taken by the Suma family, who founded the Jin dynasty after Ruan Ji's death. The introduction shows how and when that assumption took full shape five centuries after Ruan Ji lived and why it is not tenable. This leads to a different kind of translation, closer to what a contemporary reader might have understood and far less certain than referring it to some political event. The Poetry of Xi Kang presents a complete scholarly translation of his poetic works (including "Rhapsody on the Zither") alongside the original texts. Many of Xi Kang's poems are difficult and most are laden with allusions and "ations, adding another level of challenge to interpretation. Basic explanatory notes are provided. The translations are based on the critical modern edition of Xi Kang's work by Dai Mingyang, generally considered to be the best edition available. Important editions by Lu Xun and Lu Qinli are consulted on matters of variants, arrangement, and interpretation
Production of materials from sustainable biomass resources
by
Zhen Fang
( )
5 editions published in
2019
in
English
and
Undetermined
and held by 126 WorldCat member libraries worldwide
This book presents a collection of studies on state-of-art techniques developed specifically for lignocellulose component derivation, and for the production of functional materials, composite polymers, carbonaceous biocatalysts, and pellets from lignocellulosic biomass, with an emphasis on using sustainable chemistry and engineering to develop innovative materials and fuels for practical application. Technological strategies for the physical processing or biological conversion of biomass for material production are also presented. All chapters were contributed by respected experts in the field from around the globe, providing a broad range of perspectives on cutting-edge applications. The book offers an ideal reference guide for academic researchers and industrial engineers in the fields of natural renewable materials, biorefinery of lignocellulose, biofuels and environmental engineering. It can also be used as a comprehensive reference source for university students in chemical engineering, material science and environmental engineering
The halberd at Red Cliff : Jian'an and the Three Kingdoms
by
Xiaofei Tian
( Book )
5 editions published between
2017
and 2018 in
English
and held by 115 WorldCat member libraries worldwide
"The writings of the Jian'an era lay the foundation of China's classical poetry and literary criticism and its personages and events have inspired works of historical fiction and drama throughout Chinese history. This book investigates how these associations were closely related in their origins and subsequent metamorphoses"--
Qiushui tang lun Jin Ping Mei
by
Xiaofei Tian
( Book )
8 editions published between
2002
and 2019 in
Chinese
and held by 63 WorldCat member libraries worldwide
Ben shu zuo zhe zai lun xi guo cheng zhong, da liang yin yong " jin ping mei " wen ben yuan wen, qi wen zi jun chu yu zao qi ban ben. yu qi shuo zhe shi yi zhong shu yu dao de jiao hui de ci bei, wu ning shuo zhe shi yi zhong shu yu wen xue de ci bei. ji shi shi na xie zui duo luo de jiao se, ye bei fu yu le yi zhong shi yi de ren qing ; mei you yi ge jiao se ju bei fei ren de wan mei, gei wo men ti gong jue dui pan duan de biao zhun
Feng huo yu liu xing
by
Xiaofei Tian
( Book )
2 editions published in
2009
in
Chinese
and held by 41 WorldCat member libraries worldwide
more
fewer
Audience Level
0

1
Kids
General
Special
Audience level: 0.33 (from 0.12 for The world ... to 0.88 for Yi ge shao ...)
Related Identities
Associated Subjects
Alhambra (Granada, Spain)
Biomass energy
Biomedical engineering
Biomedical materials
Biotechnology
China
Chinese fiction
Chinese fiction--Ming dynasty
Chinese literature
Chinese poetry
Chinese poetry--Qin and Han dynasties
Chinese poetry--Three kingdoms
Civilization
Civilization, Medieval, in literature
Civilization--Foreign influences
Displacement (Psychology) in literature
Foreign countries in literature
Intellectual life
Ji, Kang,
Jin Ping Mei ci hua (Xiaoxiaosheng)
Literature
Literature and history
Materials--Biotechnology
Northern and Southern Dynasties (China)
Philosophers
Philosophy, Chinese
Renewable natural resources
Ruan, Ji,
Spain
Taiping Rebellion (China : 1850-1864)
Tang Dynasty (China)
Tao, Qian,
Tian, Xiaofei,
Transmission of texts
Travel
Travelers' writings, Chinese
Travel in literature
Visualization in literature
Zhang, Daye,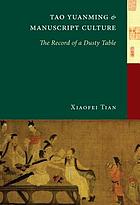 Covers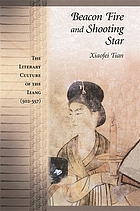 Alternative Names
Owen, Xiaofei Tian, 1971-

T'ien, Hsiao-fei.

T'ien, Hsiao-fei 1971-

Tian, Sophie Xiaofei.

Tian Sophie Xiaofei 1971-....

Tian X. 1971-

Tian Xiaofei 1971-....

Tʻien Hsiao-fei 1971-....

Yuwen Qiushui 1971-....

Yuwenqiushui 1971-

宇文秋水 1971-

田 晓菲 1971-....

田曉菲 1971-

Languages