Stoller, Robert J.
Most widely held works about Robert J Stoller
Most widely held works by Robert J Stoller
Sex and gender : on the development of masculinity and femininity
by
Robert J Stoller
( Book )
74 editions published between
1942
and 1990 in
English
and
German
and held by 996 WorldCat member libraries worldwide
In this book, Dr Stoller describes patients with marked abberrations in their masculinity and feminity--primarily transsexuals, transvestites and patients with marked biological abnormalities of their sex--in order to find clues to gender development in more normal people
Perversion : the erotic form of hatred
by
Robert J Stoller
( Book )
43 editions published between
1975
and 2016 in 4 languages and held by 753 WorldCat member libraries worldwide
This new study, part of Professor Robert Stoller's well-known, continuing work on sex and gender identity, is especially concerned with the psychological forces that contribute to sexual excitement in men and women. The author looks at sexual aberrations in order to learn what they can tell us about the dynamics of "normal" sexual development. He shows that perversions are different from other aberrations in that the dominant force in perversion is hostility directed in reality or in fantasy toward one's sex objects. And he shows through fascinating examples and case material how childhood frustrations, traumas, and conflicts are gradually transformed into sexual excitement by means of fantasies. In a daydream, pornography, or a ritualized pattern of sex practice, a scenario is created in which are hidden remnants of the earlier painful experiences, now redone to make a triumph out of the trauma: the victim becomes the victor. It has been noted that men practice a wider variety of perversions than women. Professor Stoller suggests that men's greater propensity to perversion in our society is related to the mother-daughter infant symbiosis'an intimate merging in which the infant does not distinguish its own boundaries as separate from its mother's. If that intimacy is too intense or too prolonged, the infant boy's sense of oneness with femaleness and femininity persists into the later months when masculinity begins to develop. A flawed sense of maleness can then result, thereafter threatening the development and expression of a stable masculinity. In contrast, should a comparable intense symbiosis develop between a mother and her infant daughter, the sense of merging with mother will only augment the girl's future femininity, although it may result in other kinds of complications
Porn : myths for the twentieth century
by
Robert J Stoller
( Book )
16 editions published between
1991
and 1994 in 3 languages and held by 722 WorldCat member libraries worldwide
Un frammento di etnografia urbana. Così l'autore definisce il suo libro nella prefazione. Titolo in inglese "Porn", "mondo a luci rosse". Di questo mondo l'autore intende fornire un ritratto dall'interno, a partire cioè dalla prospettiva dei vissuti individuali. L'approccio è di natura psicoanalitica, ma sul piano operativo l'autore indossa i panni di un etnografo-intervistatore. Le testimonianze raccolte da Stoller possono fornire un materiale di prima mano allo studioso e allo specialista, ma anche al lettore comune che ha modo di conoscere una realtà dominata da interpretazioni stereotipate. (Alice)
Presentations of gender
by
Robert J Stoller
( Book )
12 editions published between
1985
and 1992 in
English
and
French
and held by 641 WorldCat member libraries worldwide
Observing the erotic imagination
by
Robert J Stoller
( Book )
13 editions published between
1985
and 1992 in
English
and
French
and held by 502 WorldCat member libraries worldwide
Sexual excitement : dynamics of erotic life
by
Robert J Stoller
( Book )
32 editions published between
1979
and 2013 in 3 languages and held by 450 WorldCat member libraries worldwide
Sexual excitement is as individual as a fingerprint and as complex as a psychological life-history, For most people it is a melodrama composed of the past and present, building on tensions of risk, mystery, illusion, hostility, and revenge. Consciously or unconsciously, we relive our earliest experiences and become aroused when we can turn the traumas of early life into the triumph of sexual pleasure. Through the story of Belle, a young woman in psychoanalysis, Professor Robert Stoller advances the theory that sexual excitement, from the most aberrant to the relatively normal, is related to hostility, the desire to harm. At the center of Belle's character is a key erotic fantasy that contains in symbolic language, her sexual autobiography. In fantasy, Belle rewrites the story of her life, exacting mastery over and revenge on the important figures who caused her pain in the distant past. Her adult erotic pleasure is a literal, though hidden and ritualized, victory over the inevitable defeats of childhood
Intimate communications : erotics and the study of culture
by
Gilbert H Herdt
( Book )
10 editions published between
1989
and 1990 in
English
and held by 447 WorldCat member libraries worldwide
Intimate Communications is the first systematic effort to explore and interpret erotic experience and gender identity in a cross-cultural perspective. This is a dialogioc work that emphasizes the need for exact descriptions of people's statements, feelings, and fantasies, presenting data from individual interviews with the Sambia of Papua New Guinea. Using the ethnographic methods of anthropology informed by the clinical techniques of psychoanalysis, Gilbert Herdt and Robert J. Stoller explore the culture and erotics of the Sambia and the role of subjectivity in ethnographic research
Coming attractions : the making of an x-rated video
by
Robert J Stoller
( Book )
8 editions published between
1993
and 2011 in
English
and held by 314 WorldCat member libraries worldwide
What do porn films tell us about our own erotic impulses? What can we learn about our culture's sexual attitudes, fears, and fantasies from the ways that porn films are designed and produced? In this book, Dr. Robert J. Stoller, one of the world's leading experts on human sexual behavior, joins with I. S. Levine, a professional writer with long experience in X-rated video making, to examine the ideas and psychological makeup of the participants in an adult heterosexual X-rated video, Stairway to Paradise. Their interviews with performers, writers, directors, producers, and technicians provide extraordinary insights into the technical aspects of this type of video, the motivations and backgrounds of the people involved, and the porn industry's view of the video's intended audience. Stoller, Levine, and the porn filmmakers have wide ranging discussions about the aesthetics, ethics, and etiquette of the porn industry; the hostility that Dr. Stoller claimed underlies all erotic excitement; the liberating - and educational - function of porn in a puritanical culture; the misconceptions of antiporn crusaders; the impact of AIDS on the participants; and the future of the porn film industry. The authors hope that if we understand how and why a pornographic work is created, we will be better able to understand the implications of the legal and moral issues it raises
more
fewer
Audience Level
0

1
Kids
General
Special
Audience level: 0.36 (from 0.02 for Sweet drea ... to 0.98 for Perversion ...)
Related Identities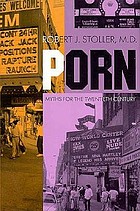 Alternative Names
Jesse, Robert Stoller 1924-1991

Robert Stoller Amerikaans antropoloog (1924-1991)

Robert Stoller psichiatra e psicoanalista statunitense

Robert Stoller US-amerikanischer Psychiater und Psychoanalytiker

Stoller, R. J.

Stoller, Robert J.

Stoller, Robert J. 1924-1991

Stoller, Robert Jesse.

Stoller, Robert Jesse 1924-1991

Робърт Столър

Languages
Covers