Yochelson, Ellis L. (Ellis Leon) 1928-2006
Most widely held works about Ellis L Yochelson
Most widely held works by Ellis L Yochelson
Charles Doolittle Walcott, paleontologist
by
Ellis L Yochelson
( )
10 editions published between
1998
and 2013 in
English
and held by 1,123 WorldCat member libraries worldwide
Charles Doolittle Walcott (1850-1927) is one of the most important and highly respected figures in the history of geology. This in-depth biography documents his career and life from birth to retirement from the U.S. Geological Survey in 1907, when he became Secretary of the Smithsonian Institution
Middle Proterozoic (1.5 Ga) Horodyskia moniliformis Yochelson and Fedonkin, the oldest known tissue-grade colonial eucaryote
by
M. A Fedonkin
( Book )
9 editions published between
2001
and 2002 in
English
and held by 596 WorldCat member libraries worldwide
"Problematic bedding-plane markings" discovered by the late R.J. Horodyski from the Appekunny Formation in Glacier National Park, Montana, and dated at approximately 1.5 giga-annum (Ga), were never formally named. We are convinced the specimens are biogenic and have placed them within Linnaean nomenclature as Horodyskia moniliformis Yochelson and Fedonkin. An apt description of the locally abundant fossils is "string of beads."On each string, beads are of nearly uniform size and spacing; proportionally, bead size and spacing remain almost constant, regardless of string length or size of individual beads. They may not be related to any other known fossil, and their position within highest levels of the taxonomic hieararchy is enigmatic. We judge they were multicellular tissue-grade, colonial eucaryotes. Similar strings have been reported from Western Australia, but nowhere else. The general geologic setting in Montana, details of sedimentation, and taphonomy suggest the organisms were benthonic, growing upward about 1 cm through episodically deposited eolian dust. During life, specimens were stiff and relatively strong, but show no evidence of a mineralized skeleton. They lived in poorly oxygenated water with the body progressively subjected to anaerobic conditions. Their energy source is obscure; their mode of growth and several features of interpreted environment lead us to speculate that Horodyskia likely lived primarily by ingesting chemosynthetic bacteria rather than by photosynthesis. This notion should be tested by searching red, fine-grained, subaqueous arenites of approximately the same age throughout the world for additional occurrences
Predation on sub-Holocene scaphopod mollusks from southern Louisiana
by
Ellis L Yochelson
( )
11 editions published between
1982
and 1984 in
English
and held by 477 WorldCat member libraries worldwide
"Boring of Scaphopod shells by naticid Gastropods, which can be documented back to the Late Cretaceous, is most common on coarsely ribbed species."
Paleobiology of Climactichnites : an enigmatic Late Cambrian fossil
by
Ellis L Yochelson
( Book )
9 editions published between
1991
and 1993 in
English
and held by 399 WorldCat member libraries worldwide
Climactichnites wilsoni Logan, 1860, is redescribed from field investigations and specimens in various museums. Climactichnites youngi Todd, 1882, and C. fosteri Todd, 1882, are placed in synonymy. The species is known only from its trail, consisting of raised bars and impressed furrows, bounded by two parallel, raised lateral ridges. This structure is interpreted as being formed from damp sand, redistributed and molded by the animal. At a few localities, an oval impression occurs at the origin of the trail; a new locality for this rare feature was found in Wisconsin. In Quebec a trail crossing over itself was found; this phenomenon was known from only one other locality.All occurrences of Climactichnites are in the Late Cambrian; specimens are known from New York, Quebec, Ontario, Wisconsin, and Missouri. This fossil is probably confined to the Dresbachian, the earliest stage of the tri-part Late Cambrian. All examples of trails are in sandstones; these are interpreted as sand flats that were just above water during low tide in the shallow epicontinental sea.A variety of animals have been proposed as the trail maker; they include several different kinds of arthropods, mollusks, and worms. Each proposal has weak points and none of the suggested animal groups has appropriate morphology to produce the marking. The animal is reconstructed as relatively low, broad, and about twice as long as wide. It is hypothesized that the tough body integument secreted mucus which facilitated movement and aided in preservation of the trail. A large flap covered most of the outside body and extended laterally over the muscular foot. Free edges of the flap on either side of the body compressed and molded damp sand into parallel bounding ridges. Respiratory organs may have been present below the flap edges, kept moist by being partially enclosed. By moving the edges of these lateral flaps, the organism may have been able to swim when in water.Most trails of Climactichnites are interpreted as a consequence of feeding activity. If so, food was taken in through a circular mouth located anteriorward on the ventral surface; this morphologic feature is inferred from circular markings seen on a few bars. As reconstructed, the sand under the animal was compressed anteriorly and laterally; the animal then brushed particles forward into a small dune-like bar, probably by the action of cilia on its ventral surface. Sand dwelling microorganisms displaced by brushing were concentrated centrally, obviating ingestion of large amounts of sediment. What sediment was taken in was released at irregular intervals through a posterior anus; medial marking on parts of some trails are interpreted as fecal strings. The complex clamping and brushing behavior, implies a well-developed nervous system.No body fossils are known in the Vendian or in the Paleozoic that could have constructed this form of trail. The proposed method of feeding, if correctly interpreted, is unique. Thus the trail of Climactichnites may constitute the work of an otherwise unknown phylum in the animal kingdom
more
fewer
Audience Level
0

1
Kids
General
Special
Audience level: 0.44 (from 0.12 for Charles Do ... to 0.99 for Ellis Yoch ...)
Related Identities
Associated Subjects
Alaska
Brachiopoda, Fossil
Cambrian Geologic Period
Carboniferous Geologic Period
Cephalopoda, Fossil
Climactichnites
Devonian Geologic Period
Fishes, Fossil
Fossils
Gastropoda
Gastropoda, Fossil
Geologists
Geology
Geology, Stratigraphic
Germany
Gilbert, Grove Karl,
Holocene Geologic Period
Horodyskia moniliformis
Kansas
Louisiana
Malaysia
Mississippian Geologic Period
Mollusks, Fossil
Montana
Nevada--Nye County
North America
Ordovician Geologic Period
Ostracoda, Fossil
Pakistan
Paleontologists
Paleontology
Paleozoic Geologic Period
Pennsylvanian Geologic Period
Permian Geologic Period
Predation (Biology)
Proterozoic Geologic Period
Scaphopoda, Fossil
Scientists
Shale
Shells
Smithsonian Institution
Stratigraphic correlation
Triassic Geologic Period
Trilobites
United States
Utah
Walcott, Charles D.--(Charles Doolittle),
West United States
Wyoming
Xenophora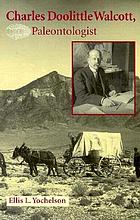 Covers Alternative Names
Ellis L. Yochelson paleontólogo norte-americano

Ellis Yochelson American paleontologist

Ellis Yochelson Amerikaans paleontoloog (1928-2006)

Ellis Yochelson paleontòleg estatunidenc

Ellis Yochelson paleontólogo estadounidense

Ellis Yochelson paleontologo statunitense

Ellis Yochelson paléontologue américain

Ellis Yochelson US-amerikanischer Paläontologe

Yochelsen, Ellis Leon 1928-2006

Yochelson, E. L. 1928-2006

Yochelson, E. L. (Ellis Leon), 1928-2006

Yochelson, Ellis L.

Yochelson, Ellis L. 1928-

Yochelson, Ellis L. 1928-2006

Yochelson, Ellis L. (Ellis Leon)

Yochelson, Ellis L. (Ellis Leon), 1928-

Yochelson, Ellis Leon 1928-2006

Languages