Haken, H.
Most widely held works about H Haken
Most widely held works by H Haken
Atomic and quantum physics : an introduction to the fundamentals of experiment and theory
by
H Haken
( Book )
79 editions published between
1980
and 2013 in 3 languages and held by 1,169 WorldCat member libraries worldwide
Atomic physics and its underlying quantum theory are the point of departure for many modern areas of physics, astrophysics, chemistry, biology, and even electrical engineering. This textbook provides a careful and eminently readable introduction to the results and methods of empirical atomic physics. The student will acquire the tools of quantum physics and at the same time learn about the interplay between experiment and theory. A chapter on the quantum theory of the chemical bond provides the reader with an introduction to molecular physics. Plenty of problems are given to elucidate the material. The authors also discuss laser physics and nonlinear spectroscopy, incorporating latest experimental results and showing their relevance to basic research. Extra items in the second edition include solutions to the exercises, derivations of the relativistic Klein-Gordon and Dirac equations, a detailed theoretical derivation of the Lamb shift, a discussion of new developments in the spectroscopy of inner shells, and new applications of NMR spectroscopy, for instance tomography
Synergetics : an introduction : nonequilibrium phase transitions and self-organization in physics, chemistry, and biology
by
H Haken
( Book )
36 editions published between
1977
and 2012 in 4 languages and held by 1,060 WorldCat member libraries worldwide
Over the past years the field of synergetics has been mushrooming. An ever increasing number of scientific papers are published on the subject, and numerous conferences all over the world are devoted to it. Depending on the particular aspects of synergetics being treated, these conferences can have such varied titles as "Nonequilibrium Nonlinear Statistical Physics," "Self-Organization," "Chaos and Order," and others. Many professors and students have expressed the view that the present book provides a good introduction to this new field. This is also reflected by the fact that it has been translated into Russian, Japanese, Chinese, German, and other languages, and that the second edition has also sold out. I am taking the third edition as an opportunity to cover some important recent developments and to make the book still more readable. First, I have largely revised the section on self-organization in continuously extended media and entirely rewritten the section on the Benard instability. Sec ond, because the methods of synergetics are penetrating such fields as eco nomics, I have included an economic model on the transition from full employ ment to underemployment in which I use the concept of nonequilibrium phase transitions developed elsewhere in the book. Third, because a great many papers are currently devoted to the fascinating problem of chaotic motion, I have added a section on discrete maps. These maps are widely used in such problems, and can reveal period-doubling bifurcations, intermittency, and chaos
The physics of atoms and quanta : introduction to experiments and theory
by
H Haken
( Book )
55 editions published between
1992
and 2005 in
English
and
German
and held by 970 WorldCat member libraries worldwide
The third edition had been enlarged by the inclusion of new developments such as the direct observation of individual atoms in Paul traps and of atoms in molecules on solid surfaces using the scanning tunneling microscope. Furthermore, new experiments in atomic interferometry and the possibility of laser cooling of atomic beams were added. The fourth English edition takes minor corrections and additions into account and remains a unique introduction to both experiments and theory. The student will find 160 problems and their solutions, which make this book a real study text
Information and self-organization : a macroscopic approach to complex systems
by
H Haken
( Book )
52 editions published between
1988
and 2010 in
English
and
Undetermined
and held by 680 WorldCat member libraries worldwide
This book presents the concepts needed to deal with self- organizing complexsystems from a unifying point of view that uses macroscopic data. The meanings of "information" are discussed. A general formulation of the maximum inform- ation (entropy) principle is used. With aid of synergetics adequate objective constraints for a large class of systems are formulated and examples are given from physics and biology
Molecular physics and elements of quantum chemistry : introduction to experiments and theory
by
H Haken
( Book )
28 editions published between
1995
and 2011 in
English
and
Undetermined
and held by 622 WorldCat member libraries worldwide
"This textbook introduces the molecular physics and quantum chemistry needed to understand the physical properties of molecules and their chemical bonds. It follows the authors' earlier textbook "The Physics of Atoms and Quanta" and presents both experimental and theoretical fundamentals for students in physics and physical and theoretical chemistry. This new edition treats new developments in areas such as high-resolution two-photon spectroscopy, ultrashort pulse spectroscopy, photoelectron spectroscopy. Particular emphasis is laid on the optical investigation of single molecules in condensed phase. Finally, the developing field of molecular electronics is presented, including electroluminescence and light-emitting diodes."--BOOK JACKET
Quantum field theory of solids : an introduction
by
H Haken
( Book )
53 editions published between
1973
and 2013 in 4 languages and held by 559 WorldCat member libraries worldwide
I. Einleitung.- 1 Einführung und Übersicht.- 2 Einige Grundbegriffe der klassischen Mechanik.- II. Harmonische Oszillatoren.- 3 Der quantenmechanische Oszillator: Erzeugungs- und Vernichtungsoperatoren.- 4 Die Berechnung von Erwartungswerten.- 5 Vom Umgang mit Bose-Operatoren: Wir lernen einige Tricks.- 6 Der verschobene harmonische Oszillator: Vorbild für elementare Anregungen im Festkörper.- III. Feldquantisierung.- 7 Die lineare Atomkette: klassische Behandlung.- 8 Die lineare Atomkette: quantentheoretische Behandlung. Phononen.- 9 Übergang zum Kontinuum: klassisch.- 10 Übergang z
Light
by
H Haken
( Book )
16 editions published between
1981
and 1986 in
English
and
Undetermined
and held by 485 WorldCat member libraries worldwide
Synergetic computers and cognition : a top-down approach to neural nets
by
H Haken
( Book )
17 editions published between
1990
and 2004 in
English
and held by 414 WorldCat member libraries worldwide
This book presents a novel approach to neural nets and thus offers a genuine alternative to the hitherto known neuro-computers. This approach is based on the author's discovery of the profound analogy between pattern recognition and pattern formation in open systems far from equilibrium. Thus the mathematical and conceptual tools of synergetics can be exploited, and the concept of the synergetic computer formulated. A complete and rigorous theory of pattern recognition and learning is presented. The resulting algorithm can be implemented on serial computers or realized by fully parallel nets whereby no spurious states occur. Explicit examples (recognition of faces and city maps) are provided. The recognition process is made invariant with respect to simultaneous translation, rotation, and scaling, and allows the recognition of complex scenes. Oscillations and hysteresis in the perception of ambiguous patterns are treated, as well as the recognition of movement patterns. A comparison between the recognition abilities of humans and the synergetic computer sheds new light on possible models of mental processes. The synergetic computer can also perform logical steps such as the XOR operation. The new edition includes a section on transformation properties of the equations of the synergetic computer and on the invariance properties of the order parameter equations. Further additions are a new section on stereopsis and recent developments in the use of pulse-coupled neural nets for pattern recognition
Advanced synergetics : instability hierarchies of self-organizing systems and devices
by
H Haken
( Book )
29 editions published between
1983
and 1993 in
English
and
Undetermined
and held by 410 WorldCat member libraries worldwide
This text on the interdisciplinary field of synergetics will be of interest to students and scientists in physics, chemistry, mathematics, biology, electrical, civil and mechanical engineering, and other fields. It continues the outline of basic con cepts and methods presented in my book Synergetics. An Introduction, which has by now appeared in English, Russian, J apanese, Chinese, and German. I have written the present book in such a way that most of it can be read in dependently of my previous book, though occasionally some knowledge of that book might be useful. But why do these books address such a wide audience? Why are instabilities such a common feature, and what do devices and self-organizing systems have in common? Self-organizing systems acquire their structures or functions without specific interference from outside. The differentiation of cells in biology, and the process of evolution are both examples of self-organization. Devices such as the electronic oscillators used in radio transmitters, on the other hand, are man made. But we often forget that in many cases devices function by means of pro cesses which are also based on self-organization. In an electronic oscillator the motion of electrons becomes coherent without any coherent driving force from the outside; the device is constructed in such a way as to permit specific collective motions of the electrons. Quite evidently the dividing line between self-organiz ing systems and man-made devices is not at all rigid
more
fewer
Audience Level
0

1
Kids
General
Special
Audience level: 0.65 (from 0.33 for Synergetic ... to 0.85 for Molekülph ...)
Related Identities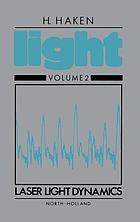 Alternative Names
Chaken, Ch.

Chaken, G.

Chaken, G. 1927-

Chaken, German 1927-

Haken, G.

Haken, H.

Haken, H. 1927-

Haken, H. (Hermann)

Haken, Heerman 1927-

Haken, Hermann

Haken, Hermann 1927-

Haken, Hermann P. J.

Haken, Herrmann 1927-

Haken, Herrmann Paul Joseph 1927-

Haken-Wolf, ... 1927-

He er man Ha ken 1927-

Heerman-Haken 1927-

Hermann Haken Duits natuurkundige

Hermann Haken fisico tedesco

Hermann Haken fisico teórico alemán

Hermann Haken fizyk niemiecki

Hermann Haken German physicist

Hermann Haken physicien allemand

Хакен, Г.

Хакен, Герман

هرمان هاکن فیزیک‌دان و نویسنده آلمانی

ハーケン, H.

ハーケン, ハーマン

ヘルマン・ハーケン

赫曼·哈肯

Languages
Covers