Fienberg, Stephen E.
Most widely held works by Stephen E Fienberg
The analysis of cross-classified categorical data
by
Stephen E Fienberg
( Book )
86 editions published between
1976
and 2010 in 3 languages and held by 1,298 WorldCat member libraries worldwide
Two-dimensional tables; Three-dimensional tables; Selection of a model; Four-and higher-dimensional contingency tables; Fixed margins and logit models; Causal analysis involving logit and loglinear models; Fixed and random zeros
Discrete multivariate analysis : theory and practice
by
Yvonne M. M Bishop
( Book )
89 editions published between
1974
and 2007 in
English
and
Undetermined
and held by 1,157 WorldCat member libraries worldwide
Structural models for counted data; Maximum likelihood estimates for complete tables; Formal goodness of fit: summary statistics and model selection; Maximum likelihood estimation for incomplete tables; Estimating the size of a closed population; Models for measuring change; Analysis of square tables: symmetry and marginal homogeneity; Model selection and assessing closeness of fit: practical aspects; Other methods for estimation and testing in cross-classifications; Measures of association and agreement; Pseudo-bayes estimates of cell probabilities; Sampling models for discrete data; Asymptotic methods
Statistics and the law
by
Morris H DeGroot
( Book )
15 editions published between
1986
and 1996 in
English
and held by 772 WorldCat member libraries worldwide
Describes a wide variety of applications of statistical concepts in legal settings, as well as cases in which statistical analyses were important elements. Several chapters are devoted to employment discrimination and antitrust violation, two areas of litigation that rely heavily on statistics. Contributors discuss the correct choice and use of statistical techniques in the assessment of damages, the measurement and quantification of skill (in a case deciding whether video poker games require skill), the determination of disputed paternity and elections, and other areas where statistics are used in legal cases. Many of the chapters are written by the statisticians who actually participated in the cases under discussion
R.A. Fisher, an appreciation
by
Stephen E Fienberg
( Book )
23 editions published between
1980
and 1989 in
English
and
Undetermined
and held by 492 WorldCat member libraries worldwide
Some introductory remarks; Fisher: the early years; Distribution of the correlation coefficient; Fisher and the analysis of variance; Randomization and design; Basic theory of the 1922 mathematical statistics paper; Fisher and the method of moments; Fishers contributions to the analysis of categorical data; Theory of statistical estimation: the 1925 paper; Some numerical illustrations of fisher's theory of statistical estimation; Fisher's development of conditional inference; Fiducial inference; The behrens-fisher and fieller-creasy problems; Discriminant analysis; Fisher, Jeffreys, and the nature of probability; Distribution of the sphere; Smoking and lung cancer
A Celebration of statistics : the ISI centenary volume
by
A. C Atkinson
( Book )
24 editions published in
1985
in
English
and
Undetermined
and held by 386 WorldCat member libraries worldwide
The International Statistical Institute was founded in 1885 and is therefore one of the world's oldest international scientific societies. The field of statistics is still expanding rapidly and possesses a rich variety of applications in many areas of human activity such as science, government, business, industry, and everyday affairs. In consequence, the celebration of the Institute's centenary in 1985 is of considerable interest not only to statisticians but also more widely to the international scientific community. As part of its centennial celebration planning the Institute decided to publish a volume of papers representing the immensely wide range of interests encompassed by statistics in its international context, viewed both from a historical and from a contemporary standpoint. We were fortunate in securing the services of Anthony Atkinson and Stephen Fienberg as Editors of this volume: they have worked hard over a period of several years to put together a most fascinating collection of papers. On behalf of the Institute it is my pleasant duty to thank them and the authors for their contributions. J. DURBIN, President International Statistical Institute Preface The papers in this volume were prepared to help celebrate the centenary of the International Statistical Institute. During the lSI's first 100 years statistics has matured, both as a scientific discipline and as a profession, in ways that the lSI's founders could not possibly have imagined
The Evolving role of statistical assessments as evidence in the courts
by
Stephen E Fienberg
( Book )
17 editions published between
1989
and 2013 in
English
and held by 365 WorldCat member libraries worldwide
This report is a culmination of more than three years of research and deliberation. In it, a variety of issues are addressed that arise in federal and state court proceedings when statistical assessments such as quantitative descriptions, causal inferences, and predictions of events based on earlier occurrences are presented as evidence. We appraise the forms in which such assessments are presented, aspects of their admission into evidence, and the response to and evaluation of them by judges and juries. Our recommendations include several innovations to improve the comprehension of statistial evidence by judges and juries. In addition to jurists, who must evaluate statistical testimony, our report is addressed to lawyers, who may have occasion to draw on statistical testimony or to present factual arguments that incorporate statistical assessments; to statisticians, social scientists, and others who may serve as expert witnesses presenting statistical arguments; and to the research communities in law, statistics, and the social sciences that seek to understand how courts cope with unfamiliar and technically complex information. Our ultimate goal is to improve the legal process
Cohort analysis in social research : beyond the identification problem
by
William M Mason
( Book )
11 editions published between
1984
and 1985 in
English
and held by 354 WorldCat member libraries worldwide
The existence of the present volume can be traced to methodological concerns about cohort analysis, all of which were evident throughout most of the social sciences by the late 1970s. For some social scientists, they became part of a broader discussion concerning the need for new analytical techniques for research based on longitudinal data. In 1976, the Social Science Research Council (SSRC), with funds from the National Institute of Education, established a Committee on the Methodology of Longitudinal Research. (The scholars who comprised this committee are listed at the front of this volume.) As part of the efforts of this Committee, an interdisciplinary conference on cohort analysis was held in the summer of 1979, in Snowmass, Colorado. Much of the work presented here stems from that conference, the purpose of which was to promote the development of general methodological tools for the study of social change. The conference included five major presentations by (1) William Mason and Herbert Smith, (2) Karl J6reskog and Dag S6rbom, (3) Gregory Markus, (4) John Hobcraft, Jane Menken and Samuel Preston, and (5) Stephen Fienberg and William Mason. The formal presentations were each followed by extensive discussion, which involved as participants: Paul Baltes, William Butz, Philip Converse, Otis Dudley Duncan, David Freedman, William Meredith, John Nesselroade, Daniel Price, Thomas Pullum, Peter Read, Matilda White Riley, Norman Ryder, Warren Sanderson, Warner Schaie, Burton Singer, Nancy Tuma, Harrison White, and Halliman Winsborough
Sharing research data
by
National Research Council (U.S.)
( Book )
13 editions published in
1985
in
English
and
Undetermined
and held by 273 WorldCat member libraries worldwide
more
fewer
Audience Level
0

1
Kids
General
Special
Audience level: 0.50 (from 0.04 for Measuring ... to 0.67 for Studies in ...)
Associated Subjects
Analysis of variance
Bayesian statistical decision theory
Biometry
Cohort analysis
Communication in the social sciences
Computer science
Computer software
Contingency tables
Criminal law
Criminal statistics
Discrimination in housing--Research
Distribution (Probability theory)
Econometrics
Economics
Education, Bilingual--Evaluation
Education, Bilingual--Government policy
Education, Bilingual--Research
Education, Bilingual--Study and teaching
Educational tests and measurements
Evidence (Law)
Evidence (Law)--Statistical methods
Fisher, Ronald Aylmer,--Sir,
Forensic statistics
Great Britain
Information storage and retrieval systems
Intellectual cooperation
Law
Log-linear models
Mathematical statistics
Mathematics
Methodology
Mosteller, Frederick,
Multilevel models (Statistics)
Multivariate analysis
Numerical analysis
Probabilities
Psychometrics
Public health
R (Computer program language)
Savage, Leonard J
Social sciences--Methodology
Social sciences--Research
Social sciences--Statistical methods
S-Plus
Statisticians
Statistics
Statistics--Models
System analysis
United States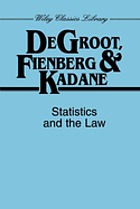 Alternative Names
Fienberg, S.

Fienberg, S. E.

Fienberg, S. E. (Stephen E.)

Fienberg, Stephen 1942-

Fienberg, Stephen E.

Stephen Fienberg American social scientist

Stephen Fienberg Amerikaans statisticus

Stephen Fienberg statisticien

ستيفن فينبيرج إحصائي من الولايات المتحدة الأمريكية

Languages
Covers