Roy, M. N. (Manabendra Nath) 1887-1954
Most widely held works about M. N Roy
more
fewer
Most widely held works by M. N Roy
India in transition
by
M. N Roy
( Book )
16 editions published between
1922
and 2010 in 3 languages and held by 163 WorldCat member libraries worldwide
The future of Indian politics
by
M. N Roy
( Book )
17 editions published between
1926
and 1971 in 4 languages and held by 131 WorldCat member libraries worldwide
The Russian revolution
by
M. N Roy
( Book )
12 editions published between
1937
and 1949 in
English
and held by 128 WorldCat member libraries worldwide
M.N. Roy, radical humanist : selected writings
by
M. N Roy
( Book )
2 editions published in
2004
in
English
and held by 114 WorldCat member libraries worldwide
"To rectify the West's unfortunate neglect of one of India's premier intellectuals, humanist Innaiah Narisetti has complied this new collection of Roy's most significant works. Roy conceived of humanism as a scientific, integral, and radically new worldview. Among many interesting selections in this volume, Roy's "Principles of Radical Democracy: Twenty-Two Theses" especially represents his thinking. Here he emphasizes ethics and eschews supernatural interpretations as antithetical to his scientifically oriented conception of New Humanism. Roy also underscores the importance of universal education to make average people scientifically literate and to teach them critical thinking."--Jacket
Politics, power, and parties
by
M. N Roy
( )
10 editions published between
1960
and 1999 in
English
and held by 99 WorldCat member libraries worldwide
more
fewer
Audience Level
0

1
Kids
General
Special
Audience level: 0.52 (from 0.17 for The politi ... to 0.85 for Indien ...)
Associated Subjects
Addams, Jane,
Arendt, Hannah,
Atatürk, Kemal,
Bodin, Jean,
Burke, Edmund,
Chomsky, Noam
Churchill, Winston,
Communism
Comte, Auguste,
Confucius
Fanon, Frantz,
Garvey, Marcus,
Gentile, Giovanni,
Giles,--of Rome, Archbishop of Bourges,
Gorbachev, Mikhail Sergeevich,
Grotius, Hugo,
Han, Fei,
Herzen, Aleksandr,
Herzl, Theodor,
Hobbes, Thomas,
India
Kant, Immanuel,
Kauṭalya
King, Martin Luther,--Jr.,
Lenin, Vladimir Ilʹich,
Lincoln, Abraham,
Madison, James,
Mao, Zedong,
Marx, Karl,
Maudoodi, Syed Abul ʻAla,
Mill, John Stuart,
Mo, Di,
Montesquieu, Charles de Secondat,--baron de,
Nietzsche, Friedrich Wilhelm,
Oakeshott, Michael,
Paine, Thomas,
Pape, Robert Anthony,
Political science
Proudhon, P.-J.--(Pierre-Joseph),
Rousseau, Jean-Jacques,
Roy, M. N.--(Manabendra Nath),
Sharīʻatī, ʻAlī
Sunzi,
Thoreau, Henry David,
Walzer, Michael
Webb, Beatrice,
Weber, Max,
Wollstonecraft, Mary,
World politics
Zapata, Emiliano,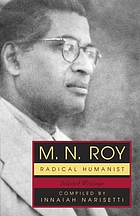 Covers
Alternative Names
Bhattacharjee, Narendranath

Bhattacharjee Narendranath 1887?-1954

Bhattacharji, Narendra Nath

Bhattacharji Narendra Nath 1887?-1954

Bhattacharya, Narendra Nath.

Bhattacharya Narendra Nath 1887-1954

Bhattacharya, Narendranath 1887-1954

M. N. Roy Indiaas politicus (1887-1954)

M. N. Roy Indian political activist and intellectual

M. N. Roy indisk politikar

M.N. Roy indisk politiker

Mahmud

Manabendra Nath Roy

Manabendra Nath, Roy 1887-1954

Manabendra Nath Roy bengalisch-indischer Revolutionär, Philosoph, Politiktheoretiker und Aktivist

Manabendra Nath Roy revolucionario y activista bengalí

Mānabendra Nātha Rāẏa 1887-1954

Mānabendranātha Rāẏa 1887-1954

Mānavendra-Nātha Rāya 1887-1954

Manvendra Nath Roy 1887-1954

Narendranath Bhattacharjee 1887-1954

Narendranath Bhattacharya

Rāya, Em. En 1887-1954

Rāẏa, Mānabendra Nātha 1887-1954

Raya, Manabendranatha

Rāẏa, Mānabendranātha 1887-1954

Roy, M. N.

Roy M. N. 1887?-1954

Roy, Manabandra Nath 1887-1954

Roy, Manabendra N. 1887-1954

Roy, Manabendra Nath

Roy, Manabendra Nath 1887-1954

Roy, Manabendra Nath 1893-1954

Roy, Manabendranath

Roy Manabendranath 1887?-1954

Roy, Manavendra Nâth

Roy Manavendra Nâth 1887?-1954

Roy, Manvendra Nath

Roy Manvendra Nath 1887?-1954

Rôya, Ema. Ena 1887-1954

Shramendra Karshan

Vidyarthi, S. K.

Манабендра Рой

Манабендранатх Рой

Рой, Манабендра

ايم اين رائي

نریندر ناتھ

मानवेंद्रनाथ रॉय

मानवेन्द्रनाथ राय

मानवेन्द्रनाथ राय भारतीय राजनीतिक कार्यकर्ता और बौद्धिक

মানবেন্দ্রনাথ রায়

মানবেন্দ্রনাথ রায় ভারতীয় রাজনৈতিক কর্মী ও বুদ্ধিজীবী

মানবেন্দ্ৰ নাথ ৰয়

ਐਮ ਐਨ ਰਾਏ

எம். என். ராய்

எம். என். ராய் இந்திய விடுதலைப் போராட்ட வீரர், இந்திய,செருமானிய கூட்டுச் சதி

ఎం.ఎన్.రాయ్

ఎం.ఎన్.రాయ్ భారత రాజకీయ కార్యకర్త మరియు మేధావి

ಎಮ್. ಎನ್ ರೊಯ್ ಭಾರತೀಯ ರಾಜಕೀಯ ಕಾರ್ಯಕರ್ತ ಮತ್ತು ಬೌದ್ಧಿಕ

മാനവേന്ദ്രനാഥ റോയ്

მანაბენდრა როი

마나벤드라 나트 로이

ロイ, エム エヌ

羅易

Languages