Cohen, Stanley
Most widely held works about Stanley Cohen
Most widely held works by Stanley Cohen
States of denial : knowing about atrocities and suffering
by
Stanley Cohen
( Book )
30 editions published between
2000
and 2015 in 3 languages and held by 850 WorldCat member libraries worldwide
Blocking out, turning a blind eye, shutting off, not wanting to know, wearing blinkers, seeing what we want to see ... these are all expressions of 'denial'. Alcoholics who refuse to recognize their condition, people who brush aside suspicions of their partner's infidelity, the wife who doesn't notice that her husband is abusing their daughter - are supposedly 'in denial'. Governments deny their responsibility for atrocities, and plan them to achieve 'maximum deniability'. Truth Commissions try to overcome the suppression and denial of past horrors. Bystander nations deny their responsibility to intervene. Do these phenomena have anything in common' When we deny, are we aware of what we are doing or is this an unconscious defence mechanism to protect us from unwelcome truths' Can there be cultures of denial' How do organizations like Amnesty and Oxfam try to overcome the public's apparent indifference to distant suffering and cruelty' Is denial always so bad - or do we need positive illusions to retain our sanity' States of Denial is the first comprehensive study of both the personal and political ways in which uncomfortable realities are avoided and evaded. It ranges from clinical studies of depression, to media images of suffering, to explanations of the 'passive bystander' and 'compassion fatigue'. The book shows how organized atrocities - the Holocaust and other genocides, torture, and political massacres - are denied by perpetrators and by bystanders, those who stand by and do nothing
Social control and the state
by
Stanley Cohen
( Book )
33 editions published between
1983
and 1986 in
English
and held by 764 WorldCat member libraries worldwide
Punishment and social control : essays in honor of Sheldon L. Messinger
by
Stanley Cohen
( Book )
18 editions published between
1995
and 2017 in
English
and held by 692 WorldCat member libraries worldwide
All deviance-control reforms or policy shifts can be observed in two ways. First, there are the ideas, concepts, theories, ideologies, or knowledge claims that are supposed to have informed the policy. Second, there are the observable ways in which the policy has been practiced or implemented. These two aspects - theory and practice, ideas and implementation, knowledge and power - are related, but they are not the same. This volume explores that problematic relationship, which might be seen as one between intentions and consequences. What accounts for the apparently permanent gap in the history of social control between good intentions leading to bad consequences? One line of argument suggests that the original intentions have been undermined by bureaucratic convenience or professional self-interest. In other studies, those original intentions are themselves suspect - riddled by ideological contradictions or masks for political-economic interest and other historical imperatives. The essays in this volume are connected by a concern with the elements involved in the interface between the ideas and policies associated with law and punishment. Among the major questions raised are: Is what is alleged to be "new" really new? Are continuities more striking that discontinuities? How are we to explain any changes? And what effect do these changes have?
Against criminology
by
Stanley Cohen
( Book )
25 editions published between
1985
and 2017 in
English
and held by 456 WorldCat member libraries worldwide
"During the 1960s, traditional thinking about crime and its punishment, deviance and its control, came under radical attack. The discipline of criminology split into feuding factions, and various schools of thought emerged, each with quite different ideas about the nature of the crime problem and its solutions. These differences often took political form, with conservative, liberal, and radical supporters, and the resulting controversies continue to reverberate throughout the fields of criminology and sociology, as well as related areas such as social work, social policy, psychiatry, and law. Stanley Cohen has been at the center of these debates in Britain and the United States. This volume is a selection of his essays, written over the past fifteen years, which contribute to and comment upon the major theoretical conflicts in criminology during this period. Though associated with the "new" or radical criminology, Cohen has always been the first to point out its limitations particularly in translating its theoretical claims into real world applications. His essays cove a wide range of topics-political crime, the nature of individual responsibility, the implications of new theories for social work practice, models of crime used in the Third World, banditry and rebellion, and the decentralization of social control. Also included is a previously unpublished paper on how radical social movements such as feminism deal with criminal law. Many criminology textbooks present particular theories or research findings. This book uniquely reviews the main debates of the last two decades about just what the role and scope of the subject should be."--Provided by publisher
Green harms and crimes : critical criminology in a changing world
( Book )
2 editions published in
2015
in
English
and held by 242 WorldCat member libraries worldwide
Green Harms and Crimes was produced to celebrate the 40th anniversary of the European Group for the Study of Deviance and Social Control, and to pay tribute to Stanley Cohen. The book presents discussions of the application of Cohen's theories alongside empirical contributions in the fields of critical and green criminology. Taken together, the authors address harms and crimes against the environment, as well as against human and nonhuman victims. Injustices produced by powers driving harmful practices, such as capitalism and consumerism, are analyzed from the perspectives of speciesism, environmental (in)justice, species (in)justice and ecological (in)justice - thus encompassing both human and animal rights. Specific topics in this important volume include: waste and corporate crimes, agribusiness and food crimes, illegal wildlife trafficking, species endangerment, political protest and its oppression by legal power institutions
Representations of global poverty : aid, development and international NGOs
by
Nandita Dogra
( Book )
3 editions published between
2012
and 2014 in
English
and held by 134 WorldCat member libraries worldwide
Through the efforts of increasingly media-aware NGOs, people in the west are bombarded with images of poverty and inequality in the developing world. Representations of Poverty is the first comprehensive study of the communications and imagery used by international NGOs to represent the developing world. In this meticulously researched and original book, Nandita Dogra examines the full cycle of representation - integrating analyses of the public messages of international development NGOs in the UK with the views of their staff and audiences. Exploring the Europeanised discourses inherent in appeals to this notion of a 'common humanity', she argues for a greater acknowledgment of NGOs as significant mediating institutions which can expand understandings of global inequalities and their historical causation. The book is a timely addition to the growing fields of development and media studies and will be a key resource for academics, policymakers and practitioners alike who have an interest in global poverty, aid, NGOs, and the politics of representation
more
fewer
Audience Level
0

1
Kids
General
Special
Audience level: 0.52 (from 0.26 for Angel face ... to 0.94 for Visiones d ...)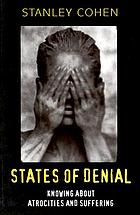 Covers
Alternative Names
Cohen, S.

Cohen, Stan 1942-

Cohen Stan 1942-2013

Cohen, Stanley 1942-... sociologue

Cohen, Stanley 1942- sociology

Cohen, Stanley Hymie 1942-2013

Cohen, Stanley Hymie 1942-2013 sociologue

Cohen, Stanley J.

Kohen, Stanli

Kohen, Sṭanli 1942-2013

Kohen Sṭenliy 1942-2013

Kojen, S. 1937-

Stanley Cohen britischer Soziologe

Stanley Cohen Brits socioloog (1942-2013)

Stanley Cohen, Ed

Stanley Cohen sociólogo y criminólogo sudafricano

Stanley Cohen sociologue britannique

Стэнли Коэн

כהן, סטנלי

כהן סטנלי 1942-2013

סטנלי כהן סוציולוג בריטי

استنلی کوهن

코언, 스탠리

コーエン, S.

コーエン, スタンリー

スタンリー・コーエン (社会学者)

Languages