Hutcheson, Francis 1694-1746
Most widely held works about Francis Hutcheson
more
fewer
Most widely held works by Francis Hutcheson
An essay on the nature and conduct of the passions and affections; with illustrations on the moral sense
by
Francis Hutcheson
( )
155 editions published between
1728
and 2018 in 3 languages and held by 2,956 WorldCat member libraries worldwide
"Francis Hutcheson is one of the central figures in eighteenth-century moral philosophy. Read widely in Britain, France, Germany, and America, he influenced philosophers ranging from his student Adam Smith to Kant. After the initial reaction to his first major work, Inquiry into the Original of Our Ideas of Beauty and Virtue (1725), Hutcheson took stock of his critics and wrote An Essay on the Nature and Conduct of the Passions and Affections, with Illustrations on the Moral Sense. The first half of the work, the Essay, presents a rich moral psychology built on a theory of the passions and an account of motivation deepening and augmenting the doctrine of moral sense developed in the Inquiry. The Illustrations on the Moral Sense is a brilliant attack on rationalist moral theories and the font of many of the arguments against the motivating power of reason taken up by Hume and used to this day." "Despite intrinsic merits of the Essay on the Nature and Conduct of the Passions and the Illustrations on the Moral Sense, and their vast influence, the original English-language text has until recently been available only in expensive reprint. The Liberty Fund edition makes Hutcheson's seminal work widely available in English in a critical edition collating the first edition of 1728 with Hutcheson's revision of 1742"--Jacket
An inquiry into the original of our ideas of beauty and virtue : in two treatises
by
Francis Hutcheson
( )
106 editions published between
1725
and 2008 in 3 languages and held by 2,452 WorldCat member libraries worldwide
"The Inquiry was written as a critical response to the work of Bernard Mandeville and as a defense of the ideas of Anthony Ashley Cooper, Lord Shaftesbury. It consists of two treatises exploring our aesthetic and our moral abilities. The first treatise argues that human beings possess a natural internal sense of beauty, whereas the second focuses on the "moral sense" that enables us to distinguish virtue from vice and thus to act from moral love or "benevolence.""--Jacket
A short introduction to moral philosophy, in three books; containing the elements of ethicks and the law of nature
by
Francis Hutcheson
( )
58 editions published between
1747
and 2005 in
English
and held by 1,006 WorldCat member libraries worldwide
"The celebrated division of philosophy among the ancients was into the rational or logical, the natural and the moral. Their moral philosophy contained these parts, ethicks taken more strictly, teaching the nature of virtue and regulating the internal dispositions; and the knowledge of the law of nature. This latter contained: 1. the doctrine of private rights, or the laws obtaining in natural liberty; 2. Oeconomicks, or the laws and rights of the several members of a family; and 3. Politicks, shewing the various plans of civil government, and the rights of fates with respect to each other. The following books contain the elements of these several branches of moral philosophy; which if they are carefully studied may give the youth an easier access to the well known and admired works either of the ancients, Plato, Aristotle, Xenophon, Cicero; or of the moderns, Grotius, Cumberland, Puffendorf, Harrington and others, upon this branch of philosophy"--Book. (PsycINFO Database Record (c) 2008 APA, all rights reserved)
Philosophiae moralis institutio compendiaria : with a short introduction to moral philosophy
by
Francis Hutcheson
( )
16 editions published between
1745
and 2014 in 3 languages and held by 944 WorldCat member libraries worldwide
"Francis Hutcheson was one of the most important figures in the Scottish Enlightenment. He influenced not only leading thinkers, such as David Hume, Adam Smith, and Thomas Reid, but also a wider circle of intellectuals in England, Europe, and America." "Hutcheson viewed philosophy as a practical matter, not merely a theoretical exercise, and in his Philosophiae Moralis Instituto Compendiaria, we have his arguments for how to live a virtuous, useful, engaged life based on belief in the benevolence of God, the harmony of the universe, and the sociable dispositions of human beings. The aim was to provide a text for university students, putting forward Hutcheson's optimistic view of human nature and its relationship to the Divinity, as well as providing students with the knowledge of natural and civil law required by the university curriculum." "In this Liberty Fund edition, the Latin text of 1745, Philosophiae Moralis Instituto Compendiaria, is printed facing its 1747 English translation, A Short Introduction to Moral Philosophy. Passages left untranslated in the 1747 edition have been rendered into English for the first time, and the anonymous translator's interpolations have been identified. Luigi Turco's introduction and extensive annotations provide context, references, and, where needed, clarification for the modern reader."--Jacket
Logic, metaphysics, and the natural sociability of mankind
by
Francis Hutcheson
( )
17 editions published between
2006
and 2014 in
English
and
Chinese
and held by 695 WorldCat member libraries worldwide
"With the publication of Logic, Metaphysics, and the Natural Sociability of Mankind, Liberty Fund presents, for the first time in English, Francis Hutcheson's teachings regarding logic and metaphysics. The texts of A Compend of Logic and A Synopsis of Metaphysics represent Hutcheson's only systematic treatments of logic, ontology, and pneumatology, or the science of the soul, topics that were considered indispensable for the instruction of students in the eighteenth century. Originally composed in Latin, they were intended for classroom use and belong to a textbook tradition of commentary on the writings of others
An inquiry into the original of our ideas of beauty and virtue, in two treatises:
by
Francis Hutcheson
( )
60 editions published between
1725
and 2015 in
English
and held by 666 WorldCat member libraries worldwide
There is no part of philosophy of more importance, than a just knowledge of human nature, and its various powers and dispositions. Our late inquires have been very much employed about our understanding, and the several methods of obtaining truth. We generally acknowledge, that the Importance of any truth is nothing else than its moment, or efficacy to make men happy, or to give them the greatest and most lasting pleasure; and wisdom denotes only a capacity of pursuing this end by the best means. It must surely then be of the greatest importance, to have distinct conceptions of this end itself, as well as of the means necessary to obtain it; that we may find out which are the greatest and most lasting pleasures, and not employ our reason, after all our laborious Improvements of it, in trifling pursuits. It is to be feared indeed, that most of our studies, without this inquiry will be of very little use to us; for they seem to have scarce any other tendency than to lead us into speculative knowledge itself. Nor are we distinctly told how it is that knowledge, or truth, is pleasant to us. This consideration put the author of the following papers upon inquiring into the various pleasures which human nature is capable of receiving. We shall generally find in our modern philosophic writings, nothing farther on this head, than some bare division of them into sensible, and rational, and some trite commonplace arguments to prove the latter more valuable than the former. Our sensible pleasures are slightly passed over, and explained only by some instances in tastes, smells, sounds, or such like, which men of any tolerable reflection generally look upon as very trifling satisfactions. Our rational pleasures have had much the same kind of treatment. We are seldom taught any other notion of rational pleasure than that which we have upon reflecting on our possession, or claim to those objects, which may be occasions of pleasure. Such objects we call advantageous; but advantage, or interest, cannot be distinctly concerned, till we know what those pleasures are which advantageous objects are apt to excite; and what senses or powers of perception we have with respect to such objects. We may perhaps find such an inquiry of more importance in morals, to prove what we call the reality of virtue, or that it is the surest happiness of the agent, than one would at first imagine. In reflecting upon our external senses, we plainly see, that our perceptions of pleasure, or pain, do not depend directly on our will. Objects do not please us, according as we incline they should. The presence of some objects necessarily pleases us, and the presence of others as necessarily displeases us. Nor can we by our will, any otherwise procure pleasure, or avoid pain, than by procuring the former kind of objects, and avoiding the latter. By the very frame of our nature the one is made the occasion of delight, and the other of dissatisfaction. The same observation will hold in all our other pleasures and pains. In the later editions of this volume, what alterations are made, are partly owing to the objections of some gentlemen, who wrote very keenly against several principles in this book. The author was convinced of some inaccurate expressions, which are now altered; and some arguments, he hopes, are now made clearer: but he has not yet seen cause to renounce any of the principles maintained in it. Nor is there any thing of consequence added, except in Sect. II. of Treatise 2nd (see record); and the same reasoning is found in Sect. I. of the essay on the passions (see record). In this Edition there are additions interspersed, to prevent objections which have been published against this scheme by several authors; and some mathematical expressions are left out, which, upon second thoughts, appeared useless, and were disagreeable to some readers.--Preface. (PsycINFO Database Record (c) 2008 APA, all rights reserved)
Illustrations on the moral sense
by
Francis Hutcheson
( Book )
13 editions published between
1728
and 2014 in
English
and held by 566 WorldCat member libraries worldwide
Also contains the Burnet/Hutcheson correspondence
more
fewer
Audience Level
0

1
Kids
General
Special
Audience level: 0.48 (from 0.17 for Philosophi ... to 0.79 for Ethik und ...)
Related Identities
Associated Subjects
Aesthetics
Aesthetics, British
Africa
Antislavery movements
Blacks
Economics
Economists
Emotions
England
Enlightenment
Ethics
Ethics, Modern
Fable of the bees (Mandeville, Bernard)
Fletcher, Andrew,
Great Britain
Hobbes, Thomas,
Human beings
Hume, David,
Hutcheson, Francis,
Intellectual life
Ireland
Laughter
Law (Philosophical concept)
Locke, John,
Logic
Metaphysics
Motivation (Psychology)
Natural law
Philosophers
Philosophy
Philosophy, Modern
Philosophy, Scottish
Pluralism
Political participation--Philosophy
Political science
Political science--Philosophy
Political sociology
Psychology
Scotland
Shaftesbury, Anthony Ashley Cooper,--Earl of,
Slavery
Slaves--Religious life
Slave trade
Smith, Adam,
Social ethics
Sociological jurisprudence
Stewart, Dugald,
Travel
United States
Virtue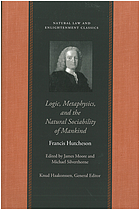 Covers
Alternative Names
Francis Hutcheson

Francis Hutcheson filòsof irlandès

Francis Hutcheson filósofo irlandés

Francis Hutcheson filosofo scozzese

Francis Hutcheson filosoof uit Ierland (1694-1746)

Francis Hutcheson Iirimaa filosoof

Francis Hutcheson irischer Philosoph und Ökonom

Francis Hutcheson Irish philosopher

Francis Hutcheson philosophe irlandais

Frensis Hutçeson

Frénsïs Xatçeson

Gutčeson Francisk.

Hatčeson, Frensis.

Hutcheson, Francis

Hutcheson, Franciscus 1694-1746

Hutcheson, Franz

Hutchinson, Franciscus 1694-1746

Hutscheson, Franciscus.

Φράνσις Χάτσεσον

Фрэнсис Хатчесон

Хатчесон

Хатчесон, Фрэнсис

פרנסיס האצ'סון

פרנסיס האצ'סון פילוסוף אירי

فرانسیس هاچسون اقتصاددان و فیلسوف ایرلندی

فرەنسىيس حاتتشەسون

ハチスン, F

ハチスン, フランシス

ハチソン

フランシス・ハッチソン

法蘭西斯·哈奇森

Languages