Effinger, George Alec
Most widely held works about George Alec Effinger
Most widely held works by George Alec Effinger
A fire in the sun
by
George Alec Effinger
( Book )
23 editions published between
1989
and 2014 in 6 languages and held by 465 WorldCat member libraries worldwide
Marid Audran has risen from street punk to right-hand man for Algiers' boss, and in the wake of murder, suddenly he finds himself a defender of the badge
When gravity fails
by
George Alec Effinger
( Book )
27 editions published between
1986
and 2015 in 7 languages and held by 432 WorldCat member libraries worldwide
"In a decadent world of cheap pleasures and easy death, Marid Audran has kept his independence the hard way. Still, like everything else in the Budayeen, he's available ... for a price." "For a new kind of killer roams the streets of the Arab ghetto, a madman whose bootlegged personality cartridges range from a sinister James Bond to a sadistic disemboweler named Khan. And Marid Audran has been made an offer he can't refuse." "The two-hundred-year-old "godfather" of the Budayeen's underworld has enlisted Marid as his instrument of vengeance. But first Marid must undergo the most sophisticated of surgical implants before he dares to confront a killer who carries the power of every psychopath since the beginning of time."--Jacket
The exile kiss
by
George Alec Effinger
( Book )
13 editions published between
1991
and 2014 in 4 languages and held by 340 WorldCat member libraries worldwide
Set in a divided near future, The Exile Kiss is author George Alec Effinger's third book about the high-tech Arab ghetto called the Budayeen. It is a world filled with mind- or mood-altering drugs for any purpose; brains enhanced by electronic hardware, with plug-in memory additions and new personalities; and bodies shaped to perfection by surgery. Marid Audran, having risen from the rank of street hustler, is now an enforcer for Friedlander Bey, one of the most feared men in the Budayeen. But betrayal and exile send Marid and Bey out into the lifeless Arabian desert. Can they survive on their own? Will they make it back into hostile territory? Will they find their revenge? With this culmination of the sequence of Marid books, readers will quickly understand why this series is considered one of the great works of modern SF and a defining example of the cyber-punk genre
The nick of time
by
George Alec Effinger
( Book )
4 editions published between
1985
and 2014 in
English
and held by 292 WorldCat member libraries worldwide
Time travel: been there, done that ... or at least Frank Mihalik has. On February 17, 1996, Frank discovers the secret to time-travel, or at least he thought he had. He must embark on a voyage through time and space in order to set things right. He must survive parallel universes in which--Oh my!--Shirley Temple plays the awesome role of Dorothy in "The Wizard of Oz"! Only his love, Cheryl, can save him, but he is almost tricked by a parallel-dimension Cheryl and potentially wrecks his love life. How will Frank survive this wild jerk through these dark counter-universes? And will our universe ever be the same?
The wolves of memory
by
George Alec Effinger
( Book )
5 editions published between
1981
and 1982 in
English
and held by 264 WorldCat member libraries worldwide
Death in Florence
by
George Alec Effinger
( Book )
3 editions published between
1978
and 2014 in
English
and held by 261 WorldCat member libraries worldwide
The story of Utopia 3, an experiment in which chosen people are allowed free rein to take whatever they want and do as they please within the boundaries of a large part of Europe in hope that this will spawn an utopian consciousness. Three of its chosen participants question the possible outcome of the experiment and the motives of its founder
The bird of time
by
George Alec Effinger
( Book )
7 editions published between
1985
and 2014 in
English
and held by 256 WorldCat member libraries worldwide
Far into the future, Hartstein's graduation present from his grandparents was a wonderful trip ... into the past. He had a long future in the doughnut industry to look forward to but this trip was the icing on the cake. It had been a long time since that first experiment in time travel was successfully pulled off, although not without its flaws. Now, in the future, time travel was a lucrative tourist industry. But the time travel industry was keeping one little fact to itself: two percent never came back. This cover-up was the work of the Agency. The Agency knew what others did not: that the past wasn't really the past but a complicated dynamic of individual perceptions of what the past might have been. The past isn't real and reality becomes a state of mind. While selling their particular brand of escapist entertainment and vacation packages, the Agency didn't bother to tell its clients or the populace in general that a war was going on--a time war. The Agency was spending its time in a neck-and-neck battle with the Temporary Underground. The battlefield was none other than the space-time continuum, the weapons were time-shifts and theoretical mathematics. Hartstein had no idea what his trip would be or where it would take him
Mixed feelings; short stories
by
George Alec Effinger
( Book )
4 editions published in
1974
in
English
and held by 255 WorldCat member libraries worldwide
Heroics
by
George Alec Effinger
( Book )
6 editions published between
1979
and 2014 in
English
and held by 255 WorldCat member libraries worldwide
In HEROICS, Irene--like everyone in the future--struggles with boredom. Food, clothing, and all the necessities of human life have been taken care of. But, what does that leave of life itself? At eighty-two, Irene sets out on a pilgrimage across America hoping to find the answer. Along the way, she becomes transformed, both physically and by her interactions with other civilians all trying to cope with this new world. Filled with wry humor and fantastic symbolism, HEROICS mixes adventure and philosophy in a way both engrossing and entertaining. Of this book, friend and fellow writer Harlan Ellsion said, & ldquo;It is the best Effinger yet & hellip;and for those of us who have been watching with amazement that is about as rich a compliment as you can expect from other envious authors. Damn him, he & rsquo;s good! & rdquo; George Alec Effinger was a true master of satirical Science Fiction. Before his death in 2002, Effinger was a prolific novelist and short story writer, earning acclaim from his fans and peers, including a Nebula Award nomination for his first book WHAT ENTROPHY MEANS TO ME. In HEROICS, he revisits some of the themes and characters of that first book for startling, funny and poignant results
more
fewer
Audience Level
0

1
Kids
General
Special
Audience level: 0.32 (from 0.28 for Chains of ... to 0.72 for George Ale ...)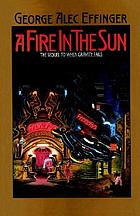 Alternative Names
Alec Effinger, George

Effinger, Ceo Alec 1947-2002

Effinger, George A.

Effinger, George Alex 1947-2002

George Alec Effinger Amerikaans auteur

George Alec Effinger autore di fantascienza statunitense

George Alec Effinger US-amerikanischer Science-Fiction-Autor

Джордж Алек Эффинджер американский писатель-фантаст

Джордж Ефинджър

조지 앨럭 에핀저

エフィンガー

エフィンジャー, ジョージ・アレック

ジョージ・アレック・エフィンジャー

Languages
Covers