Murchison, Carl 1887-1961
Most widely held works about Carl Murchison
Most widely held works by Carl Murchison
The American journal of psychology
( )
in
English
and held by 3,601 WorldCat member libraries worldwide
Vols. 5-15 include "Bibliography of child study. By Louis N. Wilson."
A handbook of child psychology
by
Carl Murchison
( Book )
61 editions published between
1931
and 2011 in 3 languages and held by 768 WorldCat member libraries worldwide
"The field of child psychology is almost as old as is the field of experimental psychology. Experimental psychology has had a much older scientific and academic status, but at the present time it is probable that much less money is being spent for pure research in the field of experimental psychology than is being spent for pure research in the field of child psychology. In spite of this obvious fact, many experimental psychologists continue to look upon the field of child psychology as a proper field of research for women and for men whose experimental masculinity is not of the maximum. This attitude of patronage is based almost entirely upon a blissful ignorance of what is going on in the tremendously virile field of child behavior. The time is not far distant, if it is not already here, when nearly all competent psychologists will recognize that one-half of the whole field of psychology is involved in the problem of how the infant becomes an adult psychologically. It is believed that a proper and systematic presentation of the problems of child psychology, presented as problems experimentally investigated, will demonstrate a field of scientific research surprisingly full of accomplishment and of promise even to some of the experts in the field itself. The main reason for this surprise is that most of the books in child psychology have been either highly specialized monographs or highly popularized elementary textbooks. There has not yet been a single volume treating the entire field of child psychology which could be useful to students already acquainted with psychology and already expert in child psychology"--Preface. (PsycINFO Database Record (c) 2011 APA, all rights reserved)
Psychologies of 1930
by
Carl Murchison
( Book )
30 editions published between
1930
and 1973 in
English
and
Undetermined
and held by 724 WorldCat member libraries worldwide
"In planning Psychologies of 1930 we have tried to profit from all the serious criticisms that came to Psychologies of 1925. The former category of "Purposive Psychology" is here presented under the rubric "Hormic Psychology" and is expounded by the leading exponent of both rubrics. The large group of students who have come from Titchener's laboratory are represented by four different points of view. It may be made selfevident whether or not it is appropriate to apply the term "Structuralism" to the doctrines of this group. The present-day theories of the Leipzig laboratory are added to the Berlin group under the more general title of "Configurational Psychologies," it being definitely understood that this classification is applied by the Editor only. The three leading Russian schools of psychology are here presented in comparable, theoretical form for the first time in the English language. The Factor School of Psychology and three Analytical Psychologies appear also as distinct additions to the program of Psychologies of 1925. A separate section on some non-sectarian fundamental problems has also been added"--Preface. (PsycINFO Database Record (c) 2006 APA, all rights reserved)
A handbook of social psychology
by
Carl Murchison
( Book )
25 editions published between
1935
and 1967 in
English
and held by 576 WorldCat member libraries worldwide
The foundations of experimental psychology
by
Carl Murchison
( Book )
29 editions published between
1929
and 1970 in
English
and held by 494 WorldCat member libraries worldwide
"It has not been easy to determine the chapters that should appear in this book. The list as it appears has been decided upon after consultation with many who are interested in this type of approach to the problems of psychology. It is not likely that any fruitful problem has been omitted. Those problems that have been omitted are thereby classified as promising little return from experimental effort. I know no better way of clearing the debris from the intellectual decks of psychology. It has too long been the custom to discuss over and over every problem that had ever been discussed before, as if some value had accrued from mere discussion. The only criterion of inclusion that has been considered during the preparation of this volume is whether a given problem promises a reward to experimental investigation. It is our intention that this book shall appear in new editions frequently enough to be always abreast of progress. That will mean a revision almost every year. It is unthinkable that an important exposition of the problems of experimental psychology ever be in any other condition. As time passes and emphasis in psychology changes, it may be expected that there will be revision of the list of problems given exposition in succeeding editions of this book"--Preface. (PsycINFO Database Record (c) 2006 APA, all rights reserved)
A handbook of general experimental psychology
by
Carl Murchison
( Book )
34 editions published between
1934
and 1969 in 3 languages and held by 461 WorldCat member libraries worldwide
"Shortly after the publication in 1929 of The Foundations of Experimental Psychology, it became evident that it would be physically difficult to make single-volume revisions of that book. A choice had to be made between revising in several volumes or revising major subdivisions of the original book under separate titles. The latter choice was finally made and the first step in that direction was the publication of A Handbook of Child Psychology. The publication of this volume under the title, A Handbook of General Experimental Psychology, is the second step, and the complete enterprise will be consummated with the publication of A Handbook of Social Psychology. This book examines experimental psychology by looking at adjustive and receptive processes." (PsycINFO Database Record (c) 2007 APA, all rights reserved)
The case for and against psychical belief
by
Carl Murchison
( Book )
20 editions published between
1927
and 2012 in
English
and held by 434 WorldCat member libraries worldwide
The Paranormal, the new ebook series from F+W Media International Ltd, resurrects rare titles, classic publications and out-of-print texts, as well as new ebook titles on the supernatural?other-worldly books for the digital age. The series includes a range of paranormal subjects from angels, fairies and UFOs to near-death experiences, vampires, ghosts and witchcraft. Fourteen Essays On Psychical Phenomena And Mediumship By Fourteen Authors, including Sir Oliver Lodge, Houdini, Mary Austin And Sir Arthur Conan Doyle
more
fewer
Audience Level
0

1
Kids
General
Special
Audience level: 0.40 (from 0.30 for A History ... to 0.99 for Murchison, ...)
Associated Subjects
Adams, Donald Keith,
Allen, Edgar,
American periodicals
American Psychological Association
Autobiographies
Autobiography
Boring, Edwin Garrigues,
Carmichael, Leonard,
Cattell, James McKeen,
Child development
Child psychology
Chimpanzees--Behavior
Crime
Criminal anthropology
Criminal psychology
Criminals
Criminal statistics
Developmental psychology
Dodge, Raymond,
Doll, Edgar A.--(Edgar Arnold),
Education
Genetic psychology
George Washington University
Hooker, Davenport,
Hull, Clark Leonard,
Langfeld, Herbert Sidney,
Lashley, Karl S.--(Karl Spencer),
Learned, William S.--(William Setchel),
Learning, Psychology of
Louttit, C. M.--(Chauncey McKinley),
Murchison, Carl,
Onassis, Jacqueline Kennedy,
Parapsychology
Parapsychology--Research
Pearl, Raymond,
Psychologists
Psychology
Psychology, Applied
Psychology, Comparative
Psychology, Experimental
Psychology, Pathological
Psychology--Philosophy
Psychophysiology
Social psychology
United States
Warren, Howard C.--(Howard Crosby),
Watson, John B.--(John Broadus),
Whitney, Leon F.--(Leon Fradley),
Wissler, Clark,
Yerkes, Robert M.--(Robert Mearns),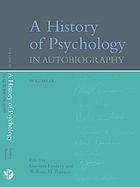 Alternative Names
Carl Allanmore Murchison

Carl Murchison American psychologist

Carl Murchison Amerikaans psycholoog (1887-1961)

Murchison, Carl.

Murchison, Carl 1887-

Murchison Carl 1887-1961

Murchison, Carl A.

Murchison, Carl A. 1887-1961

Murchison, Carl Allanmore

Murchison, Carl Allanmore 1887-

Languages
Covers