Coogan, Tim Pat 1935-
Most widely held works about Tim Pat Coogan
Most widely held works by Tim Pat Coogan
The IRA : a history
by
Tim Pat Coogan
( Book )
13 editions published between
1993
and 1994 in
English
and
Undetermined
and held by 1,296 WorldCat member libraries worldwide
"The Irish Republican Army (IRA) (Irish: Óglaigh na hÉireann[1]) was an Irish republican revolutionary military organisation. It was descended from the Irish Volunteers, an organisation established on 25 November 1913 that staged the Easter Rising in April 1916. In 1919, the Irish Republic that had been proclaimed during the Easter Rising was formally established by an elected assembly (Dáil Éireann), and the Irish Volunteers were recognised by Dáil Éireann as its legitimate army. Thereafter, the IRA waged a guerrilla campaign against British rule in Ireland in the 191921 Irish War of Independence. Following the signing in 1921 of the Anglo-Irish Treaty, which ended the War of Independence, a split occurred within the IRA. Members who supported the treaty formed the nucleus of the Irish National Army founded by IRA leader Michael Collins. However, much of the IRA was opposed to the treaty. The anti-treaty IRA fought a civil war with their former comrades in 192223, with the intention of creating a fully independent all-Ireland republic. Having lost the civil war, this group remained in existence, with the intention of overthrowing both the Irish Free State and Northern Ireland and achieving the Irish Republic proclaimed in 1916."--Wikipedia
The troubles : Ireland's ordeal 1966-1996 and the search for peace
by
Tim Pat Coogan
( Book )
28 editions published between
1995
and 2002 in
English
and held by 1,203 WorldCat member libraries worldwide
In light of the recent movement toward all-party talks - notwithstanding the IRA's resumption of terrorist bombing attacks in England - Tim Pat Coogan offers a balanced and reflective assessment of the complex conflicts in contemporary Northern Ireland. An authoritative observer of the nationalist cause with strong political contacts on both sides of the border, Coogan sets the historical context for the resurgence of centuries-old tensions that led to the civil protest and pogroms of the late 1960s. He examines the introduction of British forces to the streets of Derry and Belfast and the reaction to their presence - at first welcomed as protection from Loyalist attack, they were soon resented by nationalists and many became victims of the Republican forces' outrage. Coogan insightfully probes the spread of IRA violence across the Irish Sea to key locations in Britain and the responses of the British government, its troops, and various Unionist organizations
The I.R.A.
by
Tim Pat Coogan
( Book )
106 editions published between
1970
and 2000 in 4 languages and held by 1,186 WorldCat member libraries worldwide
Describes the origins, growth and activities of the Irish Republican Army, a group of fiery nationalists organized after the Easter Rebellion of 1916
Ireland since the rising
by
Tim Pat Coogan
( Book )
18 editions published between
1966
and 1976 in
English
and held by 934 WorldCat member libraries worldwide
Ireland has passed through her period of revolution and the turbulent aftermath, and her long hard climb to economic prosperity is nearing success. She has reached a watershed in her development wherein the emphasis is no longer on political or constitutional transformation but on economic and social change. Her wounds have healed, or nearly so. She is now able to see herself for what she is: a small nation with much to be proud of, particularly in the field of international affairs; a nation not afraid to face up to its problems. - Introduction
Wherever green is worn : the story of the Irish diaspora
by
Tim Pat Coogan
( Book )
30 editions published between
2000
and 2015 in
English
and held by 851 WorldCat member libraries worldwide
"In the classic song Galway Bay, Bing Crosby summed up the passionate, bittersweet and sometimes conflict-filled relationship between the Irish spread across the globe and their homeland. Today, the population of Ireland is five million, but seventy million people worldwide can call themselves Irish. Though Tim Pat Coogan never strayed far from his birthplace in County Dublin, he was drawn to the outposts of Ireland that existed beyond his country's shores. "As I grew older and travelled," he wrote, "my imagination was seized by the extent of the Irish population in the world outside Ireland and the variety of conditions in which it lived.""--Jacket
Ireland in the twentieth century
by
Tim Pat Coogan
( Book )
21 editions published between
2000
and 2009 in
English
and held by 807 WorldCat member libraries worldwide
Chronicles the political, economic, and cultural history of Ireland as it is transformed from a poor, rural society to a stable country with a strong technological base
The famine plot : England's role in Ireland's greatest tragedy
by
Tim Pat Coogan
( Book )
13 editions published between
2012
and 2014 in
English
and held by 678 WorldCat member libraries worldwide
"During a Biblical seven years in the middle of the nineteenth century, Ireland experienced the worst disaster a nation could suffer. Fully a quarter of its citizens either perished from starvation or emigrated, with so many dying en route that it was said, "you can walk dry shod to America on their bodies." In this grand, sweeping narrative, Ireland's best-known historian, Tim Pat Coogan, gives a fresh and comprehensive account of one of the darkest chapters in world history, arguing that Britain was in large part responsible for the extent of the national tragedy, and in fact engineered the food shortage in one of the earliest cases of ethnic cleansing. So strong was anti-Irish sentiment in the mainland that the English parliament referred to the famine as 'God's lesson.' Drawing on recently uncovered sources, and with the sharp eye of a seasoned historian, Coogan delivers fresh insights into the famine's causes, recounts its unspeakable events, and delves into the legacy of the "famine mentality" that followed immigrants across the Atlantic to the shores of the United States and had lasting effects on the population left behind. This is a broad, magisterial history of a tragedy that shook the nineteenth century and still impacts the worldwide Irish diaspora of nearly 80 million people today."--Publisher description
The man who made Ireland : the life and death of Michael Collins
by
Tim Pat Coogan
( Book )
7 editions published between
1990
and 1992 in
English
and
Undetermined
and held by 641 WorldCat member libraries worldwide
"Like Prometheus, Collins stole fire. Like Prometheus, he paid for his feat and much of what he set about doing remains undone. But his name burns brightly wherever the Irish meet. Michael Collins was the man who made Ireland possible." So begins Tim Pat Coogan in this highly-acclaimed biography that sat atop the best-seller lists of England and Ireland, and is now published in the U.S. for the first time. Michael Collins, affectionately known as "The Big Fellow" was
Eamon de Valera : the man who was Ireland
by
Tim Pat Coogan
( Book )
11 editions published between
1993
and 2001 in
English
and held by 585 WorldCat member libraries worldwide
For the nearly fifty years that he dominated Irish politics and life - from the country's independence in 1921 to the late 1960s - Eamon de Valera was Ireland. Though he headed a democratic government and espoused liberal economic views, his rule was most reminiscent of Franco's or Mussolini's for the cult of personality he nurtured, for the almost eugenic way he invoked his nation's ethnic heritage (though he himself was half-Spanish), for his overt collusion with the Catholic Church, and for his autocratic control of his country's cultural life. From his childhood (when he immigrated to Ireland - he was born in Manhattan), he was extraordinarily adept at mythologizing himself, and that ability combined with the length and strength of his reign garnered him the admiration of millions of people - Irish and American. In fact, Americans, specifically those of Irish descent, have always been among de Valera's staunchest proponents
The Irish civil war
by
Tim Pat Coogan
( Book )
10 editions published between
1981
and 1999 in
English
and held by 567 WorldCat member libraries worldwide
Provides an illustrated chronicle of the war that shaped contemporary Ireland, from the division of the Irish Parliament in 1921 to the aftermath of the fighting in 1924
more
fewer
Audience Level
0

1
Kids
General
Special
Audience level: 0.36 (from 0.21 for Michael Co ... to 0.75 for A memoir / ...)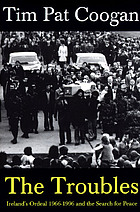 Alternative Names
Coogan, Tim P. 1935-

Coogan, Tim Pat

Coogan, Timothy Patric.

Coogan, Timothy Patrick

Coogan, Timothy Patrick 1935-

Tim Pat Coogan Historical writer, broadcaster and columnist

Tim Pat Coogan Irländsk författare

Tim Pat Coogan televisiepresentator uit Ierland

ティム・パット・クーガン

Languages
Covers