Lee, Kuan Yew 1923-2015
Most widely held works about Kuan Yew Lee
more
fewer
Most widely held works by Kuan Yew Lee
From Third World to first : the Singapore story, 1965-2000
by
Kuan Yew Lee
( Book )
14 editions published between
1457
and 2011 in
English
and
Thai
and held by 1,037 WorldCat member libraries worldwide
"The story of that transformation is told here by Lee Kuan Yew. Rising from a legacy of divisive colonialism, the devastation of the Second World War, and general poverty and disorder following the withdrawal of foreign forces, Singapore now is hailed as a city of the future. This history is recounted by the man who not only lived through it all but who forged ahead and brought about most of these changes."
Lee Kuan Yew : the grand master's insights on China, the United States, and the world
by
Kuan Yew Lee
( Book )
12 editions published between
2012
and 2013 in
English
and
Chinese
and held by 377 WorldCat member libraries worldwide
When Lee Kuan Yew speaks, presidents, prime ministers, diplomats, and CEOs listen. Lee, the founding father of modern Singapore and its prime minister from 1959 to 1990, has honed hiswisdom during more than fifty years on the world stage. Almost single-handedly responsible fortransforming Singapore into a Western-style economic success, he offers a unique perspective on thegeopolitics of East and West. American presidents from Richard Nixon to Barack Obama have welcomedhim to the White House; British prime ministers from Margaret Thatcher to Tony Blair have recognizedhis wisdom; and business leaders from Rupert Murdoch to Rex Tillerson, CEO of Exxon Mobil, havepraised his accomplishments. This book gathers key insights from interviews, speeches, and Lee'svoluminous published writings and presents them in an engaging question and answer format. Lee offers his assessment of China's future, asserting, among other things, that "China will want to share this century as co-equals with the U.S." He affirms the UnitedStates' position as the world's sole superpower but expresses dismay at the vagaries of itspolitical system. He offers strategic advice for dealing with China and goes on to discuss India'sfuture, Islamic terrorism, economic growth, geopolitics and globalization, and democracy. Lee doesnot pull his punches, offering his unvarnished opinions on multiculturalism, the welfare state, education, and the free market. This little book belongs on the reading list of every world leader-- including the one who takes the oath of office on January 20, 2013"--- From MIT Press
The battle for a Malaysian Malaysia
by
Kuan Yew Lee
( Book )
20 editions published between
1954
and 1966 in
English
and
Undetermined
and held by 112 WorldCat member libraries worldwide
The battle for merger
by
Kuan Yew Lee
( Book )
10 editions published between
1961
and 2014 in
English
and held by 75 WorldCat member libraries worldwide
The Battle for Merger charts the crucial years of 1961-1962, when the PAP government was in a precarious position and the future of Singapore was hanging in the balance. This commemorative book retains the authenticity of the transcripts of Lee Kuan Yew's twelve radio talks and appendices, which are exact reproductions of the original 1962 edition. Complete with nostalgic photographs of historical events as well as painstaking reproductions of secret letters and codes, this book also includes new material to give a comprehensive coverage on the intriguing subject of merger between Singapore and Malaysia. This publication contains the following: 1. A new message from Lee Kuan Yew that reveals the former prime minister's hindsight on merger -- 2. A comprehensive essay by Associate Professor Albert Lau that provides the historical background to merger -- 3. Concise notes to key players, places and events -- 4. MP3 audio recordings of the twelve radio talks in English, Mandarin and Malay. The battle for merger is a story worth retelling. This book is for all who want to understand what was at stake during those tumultuous times. Reading this would be akin to reliving the sensational moments created by Lee Kuan Yew's timely revelations during the twelve radio broadcasts. It tells of how the Old Guards stood up and fought back against the communists and later the communalists, of how they refused to be cowed and thus won the confidence of that generation, which went on to help build modern Singapore
The battle for merger
by
Kuan Yew Lee
( Book )
4 editions published in
1961
in
English
and held by 67 WorldCat member libraries worldwide
From Third World to first : the Singapore story, 1965-2000
by
Kuan Yew Lee
( Book )
3 editions published between
2000
and 2001 in
English
and
Chinese
and held by 63 WorldCat member libraries worldwide
Lee Kuan Yew presided over the transformation of Singapore from a fractious and squalid colonial backwater into one of the shining jewels of Asia. In less than half a century, through economic and social engineering, Singapore has melded a multi-ethnic, multi-racial population into a thriving, safe and productive society that boasts the world's busiest maritime port, nearly nonexistent unemployment, and a lower infant mortality rate than the United States. In this volume that chronicles the social and economic triumphs that made headlines around the world, Lee Kuan Yew reveals the strategies that made him one of the world's most powerful elder statesmen, and takes a look at the burgeoning economic and political might of China and its portents for the future. --From publisher's description
more
fewer
Audience Level
0

1
Kids
General
Special
Audience level: 0.53 (from 0.02 for Keeping my ... to 0.91 for Ein letzte ...)
Related Identities
Associated Subjects
Asia
Atatürk, Kemal,
Bilingualism
China
Chinese
Chinese--Languages
Chinese language--Study and teaching
Commerce
Commonwealth countries
Commonwealth of Nations
Communism
Developing countries
Diplomatic relations
Dissenters
Economic history
Economic policy
European Economic Community
Germany
Goh, Chok Tong,
Great Britain
History, Modern
India
International relations
Jeyaretnam, J. B
Khama, Seretse,
Leadership
Lee, Kuan Yew,
Malaya
Malaysia
Mandela, Nelson,
Metaphor
Military readiness
Oratory
Political and social views
Political persecution
Political prisoners
Politics and government
Prime ministers
Public speaking
Race relations
Radio public speaking
Schmidt, Helmut,
Seow, Francis T
Singapore
Social conditions
Socialism
Southeast Asia
Statesmen
War and socialism
World politics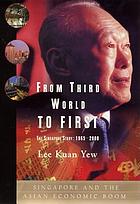 Alternative Names
Guangyao, Li 1923-2015

Guangyue, Li 1923-2015

Guaņjao, Li 1923-2015

Kuan Yew, Lee

Kuang-yao, Li 1923-2015

Kuang-yüeh, Li 1923-2015

Lee, Harry

Lee, Harry 1923-2015

Lee, Kuan Y. 1923-2015

Lee, Kuan-Yew

Lee, Kuan Yew 1923-

Lee, Kuan-yew 1923-2015

Lee Kuan Yew politico singaporiano

Lee Kuan Yew politicus uit Singapore (1923-2015)

Lee Kuan Yew singaporsk politikar

Lee Kuan Yew singaporsk politiker

Lee Kuan Yew singapurischer Politiker

Lee, Kuanyew 1923-2015

li, guang yao

Li, Guangyao

Li, Guangyao 1923-

Li, Guangyao 1923-2015

Li, Guangyue 1923-2015

Li Guanjao

Li, Guaņjao 1923-2015

Lí Kong-iāu

Lí Kông-yeu

Li, Kuan Y. 1923-2015

Li Kuan-Yew

Li Kuan-Yew 1923-....

Lī, Kūan Yū

Li, Kuan Yu 1923-

Lī, Kūan Yū 1923-2015

Li Kuang-jao

Li, Kuang-jao 1923-2015

Li, Kuang-yao

Li. Kuang-yao 1923-

Li. Kuang-yao, 1923-2015

Li, Kuang-yüeh 1923-2015

Lī Kuvān̲ Iyū 1923-2015

Lï Kwan YU

Lý Quang Diệu

Lý, Quang Diệu 1923-2015

Ri, Ko Yo

Yew Lee Kuan

Yew Lee Kuan 1923-....

Yew, Lee Kuan 1923-2015

Yi, Kʻwan Yu 1923-2015

Yū, Lī Kūan

Yu, Li Kuan 1923-

Yū, Lī Kūan 1923-2015

Λη Κουάν Γιού

Ли Гуангјао

Ли Куан Ю

Ли Куан Ју

Лі Куан Ю

Лі Куан Ю сінгапурський державний діяч, перший прем'єр-міністр Республіки Сінгапур, один з творців сінгапурського «економічного дива»

Լի Կուան Յու

יו, לי קואן

לי, קואן יו

לי קוואן יו ערשטער פרעמיער מיניסטער פון סינגאפור

קואן יו, לי 1923-2015

كوان يو لي، 1923-

لىي كۋان يۋ

لي كوان يو

لي ڪوان يئو

لی کوان یو

لی کوان یئو

يو، لي كوان، 1923-

ली कुआन यु

ली क्वान यु

ली क्वान यू सिंगापुर के प्रथम प्रधानमंत्री

লি কুয়ান ইউ

લી ક્વાન યૂ

லீ குவான் யூ

లీ క్వాన్‌ యూ

ಲೀ ಕ್ವಾನ್ ಯೀವ್

ലീ ക്വാൻ യു

ลี กวนยู

ລີ ກວນ ຍູ

လီကွမ်းယု

ლი კუან იუ

리콴유

លី ក្វាន់យូ

リー, クァンユー

リー, クアンユー

リー・クアンユー シンガポールの政治家、初代首相

リ, コウヨウ

李, 光耀

李, 光耀 1923-2015

李光耀

李光耀 1923-

李光耀 1923-2015

李光耀 新加坡建国总理

李光耀 新加坡建國總理

李光耀 首任新加坡总理,人民行动党秘书长

李光耀 首任新加坡总理,前人民行动党秘书长

李光耀 首任新加坡總理,人民行動黨秘書長

李光耀 首任新加坡總理,前人民行動黨秘書長

Languages
Covers