Ledeen, Michael Arthur 1941-
Most widely held works about Michael Arthur Ledeen
Most widely held works by Michael Arthur Ledeen
The first duce : D'Annunzio at Fiume
by
Michael Arthur Ledeen
( Book )
33 editions published between
1975
and 2006 in 3 languages and held by 711 WorldCat member libraries worldwide
"Gabriele D'Annunzio was one of the most flamboyant figures in the political history of modern Europe. A poet in the Byronic style and a popular hero of the First World War, D'Annunzio passionately believed that the sacrifices of war should prelude a new social order. His capture of the city of Fiume in 1919, which had been claimed by Italy as part of the settlement before the Versailles Peace Conference, has been popularized and romanticized ever since. Ledeen uses information gathered from Italian and American archives and from personal interviews to examine the sixteen months of D'Annunzio's personal rule in Fiume, seeing it as a harbinger of successful mass movements of the twentieth century." "The connection between D'Annunzio and Fascism is central to Ledeen's narrative. Virtually the entire ritual of Fascist politics made familiar by Mussolini - the balcony address, the Roman salute, the dramatic dialogues with the crowd, the use of religious symbols in a new secular setting - was influenced by D'Annunzio at Fiume. Both were masters of a political style based on personal charisma. Each spoke for a "new" Italy and, eventually, for a new world. Each attempted to transform his countrymen into more heroic types by an ethic of violence and grandeur. But Ledeen brings sharply into focus profound differences between D'Annunzio's vision of a new world and that offered by Fascism. Significantly, D'Annunzio enlisted support from the most diverse elements of society - politicians and businessmen in addition to representatives of radical trade unions, anarchist groups, and the armed forces." "Often sensationalized as a precursor of a sixties-style "dolce vita," D'Annunzio's Fiume presented many of the phenomena considered novel or unsettling today: sexual promiscuity, widespread experimentation with drugs, clergymen wanting to marry, women demanding equal rights, youth calling for the elimination of the old, soldiers insisting on a democratic army, poets yearning for a beautiful world instead of a purely utilitarian one, minorities clamoring for their fair share of political power. From the dispassionate distance of half a century, Ledeen views Fiume as a microcosm of the larger chaos of our contemporary scene. Although he was removed from Fiume after a pitched battle on land and sea, D'Annunzio remained an influential figure in Italian politics. Ledeen presents him as "one of the great innovators and watersheds of the modern world." This book will be of interest to historians, political scientists, and those interested in Post World War Italy."--Jacket
The field of fight : how we can win the global war against radical Islam and its allies
by
Michael T Flynn
( Book )
5 editions published in
2016
in
English
and held by 700 WorldCat member libraries worldwide
Al-Qaeda has morphed into a much more dangerous, menacing threat: ISIS. America is in grave danger until our government takes decisive action against the terrorists that want nothing more than to destroy us and our way of life. Flynn spent more than 33 years in Army intelligence, and has been a firsthand witness to government screw-ups, smokescreens, and censored information that our leaders don't want us to know. Here he succinctly lays out why we have failed to stop terrorist groups from growing, and what we must do to stop them
The war against the terror masters : why it happened, where we are now, how we'll win.
by
Michael Arthur Ledeen
( Book )
10 editions published between
2002
and 2013 in
English
and held by 663 WorldCat member libraries worldwide
The War Against the Terror Masters is a must-read guide to the terrorist crisis. Michael A. Ledeen explains in startling detail how and why the United States was so unprepared for the September 11th catastrophe; the nature of the terror network we are fighting--including the state sponsors of that network; the role of radical Islam; and the enemy collaboration of some of our traditional Middle Eastern "allies";--and, most convincingly, what we must do to win the war. The War Against the Terror Masters examines the two sides of the war: the rise of the international terror network, and the past and current efforts of our intelligence services to destroy the terror masters in the U.S. and overseas. Ledeen's new book also visits every country in the Near East and describes the terrorist cancers in each. Among many revelations that will attract wide attention: *How the terror network survived the loss of its main sponsor, the Soviet Union. *How the FBI learned from a KGB defector--twenty years before Osama's bin Laden's murderous assault--of the existance of Arab terrorist sleeper networks inside the United States. *How moralistic guidelines straight-jacketed the FBI from even collecting a file of newspaper clippings on known terror groups operating in America. *How the internal culture of the CIA, and severe limitations on its ability to operate, blinded us to the growth of terror networks. And much more
Grave new world
by
Michael Arthur Ledeen
( Book )
8 editions published in
1985
in
English
and
Undetermined
and held by 662 WorldCat member libraries worldwide
Machiavelli on modern leadership : why Machiavelli's iron rules are as timely and important today as five centuries ago
by
Michael Arthur Ledeen
( Book )
11 editions published between
1999
and 2013 in
English
and held by 590 WorldCat member libraries worldwide
Niccolo Machiavelli, one of the eminent minds of the Italian Renaissance, spent much of a long and active lifetime trying to determine and understand what exceptional qualities of human character-- and what surrounding elements of fortune, luck, and timing-- made great men great leaders successful in war and peace. In perhaps the liveliest book on Machiavelli in years, Michael A. Ledeen measures contemporary movers and doers against the timeless standards established by the great Renaissance writer. Titans of statecraft (Margaret Thatcher, Francois Mitterrand, Pope John Paul II, Ronald Reagan, and Bill Clinton); business and finance (Bill Gates); Wall Street and investing (Warren Buffett); the military (Colin Powell), and sports (Michael Jordan) are judged by Machiavelli's precepts on leadership and the proper use of power. The result is a wide-ranging and scintillating study that illuminates the thoughts of the Renaissance master and the actions of today's truly towering figures as well as the character-challenged pretenders to greatness. Here is an exceptional book on Machiavelli and his ultra-realistic exploration of human nature-- then and now
The Iranian time bomb : the mullah zealots' quest for destruction
by
Michael Arthur Ledeen
( Book )
7 editions published between
2007
and 2013 in
English
and held by 529 WorldCat member libraries worldwide
The first salvo was the attack on the American Embassy in Tehran in the fall of 1979. The war continued with the assassination of American diplomats and military personnel in Europe and North Africa. The latest fronts in that war are in Afghanistan, Palestine, Lebanon and Iraq. Iran arms, funds, trains, and directs a variety of terror groups, numbering tens of thousands of terrorists, regardless of their religious or ethnic makeup. It is a mistake to believe that Iranian mullah leaders think like those of traditional nation states. They are religious zealots. They openly welcome the end of the world, which would usher in the millennium, under the sway of the long-vanished 12th Imam. They say they intend to precipitate the millennium by using atomic bombs on Israel. That is a chiliastic vision that embraces the murder of millions.--From publisher description
more
fewer
Audience Level
0

1
Kids
General
Special
Audience level: 0.39 (from 0.20 for The field ... to 0.66 for Hazīmat, ...)
Associated Subjects
Civilization
Cold War (1945-1989)
Communist parties
Creative ability
Croatia--Rijeka
D'Annunzio, Gabriele,
Death--Social aspects
De Felice, Renzo,
Democracy
Diplomatic relations
Europe
Fascism
Germany
Great powers
Intellectual life
Intelligence service
International relations
Iran
Iran-Contra Affair (1985-1990)
Islam and politics
Islamic fundamentalism
Israel
Italy
Italy--Naples
Ledeen, Michael Arthur,
Machiavelli, Niccolò,
Manners and customs
Middle East
Military policy
National characteristics, American
National characteristics, Italian
National socialism
Obama, Barack
Partito comunista italiano
Political and social views
Political leadership
Political participation
Politics and government
Soviet Union
Strategic aspects of individual places
Terrorism
Terrorism--Prevention
Terrorism--Religious aspects--Islam
Terrorists
Tocqueville, Alexis de,
United States
War on Terrorism (2001-2009)
Western countries
World politics
Youth movements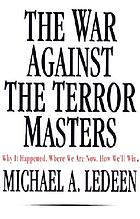 Alternative Names
Ledeen, M. A.

Ledeen , Michael

Ledeen, Michael 1941-

Ledeen, Michael A.

Ledeen, Michael A. 1941-

Ledeen, Michael A. (Michael Arthur)

Ledeen, Michael A. (Michael Arthur), 1941-

Ledeen , Michael Arthur

Leden, Michael

Ledin, Majkl

Michael Arthur Ledeen

Michael Arthur Ledeen Amerikaans historicus

Michael Ledeen storico e giornalista statunitense

Ледин, Майкл

مايكل ليدين

مایکل لدین

레딘, 마이클 1941-

레딘, 마이클 아더 1941-

レディーン

レディーン, マイケル・A

Languages
Covers