Long, A. A.
Most widely held works by A. A Long
Hellenistic philosophy; Stoics, Epicureans, Sceptics
by
A. A Long
( Book )
69 editions published between
1974
and 2004 in 9 languages and held by 2,040 WorldCat member libraries worldwide
"The purpose of this book is to trace the main developments in Greek philosophy during the period which runs from the death of Alexander the Great in 323 B.C. to the end of the Roman Republic (31 B.C.)."--Preface
The Cambridge companion to early Greek philosophy
by
Antony Long
( Book )
38 editions published between
1998
and 2011 in 3 languages and held by 1,131 WorldCat member libraries worldwide
The Western tradition of philosophy began in Greece with a cluster of thinkers often called the Presocratics. All these thinkers are discussed in this volume both as individuals and collectively in chapters on specific topics
Epictetus : a Stoic and Socratic guide to life
by
A. A Long
( Book )
26 editions published between
2002
and 2010 in
English
and held by 919 WorldCat member libraries worldwide
"The philosophy of Epictetus, a freed slave in the Roman Empire, has been profoundly influential on Western thought: it offers not only stimulating ideas but practical guidance in living one's life. A.A. Long gives the definitive presentation of the thought of Epictetus for a broad readership. Long's translations of a selection of the best of Epictetus' discourses show that his ideas are as valuable and striking today as they were almost two thousand years ago. The translations are organized thematically within the framework of an authoritative introduction and commentary, which offer a way into this world for those new to it, and stimulating interpretations for those who already know it." "Epictetus is known as one of the great Stoic thinkers. But he took the life and conversation of Socrates as his educational model. His Socratic allegiance, scarcely examined before, is a major theme of this book. Long shows how Epictetus offered his students a way of life premised on the values of personal autonomy and integrity. More than a sermonizer, he engages his students in brilliantly challenging dialogue; Long offers the first accessible study of Epictetus' argumentative and rhetorical methods." "This is a book for anyone interested in what we can learn from ancient philosophy about how to live our lives."--Jacket
Problems in stoicism
by
A. A Long
( Book )
24 editions published between
1971
and 1996 in
English
and
Undetermined
and held by 611 WorldCat member libraries worldwide
This collection of papers discusses topics of central importance in Stoic philosophy. The authors are able to demonstrate, through their differing styles of approach & interpretation much of the coherence and some of the basic difficulties of Stoicism
The Question of "eclecticism" : studies in later Greek philosophy
by
John M Dillon
( Book )
16 editions published between
1988
and 1997 in
English
and held by 573 WorldCat member libraries worldwide
This collection of essays is addressed to the growing number of philosophers, classicists, and intellectual historians who are interested in the development of Greek thought after Aristotle. In nine original studies, the authors explore the meaning and history of "eclecticism" in the context of ancient philosophy. The book casts fresh light on the methodology of such central figures as Cicero, Philo, Plutarch, Sextus Empiricus, and Ptolemy, and also illuminates many of the conceptual issues discussed most creatively in this period
Stoic studies
by
A. A Long
( Book )
23 editions published between
1996
and 2001 in
English
and held by 503 WorldCat member libraries worldwide
This book discusses the Stoics' interpretation of their intellectual tradition, their ethics, and their psychology
A free will : origins of the notion in ancient thought
by
Michael Frede
( Book )
16 editions published between
2011
and 2012 in
English
and held by 469 WorldCat member libraries worldwide
Where does the notion of free will come from? How and when did it develop, and what did that development involve? In Michael Frede's radically new account of the history of this idea, the notion of a free will emerged from powerful assumptions about the relation between divine providence, correctness of individual choice, and self-enslavement due to incorrect choice. Anchoring his discussion in Stoicism, Frede begins with Aristotle--who, he argues, had no notion of a free will--and ends with Augustine. Frede shows that Augustine, far from originating the idea (as is often claimed), derived most of his thinking about it from the Stoicism developed by Epictetus
From Epicurus to Epictetus : studies in Hellenistic and Roman philosophy
by
A. A Long
( Book )
24 editions published between
2006
and 2011 in
English
and
Undetermined
and held by 370 WorldCat member libraries worldwide
Also includes information on Academics, the Academy, animal life, Aristotle, astronomy, belief, bodies, body, causation, cause, excellence of character, cosmology, desire, earth, ethics, fear, friendship, gods, goodness, happiness, horoscopes, identity, justice, knowledge, logos, matter, mind, nature, necessity, pain, passion, pleasure, reason, skepticism, self, signs, soul, sun, teleology, tranquility, truth, utilitarianism, virtue, wise man, wealth, Zeus, zodiac, etc
Greek models of mind and self
by
A. A Long
( Book )
13 editions published between
2014
and 2015 in
English
and held by 336 WorldCat member libraries worldwide
"This lively book offers a wide-ranging study of Greek notions of mind and human selfhood from Homer through Plotinus. A.A. Long anchors his discussion in questions of recurrent and universal interest. What happens to us when we die? How is the mind or soul related to the body? Are we responsible for our own happiness? Can we achieve autonomy? Long asks when and how these questions emerged in ancient Greece, and shows that Greek thinkers' modeling of the mind gave us metaphors that we still live by, such as the rule of reason or enslavement to passion. He also interrogates the less familiar Greek notion of the intellect's divinity, and asks what that might mean for us. Because Plato's dialogues articulate these themes more sharply and influentially than works by any other Greek thinker, Plato receives the most sustained treatment in this account. But at the same time, Long asks whether Plato's explanation of the mind and human behavior is more convincing for modern readers than that contained in the older Homeric poems. Turning to later ancient philosophy, especially Stoicism, Long concludes with an exploration of Epictetus's injunction to live life by making correct use of one's mental impressions."--Publisher's description
more
fewer
Audience Level
0

1
Kids
General
Special
Audience level: 0.44 (from 0.10 for From Epicu ... to 0.93 for Die hellen ...)
Related Identities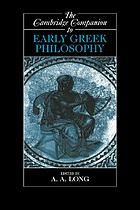 Alternative Names
A. A. Long English classical scholar

Anthony Arthur Long

Anthony Arthur Long englischer-amerikanischer Klassik-Gelehrter

Long, A. A.

Long A. A. 1937-....

Long, Anthony, A

Long, Anthony A. 1937-

Long, Anthony Arthur.

Long, Anthony Arthur 1937-

Long, Antony A. 1937-

Long, Arthur A. 1937-

Long, Tony.

Long Tony 1937-....

Long, Tony A. 1937-

ロング, A. A

Languages
Covers