Kirk, G. S. (Geoffrey Stephen) 1921-
Most widely held works about G. S Kirk
Most widely held works by G. S Kirk
Myth: its meaning and functions in ancient and other cultures
by
G. S Kirk
( Book )
84 editions published between
1970
and 2006 in
English
and
Spanish
and held by 2,039 WorldCat member libraries worldwide
This book, developed out of the 1969 Sather lectures at Berkeley, California, confronts a wide range of problems concerning the nature, meaning and functions of myths. Professor Kirk's aim is to introduce a degree of coherence and of critical awareness into a subject that arouses profound interest today, but which for too long has been the target of excessive theorizing and interdisciplinary confusion between anthropologists, sociologists, classicists, philosophers and psychologists. Professor Kirk begins by discussing the relation of myths to rituals and folktales, and the weakness of universalist theories of function. He then subjects Lévi-Strauss's structuralist theory to an extended exposition and criticism; he considers the character and meaning of ancient Near Eastern myths, their influence on Greece, and the special forms with rational modes of thought, and finally, he assesses the status of myths as expressions of the unconscious, as elements of dreams, universal symbols, as accidents along the way to some narrative objective. The result is a significant critical venture into the history and philosophy of thought, imagination, symbol and society.--From publisher description
The nature of Greek myths
by
G. S Kirk
( Book )
81 editions published between
1974
and 2009 in 7 languages and held by 1,518 WorldCat member libraries worldwide
The songs of Homer
by
G. S Kirk
( Book )
42 editions published between
1962
and 2005 in 4 languages and held by 1,248 WorldCat member libraries worldwide
The art and thought of Heraclitus : an edition of the fragments with translation and commentary
by
Heraclitus
( Book )
67 editions published between
1934
and 2010 in 4 languages and held by 1,012 WorldCat member libraries worldwide
"The latest writers on Heraclitus, namely, Gustav Teichmüller and Edmund Pfleiderer, have thought it necessary to preface their works with an apology for adding other monographs to the Heraclitic literature, already enriched by treatises from such distinguished men as Schleiermacher, Lassalle, Zeller, and Schuster. That still other study of Heraclitus, however, needs no apology, will be admitted when it is seen that these scholarly critics, instead of determining the place of Heraclitus in the history of philosophy, have so far disagreed, that while Schuster makes him out to be a sensationalist and empiricist, Lassalle finds that he is a rationalist and idealist. While to Teichmüller, his starting point and the key to his whole system is found in his physics, to Zeller it is found in his metaphysics, and to Pfleiderer in his religion. Heraclitus' theology was derived, according to Teichmüller, from Egypt; according to Lassalle, from India; according to Pfleiderer, from the Greek Mysteries. The Heraclitic flux, according to Pfleiderer, was consequent on his abstract theories; according to Teichmüller, his abstract theories resulted from his observation of the flux. Pfleiderer says that Heraclitus was an optimist; Gottlob Mayer says that he was a pessimist. According to Schuster he was a hylozoist, according to Zeller a pantheist, according to Pfleiderer a panzoist, according to Lassalle a panlogist. Naturally, therefore, in the hands of these critics, with their various theories to support, the remains of Heraclitus' work have suffered a violence of interpretation only partially excused by his known obscurity. No small proportion of the fragments, as will be seen in my introduction, have been taken in a diametrically opposite sense. Recently a contribution towards the disentanglement of this maze has been made by Mr. Bywater, an acute English scholar. His work (Heracliti Ephesii Reliquiae, Oxford, 1877) is simply a complete edition of the now existing fragments of Heraclitus' work, together with the sources from which they are drawn, with so much of the context as to make them intelligible. Under these circumstances I have thought that a translation of the fragments into English, that every man may read and judge for himself, would be the best contribution that could be made. The increasing interest in early Greek philosophy, and particularly in Heraclitus, who is the one Greek thinker most in accord with the thought of our century, makes such a translation justifiable, and the excellent and timely edition of the Greek text by Mr. Bywater makes it practicable. The translations both of the fragments and of the context are made from the original sources, though I have followed the text of Bywater except in a very few cases, designated in the critical notes. As a number of the fragments are ambiguous, and several of them contain a play upon words, I have appended the entire Greek text. The collection of sources is wholly that of Mr. Bywater. In these I have made a translation, not of all the references, but only of those from which the fragment is immediately taken, adding others only in cases of especial interest"--Preface. (PsycINFO Database Record (c) 2010 APA, all rights reserved)
Homer and the oral tradition
by
G. S Kirk
( Book )
23 editions published between
1974
and 2010 in
English
and held by 802 WorldCat member libraries worldwide
The Songs of Homer (Cambridge University Press, 1962) was a major contribution to Homeric studies, establishing important theories about the composition, structure and transmission of the monumental poems. In this 1976 volume, Geoffrey Kirk returns to Homer, but the themes are largely different. He considers in particular the nature of oral and epic poetry, and the meaning of an oral tradition. There are problems here of interest not only to classicists and Homeric specialists but also to students of English and comparative literature, and to anthropologists concerned with the literature of traditional societies. Those pieces that were previously published were revised and unified for the volume. The longest section, on 'the oral and the literary epic', is derived from the J.H. Gray Lectures, which Professor Kirk delivered in Cambridge in 1974 and which had not been previously published in any form
The Iliad : a commentary
by
G. S Kirk
( Book )
30 editions published between
1985
and 1994 in 3 languages and held by 754 WorldCat member libraries worldwide
The Bacchae
by
Euripides
( Book )
9 editions published in
1970
in
English
and held by 612 WorldCat member libraries worldwide
"Based on the conviction that only translators who write poetry themselves can properly re-create the celebrated and timeless tragedies of Aeschylus, Sophocles, and Euripides, the Greek Tragedy in New Translations series offers new translations that go beyond the literal meaning of the Greek in order to evoke the poetry of the originals. Under the general editorship of Peter Burian and Alan Shapiro, each volume includes a critical introduction, commentary on the text, full stage directions, and a glossary of the mythical and geographical references in the play."
The Bacchae of Euripides
by
Euripides
( Book )
17 editions published between
1970
and 1991 in
English
and
Undetermined
and held by 273 WorldCat member libraries worldwide
Williams handles the spoken poetry in a flexible verse that encompasses a wide range of tone. His treatment of the lyrics uses a rhythmically bold form whose accents would particularly lend themsleves to effective choral acting
more
fewer
Audience Level
0

1
Kids
General
Special
Audience level: 0.44 (from 0.37 for Myth: its ... to 1.00 for Popper ver ...)
Related Identities
Associated Subjects
Achilles (Greek mythology) in literature
Achilles--(Mythological character)
Aphorisms and apothegms
Archilochus
Aristotle
Bacchae (Euripides)
Bacchantes
Braque, Georges,
Civilization, Homeric
Cosmology
Dionysus--(Greek deity)
England
Epic poetry
Epic poetry, Greek
Euripides
Fragments (Heraclitus, of Ephesus)
Greece
Greek drama
Greek drama (Tragedy)
Greek literature
Greek poetry
Heraclitus,--of Ephesus
History, Ancient
Homer
Iliad (Homer)
Influence (Literary, artistic, etc.)
Iphigenia in Tauris (Euripides)
Kirk, G. S.--(Geoffrey Stephen),
Literature
Manuscripts, Italian
Medea (Euripides)
Mediterranean Sea--Aegean Sea
Military campaigns
Mythology
Mythology, Classical
Mythology, Greek
Oral-formulaic analysis
Oral tradition
Pentheus,--King of Thebes (Mythological character)
Philosophy
Philosophy, Ancient
Politics and government
Pre-Socratic philosophers
Rhetoric, Ancient
Sailors
Technique
Tragedy
Trojan War
United States
World War (1939-1945)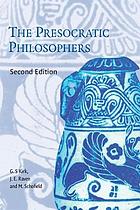 Alternative Names
Geoffrey Kirk britischer Klassischer Philologe

Geoffrey Kirk Brits filoloog (1921-2003)

Geoffrey Kirk filologo britannico

Geoffrey Stephen Kirk

Kirk, G. S.

Kirk, G. S. 1921-

Kirk, G.S. 1921-2003

Kirk, G. S. (Geoffrey Stephen), 1921-2003

Kirk, Geoffrey S.

Kirk, Geoffrey S. 1921-2003

Kirk, Geoffrey Stephen

Kirk, Geoffrey Stephen 1921-

Kirk, Geoffrey Stephen 1921-2003

جفری کرک

カーク, G・S

カーク, ジェフリー・スティーヴン

Languages
Covers