Scott, James C.
Most widely held works about James C Scott
more
fewer
Most widely held works by James C Scott
Weapons of the weak : everyday forms of peasant resistance
by
James C Scott
( )
45 editions published between
1985
and 2008 in 3 languages and held by 2,792 WorldCat member libraries worldwide
Weapons of the Weak is an ethnography by James C. Scott that studies the effects of the Green Revolution in rural Malaysia. One of the main objectives of the study is to make an argument that the Marxian and Gramscian ideas of false consciousness and hegemony are incorrect. He develops this conclusion throughout the book, through the different scenarios and characters that come up during his time of fieldwork in the village. This publication, based on 2 years of fieldwork (1978-1980), focuses on the local class relations in a small rice farming community of 70 households in the main paddy-growing area of Kedah in Malaysia. Introduction of the Green Revolution in 1976 eliminated 2/3 of the wage-earning opportunities for smallholders and landless laborers. The main ensuing class struggle is analyzed being the ideological struggle in the village and the practice of resistance itself consisting of: foot-dragging, dissimulation, desertion, false compliance, pilfering, feigned ignorance and sabotage acts. Rich and poor are engaged in an unremitting if silent struggle to define changes in land tenure, mechanization and employment to advance their own interests, and to use values that they share to control the distribution of status, land, work and grain
Domination and the arts of resistance : hidden transcripts
by
James C Scott
( )
43 editions published between
1990
and 2009 in 3 languages and held by 2,776 WorldCat member libraries worldwide
Confrontations between the powerless and the powerful are laden with deception--the powerless feign deference and the powerful subtly assert their mastery. Peasants, serfs, untouchables, slaves, labourers, and prisoners are not free to speak their minds in the presence of power. These subordinate groups instead create a secret discourse that represents a critique of power spoken behind the backs of the dominant. At the same time, the powerful also develop a private dialogue about practices and goals of their rule that cannot be openly avowed. In this book, the author, a social scientist, offers a discussion both of the public roles played by the powerful and powerless and the mocking, vengeful tone they display off stage--what he terms their public and hidden transcripts. Using examples from the literature, history, and politics of cultures around the world, the author examines the many guises this interaction has taken throughout history and the tensions and contradictions it reflects. The author describes the ideological resistance of subordinate groups--their gossip, folktales, songs, jokes, and theater--their use of anonymity and ambiguity. He also analyzes how ruling elites attempt to convey an impression of hegemony through such devices as parades, state ceremony, and rituals of subordination and apology. Finally he identifies--with quotations that range from the recollections of American slaves to those of Russian citizens during the beginnings of Gorbachev's glasnost campaign--the political electricity generated among oppressed groups when, for the first time, the hidden transcript is spoken directly and publicly in the face of power
The moral economy of the peasant : rebellion and subsistence in Southeast Asia
by
James C Scott
( )
48 editions published between
1976
and 2006 in 6 languages and held by 2,284 WorldCat member libraries worldwide
"James C. Scott places the critical problem of the peasant household -- subsistence -- at the center of this study. The fear of food shortages, he argues persuasively, explains many otherwise puzzling technical, social, and moral arrangements in peasant society, such as resistance to innovation, the desire to own land even at some cost in terms of income, relationships with other people, and relationships with institutions, including the state. Once the centrality of the subsistence problem is recognized, its effects on notions of economic and political justice can also be seen. Scott draws from the history of agrarian society in lower Burma and Vietnam to show how the transformations of the colonial era systematically violated the peasants' 'moral economy' and created a situation of potential rebellion and revolution. Demonstrating keen insights into the behavior of people in other cultures and a rare ability to generalize soundly from case studies, Scott offers a different perspective on peasant behavior that will be of interest particularly to political scientists, anthropologists, sociologists, and Southeast Asianists."--Publisher description
Seeing like a state : how certain schemes to improve the human condition have failed
by
James C Scott
( Book )
37 editions published between
1998
and 2012 in 3 languages and held by 2,017 WorldCat member libraries worldwide
In this wide-ranging and original book, James C. Scott analyzes failed cases of large-scale authoritarian plans in a variety of fields. He argues that centrally managed social plans derail when they impose schematic visions that do violence to complex interdependencies that are not - and cannot be - fully understood. Further the success of designs for social organization depends on the recognition that local, practical knowledge is as important as formal, epistemic knowledge. The author builds a persuasive case against "development theory" and imperialistic state planning that disregards the values, desires, and objections of its subjects. And in discussing these planning disasters, he identifies four conditions common to them all: the state's attempt to impose administrative order on nature and society; a high-modernist ideology that believes scientific intervention can improve every aspect of human life; a willingness to use authoritarian state power to effect large-scale innovations; and a prostrate civil society that cannot effectively resist such plans
The art of not being governed : an anarchist history of upland Southeast Asia
by
James C Scott
( )
31 editions published between
2009
and 2016 in 3 languages and held by 1,772 WorldCat member libraries worldwide
For two thousand years the disparate groups that now reside in Zomia (a mountainous region the size of Europe that consists of portions of seven Asian countries) have fled the projects of the organized state societies that surround them - slavery, conscription, taxes, corvée labor, epidemics, and warfare. This book, essentially an 'anarchist history', is the first-ever examination of the huge literature on state-making whose author evaluates why people would deliberately and reactively remain stateless. Among the strategies employed by the people of Zomia to remain stateless are physical dispersion in rugged terrain; agricultural practices that enhance mobility; pliable ethnic identities; devotion to prophetic, millenarian leaders; and maintenance of a largely oral culture that allows them to reinvent their histories and genealogies as they move between and around states
Agrarian studies : synthetic work at the cutting edge
by
James C Scott
( )
14 editions published between
2001
and 2008 in
English
and held by 1,678 WorldCat member libraries worldwide
This book presents an account of an intellectual breakthrough in the study of rural society and agriculture. Its ten chapters, selected for their originality and synthesis from the colloquia of the Program in Agrarian Studies at Yale University, encompass various disciplines, diverse historical periods, and several regions of the world. The contributors' fresh analyses will broaden the perspectives of readers with interests as wide-ranging as rural sociology, environmentalism, political science, history, anthropology, economics, and art history. The ten studies recast and expand what is known about rural society and agrarian issues, examining such topics as poverty, subsistence, cultivation, ecology, justice, art, custom, law, ritual life, cooperation, and state action. Each contribution provides a point of departure for new study, encouraging deeper thinking across disciplinary boundaries and frontiers
Comparative political corruption
by
James C Scott
( Book )
12 editions published between
1971
and 1972 in
English
and held by 756 WorldCat member libraries worldwide
Two cheers for anarchism : six easy pieces on autonomy, dignity, and meaningful work and play
by
James C Scott
( Book )
29 editions published between
2012
and 2017 in 5 languages and held by 749 WorldCat member libraries worldwide
James Scott taught us what's wrong with seeing like a state. Now, in his most accessible and personal book to date, the acclaimed social scientist makes the case for seeing like an anarchist. Inspired by the core anarchist faith in the possibilities of voluntary cooperation without hierarchy, Two Cheers for Anarchism is an engaging, high-spirited, and often very funny defense of an anarchist way of seeing - one that provides a unique and powerful perspective on everything from everyday social and political interactions to mass protests and revolutions. Through a wide-ranging series of memorable anecdotes and examples, the book describes an anarchist sensibility that celebrates the local knowledge, common sense, and creativity of ordinary people. The result is a kind of handbook on constructive anarchism that challenges us to radically reconsider the value of hierarchy in public and private life, from schools and workplaces to retirement homes and government itself. Beginning with what Scott calls the law of anarchist calisthenics, an argument for law-breaking inspired by an East German pedestrian crossing, each chapter opens with a story that captures an essential anarchist truth. In the course of telling these stories, Scott touches on a wide variety of subjects: public disorder and riots, desertion, poaching, vernacular knowledge, assembly-line production, globalization, the petty bourgeoisie, school testing, playgrounds, and the practice of historical explanation. Far from a dogmatic manifesto, Two Cheers for Anarchism celebrates the anarchist confidence in the inventiveness and judgment of people who are free to exercise their creative and moral capacities
Against the grain : a deep history of the earliest states
by
James C Scott
( Book )
9 editions published between
2017
and 2018 in
English
and held by 690 WorldCat member libraries worldwide
An account of all the new and surprising evidence now available for the beginnings of the earliest civilizations that contradict the standard narrative. Why did humans abandon hunting and gathering for sedentary communities dependent on livestock and cereal grains, and governed by precursors of today's states? Most people believe that plant and animal domestication allowed humans, finally, to settle down and form agricultural villages, towns, and states, which made possible civilization, law, public order, and a presumably secure way of living. But archaeological and historical evidence challenges this narrative. The first agrarian states, says James C. Scott, were born of accumulations of domestications: first fire, then plants, livestock, subjects of the state, captives, and finally women in the patriarchal family-all of which can be viewed as a way of gaining control over reproduction. Scott explores why we avoided sedentism and plow agriculture, the advantages of mobile subsistence, the unforeseeable disease epidemics arising from crowding plants, animals, and grain, and why all early states are based on millets and cereal grains and unfree labor. He also discusses the "barbarians" who long evaded state control, as a way of understanding continuing tension between states and nonsubject peoples
more
fewer
Audience Level
0

1
Kids
General
Special
Audience level: 0.24 (from 0.06 for Agrarian s ... to 1.00 for Moral econ ...)
Related Identities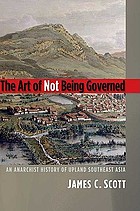 Alternative Names
James C. Scott Amerikaans antropoloog

James C. Scott amerikanischer Politologe und Anthropologe

James C. Scott usona politologo kaj antropologo

Scott, James C.

Scott, James Cameron 1936-

Scott, James Campbell 1936-

Scott, Jim

Скотт, Джеймс 1936-

جيمس سكوت

جیمز سی. اسکات

스콧, 제임스

스콧, 제임스 C

ジェームズ・C・スコット

スコット, ジェームズ・C.

詹姆斯·斯科特

Languages
Covers