Zeno the Stoic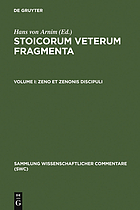 Alternative Names
Citio, Zenón de

Citium, Zenon of

Zeno Citiensis

Zeno Citiensis c. 336- c. 264 a.C.

Zeno Citieus

Zeno Citieus Stoicus

Zenó de Cítion

Zeno of Citium

Zeno the Phoenician

Zeno the Stoic

Zeno van Citium

Zeno z Citium.

Zenon

Zenón de Citio

Zénon de Cition 0335?-0264? av. J.-C.

Zénon de Citium

Zénon de Cittium.

Zénon de Kition

Zēnōn ho Kitieus

Zenon Kitijskij

Zenon the Stoic

Zenon von Kition

Zenon z Citium.

Zenone.

ZenoStoic.

Ζηνων ὁ Κιτιευς

Зенон Китийский

Զենոն

Languages
Covers