McDougall, William 1871-1938
Most widely held works about William McDougall
more
fewer
Most widely held works by William McDougall
An introduction to social psychology
by
William McDougall
( Book )
280 editions published between
1906
and 2017 in 4 languages and held by 3,070 WorldCat member libraries worldwide
Crusty dragon Miss Drake's new pet human, precocious ten-year-old Winnie, not only thinks Miss Drake is her pet, she accidentally brings to life her "sketchlings" of mysterious and fantastic creatures hidden in San Francisco, causing mayhem among its residents
Body and mind; a history and a defense of animism
by
William McDougall
( Book )
78 editions published between
1911
and 2012 in
English
and held by 1,333 WorldCat member libraries worldwide
"In writing this volume my primary aim has been to provide for students of psychology and philosophy, within a moderate compass, a critical survey of modern opinion and discussion upon the psycho-physical problem, the problem of the relation between body and mind. Among the great questions debated by philosophers in every age the psychophysical problem occupies a special position, in that it is one in which no thoughtful person can fail to be interested; for any answer to this question must have some bearing upon the fundamental doctrines of religion and upon our estimate of man's position and destiny in the world. The greater part of this book is, then, occupied with a survey of modern discussions and modern theories of the psycho-physical relation; but without some knowledge of the course of development of speculation upon this topic it is impossible to understand the present state of opinion. I have written, therefore, in the earlier chapters a very brief history of the thought of preceding ages. The sub-title describes this book as a defense, as well as a history, of Animism. I hasten to offer some explanation of this description, lest the mere title of the book should repel a considerable number of possible readers. It is perhaps hardly necessary to say that the Animism I defend is not of this primitive type. But this is only one variety of Animism, one which seems to have been reached by extending the essential animistic notion far beyond its original and proper sphere of application. The modern currency and usage of the word derives chiefly from Professor Tylor's "Primitive Culture," and I use it with the general connotation given it in that celebrated treatise"--Preface. (PsycINFO Database Record (c) 2010 APA, all rights reserved)
Psychology, the study of behaviour
by
William McDougall
( Book )
133 editions published between
1912
and 2012 in
English
and held by 927 WorldCat member libraries worldwide
What is psychology? With what is it concerned? What are the questions it seeks to answer? How is it setting about its task? What are its methods? What progress has it made? Is it a science in an advanced stage of development? Or is it one merely beginning to find its feet, to take definite shape, and to map out clearly its programme of work? Above all, what may we hope from it in the way of addition to our power of understanding human nature and of contributing to the welfare of mankind? These are the questions which I shall attempt to answer in this book as simply as the difficulties of the subject will permit; hoping that some at least of my readers will be led to feel the fascination of the study and stimulated to pursue it further in one or more of its several branches. (PsycINFO Database Record (c) 2004 APA, all rights reserved)
The group mind, a sketch of the principles of collective psychology, with some attempt to apply them to the interpretation of national life and character
by
William McDougall
( Book )
72 editions published between
1920
and 2017 in
English
and held by 921 WorldCat member libraries worldwide
"In this book I have sketched the principles of the mental life of groups, and have made a rough attempt to apply these principles to the understanding of the life of nations. It may seem to some minds astonishing that I should now admit that the substance of this book was committed to writing before the Great War; for that war is supposed by some to have revolutionised all our ideas of human nature and of national life. But the war has given me little reason to add to or to change what I had written. This may be either because I am too old to learn, or because what I had written was in the main true; and I am naturally disposed to accept the second explanation. I wish to make it clear to any would-be reader of this volume that it is a sequel to my Introduction to Social Psychology, that it builds upon that book and assumes that the reader is acquainted with it. I have striven to make this a strictly scientific work, rather than a philosophical one; that is to say, I have tried to ascertain and state the facts and principles of social life as it is and has been, without expressing my opinion as to what it should be. But, in order further to guard myself against the implications attached by German "idealism" to the notion of a collective mind, I wish to state that politically my sympathies are with individualism and internationalism, although I have, I think, fully recognised the great and necessary part played in human life by the Group Spirit, and by that special form of it which we now call 'Nationalism'."
Outline of psychology
by
William McDougall
( Book )
91 editions published between
1923
and 2018 in
English
and
Italian
and held by 828 WorldCat member libraries worldwide
Modern materialism and emergent evolution
by
William McDougall
( Book )
46 editions published between
1924
and 2017 in
English
and held by 811 WorldCat member libraries worldwide
"The denial of the reality of teleological causation is the characteristic feature of contemporary science and justifies the designation Modern Materialism. In this book I have sought to show that, when Atomic Materialism is rejected, the remaining grounds for denying teleological causation are very flimsy; that Science is in the very act of repudiating the chief remaining ground, namely, the belief that conscious thinking cannot affect the course of physical events; and that we have the strongest possible grounds for believing that our own voluntary actions are instances of truly teleological intervention in the course of physical events." (PsycINFO Database Record (c) 2010 APA, all rights reserved)
Outline of abnormal psychology
by
William McDougall
( Book )
53 editions published between
1900
and 2016 in 3 languages and held by 748 WorldCat member libraries worldwide
The journal of parapsychology
by
J. B Rhine
( )
in
English
and held by 742 WorldCat member libraries worldwide
ProQuest electronic version of: The Journal of parapsychology. Supports browsing, searching, and printing of documents
The pagan tribes of Borneo
by
Charles Hose
( Book )
33 editions published between
1912
and 2014 in
English
and
Czech
and held by 735 WorldCat member libraries worldwide
The energies of men; a study of the fundamentals of dynamic psychology
by
William McDougall
( Book )
61 editions published between
1929
and 2016 in
English
and held by 556 WorldCat member libraries worldwide
First published in 1932, the original blurb states: "This is a simplified condensation of the author' s two volumes, An Outline of Psychology and An Outline of Abnormal Psychology, which together give a comprehensive survey of the principles and findings of modern psychology. This is designed as an introduction to the scientific study of man and society for those who have not time or inclination to pursue the more recondite problems of mind. It is suitable for college use in the introductory course. It concentrates on the dynamics of the
more
fewer
Audience Level
0

1
Kids
General
Special
Audience level: 0.51 (from 0.13 for An evaluat ... to 0.93 for Integratio ...)
Associated Subjects
Anastasi, Anne,
Animism
Anthropometry
Bayley, Nancy,
Bingham, Walter Van Dyke,
Borneo
Brunswik, Egon,
Character
Civilization
Conduct of life
Ethics
Ethnology
Ethnopsychology
Eugenics
Evolution
Freud, Sigmund,
Goldstein, Kurt,
Hall, G. Stanley--(Granville Stanley),
Harlow, Harry F.--(Harry Frederick),
International law
Manners and customs
Material culture
Materialism
McDougall, William,
Metzger, Wolfgang
Michotte, Albert,
Mind and body
Myers, Charles S.--(Charles Samuel),
National characteristics
Neurosciences
Paganism
Parapsychology
Peace
Psychoanalysis
Psychologists
Psychology
Psychology, Pathological
Psychophysiology
Race
Ratliff, Floyd
Religion and science
Rivers, W. H. R.--(William Halse Rivers),
Science
Smith, Grafton Elliot,
Social ethics
Social psychology
Tribes
United States
War
World War (1914-1918)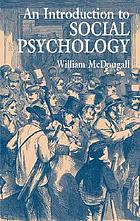 Alternative Names
Dougall, William Mc.

Mac Dougall, William

Mac Dougall William 1871-1938

MacDougall, William.

MacDougall William 1871-1938

Makḍugal, Vilyam 1871-1938

Mc Dougall, William.

Mc Dougall William 1871-1938

McDougall, W.

McDougall, W. 1871-1938

McDougall, William

McDougall, Wm 1871-1938

Meḳdugel, Ṿilyam

Meḳdugel, Ṿilyam 1871-1938

Wiliam MekDugal

William McDougall bresk sálfræðingur

William McDougall brit pszichológus

William McDougall brita psikologo

William McDougall britanski psiholog

William McDougall britesche psycholog

William McDougall briti psühholoog

William McDougall british psikologoa

William McDougall british psykolog

William McDougall britisk psykolog

William McDougall Brits psycholoog (1871-1938)

William McDougall britske psycholooch

William McDougall britský psychológ

William McDougall brittiläinen psykologi

William McDougall britų psichologas

William McDougall britu psihologs

William McDougall englisch-amerikanischer Psychologe

William McDougall eòlaiche-inntinn bhreatainn

William McDougall İngiliz psikologu

William McDougall mwanasaikolojia wa uingereza

William McDougall psicòleg britànic

William McDougall psicólogo britânico

William McDougall psicologo britannico

William McDougall psicologo inglese

William McDougall psicologu britannicu

William McDougall psiholog britanic

William McDougall psikolog britania

William McDougall psikolog britanik

William McDougall psikolog inggris

William McDougall psikologi british

William McDougall psycholog brytyjski

William McDougall psychologue britannique

William McDougall psykolog britisk

William McDougall sielkundige britse

Вилијам Макдугал

Вилијам Макдугал Британски психолог

Вільям Мак-Дугалл

Вільям Мак-Дугалл Британський психолог

Мак-Дугалл, Уильям

Мак-Дугалл, Уильям Британский психолог

Уилям Макдугъл

Уилям Макдугъл Британски психолог

מעקדוגעל, וויליאם

מעקדוגעל, וויליאם 1871־1938

מעקדוגעל, וויליאם פסיכולוג בריטי

מקדוגל, ויליאם

מקדוגל, וילים

ویلیام مک دقال

ウィリアム・マクドゥーガル イギリスの心理学者

マクドーガル

マクドーガル, ウイリアム

マクドーガル, ウイリヤム

威廉·麦独孤

威廉·麦独孤 英国心理学家

Languages
Covers