McPherson, James M.
Most widely held works about James M McPherson
more
fewer
Most widely held works by James M McPherson
Battle cry of freedom : the Civil War era
by
James M McPherson
( Book )
57 editions published between
1988
and 2013 in
English
and held by 5,666 WorldCat member libraries worldwide
Filled with fresh interpretations and information, puncturing old myths and challenging new ones, Battle Cry of Freedom will unquestionably become the standard one-volume history of the Civil War. James McPherson's fast-paced narrative fully integrates the political, social, and military events that crowded the two decades from the outbreak of one war in Mexico to the ending of another at Appomattox. Packed with drama and analytical insight, the book vividly recounts the momentous episodes that preceded the Civil War--the Dred Scott decision, the Lincoln-Douglas debates, John Brown's raid on Harper's Ferry--and then moves into a masterful chronicle of the war itself--the battles, the strategic maneuvering on both sides, the politics, and the personalities. Particularly notable are McPherson's new views on such matters as the slavery expansion issue in the 1850s, the origins of the Republican Party, the causes of secession, internal dissent and anti-war opposition in the North and the South, and the reasons for the Union's victory. The book's title refers to the sentiments that informed both the Northern and Southern views of the conflict: the South seceded in the name of that freedom of self-determination and self-government for which their fathers had fought in 1776, while the North stood fast in defense of the Union founded by those fathers as the bulwark of American liberty. Eventually, the North had to grapple with the underlying cause of the war--slavery--and adopt a policy of emancipation as a second war aim. This "new birth of freedom," as Lincoln called it, constitutes the proudest legacy of America's bloodiest conflict. This authoritative volume makes sense of that vast and confusing "second American Revolution" we call the Civil War, a war that transformed a nation and expanded our heritage of liberty
Tried by war : Abraham Lincoln as commander in chief
by
James M McPherson
( Book )
15 editions published between
2008
and 2014 in
English
and held by 2,786 WorldCat member libraries worldwide
Evaluates Lincoln's talents as a commander in chief in spite of limited military experience, tracing the ways in which he worked with, or against, his senior commanders to defeat the Confederacy and reshape the presidential role
For cause and comrades : why men fought in the Civil War
by
James M McPherson
( Book )
20 editions published between
1997
and 2012 in
English
and
Danish
and held by 2,496 WorldCat member libraries worldwide
Why did the conventional wisdom - that soldiers become increasingly cynical and disillusioned as war progresses - not hold true in the Civil War?. It is to this question - why did they fight - that James M. McPherson, America's preeminent Civil War historian, now turns his attention. He shows that, contrary to what many scholars believe, the soldiers of the Civil War remained powerfully convinced of the ideals for which they fought throughout the conflict. McPherson draws on more than 25,000 letters and nearly 250 private diaries from men on both sides. Civil War soldiers were among the most literate soldiers in history, and most of them wrote home frequently, as it was the only way for them to keep in touch with homes that many of them had left for the first time in their lives. Significantly, their letters were also uncensored by military authorities and are uniquely frank in their criticism and detailed in their reports of marches and battles, relations between officers and men, political debates, and morale. For Cause and Comrades lets these soldiers tell their own stories in their own words to create an account that is both deeply moving and far truer than most books on war
Crossroads of freedom : Antietam
by
James M McPherson
( Book )
27 editions published between
2002
and 2007 in
English
and
Spanish
and held by 2,463 WorldCat member libraries worldwide
In this book, prize winning author James M. McPherson tells the story of the battle of Antietam - the turning point of the whole Civil War, and the bloodiest day in American history. In a concise narrative, McPherson takes readers through the events leading up to Antietam, and through the savage fighting of the battle itself. The final chapters will discuss the aftermath of the battle and why it truly was a pivotal moment in American history
Abraham Lincoln and the second American Revolution
by
James M McPherson
( Book )
30 editions published between
1990
and 2007 in
English
and
Undetermined
and held by 2,459 WorldCat member libraries worldwide
A series of essays on aspects of Lincoln as a military leader, the Civil War, and the changes in the South
"To the best of my ability" : the American presidents
by
James M McPherson
( Book )
23 editions published between
2000
and 2004 in
English
and held by 2,064 WorldCat member libraries worldwide
An illustrated look at the forty-two men who have served as President of the United States describes the campaigns, elections, administration, events, and legacy of each of America's leaders, from Washington to Clinton
The struggle for equality; abolitionists and the Negro in the Civil War and Reconstruction
by
James M McPherson
( Book )
43 editions published between
1964
and 2015 in
English
and held by 1,932 WorldCat member libraries worldwide
Civil War historian James McPherson offers an analysis of the abolitionist movement and the legal basis it provided to the civil rights movement of the 1960s. It demonstrates the successful role played by rights activists during and after the Civil War, as they evolved from despised fanatics into influential spokespersons for the radical wing of the Republican party. Intensely individual efforts characterized the movement, demonstrated by letters and anti-slavery periodicals that let the voices of the abolitionists express for themselves their triumphs and anxieties. Asserting that it was not the abolitionists who failed in their efforts to instill the principles of equality on the state level but rather the American people who refused to follow their leadership, McPherson raises broad questions about the obstacles that have long hindered American reform movements in general
The American heritage new history of the Civil War
by
Bruce Catton
( Book )
12 editions published between
1996
and 2005 in
English
and held by 1,787 WorldCat member libraries worldwide
Pulitzer Prize-winning author Bruce Catton's unsurpassed narrative, evoking the sweep and drama of a nation at war, provides the basis for The American Heritage New History of the Civil War, which includes more than 800 important contemporary photographs and sketches and magnificent paintings. The Civil War's battles and campaigns are painstakingly illustrated in three-dimensional maps that guide the reader through the four years of the struggle. With illustrations that range from photographs by Mathew Brady and sketches by soldiers at the front, to famous paintings by Winslow Homer, the book boasts an extraordinary breadth of pictures and artifacts culled from across the nation. This richly textured tapestry is made complete by the words of men and women who actually witnessed the events. From the journal entry of a Confederate soldier departing for battle and the letter an African-American soldier scrawled on the back of his wife's letter to him, to some of the best-known documents written in the very hand of Abraham Lincoln, each page of this book allows the participants to speak for themselves
Hallowed ground : a walk at Gettysburg
by
James M McPherson
( Book )
14 editions published between
2003
and 2017 in
English
and held by 1,647 WorldCat member libraries worldwide
"[I]n a larger sense, we can not dedicate-we can not consecrate-we can not hallow-this ground. The brave men, living and dead, who struggled here, have consecrated it, far above our power to add or detract."--President Abraham Lincoln. James M. McPherson, the Pulitzer Prize-winning author of Battle Cry of Freedom, and arguably the finest Civil War historian in the world, walks us through the site of the bloodiest and perhaps most consequential battle ever fought by Americans. The events that occurred at Gettysburg are etched into our collective memory, as they served to change the course of the Civil War and with it the course of history. More than any other place in the United States, Gettysburg is indeed hallowed ground. It's no surprise that it is one of the nation's most visited sites (nearly two million annual visitors), attracting tourists, military buffs, and students of American history. McPherson, who has led countless tours of Gettysburg over the years, makes stops at Seminary Ridge, the Peach Orchard, Cemetery Hill, and Little Round Top, among other key locations. He reflects on the meaning of the battle, describes the events of those terrible three days in July 1863, and places the struggle in the greater context of American and world history. Along the way, he intersperses stories of his own encounters with the place over several decades, as well as debunking several popular myths about the battle itself. What brought those 165,000 soldiers-75,000 Confederate, 90,000 Union-to Gettysburg? Why did they lock themselves in such a death grip across these once bucolic fields until 11,000 of them were killed or mortally wounded, another 29,000 were wounded and survived, and about 10,000 were "missing"-mostly captured? What was accomplished by all of this carnage? Join James M. McPherson on a walk across this hallowed ground as he be encompasses the depth of meaning and historical impact of a place that helped define the nation's character.--Dust jacket
more
fewer
Audience Level
0

1
Kids
General
Special
Audience level: 0.16 (from 0.07 for What they ... to 0.81 for Fanny Howe ...)
Associated Subjects
Abolitionists
African Americans
African Americans--Civil rights
African Americans--Education
African American soldiers
African Americans--Social conditions
Ambrose, Stephen E
American Civil War (1861-1865)
Antietam, Battle of (Maryland : 1862)
Antislavery movements
Artists
Authors
Battlefields
Blacks
Combat--Psychological aspects
Confederate States of America.--Army
Current, Richard Nelson
Davis, Jefferson,
Executive power
Franklin, John Hope,
Gettysburg, Battle of (Pennsylvania : 1863)
Guelzo, Allen C
Historians
Influence (Literary, artistic, etc.)
Lincoln, Abraham,
Maryland
McCullough, David G
McPherson, James M
Military campaigns
Military leadership
Military participation--African American
Pennsylvania--Gettysburg
Pennsylvania--Gettysburg National Military Park
Politics and government
Presidents
Psychological aspects
Reconstruction (United States : 1865-1877)
Schweninger, Loren
Slaves--Emancipation
Social movements
Soldiers--Psychology
Southern States
United States
United States.--Army
United States--Confederate States of America
Walking
War--Causes
White, Richard,
Wood, Gordon S
Young adult literature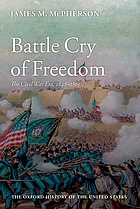 Alternative Names
James M. McPherson American historian

James M. McPherson Amerikaans historicus

James M. McPherson amerikansk historikar

James M. McPherson amerikansk historiker

James M. McPherson historiador estadounidense

James M. McPherson historien américain

James M. McPherson storico statunitense

James M. McPherson US-amerikanischer Historiker des Amerikanischen Bürgerkriegs

Mac Pherson, James M.

Mac Pherson James M. 1936-....

MacPherson, James M.

MacPherson James M. 1936-....

MacPherson, James Munro

MacPherson, James Munro 1936-

Mc Pherson, James M.

Mc Pherson James M. 1936-....

Mc Pherson, James Munro

McPherson, James.

McPherson, James 1936-

McPherson, James M.

McPherson, James M. 1936-

McPherson, James M. (James Munro), 1936-

McPherson, James Munro.

McPherson, James Munro 1936-

ג'יימס מ' מקפרסון היסטוריון אמריקאי

جيمس ماكفرسون مؤرخ أمريكي

詹姆斯·M·麥克弗森

Languages
Covers