Schwartz, Jeffrey H.
Most widely held works about Jeffrey H Schwartz
Most widely held works by Jeffrey H Schwartz
Extinct humans
by
Ian Tattersall
( Book )
15 editions published between
2000
and 2008 in
English
and held by 1,510 WorldCat member libraries worldwide
"Based on their unprecedented personal examination of virtually every known hominid fossil in collections around the world, Ian Tattersall and Jeffrey Schwartz offer a radical reinterpretation of human evolution. They demonstrate that there have been multiple coexisting human species throughout hominid history, even as recently as 25,000 years ago"--Jacket
The red ape : orang-utans and human origins
by
Jeffrey H Schwartz
( Book )
21 editions published between
1987
and 2005 in
English
and
Italian
and held by 1,460 WorldCat member libraries worldwide
"In upending the conventional wisdom on relationships between apes and humans, Schwartz provides a fresh examination of the fossil record, genetics, and the comparative anatomy and physiology of humans and other living primates. Discussing these topics from a historical, philosophical, and theoretical perspective, he argues that it is the Asian orangutan, not the African chimpanzee, bonobo, or gorilla, that is humankind's closest evolutionary cousin. The result is a challenge to what we think we know about the origins of humans"--Jacket
Sudden origins : fossils, genes, and the emergence of species
by
Jeffrey H Schwartz
( Book )
13 editions published between
1999
and 2000 in
English
and held by 1,077 WorldCat member libraries worldwide
"The greatest riddle of evolution has been the following puzzle: while Darwin argued that new species emerge through a slow, gradual accumulation of tiny mutations, the fossil record reveals a very different scenario - the sudden emergence of whole new species, with no apparent immediate ancestors. This discrepancy has fueled heated debate among evolutionary theorists and has provided unfortunate fodder to creationists, who see it as proof that evolution doesn't happen at all." "Now, in this book, paleoanthropologist Jeffrey Schwartz presents a radical new theory of evolution, which brings together evidence from genetics, paleontology, embryology, and anatomy to solve this great outstanding riddle. Central to the new theory is the recent discovery of a special kind of gene, known as homeobox genes, which can cause dramatic mutations that express themselves suddenly in the form of a new species. Such a new species will appear to have arisen out of thin air, with no lineage of ancestors. The new theory preserves natural selection, but shows that it is not the primary engine driving evolution, after all." "Sudden Origins is a provocative and important book that will change the debate about evolution and challenge a number of popular ideas premised on the foundation of Darwinism. This book is crucial reading for anyone who has ever pondered the mysteries of our evolutionary heritage."--Jacket
Skeleton keys : an introduction to human skeletal morphology, development, and analysis
by
Jeffrey H Schwartz
( Book )
14 editions published between
1995
and 2007 in
English
and held by 437 WorldCat member libraries worldwide
"In Skeleton Keys: An Introduction to Human Skeletal Morphology, Development, and Analysis, Second Edition, Jeffrey H. Schwartz presents a detailed yet highly accessible introduction to the study of the human skeleton. This volume examines the skeleton from its developmental basis to the expression of individual variation. It reviews a variety of different approaches used to determine an individual's sex, age, and pathological history and challenges readers to think critically about how to analyze a human skeleton rather than learning formulas for quick results. An ideal text for courses in human osteology, skeletal analysis, and bioarchaeology, this book is also a helpful reference for professionals."--Jacket
The human fossil record
( Book )
in
English
and held by 361 WorldCat member libraries worldwide
The Human Fossil Record Volume one Terminology and Craniodental Morphology of Genus Homo (Europe) Jeffrey H. Schwartz Ian Tattersall The Human Fossil Record series is the most authoritative and comprehensive documentation of the fossil evidence relevant to the study of our evolutionary past. This first volume covers the craniodental remains from Europe that have been attributed to the genus Homo. Here the authors also clearly define the terminology and descriptive protocol that is applied uniformly throughout the series. Organized alphabetically by site name, each entry includes clear descriptions and original, expertly taken photographs, as well as: Morphology Location information History of discovery Previous systematic assessments of the fossils Geological, archaeological, and faunal contexts Dating References to the primary literature The Human Fossil Record series is truly a must-have reference for anyone seriously interested in the study of human evolution
Orang-utan biology
( Book )
8 editions published in
1988
in
English
and held by 267 WorldCat member libraries worldwide
What the bones tell us
by
Jeffrey H Schwartz
( Book )
8 editions published between
1993
and 2015 in
English
and
Japanese
and held by 217 WorldCat member libraries worldwide
Jeffrey Schwartz, professor of physical anthropology at the University of Pittsburgh and research associate at the American Museum of Natural History, ranges from digs in the Negev Desert through Africa and Europe to the local coroner's office to explain how interpretations of the past are made. What counts is the data and the context in which the evidence is analyzed. Along the way the author constructs a new hominid family tree to take account of recent assessments of human evolution. The author, part of the team that recently unearthed burial urns from the ancient city of Carthage, exposes the inner workings of archeology and anthropology, illustrating what can be learned from fossils and fragments of ancient cultures and civilizations. Because every living thing on earth will have had a single, unique history, whether it be the life of an individual, of a civilization, a species, or a diverse evolutionary group, "the discovery," writes the author, "is less a matter of unearthing a fossil or sequencing a species' DNA than it is of interpreting data in an attempt to reconstruct the missing pieces of the puzzle." Bone fragments can be used not only to identify animal species but also to tell us of their past history. Studies of bones can also reveal the land's past capacity to sustain animal life, whether domestic or wild. Frequently the physical evidence overturns sacred historical writings (and occasionally such evidence is suppressed). And when the author misidentifies what turns out to be an incomplete human specimen for the coroner, we come to understand just how easily incomplete data can deceive us. After reading this fascinating and authoritative work, any reader will be better equipped to evaluate the evidence for various new theories about our origins and evolution. Another value of this pioneering book is its deep insight into scientific infighting and the competing speculations about evolutionary history. Scientists, however worldly, discover little truths - at best useful models of the past (good until some better data come along). Their theories, and the bases for them, must be accessible to others for scrutiny and possible rejection; that's the essence of the scientific method and this enormously thoughtful work
Pseudopotto martini : a new genus and species of extant lorisiform primate
by
Jeffrey H Schwartz
( Book )
8 editions published in
1996
in
English
and held by 166 WorldCat member libraries worldwide
Two specimens -one represented by a virtually complete skeleton and adult dentition and the other by skull, mandible, and mixed dentition- in the collections of the Anthropological Institute and Museum, University of Zurich-Irchel, that had been cataloged as Perodicticus potto do not possess the salient features of this prosimian primate. Although these specimens are cladistically lorisiform, and in some features are variably similar, especially to Arctocebus, Nycticebus, and Perodicticus, they do not share the suite of apomorphies that unites these extant lorisids plus the fourth genus, Loris, as a clade. The postcrania (preserved for one specimen) are primitive relative to those of lorisids in having a long tail and lacking a distinctly hooked ulnar styloid process. Both specimens are dentally primitive relative to lorisids in retaining a more buccally emplaced cristid obliqua and lacking deep hypoflexid notches on the lower molars, as well as in having relatively longer lower middle and last premolars. Nevertheless, these specimens appear to be more closely related to the lorisid clade than the more well-known lorisiform groups, the cheirogaleids and the galagids. In light of their dissimilarity to any other known lorisiform primate, a new genus and a new species are named to accommodate this previously unrecognized prosimian
more
fewer
Audience Level
0

1
Kids
General
Special
Audience level: 0.39 (from 0.22 for Extinct hu ... to 0.84 for The human ...)
Related Identities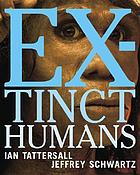 Alternative Names
Jeffrey H. Schwartz Amerikaans antropoloog

Jeffrey H. Schwartz US-amerikanischer Paläoanthropologe

Schwartz, Jeffrey

Schwartz, Jeffrey 1948-

Schwartz, Jeffrey H.

Schwartz, Jeffrey Hugh 1948-

ג'פרי שוורץ

جفری شوارتز

ジェフリー・H・シュワルツ

シュワルツ, ジェフリー

Languages
Covers