Terman, Lewis M. (Lewis Madison) 1877-1956
Most widely held works about Lewis M Terman
more
fewer
Most widely held works by Lewis M Terman
The development of intelligence in children
by
Alfred Binet
( Book )
14 editions published between
1916
and 1980 in
English
and held by 1,078 WorldCat member libraries worldwide
This reprint presents Alfred Binet and Theodore Simon theories on child development and the classic Binet-Simon Test. The text is annotated and critiqued by Lewis M. Terman
The measurement of intelligence; an explanation of and a complete guide for the use of the Stanford revision and extension of the Binet-Simon intelligence scale
by
Lewis M Terman
( Book )
79 editions published between
1916
and 2015 in 3 languages and held by 1,069 WorldCat member libraries worldwide
The constant and growing use of the Binet-Simon intelligence scale in public schools, institutions for defectives, reform schools, juvenile courts, and police courts is sufficient evidence of the intrinsic worth of the method. It is generally recognized, however, that the serviceableness of the scale has hitherto been seriously limited, both by the lack of a sufficiently detailed guide and by a number of recognized imperfections in the scale itself. The Stanford revision and extension has been worked out for the purpose of correcting as many as possible of these imperfections, and it is here presented with a rather minute description of the method as a whole and of the individual tests. The aim has been to present the explanations and instructions so clearly and in such an untechnical form as to make the book of use, not only to the psychologist, but also to the rank and file of teachers, physicians, and social workers. More particularly, it is designed as a text for use in normal schools, colleges, and teachers' reading-circles. (PsycINFO Database Record (c) 2004 APA, all rights reserved)
Genetic studies of genius
( Book )
18 editions published between
1925
and 1973 in
English
and
Undetermined
and held by 969 WorldCat member libraries worldwide
Stanford-Binet intelligence scale; manual for the third revision form L-M
by
Lewis M Terman
( Book )
56 editions published between
1960
and 1990 in 3 languages and held by 776 WorldCat member libraries worldwide
La quatrième édition de l'Échelle d'intelligence Stanford-Binet est une révision de l'Échelle d'intelligence Stanford-Binet, Forme L-M de 1960. Les auteurs de cette révision ont conservé la continuité avec l'échelle de 1960 en utilisant ses points forts, tout en introduisant des changements de façon à produire un instrument plus efficace pour mesurer les habiletés cognitives de sujets de deux ans à l'âge adulte. [...] Les auteurs ont conçu la quatrième édition avec les objectifs suivants: Aider à faire la distinction entre les élèves souffrant d'arriération mentale et ceux qui sont atteints de certaines difficultés d'apprentissage; aider les éducateurs et les psychologues à comprendre la raison pour laquelle un élève en particulier éprouve de la difficulté à apprendre en classe; aider à identifier les élèves surdoués, et étudier le développement des capacités cognitives des individus à partir de 2 ans d'âge jusqu'à l'âge adulte
Sex and personality; studies in masculinity and femininity
by
Lewis M Terman
( Book )
28 editions published between
1936
and 2013 in
English
and held by 599 WorldCat member libraries worldwide
"Sex differences in personality and temperament are matters of universal human interest. They are rapidly coming to be recognized as one of the central problems in anthropology, sociology, and psychology. It is well that they should be so recognized; for sex differences are more than a perennial stimulus to idle speculation, wit, and literary art. Mass theories in regard to them are one of the most potent of all the forces that operate in the shaping of human societies. Unfortunately, investigations of masculinity and femininity have been retarded by lack of definiteness with respect to what these terms should connote. Gross departures from even a vaguely denned norm have of course long been recognized, but in the absence of quantitative methods the less extreme deviations are overlooked or misunderstood. The purpose of the investigations here reported has been the accomplishment in the field of masculinity-femininity of something similar to Binet's early achievement in the field of intelligence--a quantification of procedures and of concepts. No one can better realize than the authors how imperfectly they have succeeded in their pioneer attempt. The problem of temperament is no less complex than the problem of abilities. The concepts of masculinity and femininity are even more vague than the nineteenth century concepts of intelligence. Clarity and exactness are seldom attained by a single effort. Indeed, the investigations to be reported have been shaped by the conviction that only the simplest and roughest kind of quantification is at present possible, and that any attempt at exact measurement of the traits in question would, in the present state of psychometric development, be fatuous and unprofitable. The experiment will have justified itself if in some degree it opens the way to more precise measurements and methods"--Preface. (PsycINFO Database Record (c) 2011 APA, all rights reserved)
The intelligence of school children : how children differ in ability, the use of mental tests in school grading and the proper education of exceptional children
by
Lewis M Terman
( Book )
35 editions published between
1919
and 2010 in
English
and
Undetermined
and held by 487 WorldCat member libraries worldwide
"This book has been written for the rank and file of teachers, school supervisors, and normal-school students. Its purpose is to illustrate the large individual differences in original endowment which exist among school children and to show the practical bearing of these differences upon the everyday problems of classroom management and school administration. It does not treat, except incidentally, the psychological principles underlying intelligence tests. Some of these problems the writer has touched upon elsewhere. The technique of giving the tests of the revised Binet scale and the general significance of mental tests for education have been set forth in some detail in another volume of this series, The Measurement of Intelligence, which should be read in connection with the present volume. The writer's present aim is the more practical one of showing how the results of mental tests may be put to everyday use in the grade classification and in the educational guidance of school children"--Preface. (PsycINFO Database Record (c) 2005 APA, all rights reserved)
The hygiene of the school child
by
Lewis M Terman
( Book )
36 editions published between
1913
and 2012 in
English
and held by 415 WorldCat member libraries worldwide
"This work has been prepared as a textbook in school hygiene for the use of normal schools, colleges, and teachers' reading circles. It has been shaped by the conviction that the primary concern of such a text should be the child itself--the hygiene of physical and mental growth, rather than the details of school architecture and school equipment. New problems, new methods, and new centers of interest have appeared since the first edition of this book. Mental hygiene has made rapid strides, and is in a fair way of becoming a science. A serious attempt has been made to reflect these changes and progress in this revision. The book has been largely rewritten and made over. Facts and figures have been revised and new data added to bring the text up to the present state of our knowledge. The bibliographies are new, and, while selective rather than exhaustive, they contain a considerable sampling of the latest, most authentic, and most promising work. The materials in the chapters on "The Headaches of School Children," and "The Nervous Child," did net appear in the original edition. New chapters have been included on "Mortality and Morbidity," "The Health of the Teacher," "Hygiene of the Schoolroom," and "The Teaching of Physiology and Hygiene." Two chapters have been dropped--one on "The Significance of Physiological Age," another on "The Harmful Effects of School Life"; the first because it is of doubtful pedagogical importance, and the second because its topics now are treated in connection with other chapters. In line with other texts in the series, there has been added, at the close of each chapter, a collection of teaching helps in the form of topics for report and discussion, and exercises and problems for review, drill, and study. (PsycINFO Database Record (c) 2006 APA, all rights reserved)."
more
fewer
Audience Level
0

1
Kids
General
Special
Audience level: 0.40 (from 0.21 for School. th ... to 0.99 for Photograph ...)
Related Identities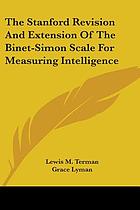 Alternative Names
Lewis M. Terman US-amerikanischer Psychologe

Lewis Madison Terman psicologo statunitense

Lewis Terman Amerikaans psycholoog (1877-1956)

Lewis Terman amerykański psycholog

Lewis Terman psychologue américain

Lewis Terman psychologue et professeur d'université américain

Madison Terman, Lewis 1877-1956

Terman, L. M.

Terman, L. M. 1877-1956

Terman, Lewis M.

Terman, Lewis M. 1877-1956

Terman Lewis Madison 1877-1956

Люис Термън

Термен, Льюис Мэдисон

لويس ماديسون تيرمان

ルイス・マディソン・ターマン

刘易斯·特曼

路易·斯特曼

Languages
Covers