Sears, Stephen W.
Most widely held works by Stephen W Sears
Landscape turned red : the Battle of Antietam
by
Stephen W Sears
( Book )
26 editions published between
1983
and 2003 in
English
and
Undetermined
and held by 2,746 WorldCat member libraries worldwide
A definitive study of the climactic and pivotal battle of Antietam offers a vivid account of the two armies, the soldiers and officers, and the bitter, bloody campaign and analyzes the impact of Antietam on the Civil War as a whole
Chancellorsville
by
Stephen W Sears
( Book )
8 editions published between
1996
and 1999 in
English
and
Undetermined
and held by 2,718 WorldCat member libraries worldwide
Lee's great victory came at great cost, however: Jackson, making a night reconnaissance, was accidentally shot by his own troops and died eight days later. And ironically, the momentum of Lee's greatest triumph pushed him to launch an aggressive campaign that led to his greatest defeat, at Gettysburg. Drawing on a wealth of new sources, including personal accounts by soldiers on both sides, Stephen Sears has written the definitive book on Chancellorsville
Lincoln's generals
by
Gabor S Boritt
( Book )
19 editions published between
1994
and 2010 in
English
and held by 2,093 WorldCat member libraries worldwide
From the moment the battle ended, Gettysburg was hailed as one of the greatest triumphs of the Union army. Celebrations erupted across the North as a grateful people cheered the victory. But Gabor Boritt turns our attention away from the rejoicing millions to the dark mood of the White House - where Lincoln cried in frustration as General Meade let the largest Confederate army escape safely into Virginia. Such unexpected portraits abound in Lincoln's Generals, as a team of distinguished historians probes beyond the popular anecdotes and conventional wisdom to offer a fascinating look at Lincoln's relationship with his commanders. In Lincoln's Generals, Boritt and his fellow contributors examine the interaction between the president and five key generals: McClellan, Hooker, Meade, Sherman, and Grant. In each chapter, the authors provide new insight into this mixed bag of officers and the president's tireless efforts to work with them. Even Lincoln's choice of generals was not as ill-starred as we think, writes Pulitzer Prize-winner Mark E. Neely, Jr.: compared to most Victorian-era heads of state, he had a fine record of selecting commanders (for example, the contemporary British gave us such bywords for incompetence as "the charge of the Light Brigade," while Napoleon III managed to lose the entire French army). But the president's relationship with his commanders in chief was never easy. In these pages, Stephen Sears underscores McClellan's perverse obstinancy as Lincoln tried everything to drive him ahead. Neely sheds new light on the president's relationship with Hooker, arguing that he was wrong to push the general to attack at Chancellorsville. Boritt writes about Lincoln's prickly relationship with the victor of Gettysburg, "old snapping turtle" George Meade. Michael Fellman reveals the political stress between the White House and William T. Sherman, a staunch conservative who did not want blacks in his army but who was crucial to the war effort. And John Y. Simon looks past the legendary camaraderie between Lincoln and Grant to reveal the tensions in their relationship. Perhaps no other episode has been more pivotal in the nation's history than the Civil War - and yet so much of these massive events turned on a few distinctive personalities. Lincoln's Generals is a brilliant portrait that takes us inside the individual relationships that shaped the course of our most costly war
Gettysburg
by
Stephen W Sears
( Book )
9 editions published between
2002
and 2004 in
English
and
Undetermined
and held by 2,024 WorldCat member libraries worldwide
The greatest of all Civil War campaigns, Gettysburg was the turning point of the turning point in our nation's history. Volumes have been written about this momentous three-day battle, but recent histories have tended to focus on the particulars rather than the big picture: on the generals or on single days of battle, even on single charges, or on the daily lives of the soldiers. In Gettysburg, Sears tells the whole story in a single volume. From the first gleam in Lee's eye to the last Rebel hightailing it back across the Potomac, every moment of the battle is brought to life with the vivid narrative skill and impeccable scholarship that has made Stephen Sears's other histories so successful. Based on years of research, this is the first book in a generation that brings everything together, sorts it all out, makes informed judgments, and takes stands. Even the most knowledgeable of Civil War buffs will find fascinating new material and new interpretations, and Sears's famously accessible style will make the book just as appealing to the general reader. In short, this is the one book on Gettysburg that anyone interested in the Civil War should own. This text for scholars and general readers well versed in the Civil War offers a detailed account of the climactic three-day battle at Gettysburg. Sears begins with some background information on the events that led to Robert E. Lee's fateful decision to bring his troops into Northern territory. Other topics include, for example, an account of Joshua Chamberlain's right-wheel maneuver on Little Round Top and an analysis of Johnson Pettigrew's compact arrangement of his brigades on the battle line. Sears is the author of six books on the Civil War
The Civil War
( Book )
6 editions published in
2011
in
English
and held by 1,738 WorldCat member libraries worldwide
Drawn from letters, diaries, speeches, articles, poems, songs, military reports, legal opinions, and memoirs, this collection brings together over 120 pieces by more than 60 men and women to create a firsthand narrative of the first year of the Civil War. Beginning on the eve of Lincoln's election in 1860 and ending in January 1862 with the appointment of Edwin M. Stanton as Secretary of War, the selections provide a sense of the immediacy, uncertainty, and urgency of events as the nation was torn asunder. Includes headnotes, a chronology of events, and biographical and explanatory endnotes.--Adapted from publisher description
George B. McClellan : the young Napoleon
by
Stephen W Sears
( Book )
10 editions published between
1988
and 2014 in
English
and held by 1,701 WorldCat member libraries worldwide
By age 35, General George B. McClellan (1826-1885), designated the "Young Napoleon," was the commander of all the Northern armies. He forged the Army of the Potomac into a formidable battlefield foe, and fought the longest and largest campaign of the time as well as the single bloodiest battle in the nation's history. Yet, he also wasted two supreme opportunities to bring the Civil War to a decisive conclusion. In 1864 he challenged Abraham Lincoln as the Democratic candidate for the presidency. Neither an indictment nor an apologia, this biography draws entirely on primary sources to create a splendidly incisive portrait of this charismatic, controversial general who, for the first eighteen months of the conflict, held the fate of the union in his unsteady hands. - Publisher
The American heritage century collection of Civil War art
by American Heritage (Periodical)
( Book )
7 editions published between
1974
and 1983 in
English
and held by 1,653 WorldCat member libraries worldwide
Illustrations originally appeared in Battles and Leaders of the Civil War, published 1887-88
Hometown U.S.A.
by
Stephen W Sears
( Book )
9 editions published between
1975
and 1993 in
English
and
Undetermined
and held by 1,580 WorldCat member libraries worldwide
Captioned photographs provide a visual history of the looks, daily, activities, family life, children's activities, and leisure pastimes of turn-of-the-century small-town America
Controversies & commanders dispatches from the Army of the Potomac
by
Stephen W Sears
( )
8 editions published between
1999
and 2014 in
English
and held by 1,547 WorldCat member libraries worldwide
"A fascinating look at some of the most intriguing generals in the Union's Army of the Potomac and at some of the most extraordinary events of the Civil War."--Jacket
To the gates of Richmond : the peninsula campaign
by
Stephen W Sears
( Book )
16 editions published between
1992
and 2014 in
English
and held by 1,472 WorldCat member libraries worldwide
Grand scheme to advance from Yorktown up the Virginia Peninsula and destroy the Rebel army in its own capital. Though initially successful, McClellan's plans fell through at the gates of Richmond. Assuming command of the Confederate forces, Robert E. Lee split his army and proceeded to deliver a series of hammer blows against the Federals. Though the Confederates were not invariably victorious on the field, Lee's will to fight so surpassed McClellan's that in the end the
more
fewer
Audience Level
0

1
Kids
General
Special
Audience level: 0.23 (from 0.06 for Air war ag ... to 0.33 for Mr. Dunn B ...)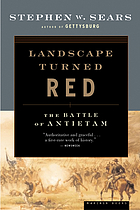 Alternative Names
Languages
Covers