Thomson, Keith Stewart
Most widely held works about Keith Stewart Thomson
Most widely held works by Keith Stewart Thomson
The religion and science debate : why does it continue?
by
Harold W Attridge
( )
2 editions published in
2009
in
English
and held by 1,946 WorldCat member libraries worldwide
Eighty-one years after America witnessed the Scopes trial over the teaching of evolution in public schools, the debate between science and religion continues. In this book scholars from a variety of disciplines - sociology, history, science, and theology - provide new insights into the contemporary dialogue as well as some perspective suggestions for delineating the responsibilities of both the scientific and religious spheres. Why does the tension between science and religion continue? How have those tensions changed during the past one hundred years? How have those tensions impacted the public debate about so-called "intelligent design" as a scientific alternative to evolution? With wit and wisdom the authors address the conflict from its philosophical roots to its manifestations within American culture. In doing so, they take an important step toward creating a society that reconciles scientific inquiry with the human spirit. This book, which marks the one hundredth anniversary of The Terry Lecture Series, offers a unique perspective for anyone interested in the debate between science and religion in America
The legacy of the Mastodon : the golden age of fossils in America
by
Keith Stewart Thomson
( )
13 editions published between
2008
and 2009 in
English
and held by 1,887 WorldCat member libraries worldwide
"The uncovering in the mid-1700s of fossilized mastodon bones and teeth at Big Bone Lick, Kentucky, signaled the beginning of a great American adventure. The West was opening up, and unexplored lands beckoned. Unimagined paleontological treasures awaited discovery: strange horned mammals, birds with teeth, flying reptiles, gigantic fish, diminutive ancestors of horses and camels, and more than a hundred different kinds of dinosaurs. This exciting book tells the story of the grandest period of fossil discovery in American history, the years from 1750 to 1890." "The volume begins with Thomas Jefferson, whose keen interest in the American mastodon led him to champion the study of fossil vertebrates. The book continues with vivid descriptions of the actual work of prospecting for fossils - a pick in one hand, a rifle in the other - and enthralling portraits of Joseph Leidy, Ferdinand Hayden, Edward Cope, and Othniel Marsh, among other major figures in the development of the science of paleontology."--Jacket
Morphogenesis and evolution
by
Keith Stewart Thomson
( )
16 editions published between
1988
and 2014 in
English
and held by 1,870 WorldCat member libraries worldwide
1. Introduction 2. Theory, Reduction, and Hierarchy 3. Development: Pattern and Process 4. Early Pattern Formation 5. Example: Early Pattern Formation in Amphibia 6. Later Pattern Formation: Morphogenesis 7. Some General Properties of Morphogenetic Systems 8. Patterns of Evolution 9. Morphogenesis and Evolution
Jefferson's shadow : the story of his science
by
Keith Stewart Thomson
( )
14 editions published between
2011
and 2014 in
English
and held by 1,780 WorldCat member libraries worldwide
The Founding Fathers being aware of the significance of their lives and usually painstakingly wrote down their thoughts and actions, sometimes through letters and at other times just journalizing what was going on at the time so that following generations would have a better understanding of them and history. As much as possibe the actual writing with sometimes peculiar spelling to us but unique to the author. This work reveals the knowledge and learning of Thomas Jefferson in regards to the science at that time
The young Charles Darwin
by
Keith Stewart Thomson
( )
15 editions published between
2009
and 2010 in
English
and held by 1,355 WorldCat member libraries worldwide
This work is an investigation of Darwin's early years and how he arrived at his revolutionary ideas. What sort of person was the young naturalist who developed an evolutionary idea so logical, so dangerous, that it has dominated biological science for a century and a half? How did the quiet and shy Charles Darwin produce his theory of natural selection when many before him had started down the same path but failed? This book inquires into the range of influences and ideas, the mentors and rivals, and the formal and informal education that shaped Charles Darwin and prepared him for his remarkable career of scientific achievement. In this book the author concentrates on Darwin's early life as a schoolboy, a medical student at Edinburgh, a theology student at Cambridge, and a naturalist aboard the Beagle on its famous five-year voyage. Closely analyzing Darwin's Autobiography and scientific notebooks, the author draws a fully human portrait of Darwin: a vastly erudite and powerfully ambitious individual, self-absorbed but lacking self-confidence, hampered as much as helped by family, and sustained by a passion for philosophy and logic. The author's account of the birth and maturing of Darwin's brilliant theory reveals both his genius as a scientist and the human foibles and weaknesses with which he mightily struggled
Private doubt, public dilemma : religion and science since Jefferson and Darwin
by
Keith Stewart Thomson
( )
8 editions published between
1900
and 2015 in
English
and held by 1,316 WorldCat member libraries worldwide
"Each age has its own crisis--our modern experience of science-religion conflict is not so very different from that experienced by our forebears, Keith Thomson proposes in this thoughtful book. He considers the ideas and writings of Thomas Jefferson and Charles Darwin, two men who struggled mightily to reconcile their religion and their science, then looks to more recent times when scientific challenges to religion (evolutionary theory, for example) have given rise to powerful political responses from religious believers. Today as in the eighteenth century, there are pressing reasons for members on each side of the religion-science debates to find common ground, Thomson contends. No precedent exists for shaping a response to issues like cloning or stem cell research, unheard of fifty years ago, and thus the opportunity arises for all sides to cooperate in creating a new ethics for the common good."--Jacket
Fossils : a very short introduction
by
Keith Stewart Thomson
( )
12 editions published between
2005
and 2015 in 3 languages and held by 1,202 WorldCat member libraries worldwide
"Fossils have not always been easily understood - there have been doubts about what they are and what they mean, and at times their very existence has threatened the prevailing views of the origins of life and the age of the Earth. Building on the latest scientific understanding, Keith Thomson places fossils in a very human context, highlighting their impact on mythology, philosophy, our concept of time, and popular culture. This Very Short Introduction provides a remarkably all encompassing explanation of fossils as a phenomenon."--Résumé de l'éditeur
Living fossil : the story of the coelacanth
by
Keith Stewart Thomson
( Book )
22 editions published between
1991
and 1996 in 3 languages and held by 1,136 WorldCat member libraries worldwide
Tells the story of a fish, the coelacanth, thought extinct for 70 million years, which was discovered in 1938 in the Indian Ocean
The life of vertebrates
by
J. Z Young
( Book )
3 editions published between
1955
and 1981 in
English
and held by 869 WorldCat member libraries worldwide
This incorporates new information on many subjects, especially in the areas of endocrinology and neurology. Detailed descriptions of basic anatomy make the book an excellent reference for dissectionists. It reviews controversial topics such as the origin of chordates, punctuational evolutionary changes, and the nature of progress in evolution
Before Darwin : reconciling God and nature
by
Keith Stewart Thomson
( Book )
7 editions published between
2005
and 2008 in
English
and held by 826 WorldCat member libraries worldwide
From the Publisher: For 200 years before the publication of Darwin's On the Origin of Species, findings in the sciences of the earth and of nature threatened religious belief based on the literal truth of the Bible. This book traces out the multiple conflicts and accommodations within religion and the new sciences through the writings of such heroes of the English Enlightenment as David Hume, Robert Hooke, John Ray, Erasmus Darwin (Charles' grandfather), Thomas Burnet, and William Whiston. Keith Thomson brings us back to a time when many powerful clerics were also noted scientific scholars and leading scientists were often believers. He celebrates the force and elegance of their prose along with the inventiveness of their arguments, their certitude, and their not infrequent humility and caution. Placing Charles Darwin's work in the context of earlier writers on evolutionary theory, Thomson finds surprising and direct connections between the anti-evolutionary writings of natural theologians like William Paley and the arguments that Darwin employed to turn anti-evolutionist ideas upside-down. This is an illuminating chronicle of an important period in the history of ideas and one that casts interesting light on the anti-evolution/creationist controversies of our own time
more
fewer
Audience Level
0

1
Kids
General
Special
Audience level: 0.21 (from 0.04 for Thomson, K ... to 0.99 for Thomson, K ...)
Associated Subjects
Animals
Beagle (Ship)
Beagle Expedition
Biodiversity
Brazil
Brazil--Roosevelt River
Coelacanth
Consciousness
Darwin, Charles,
Developmental biology
Evolution
Evolution (Biology)
Fishes
Fossilization
Fossils
Freud, Sigmund,
Great Britain
Ichthyology
Jefferson, Thomas,
Kataloge der wissenschaftlichen Sammlungen des Naturhistorischen Museums in Wien (Naturhistorisches Museum (Austria))
Kidneys
Learning and scholarship
Locke, John,
Mammals, Fossil
Mammoths
Mastodons
Morphogenesis
Natural history
Naturalists
North America
Paleontology
Philosophy, Modern
Religion and science
Roosevelt, Theodore,
Roosevelt-Rondon Scientific Expedition
Science
Scientists
Seafaring life
Skull
South America
Travel
United States
Vertebrae
Vertebrates
Vertebrates, Fossil
Vertebrates--Development
Vertebrates--Embryology
Virginia
Voyages and travels
Zoology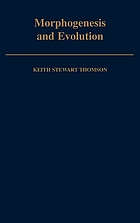 Covers
Alternative Names
Keith Stewart Thomson Academic

Keith Stewart Thomson Amerikaans paleontoloog

Keith Stewart Thomson paleontòleg estatunidenc

Keith Stewart Thomson paleontólogo estadounidense

Keith Stewart Thomson paleontólogu estauxunidense

Keith Stewart Thomson paléontologue américain

Stewart Thomson, Keith 1938-

Thomson Keith

Thomson Keith 1938-....

Thomson, Keith Professor für Naturgeschichte 1938-

Thomson Keith S.

Thomson, Keith S. 1938-

Thomson, Keith Stewart

Thomson, Keith Stewart Professor für Naturgeschichte 1938-

كيث ستيوارت تومسون إحاثي من الولايات المتحدة الأمريكية

トムソン, キース

Languages