Serge, Victor 1890-1947
Most widely held works about Victor Serge
more
fewer
Most widely held works by Victor Serge
The life and death of Leon Trotsky
by
Victor Serge
( Book )
25 editions published between
1951
and 2015 in 3 languages and held by 812 WorldCat member libraries worldwide
First published in France in 1951, this volume is a biography of Russian Marxist revolutionary, military leader, and political theorist Leon Trotsky (1879-1940). Written by Trotsky's wife and one of his closest friends, it provides many personal insights into Trotsky's life, work and behavior. The authors pay particular attention to the last ten years of Trotsky's life and attempt to place the dramatic and ultimately fateful events of his life in context with his role in the peaks and valleys of the Russian revolutionary movement from the turn of the 20th century until his assassination in 1940
The case of Comrade Tulayev, a novel
by
Victor Serge
( Book )
33 editions published between
1948
and 2013 in 4 languages and held by 752 WorldCat member libraries worldwide
One cold Moscow night, Comrade Tulayev, a high government official, is shot dead on the street, and the search for the killer begins. In this panoramic vision of the Soviet Great Terror, the investigation leads all over the world, netting a whole series of suspects whose only connection is their innocence--at least of the crime of which they stand accused. But "The Case of Comrade Tulayev," unquestionably the finest work of fiction ever written about the Stalinist purges, is not just a story of a totalitarian state. Marked by the deep humanity and generous spirit of its author, the legendary anarchist and exile Victor Serge, it is also a classic twentieth-century tale of risk, adventure, and unexpected nobility to set beside Ernest Hemingway's" For Whom the Bell Tolls" and Andre Malraux's "Man's Fate."
Memoirs of a revolutionary, 1901-1941
by
Victor Serge
( Book )
20 editions published between
1963
and 2012 in
English
and held by 734 WorldCat member libraries worldwide
A New York Review Books Original Victor Serge is one of the great men of the twentieth century: anarchist, revolutionary, agitator, theoretician, historian of his times, and a fearless truthteller. Here Serge describes his upbringing in Belgium, the child of a family of exiled Russian revolutionary intellectuals, his early life as an activist, his time in a French prison, the active role he played in the Russian Revolution, as well as his growing dismay at the Revolutionary regime's ever more repressive and murderous character. Expelled from the Soviet Union, Serge went to Paris, and barely escaped the Nazis to find a final refuge in Mexico. Memoirs of a Revolutionary describes a thrilling life on the frontlines of history and includes brilliant portraits of politicians from Trotsky and Lenin and Stalin to major writers like Alexander Blok and Andrey Bely. Above all, it captures the sensibility of Serge himself, that of a courageous and singularly appealing advocate of human liberation who remained undaunted in the most trying of times. Peter Sedgwick's fine translation of Serge's Memoirs of a Revolutionary was cut by a fifth when it was first published in 1963. This new edition is the first in English to present the entirety of Serge's book"
Conquered city : a novel
by
Victor Serge
( Book )
39 editions published between
1927
and 2011 in 5 languages and held by 546 WorldCat member libraries worldwide
Retrace, avec "Les hommes dans la prison" et "Naissance de notre force", la première partie de la vie de l'auteur. Né en 1890 à Bruxelles, il milite à Paris avec les anarchistes, gagne Barcelone en 1916 où échoue l'une des premières insurrections socialistes du siècle, part ensuite soutenir Trotsky à Petrograd et voyage à travers toute l'Europe en tant que propagandiste de l'Internationale
From Lenin to Stalin
by
Victor Serge
( Book )
22 editions published between
1937
and 1994 in 3 languages and held by 518 WorldCat member libraries worldwide
Russia twenty years after
by
Victor Serge
( Book )
15 editions published between
1937
and 1996 in
English
and held by 486 WorldCat member libraries worldwide
Victor Serge (1890-1947), historian, translator and novelist, a Belgian-born Russian, was politically active in seven countries, participated in three revolutions, and spent more than ten years in various captivities. He was born in political exile of Russian anarchist parents who had been implicated in the assassination of Tsar Alexander II, and he died in exile in Mexico. Russia Twenty Years After, his first major work, was written just after his harrowing release and expulsion from the Stalinist gulag, where he had spent three years as an intransigent oppositionist to the regime. It is still one of the most important documentary accounts of the then-emerging Stalinist system
Birth of our power (Naissance de notre force)
by
Victor Serge
( Book )
35 editions published between
1931
and 2015 in
English
and
French
and held by 477 WorldCat member libraries worldwide
Birth of Our Power is an epic novel set in Spain, France, and Russia during the heady revolutionary years 1917-1919. Serge's tale begins in the spring of 1917, the third year of mass slaughter in the blood-and-rain-soaked trenches of World War I, when the flames of revolution suddenly erupt in Russia and Spain. Although the Spanish uprising eventually fizzles, in Russia the workers, peasants, and common soldiers are able to take power and hold it. Serge's "tale of two cities" is constructed from the opposition between Barcelona, the city "we" could not take, and Petrograd, the starving, beleaguered capital of the Russian Revolution besieged by counter-revolutionary Whites. Between the romanticism of radicalized workers awakening to their own power in a sun-drenched Spanish metropolis to the grim reality of workers clinging to power in Russia's dark, frozen revolutionary outpost. The novel was composed a decade after the revolution in Leningrad, where Serge was living in semicaptivity because of his declared opposition to Stalin's dictatorship over the revolution
Men in prison
by
Victor Serge
( Book )
27 editions published between
1930
and 2014 in 3 languages and held by 449 WorldCat member libraries worldwide
Victor Serge served five years in French penitentiaries (1912-1917) for the crime of 'criminal association' - in fact for his courageous refusal to testify against his old comrades, the infamous 'Tragic Bandits' of French anarchism. 'While I was still in prison,' Serge later recalled, 'fighting off tuberculosis, insanity, depression, the spiritual poverty of the men, the brutality of the regulations, I already saw one kind of justification of that infernal voyage in the possibility of describing it.'
Midnight in the century
by
Victor Serge
( Book )
43 editions published between
1939
and 2015 in 3 languages and held by 440 WorldCat member libraries worldwide
"In 1933, Victor Serge was arrested by Stalin's police, interrogated, and held in solitary confinement for more than eighty days. Released, he spent two years in exile in remote Orenburg. These experiences were the inspiration for Midnight in the Century, Serge's searching novel about revolutionaries living in the shadow of Stalin's betrayal of the revolution. Among the exiles--true believers in a cause that no longer exists--gathered in the town of Chenor, or Black Waters, are the granite-faced old Bolshevik Ryzhik, stoic yet gentle Varvara, and Rodion, a young, self-educated worker who is trying to make sense of the world and history. They struggle in the unlikely company of Russian Orthodox Old Believers who are also suffering for their faith. Against unbelievable odds, the young Rodion will escape captivity and find a new life in the wild. Surviving the dark winter night of the soul, he rediscovers the only real, and most radical, form of resistance: hope"--
more
fewer
Audience Level
0

1
Kids
General
Special
Audience level: 0.54 (from 0.03 for The Serge- ... to 0.88 for Leur moral ...)
Related Identities
Associated Subjects
Anarchists
Anesthesia
Authors, Belgian
Authors, Russian
Belgian literature (French)
Belgium
Communism
Communism and literature
Communism in literature
Communists
Diplomatic relations
Dissenters in literature
Ethics
Europe
France
French fiction
Germany
Literature
Malva, Constant
Plisnier, Charles,
Political and social views
Political atrocities
Political crimes and offenses
Political culture
Political fiction, Belgian (French)
Political persecution
Political purges
Politics and government
Politics and literature
Press
Prisoners
Prisoners--Biography
Prisons
Proletariat in literature
Revolution (Germany : 1918)
Revolution (Saint Petersburg, Russia : 1917-1921)
Revolution (Soviet Union : 1917-1921)
Revolutionaries
Revolutionary poetry, French
Revolutions
Russia
Russia (Federation)--Kronshtadt
Russia (Federation)--Saint Petersburg
Serge, Victor,
Social conditions
Soviet Union
Stalin, Joseph,
Statesmen
Travel
Trotsky, Leon,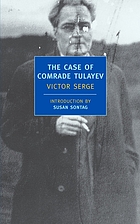 Alternative Names
Kibalchich, Victor L. 1890-1947

Kibalchich, Victor Lvovich 1890-1947

Kibalchich, Victor Lwowitch 1890-1947

Kibalchich, Victor Lwowitsch 1890-1947

Kibalchich, Victor Serge 1890-1947

Kibalʹchich, Viktor Lʹvovich

Kibalʹchich, Viktor Lʹvovich 1890-1947

Kibalčič, Victor Lvovič

Kibalʹčič, Viktor L. 1890-1947

Kibal'čič , Viktor L'vovič

Kibalʹčič, Viktor Lʹvovič 1890-1947

Kibaltchic, Victor Lvovitch, 1890-1947

Kibaltchich, Victor-Serge 1890-1947

Kibaltchitch, Victor Lvovitch.

Kibaltchitch, Victor Lvovitch, 1890-1947

Kibaltchitch Victor Napoléon 1890-1947

Kibaltchitch, Victor-Napoléon Llvovitch 1890-1947

Kibaltchitch, Victor-Napoléon Lvovitch 1890-1947

Kibaltchitch, Viktor L. 1890-1947

Kibaltchitch, Viktor Llvovitch 1890-1947

Kibaltchitch, Viktor Lvovitch

Kibaltchitch Viktor Lvovitch 1890-1947

Kibaltchitche Victor Lvovitch 1890-1947

Kibaltschitsch, Victor Lwowitsch 1890-1947

Kibaltschitsch, Wictor Lwowitsch 1890-1947

Lvovitch Kibaltchitch, Viktor, 1890-1947

Rétif 1890-1947

Serge, V. (Victor), 1890-1947

Serge, Victor

Serge, Viktor 1890-1947

Seruju Vikutōru 1890-1947

Serwy, Victor

Serwy, Victor 1890-1947

Serž, Viktor 1890-1947

Serzh, Victor 1890-1947

Serzh, Viktor

Serzh, Viktor 1890-1947

Victor Lvovich Kibalchich

Victor-Serge

Victor-Serge 1890-1947

Victor Serge Russian revolutionary and writer

Victor Serge Russisch schrijver

Victor Serge russisk skribent

Victor Serge rysk författare

Victor Serge Schriftsteller und Revolutionär

Victor Serge scrittore e rivoluzionario russo

Victor Serge verkisto kaj revoluciulo

Βίκτορ Σερζ

Виктор Львович Кибальчич 1890-1947

Кибальчич В.Л. 1890-1947

Кибальчич, Виктор Львович

Кибальчич, Виктор Львович, 1890-1947

Серж, Виктор, 1890-1947

ויקטור סרג'

ویکتور سرژ نویسنده روسی

ཝིག་ཏོར་སེར་ཇེ།

세르주, 빅토르 1890-1947

세르쥬, 빅토르 1890-1947

ヴィクトル・セルジュ

セルジュ, V

セルジュ, ヴィクトール

セルジュ ヴィクトール 1890-1947

Languages
Covers