Annas, George J.
Most widely held works about George J Annas
Most widely held works by George J Annas
The rights of patients : the basic ACLU guide to patient rights
by
George J Annas
( Book )
19 editions published between
1989
and 2013 in
English
and held by 1,076 WorldCat member libraries worldwide
George Annas, America's leading proponent of patient rights, spells them out for you in this revised, up-to-date edition of his groundbreaking classic. Thorough, comprehensive, and easy to follow-using a question-and-answer format in much of the text-The Rights of Patients explores all aspects of becoming an informed patient: hospital organization hospital rules emergency treatment admission and discharge the patient rights movement informed consent surgery obstetrical care human experimentation and research privacy and confidentiality care of the dying death, autopsy, and organ donation medical malpractice
The Nazi doctors and the Nuremberg Code : human rights in human experimentation
( Book )
17 editions published between
1992
and 1995 in
English
and held by 1,052 WorldCat member libraries worldwide
The atrocities committed by Nazi physicians and researchers during World War II prompted the development of the Nuremberg Code to define the ethics of modern medical experimentation utilizing human subjects. Since its enunciation, the Code has been viewed as one of the cornerstones of modern bioethical thought. The sources and ramifications of this important document are thoroughly discussed in this book by a distinguished roster of contemporary professionals from the fields of history, philosophy, medicine, and law. Contributors also include the chief prosecutor of the Nuremberg Military Tribunal and a survivor of the Mengele twin experiments. The book sheds light on keenly debated issues of both science and jurisprudence, including the ethics of human experimentation; the doctrine of informed consent; and the Code's impact on today's international human rights agenda. The historical setting of the Code's creation, some modern parallels, and the current attitude of German physicians toward the crimes of the Nazi era are discussed in early chapters. The book progresses to a powerful account of the Doctors' Trial at Nuremberg, its resulting verdict, and the Code's development. The Code's contemporary influence on both American and international law is examined in its historical context and discussed in terms of its universality: Are the foundational ethics of the Code as valid today as when it was originally penned? The editors conclude with a chapter on foreseeable future developments and a proposal for an international covenant on human experimentation enforced by an international court. A major work in medical law and ethics, this volume provides stimulating, provocative reading for physicians, legal professionals, bioethicists, historians, biomedical researchers, and concerned laypersons
Genetics and the law
by
Aubrey Milunsky
( Book )
21 editions published between
1975
and 1995 in
English
and
Undetermined
and held by 898 WorldCat member libraries worldwide
"Proceedings of a National Symposium on Genetics and the Law held in Boston, Mass., May 18-20, 1975, and co-sponsored by the Boston Chapter of the National Genetics Foundation and the American Society of Law and Medicine."
Standard of care : the law of American bioethics
by
George J Annas
( Book )
11 editions published between
1993
and 1997 in
English
and
Undetermined
and held by 841 WorldCat member libraries worldwide
American law, not philosophy or medicine, is the major force shaping American bioethics. This is both because law at its best fosters individual rights, equality, and justice, and because violation of the legal duty or "standard of care" a physician owes a patient can lead to a malpractice suit. The law has therefore had two conflicting impacts on medical ethics: the positive effect of eroding paternalism and replacing it with a patient-centered ethic; and the negative effect of encouraging physicians to be more concerned with avoiding litigation than doing the "right" thing. Standard of Care explores the fundamental value conflicts confronting medicine and society by examining courtroom resolutions of real bioethical disputes, often of constitutional dimension. This case-based approach, which ranges from abortion to euthanasia, from AIDS to organ transplantation, from genetic research to the artificial heart and rationing, illuminates the value choices with which the power (and impotence) of medicine confronts us. George Annas urges health care professionals to go beyond the minimalist legal "standard of care" by promoting a vigorous, patient-centered medical ethics based on respect for human rights and responsibility to both patients and society. If modern medicine is to enhance human life, a reconceptualization of law as the beginning of ethical discourse, rather than as an instrument to end it, is essential. Such a discourse could enrich all our lives by helping us to articulate both a national and international agenda for human rights in health
The rights of patients : the authoritative ACLU guide to the rights of patients
by
George J Annas
( Book )
7 editions published between
2003
and 2004 in
English
and held by 761 WorldCat member libraries worldwide
"The Rights of Patients also addresses contemporary health care issues that continue to be disputed, including how to reform American medicine, improve patient safety, provide adequate pain management, honor the wishes of currently incompetent patients, reform medical research rules, and increase responsiveness to patients' needs at all levels of care. The volume is an invaluable resource not only for patients and their families but also for physicians, hospital administrators, medical and nursing students, and other health care workers. The book also includes a helpful appendix on Internet resources."--Jacket
Gene mapping : using law and ethics as guides
( Book )
11 editions published in
1992
in
English
and held by 750 WorldCat member libraries worldwide
This pathfinding book thoroughly identifies and explores the legal and ethical dimensions of the new genetics and the Human Genome Project. While accepting the goals of modern genetics research, the book takes a critical approach to the Human Genome Project. More precise genetic information will likely result in genetic discrimination, and will threaten genetic privacy in employment and insurance. The way we view disease, normalcy and our own humanness will undergo significant change as clinical medicine becomes increasingly genetics based. We are more than our genes, but mapping them will move society into "genetics territory," and we may act as if our genes determine our destiny. This timely work brings together a group of the nation's leading experts in genetics, medicine, history of science, health, law, philosophy of science, and medical ethics to assess the current state of modern human genetics, and to begin to chart the legal and ethical guidelines needed to prevent the misuse of human genetics from leading to the abuse of human beings. The six sections of the book, read together, map the social policy con tours of modern human genetics. The first part describes the science of the Human Genome Project. The second addresses specific social policy implications, including the relevance of recombinant DNA history, the eugenics legacy, military applications, and issues of race and class in the context of genetic discrimination. Broader philosophical issues, including reductionism and determinism, the concept of disease, and using germline gene therapy to "improve" human beings are discussed in the third part. The fourth is directed at the clinical implications of the new genetics, including privacy and confidentiality, genetic screening, and counseling. The fifth part focuses on the legal and ethical frontiers in genetics, especially procreative liberty, patent issues, and regulatory mechanisms. Finally, a prioritized social policy research agenda is presented which suggests that immediate emphasis be on (1) determining the rules for introducing a new genetic test into medical practice; (2) protecting the confidentiality and privacy of an individual's genetic information; (3) preventing employment and insurance discrimination based on genetics; and (4) exploring how the new genetics will affect our concepts of "disease," "normalcy," and "humanness."
Judging medicine
by
George J Annas
( Book )
10 editions published between
1988
and 1990 in
English
and
Undetermined
and held by 700 WorldCat member libraries worldwide
American bioethics : crossing human rights and health law boundaries
by
George J Annas
( Book )
21 editions published between
2004
and 2009 in
English
and held by 559 WorldCat member libraries worldwide
This text crosses the borders between bioethics and law, but moves beyond the domestic law/bioethics struggles for dominance by exploring attempts to articulate universal principles based on international human rights. The isolationism of bioethics in the USA is not tenable in the wake of scientific triumphs like decoding the human genome, and civilizational tragedies like international terrorism. Annas argues that by crossing boundaries which have artificially separated bioethics and health law from the international human rights movement, American bioethics can be reborn as a global force for good, instead of serving mainly the purposes of U.S. academics. This thesis is explored in a variety of international contexts such as terrorism and genetic engineering, and in U.S. domestic disputes such as patient rights and market medicine. The citizens of the world have created two universal codes: science has sequenced the human genome and the United Nations has produced the Universal Declaration of Human Rights. The challenge for American bioethics is to combine these two great codes in imaginative and constructive ways to make the world a better, and healthier place to live
Genetics and the law II
by
National Symposium on Genetics and the Law
( Book )
10 editions published in
1980
in
English
and held by 515 WorldCat member libraries worldwide
Proceedings of the symposium held in Boston, Mass., May 21-23, 1979, and co-sponsored by the American Society of Law and Medicine and the Eunice Kennedy Shriver Center
Worst case bioethics : death, disaster, and public health
by
George J Annas
( Book )
13 editions published between
2010
and 2015 in
English
and held by 458 WorldCat member libraries worldwide
"Bioethics, still in its infancy, is routinely called on by the government to provide political cover for controversial public health decisions involving the life and death of Americans. Doomsday or worst-case scenarios are often at the heart of these biopolitical decisions. A central feature of science fiction, these scenarios can impart useful insights. But worst-case scenarios, like Frankenstein's monster, can also be unpredictably destructive, undermining both preparedness and the very values, bioethics seeks to promote. Discovering a new flu strain, for example, leads immediately to visions of the 1918 flu pandemic, the worst in human history. Likewise, a "ticking time bomb" scenario leads to the use of physicians for torture, and the all purpose worst case charge of "socialism" threatens to derail meaningful healthcare reform." "In Worst Case Bioethics George Annas employs contemporary disputes involving death and disaster to explore the radical changes underway in public health practice, the application of constitutional law to medicine, and human rights discourse to promote human health and well-being. Worst-case scenarios, especially worst-case bioethics scenarios, distort debate, limit options, rationalize human rights abuses, and undermine equality and social justice. It is, nonetheless, possible to temper worst-case scenarios in ways that promote both the development of a meaningful American bioethics, and a life and liberty affirming global health and human rights movement."--Jacket
Some choice : law, medicine, and the market
by
George J Annas
( Book )
6 editions published in
1998
in
English
and held by 441 WorldCat member libraries worldwide
"In Some Choice, America's leading commentator on health law and bioethics, George J. Annas, demonstrates that in contemporary medicine there is seldom a meaningful choice to be made by the patient; the important choices have been made by others. The illusion of choice perversely fosters complacency and prevents us from dealing with critical issues of life and death." "Professor Annas uses the cases of human cloning, drive-through deliveries, emergency medicine, genetic privacy, human experimentation, tobacco control, and physician-assisted suicide, among others, to suggest ways in which we can break through our vapid and superficial "some choice" public discourse on life and death issues and begin to engage in a public dialogue that enriches our lives and society rather than commodifies and cheapens them."--Jacket
Genetics and the law III
by
National Symposium on Genetics and the Law
( Book )
9 editions published in
1985
in
English
and held by 366 WorldCat member libraries worldwide
"Proceedings of the Third National Symposium on Genetics and the Law, held Aprril 2-4, 1984, in Boston, Massachusetts. Co-sponsored by the American Society of Law and Medicine and the Boston University Schools of Medicine, Law, and Public Health"--Title page verso
Genomic messages : how the evolving science of genetics affects our health, families, and future
by
George J Annas
( Book )
3 editions published between
2015
and 2016 in
English
and held by 341 WorldCat member libraries worldwide
"Ready or not, medical practice is changing. Advances in the field of genomics--the study of how our DNA is constructed and functions--have made it easier for physicians to diagnose, treat, and even predict today's many pressing health concerns. With the emergence of genomic sequencing and DNA analysis, this is an exciting moment in science, medicine, and personal health. But it's also an uncertain time, one fraught with understandable and uncomfortable questions: Can we take advantage of genomic progress and avoid genomic discrimination? Can medicine be tailored to a patients unique DNA profile? How will DNA banks and electronic medical records affect our privacy and welfare? Should we screen our healthy child's DNA? When is information too much information? In Genomic Messages, George Annas, J.D., M.P.H., and Sherman Elias, M.D., a health lawyer/bioethicist and an obstetrician-gynecologist/geneticist, respectively, answer these and other pressing questions about genomics. Together, they detail the field's past, present, and future, while laying out its myriad legal, medical, and ethical ramifications. They empower individuals and families with the knowledge to make better decisions about their short-term and long-term health. Comprehensive, accessible, and revolutionary, Genomic Messages is the definitive guide to genomics, personalized medicine, and the future of healthcare"--
more
fewer
Audience Level
0

1
Kids
General
Special
Audience level: 0.39 (from 0.06 for Worst case ... to 0.99 for Annas, Geo ...)
Related Identities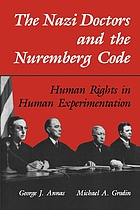 Alternative Names
Annas, Georg 1945-

Annas, George

Annas, George 1945-

George Annas William Fairfield Warren Distinguished Professor/Chair:Department of Health Law, Bioethics & Human Rights:Boston University School of Public Health/School of Medicine/School of Law

アナス, ジョージ・J.

Languages
Covers